In the last year, the computing world has fast been moving towards Thunderbolt 3, with Apple having used the port for some time and other Windows-based laptops also quickly adopting it. Thunderbolt 3 over a USB Type-C connector allows for a throughput of data at 40gbps along with power delivery. Through a singular port, you could power a laptop or connect a monitor. The Thunderbolt 3 port is extremely versatile and blazing fast, so suffice to say, connecting regular hard drives or even external SSDs to one wasn't doing justice to what this port could do. Step in the Samsung SSD X5, the company's first Thunderbolt 3 portable drive based on the 970 EVO NVMe drive. Samsung sent over the 1TB version of the drive and we instantly paired it with our lonely MacBook Pro to see just how good of a drive this would make.
Build and Design
Before we get into the performance of the Samsung SSD X5, let's first talk about the design. Portable SSD drives usually follow the same design language as regular hard-drives in being rectangular slabs of plastic (or rubber) but the X5 is very different. For starters, it's got a tapered design that looks very automotive inspired. The top panel is solid magnesium painted grey while the bottom is a red, rubberized material to give the drive some non-slip characteristics. The Samsung SSD X5 is the farthest thing from a hard drive, with many a people often mistaking it for a power bank and in one particular case, a friend even mistook it for a pack of gum (seriously?). The top enclosure curves all the way around, only letting up on one side where you will find the solitary Type-C port and an LED indicator embedded into the same red, rubberized material.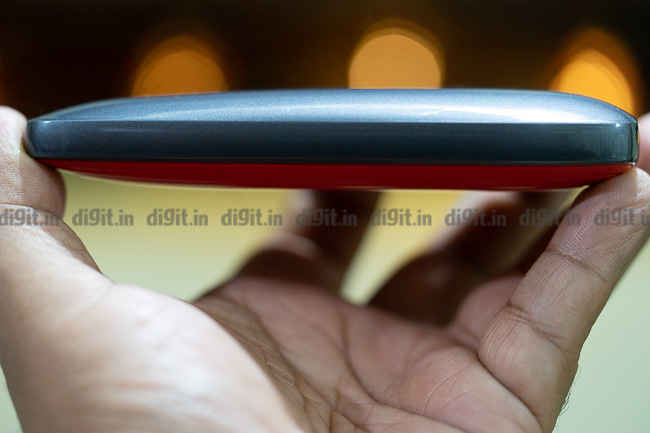 The Samsung SSD X5 is a pretty tiny drive
We've unfortunately dropped the drive a number of times from heights of up to three feet (sorry Samsung!) without the drive taking so much as a dent. The drive is not rated for drops though and neither is it water resistant, so caution is definitely recommended especially if you've got liquids on the same desk as the drive. Other than that, the drive looks and feels incredibly premium, which could be a part of the reason for the cost.
Benchmark Performance
The Samsung SSD X5 is built on the 970 EVO NVMe drive which Samsung clarifies use TLC V-NAND. The drive uses the Intel Intel JHL6340 Thunderbolt 3 Controller, which unfortunately does not support the USB-C fallback mode, meaning that this drive can only be used with Thunderbolt 3 Type-C ports. This shouldn't be a problem for anyone who owns a recent Mac or even for most Windows Laptop users whose machines support Thunderbolt 3. Best way to tell is to look for a lightning symbol by your USB-C port. If there is one, then your system supports Thunderbolt 3 and you can consider getting this drive. If not, then you're probably better off with the WD My Passport SSD or even Samsung's own T5 portable SSD.
We tested the Samsung SSD X5 on both MacOS and Windows with the drive formatted for NTFS, ExFAT and even HFS+. On windows, we used CrystalDisk and for Mac, we turned to BlackMagic Disk Speed Test. Before we talk about the number, it should be noted that when we plugged the drive into a Windows-based laptop, the drive didn't show up like other USB drives generally do. There will be a tiny pop-up with Intel's logo on it, asking you if you want to attach the "Thunderbolt device." Only once you approve this does the drive show up. Thankfully, this is only a one-time prompt and every subsequent time you do attach the drive, it will work without any hitches.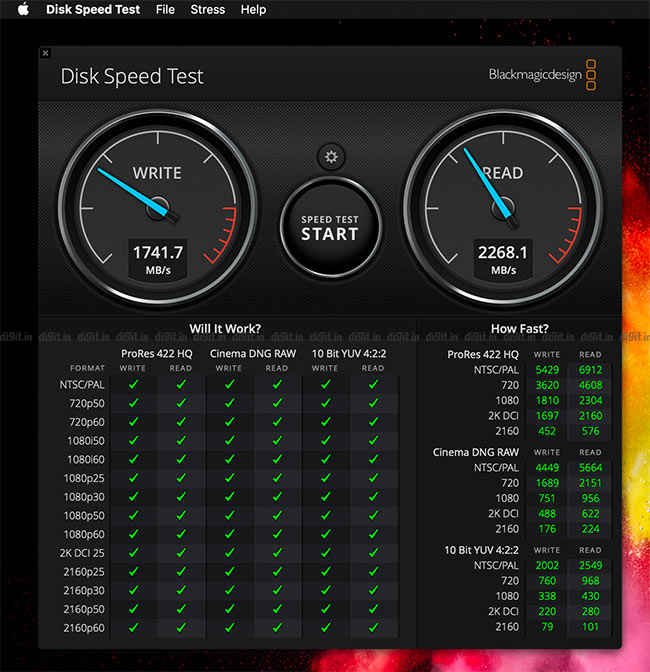 Samsung SSD X5 speeds on a Mac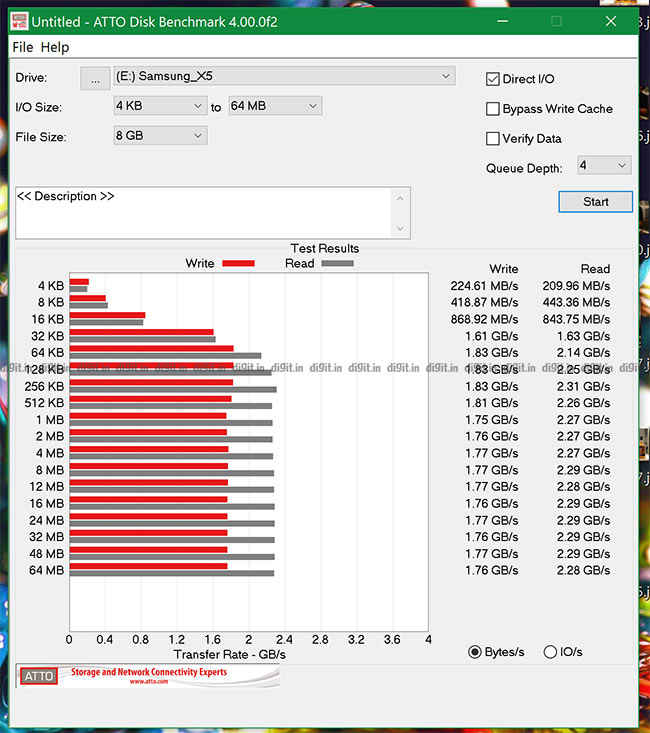 Samsung SSD X5 Speeds on Windows
Coming to the speed, Samsung claims the drive can achieve read/write speeds of 2,800/2,300 MB/s respectively. On CrystalMark and Blackmagic Disk Speed, we did manage to get very close to the 2800MB/s read speeds, with read speeds coming to 2753.7MB/s on Windows and 2268.1MB/s on Mac. Write speed as noted by CrystalDisk Mark was 622MB/s on Windows while BlackMagic benchmarked the drive capable of write speeds up to 1741MB/s. On ATTO, the drive again did fairly well, with the numbers for you to see in the screenshot below.
Real World Usage
Part of the reason for us to call for the Samsung SSD X5 Portable SSD for review was CES 2019. When covering the largest technology showcase, we're prone to shooting an obscene amount of photos and videos. The MacBook Pro we use doesn't offer enough storage to house all the data we generate from CES, and a regular USB 3.0 drive would take over an hour to copy 32GB of data from our SD cards. An NVMe drive operating over Thunderbolt is theoretically the fastest external storage you can get, so the X5 made plenty of sense for our use.
Once connected to our MacBook Pro, we were able to move over 240 gigs of photos and videos from Mac's internal drive to the X5 in under 15 minutes. Sadly, importing files directly from the Nikon Z7 and into the SSD using Lightroom did take long simply because the camera has a USB 3.1 Gen 1 port, which tops out at 5Gbps. Once CES 2019 had concluded, our Lightroom Catalog had over 3000 full size images in RAW shot from the Nikon Z7, along with over a hundred 4K videos (of varying lengths) shot from the same camera. The 1TB storage on the drive was almost full, with the capacity peaking out at about 785GB of used space.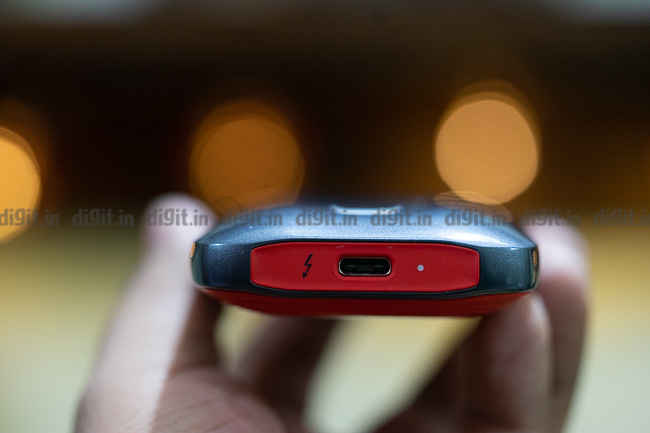 High speed transfers over Thunderbolt 3
Our Lightroom catalog only contained the image files, and surprisingly, the load times of the catalog were very short. Opening the same catalog off of a regular USB 3.1 drive took closer to 1 minute. Probably the best experience from working off the X5 is the absolute speed it offers, especially when you're working with RAW files, each of which weighs closer to 100MB.
We even ended up using the drive for editing video. Using Premiere Pro, we switched the scratch drive from Mac's internal SSD to the X5. Then we loaded all the 4K video files from the drive itself and created a timeline in 4K at 25fps. This is the first drive we have used which was capable of supporting the data transfer rates required to be able to edit 4K footage off of in real time, without creating any proxies.
As a field drive, the Samsung X5 is damn near perfect. The only hiccup we faced while putting the drive through its paces was that the transfer speed drop at times. This is due to Samsung's Dynamic Thermal Guard system kicking in which slows down transfer speeds once the drive starts to run hot. Heat wrecks havoc on data stored on an SSD, so the throttling in understandable. Unfortunately, the drive tends to run hot if its being used for prolonged periods of time. During an intense hour-long video editing session, there were a few moments where the drive's performance dropped due to thermal throttling. However, this was only a minor inconvenience.
Bottomline
The Samsung X5 is by no means a cheap drive. The 1TB version we tested costs Rs 48,999 a pretty hefty price tag for a drive we do not recommend using for just "file storage." The Samsung SSD X5 is ideally suited for those who are looking to expand the storage on their portable laptops that don't offer as much onboard storage. However, it is perfect for the creative professionals who rely on storage media to backup the contents of their day's work, whether its photographers dumping the files from their photo shoots or cinematographers having to copy their footage onto a reliable medium. If you do not want to spend as much, then you can always turn to the G-Drive Mobile SSD, which is cheaper, but uses USB 3.1 Gen 2 instead of Thunderbolt 3.