One of the biggest annoyances of owning a newer MacBook Pro is the lack of any USB type-A ports. Apple moved to the port of the future in the harshest way possible. While this will be considered a great move in a decade or so, in today's times, it poses quite a challenge for the creative professional. Not only is the MacBook Pro now missing an SD Card reader, but the lack of USB-A ports makes it near impossible to dump the contents of the SD card onto an external drive. While using a USB-C-to-USB-A converter for a card reader is still fine, doing the same with an external hard drive just doesn't work. For starters, there's the question of how many converters can you keep a track of and second, there's the issue of reliability. This is where the G-Drive Mobile SSD comes in with its promise of not just convenience, but also durability and speed. For the uninitiated, G-Drive isn't a Google product (even though the logo and name make it seem so), but instead is made by G-Technology, a company that was founded in 2004. G-Tech was later bought out by HGST, a subsidiary of Western Digital. G-Technology has been in the business of making hard-drive solutions for creative professionals since it was founded a decade and a half ago. Now, they have released the G-Drive Mobile SSD in India, a high-speed external drive aimed not just at the photographers and film-makers, but everyone who uses laptops that only have USB Type-C ports. Is this drive worth its hefty price tag? We find out.
Build and Design
The G-Drive Mobile SSD is a portable SSD with a USB Type-C port and comes with two cables; a USB-C-to-USB-C and a USB-C-to-USB-A. This allows the drive to be used on a machine that only has USB-C ports or one that lacks any. However, the port alone doesn't make this drive a lucrative option for creative professionals using a MacBook Pro. The drive is also IP67 rated, meaning that it's completely impervious to dust and is water resistant. The company also claims that the drive can withstand drops from a height of up to 9 feet and can also not get damaged when subject to about 450 kilos of crushing weight. This makes the drive ideal for all kinds of use cases, something I was eager to try out.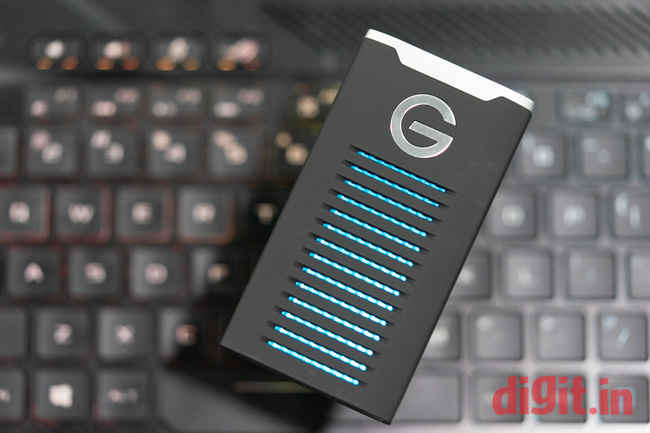 The durability of the drive is also established by the quality of the construction. There's an aluminium casing surrounded by a very high-quality rubber polymer material. It almost feels like plastic, but it is not. The top plate which houses the USB-C port is screwed in, and upon removing the screws, I discovered a very healthy amount of rubber sealing to keep the water out. I chose to not pry any further since I didn't want to compromise the structural integrity of the drive. As a sealed unit, the drive is indeed extremely resilient to abuse. I've dropped a cup of coffee (and consequently washed the drive with water), along with having carried it around in my camera bag, where it has often gotten crushed under the weight of other equipment. I've also had a small child jump on it (sorry Western Digital, it had to be done!), all in the first few days of having the drive.
Overall, the drive construction and design are extremely good. This is one way to build a tough drive for sure. In fact, even the bundled cables are of nice thick gauge, so you won't have to worry about them breaking at the connectors.
Performance
The G-Drive Mobile SSD sports a USB Type-C connector which supports the USB 3.1 Gen 2 data transfer standard, meaning a top transfer speed of 10Gbps. This translates to a top-end number of 560MB/second. That makes the drive ideal for multiple types of uses. Of course, the G-Drive Mobile SSD is ideal to use as a field drive when you need to copy all the contents of your day's shoot onto an external drive. If you're using a USB-C hub, you may have a card reader built in, maximizing the transfer rates. I was able to transfer 18 gigabytes worth of RAW files stored on a Sandisk Extreme Pro SD card (95MB/second Read) and the card's fastest speed sustained through the transfer. From a "field" scenario, the drive definitely does not bottle-neck the workflow.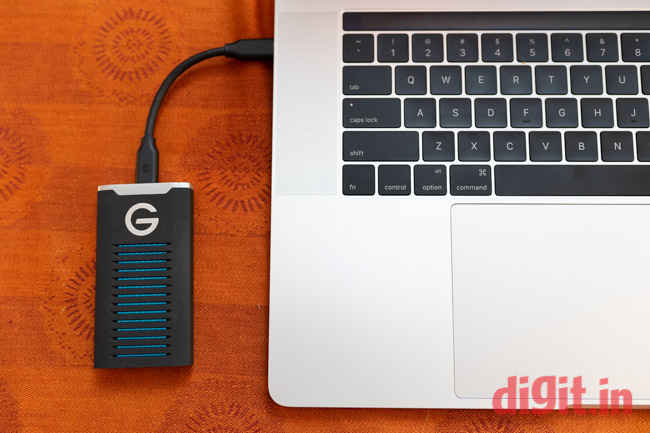 While the drive is great for field work, it's also a great drive for editing. I use Adobe Lightroom a lot and on the MacBook, it has been a pain to use little converters to plug in my USB 3.0 drives. After transferring most of my image and video content onto the drive, I started working, trying to figure out just how much value the drive has to offer on everyday things. To kick things off, I used Black Magic's disk benchmarking tool for Mac, which tells us the maximum Read/Write speeds, along with what kind of video workflows the drive is fast enough to support. The tool shows that the drive has a maximum write speed of 499MB/second and a maximum read speed of 511MB/second, which is pretty impressive. The drive was formatted in the MacOS Journaled format.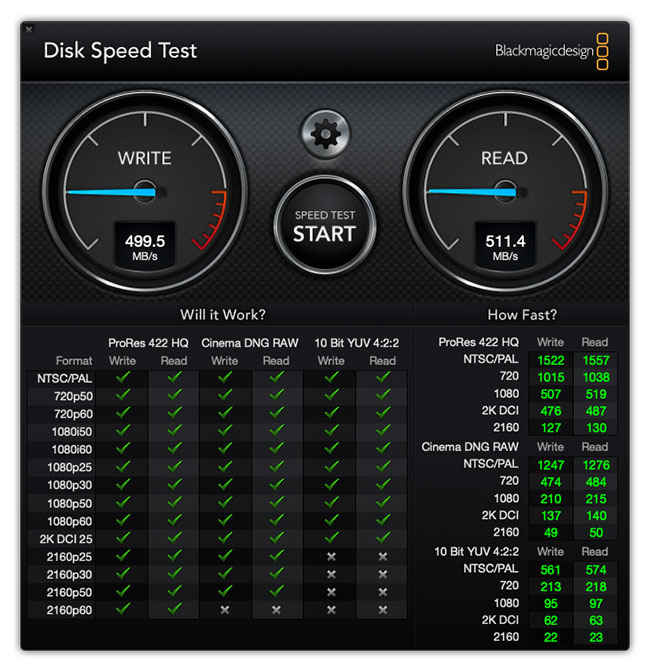 In order to determine how good the drive was for editing, I used Adobe Lightroom for photos and Adobe Premiere Pro and FCP X for video. The test included 500 RAW files shot from the Sony A7 MarkII for photo and some 4K video shot from a RED camera. Adobe Lightroom seemed to work beautifully with the catalogue, with the images all residing in the external G-Drive Mobile SSD. There were no glitches while scrolling through the library or viewing a photo at 100 percent. In fact, Lightroom loaded the catalogue noticeably faster in comparison to the USB 3.0 hard drive that was connected to the Mac using a dongle.
When editing 4K RAW footage from a RED Epic in both Premiere and FCP X, the two programs took roughly the same amount of time to ingest the footage. When editing the footage in a native 4K timeline, things were generally a little slow, but switching to a 1080p proxy workflow improved the performance issues noticeably.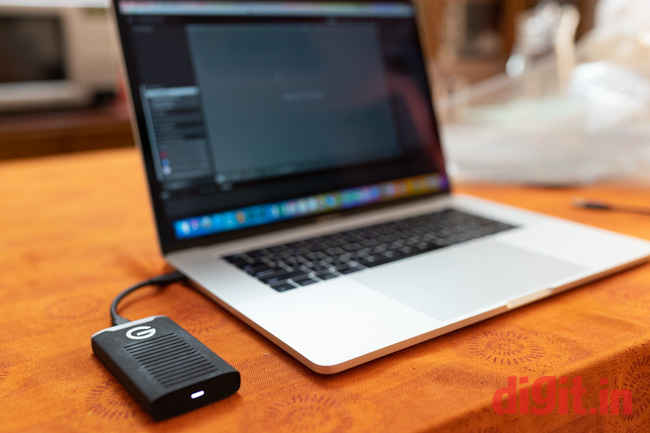 While the drive is definitely a significant boost in performance for creative professionals, it also acts as a convenient external drive for those who use a MacBook Pro. You can use it as convenient storage for all your extra music, movies and photos in case you find yourself running out of internal storage on the Mac.
Bottomline
The G-Drive Mobile SSD 500GB model we reviewed costs a steep Rs 12,999 for the 500GB variant. For this kind of money, you could buy a much higher capacity, but it won't be an SSD based external drive and it won't have a USB Type-C connector either. If you consider the competing products that exist in this segment like the WD My Passport SSD, you do get a slightly cheaper product, but also one that's slower. G-Tech (the company behind G-Drive and now owned by Western Digital) is known to have built their reputation on creating products that are robust and durable. Keeping that in mind, the G-Drive Mobile SSD is no different. I would highly recommend this drive as a storage solution for anyone who owns a Macbook Pro and needs fast external storage, whether for editing, or just as a regular external drive.