In our previous coverage of these networking devices from ASUS, we had looked at unboxing and preview along with their setup and configuration and in depth features and analysis.
We must say, when we used the RT-AC66U and RT-N66U routers and checked out their built-in features, we were amazed at the sheer number of features provided. The configuration panel for both the routers was very elaborate with a great looking but uncomplicated user interface. We covered most of the areas of the configuration panel in our previous article and now we'll focus on another important feature of these routers which is the "ASUS AiCloud".
What is ASUS AiCloud?
The ASUS AiCloud is basically a mobile application that adds the ASUS cloud features to your Android or iOS devices. It allows you to Sync, Share & Stream all your files such as music, movies, videos and documents on the go, from both public and private cloud storage services. ASUS AiCloud keeps you connected to your data wherever and whenever you have an Internet connection.
It links your home network and online Web storage services then it lets you access it through the AiCloud mobile app on your iOS or Android smartphone or through a personalized URL in a Web browser. With AiCloud, all your data is with you wherever you go. This is very handy -- for instance, imagine you have an important meeting where you have to give a presentation, but forgot to bring your presentation files with you. This is where you can use the ASUS AiCloud app and download your presentation data remotely and still proceed with your presentation without any hiccups.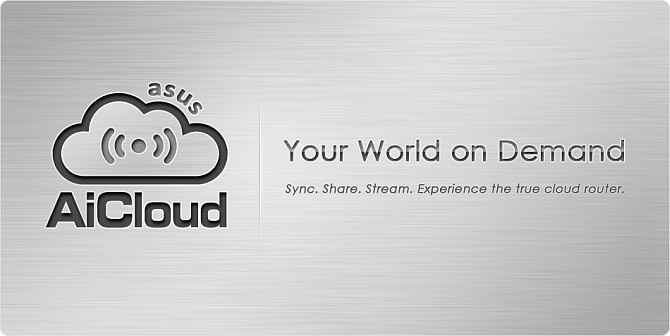 AiCloud storage size depends on the available storage space in the attached flash drive or hard disk. Apart from that, AiCloud also allows free storage space of 2GB to 5GB on the cloud.
AiCloud is essentially like a users own "Dropbox" but it is focused on the user much more.
Features of AiCloud:
Apart from the features mentioned above, AiCloud has three major features, which are the Cloud Disk, Smart Access and Smart Sync.
Cloud Disk allows you to plug in your USB storage devices like flash drives and hard drives to the ASUS RT-AC66U or the ASUS RT-N66U so that you can start streaming your files to the AiCloud mobile app on your smartphone. In order to create a cloud disk, you just need to connect a USB storage device to the RT-AC66U or the ASUS RT-N66U and then turn on Cloud Disk. You can then use the router login account to log into the default cloud disk. Access your created cloud disk by visiting https://www.asusnetwork.net
Smart Access lets you access the settings of your network place such as user accounts, share folders, etc. It allows you to access your home network (network place or Samba) from anywhere at anytime. Smart Access also incorporates the WOL (Wake-On-LAN) feature and lets you wake up your computer system from any device in the network even when it is running Windows, Mac, Linux -- it can even be a mobile device.
Smart Sync is a nifty feature of the ASUS AiCloud as it allows you to sync your files to a remote location like another AiCloud location or the ASUS WebStorage service. This really helps if you need to synchronise your files between two locations such as your home and office.
To use the Smart Sync feature, you first need to sign up for an ASUS Webstorage account. Then turn on Cloud Disk and Smart Sync and ensure that you have attached a USB storage device to the RT-AC66U or the RT-N66U. Now launch AiCloud, choose the specific folder you require and want to synchronise with ASUS Webstorage and follow the easy instructions that follow.
AiCloud settings on the router administration panel
When you login into the router and select AiCloud, you'll find a large list of options and sub-menus. The main page also mentions how to use the AiCloud and set it up. It provides options to turn on or turn off "Cloud Disk" and "Smart Access" or start "Smart Sync".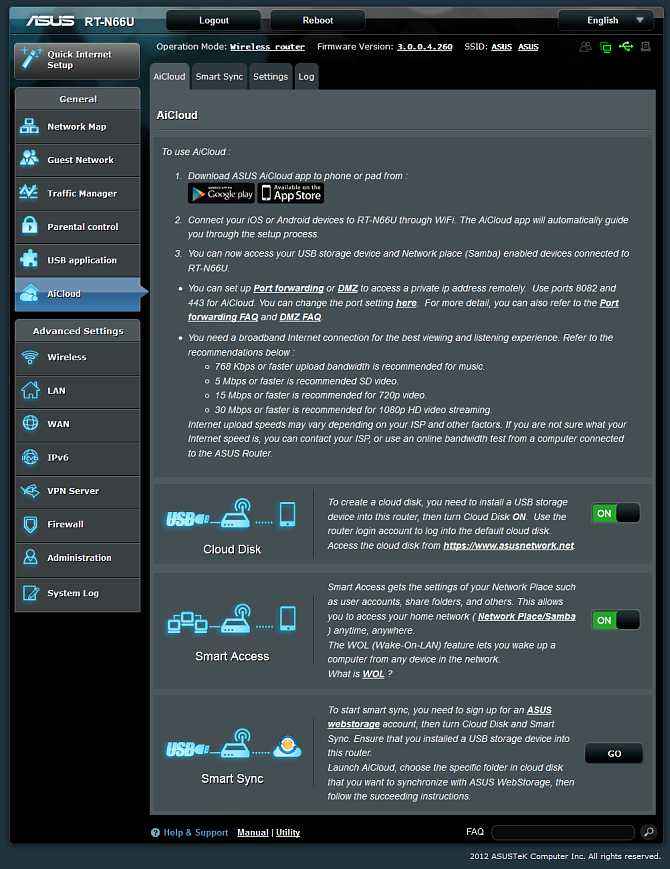 There is a sub-menu dedicated to the AiCloud Smart Sync which provides options to turn on Smart Sync and see the cloud list which mentions the Provider, User Name, Rule, Folder, Status and Delete. You can add accounts to Smart Sync by signing up for ASUS Webstorage.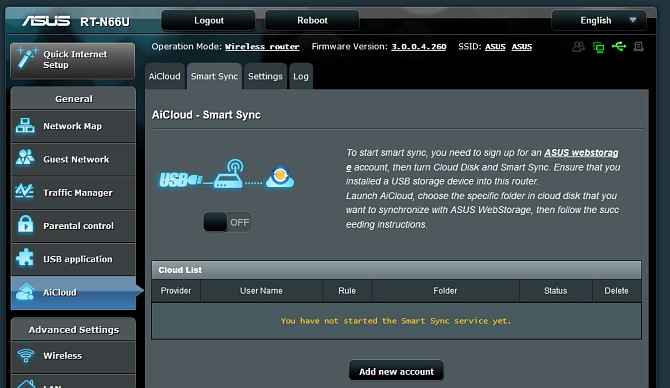 The next sub-menu shows AiCloud Settings. This submenu mainly deals with the password protection mechanism and allows AiCloud to prevent our account from a "Brute-Force Attack. So in this settings page, we can define allowable account/password login and retry attempts. Once the allowable login attempts are crossed, the AiCloud account will be locked and only the administrator can enter and unlock it.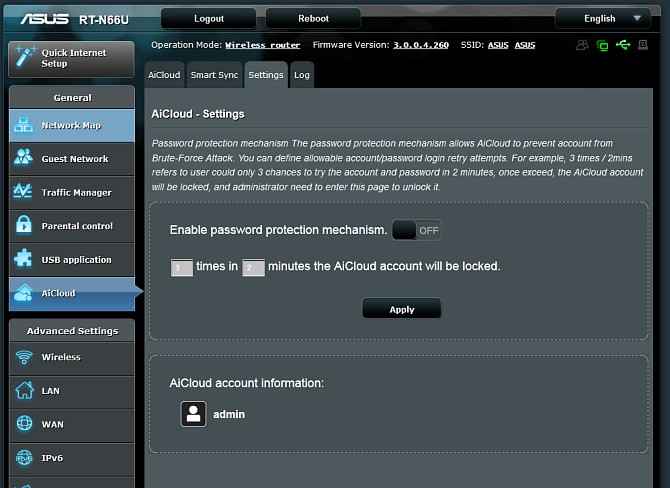 We also have the "Log" sub-menu in the AiCloud feature. This log feature shows activities of the AiCloud in-depth. It provides a time and date stamp along with the related activity on AiCloud.
AiCloud smartphone app
Since AiCloud is mainly a mobile application, let's check out how it looks and works on an Android device. We first need to go to the Google Play Store or the App Store and download the AiCloud mobile app. When done, we have to launch the installed AiCloud app and configure it with the ASUS RT-AC66U or the RT-N66U router.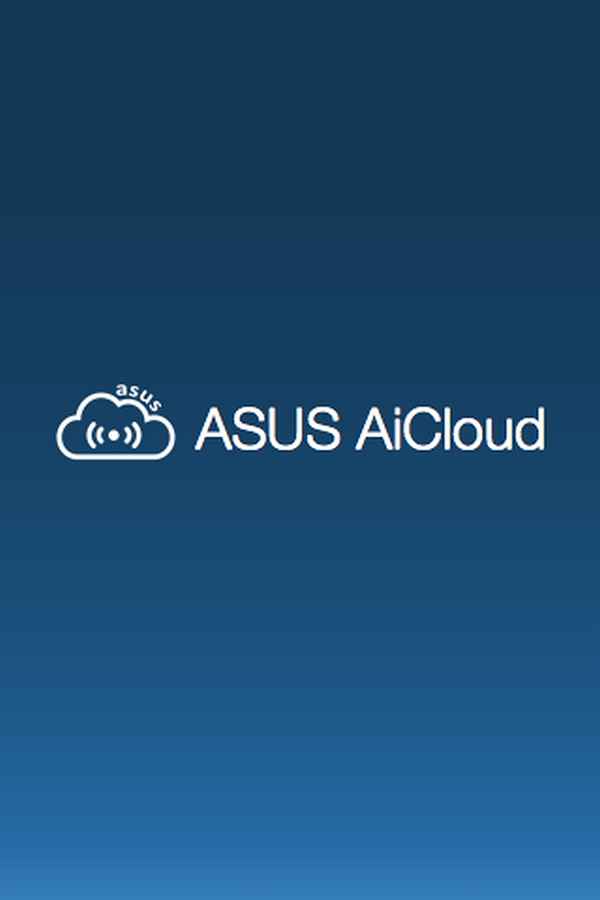 Start screen of AiCloud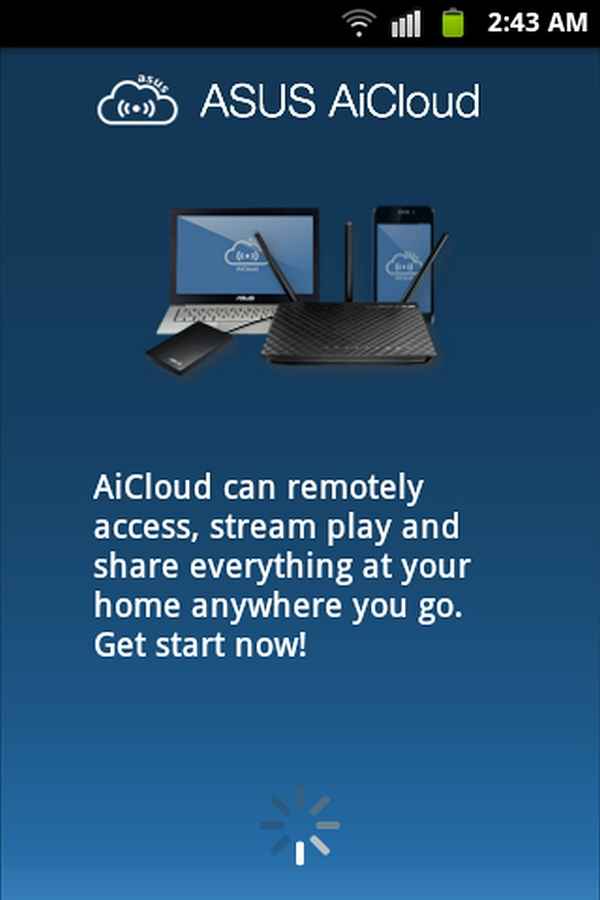 Loading screen of AiCloud
Note that you must be connected to the ASUS router through Wifi to start the quick setup. Once that is done you need to provide a nickname for the router(optional), enter the router login name and login password and go.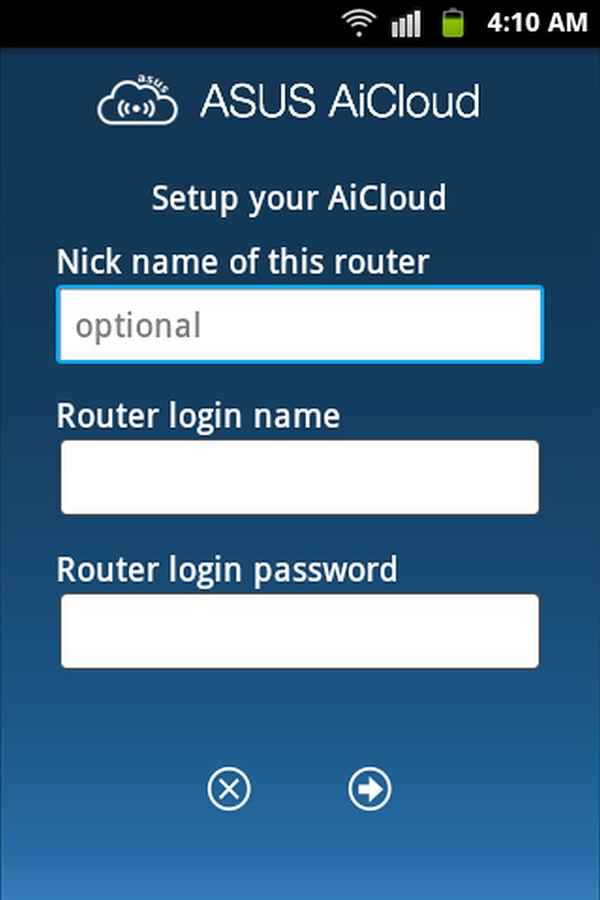 T
The quick setup page of AiCloud
Once the setup is complete, the app greets you with an overlay screen denoting controls and their places on the screen, which makes it easy to identify which control does what, inside the AiCloud mobile application.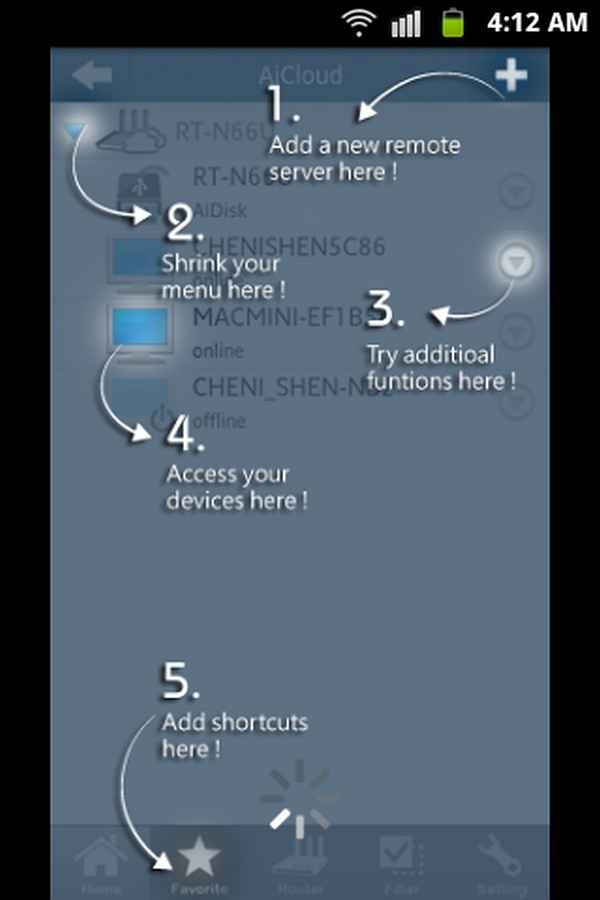 Control positions of AiCloud
The next page on the AiCloud phone application is the app Home screen. It mentions the nickname of the router at the top and also the connected devices. Opening the AiDisk, you will notice the connected USB devices and when you select a device, you'll be able to see your files on that device from your phone itself.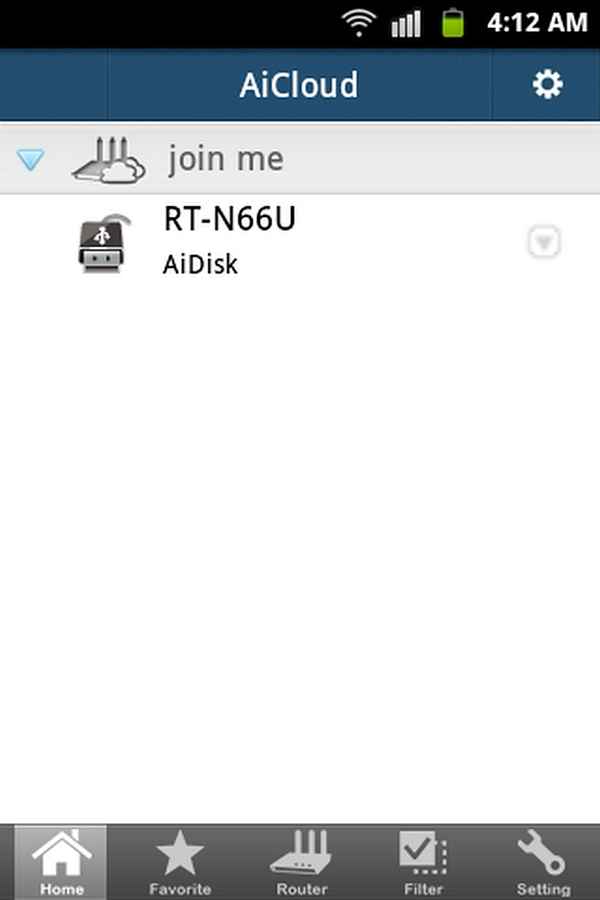 AiCloud Home
You can then select and open a file you desire and the file will load up in some time depending on its size and open on your phone.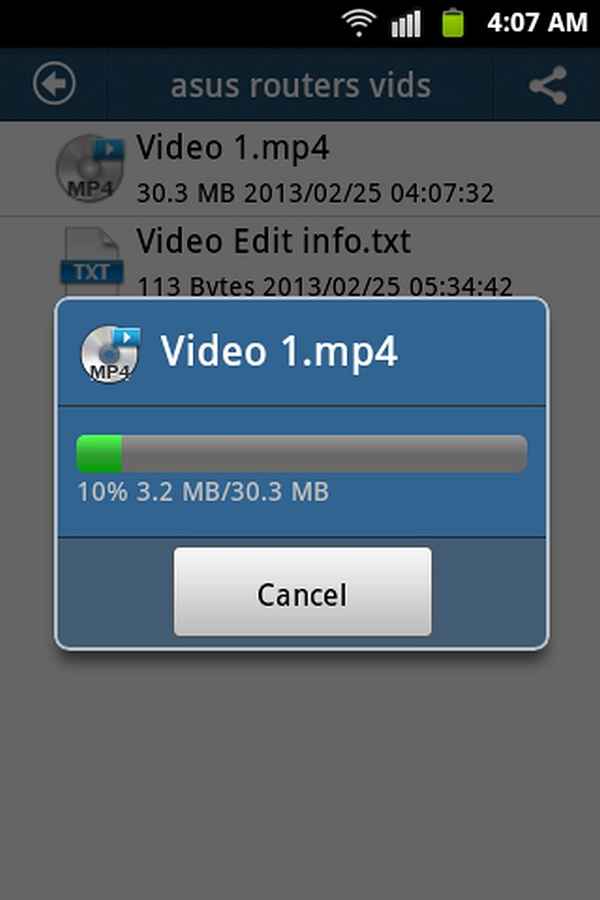 AiCloud loading a file for opening
AiCloud mobile app has a settings page which provides information about the current version of the app, option to check out some FAQ's. The settings page also has the advanced settings list which has options for launching the "Quick Setup", clearing cache, miscellaneous options and a security code feature.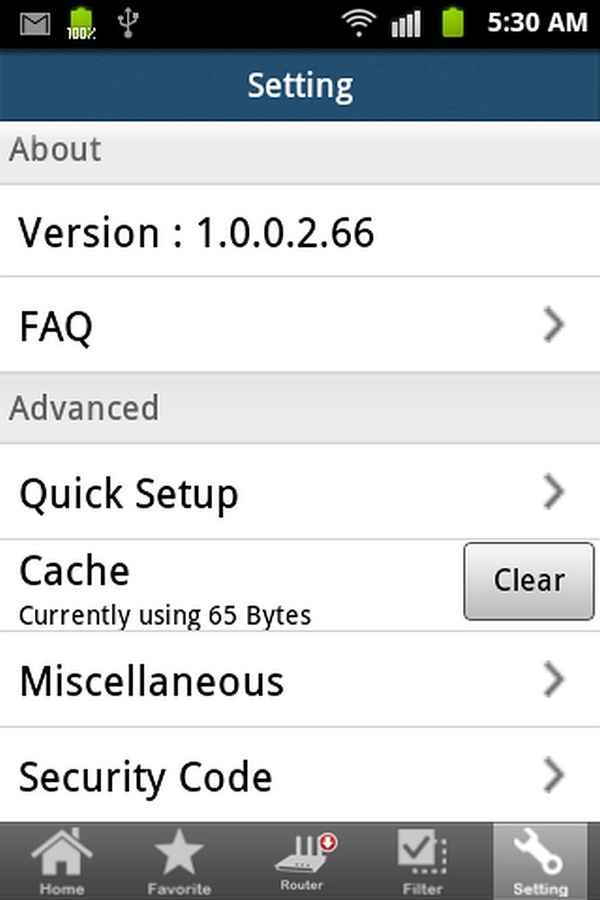 AiCloud settings page
So this was how ASUS AiCloud application works and the various features incorporated into it. We found this app to be an amazing addition to the ASUS routers as it increases functionality provided by the routers by multiple folds.
------
This was all about our 30-days with the ASUS RT-AC66U, RT-N66U and the EA-N66 networking devices. We found all the three products to be quite good in terms of quality, design, features, functionality and performance.