In our 30-days stint with ASUS RT-N14U, ASUS DSL-N55U and ASUS RT-N12HP, we've covered their Introduction, preview and unboxing, their setup and configuration and their in-depth features and administrative options in detail and we've been pretty impressed with what these devices have to offer in the networking segment. There was one big feature we left out in our previous articles which was about ASUS AiCloud. Well for starters, ASUS AiCloud is ASUS's home brewn cloud service that offers a lot of sharing, syncing and controlling options to users in the palm of their hand by making use of a mobile application for smartphones.
What is ASUS AiCloud?
To begin with, ASUS AiCloud is ASUS's proprietary cloud based service that keeps you connected to your data wherever you may have a connection to the internet. ASUS AiCloud not only links you to your home network and online Web storage service, but it also enables you to access all of it through the use of a smartphone app available for the iOS and Android platform.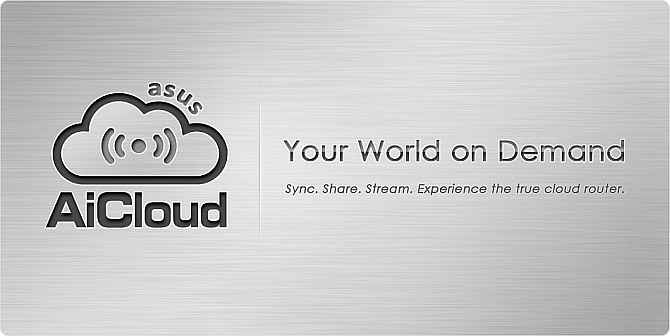 There are three main components of ASUS AiCloud which are:
Cloud Disk, Smart Sync and Smart Access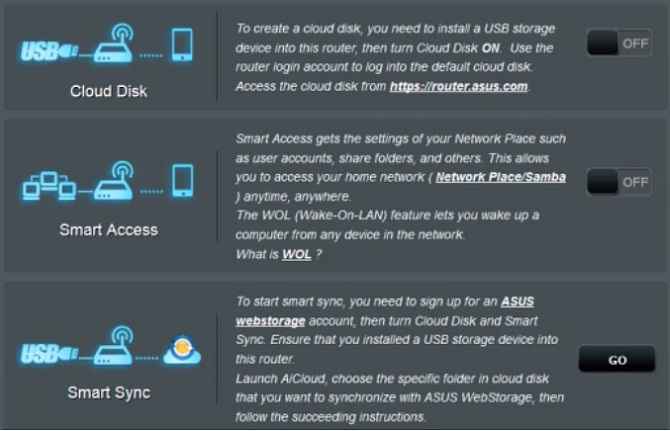 Cloud Disk:
The Cloud Disk feature of AiCloud is from among one of its most useful features as you can connect a USB storage device to your ASUS router and access your data from that storage device. Cloud Disk eliminates the whole idea of carrying around a USB storage device. In order to use the Cloud Disk feature of AiCloud, you just need to connect your USB storage device to a compatible ASUS router for example the ASUS RT-N14U and login into the Cloud Disk interface using your admin login details for the router and then download and install the AiCloud app for your Android or iOS device. Once you do that, you can easily use the AiCloud app and let it connect to the router to access your data using WiFi.
Smart Sync:
Smart Sync feature makes extensive use of your ASUS WebStorage account as it syncs all your data including media files to ASUS WebStorage or other cloud based services and your home network as well. Smart Sync works in such a way that all the information you have is in real-time and is completely up to date and in-sync with your home network or your online ASUS WebStorage account. It allows you to access and share a particular file required by you wherever you are. In order to use Smart Sync, you just need to sign up for an ASUS WebStorage account at first. You will need to connect your USB storage device to your router for this to work. Next, make sure that you have downloaded and installed the AiCloud app for your Android or iOS device, then you will just need to choose a specific folder which you want to share and follow the steps on the app to finish setting up Smart Sync.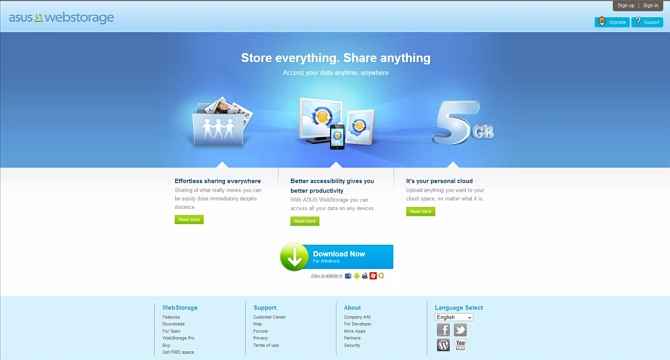 Smart Access:
Another useful component of ASUS AiCloud is ASUS Smart Access. Smart Access lets you share and stream your online storage data or home network through a custom Web link.
Smart Access features WOL or Wake-On-LAN facility that lets you wake up sleeping PCs on your network connected through an ASUS router like the ASUS RT-N14U. Smart Access uses your Network place or Samba settings which include user accounts and shared folders and once you have enabled it, you can easily access your network place from anywhere anytime. Not only this, Smart Access also allows you to set up Port Forwarding or Demilitarized Zone to remotely access your private IP address.
AiCloud options on ASUS RT-N14U: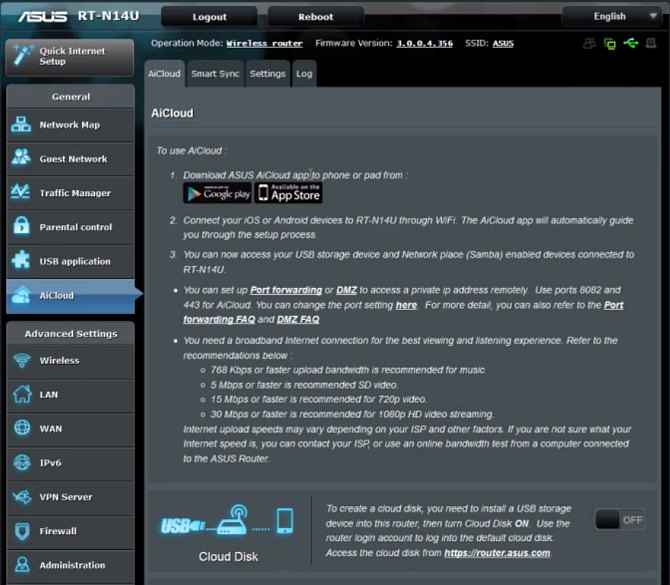 Once you've logged into the ASUS RT-N14U, you will find AiCloud in its menu amongst other sub-menus. Going into the AiCloud Menu, you will notice that ASUS has included a small user guide or instruction list on the page in order to guide the user on how to use AiCloud. Below which, you will find the three main options or components of AiCloud which are: Cloud Disk, Smart Sync and Smart Access. The page also provides options to turn on or turn off Cloud Disk and Smart Access".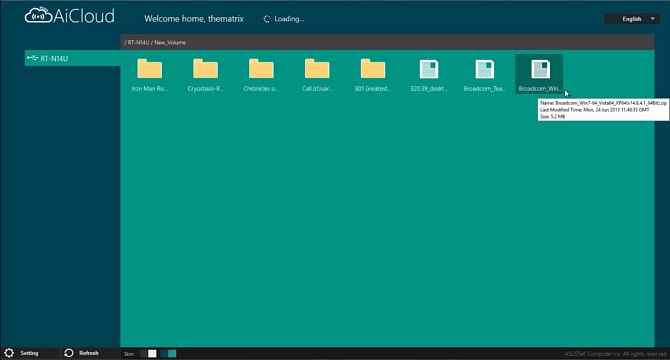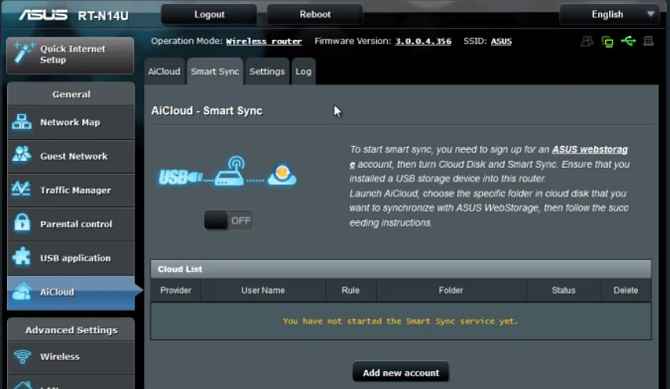 ASUS also provides instructions on how to setup and configure Port Forwarding and DMZ within the AiCloud menu itself. They've also included some submenus under AiCloud and the first submenu is Smart Sync. The Smart Sync submenu shows the user a cloud list which contains an option to turn on Smart Sync. You can also see the cloud list which contains the Provider, User Name, Folder, Rule, Delete and Status. You can also add accounts to Smart Sync from this menu by signing up for ASUS WebStorage service.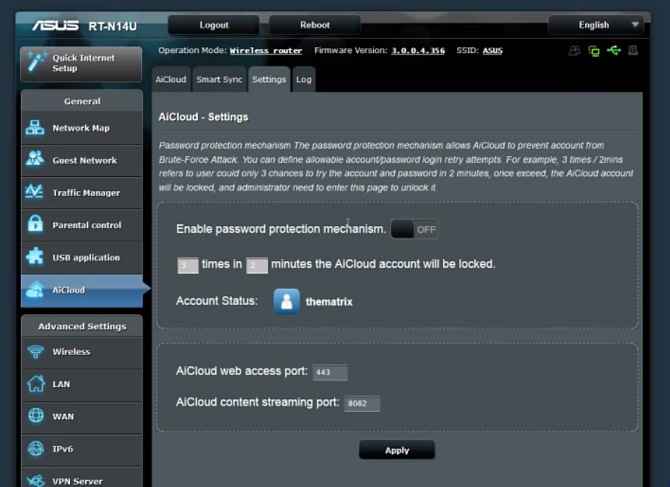 The AiCloud menu also has a submenu for the AiCloud settings. This settings submenu has various security options such as password protection in order to prevent a Brute-Force Attack. We can set a particular number of allowable login and retry attempts in this submenu. Thus, if someone attempts a failed login and crosses the allowable number of attempts, the AiCloud account will be locked and only the administrator can unlock it again.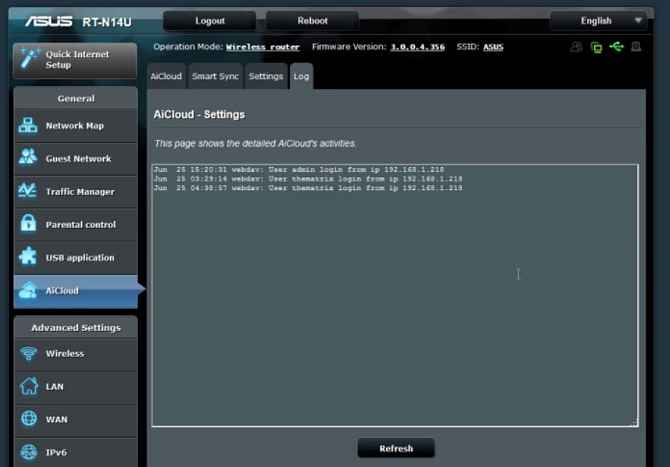 The final submenu in AiCloud is Log. Basically, log keeps a track sheet or log of all the activities of AiCloud with a date and time signature for every single AiCloud activity.
AiCloud app:
The biggest reason for AiCloud to be such a useful and feature rich service is the inclusion of the AiCloud app for iOS and Android devices. Once anyone has installed this app on their smartphone, they can take benefit of the AiCloud service by connecting their phone using this app to their compatible ASUS router. You can find a few screenshots of the AiCloud app for smartphones below.
Conclusion on ASUS RT-N14U, DSL-N55U and RT-N12HP: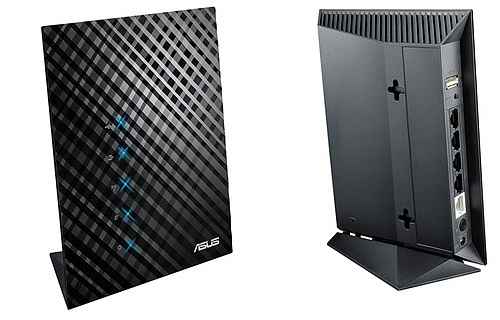 ASUS RT-N14U Wireless-N300 Cloud Router is one of the most feature rich routers we've seen. Not only does it have tons of features like AiCloud, USB port with File, Printer and 3G sharing, Guest Access, Download Master utility and Parental control but it is a robust networking device for home and also office use. If you are in the market for a standalone router, you can think of considering the ASUS RT-N14U.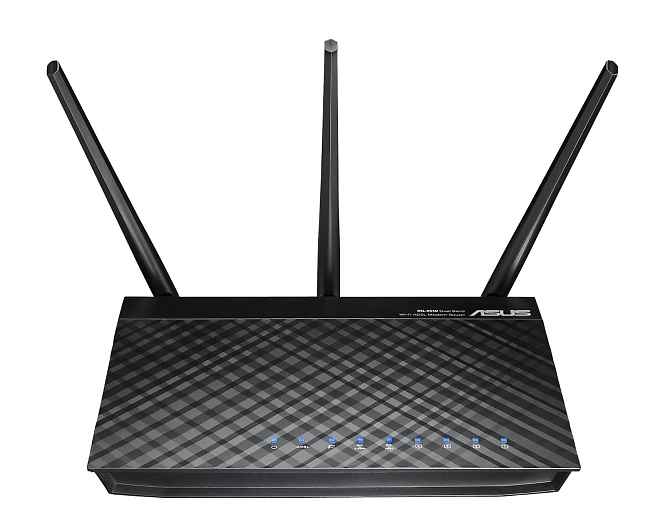 The ASUS DSL-N55U Dual-band Wireless-N600 ADSL Modem Router is another amazing networking device from ASUS with plenty of features. Apart from winning a Red-Dot design award for its sophisticated design, this router features Dual-CPU for home gateway and entertainment center. It also has two USB ports that support Wireless printers and storage sharing functions. The DSL-N55U can be used as a SAMBA/FTP/UPnP media server too. In short, it is a decent ADSL Modem router for home as well as office use.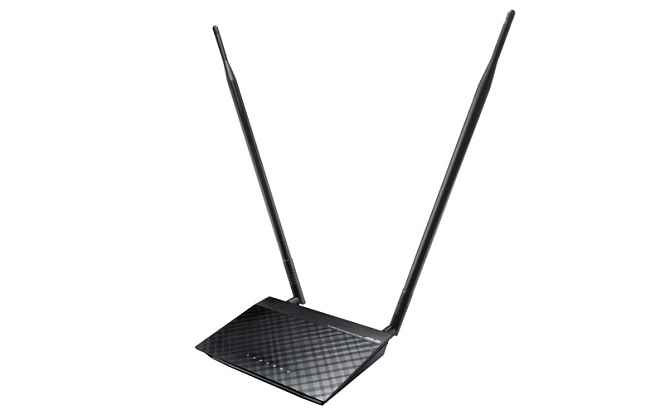 When it comes to wireless range extenders, the ASUS RT-N12HP High Power Router/AP/Range Extender with Wireless N-300 is one of the best routers one can get, considering it has longer 9dBi antennas for better wireless signal coverage. The RT-N12HP router uses a Broadcom chip and also has 3-in-1 functions such as it can be used as a Router or Access Point or even a Range Extender. ASUS has also provided a switch called "EZ Switch" to switch between these three functions of the RT-N12HP. The router also supports guest access capabilities. We recommend the ASUS RT-N12HP to anyone who is in the market for a good quality and high powered range extender for any kind of networking environments.
With this, we conclude our 30-days with ASUS routers campaign in this article. You can also watch the video below that pertains to the ASUS AiCloud service and its features.