When ZOTAC called to tell us that they were shipping over NVIDIA's Titan to us, to say that we were excited would be a gross understatement. We were jumping with excitement and just couldn't wait for its arrival.
Why all this excitement? Well, the Titan is literally the fastest single-GPU card on the planet. It leaves the NVIDIA GTX 680 in the dust and gives even a GTX 690 a run for its money (as you shall soon see).
This card is based on NVIDIA's Tesla K20, which is, essentially, a card designed to power supercomputers and crunch humungous volumes of data without breaking into a sweat. In fact, the card is named after the Cray Titan, currently the fastest supercomputer in the world, is powered by over 18,000 Tesla K20X cards.

This card is made using TSMC's 28nm manufacturing processing and at 550mm2, this is supposed to be the largest GPU die in production. Do note that the NVIDIA's 200 series cards did have a larger die size (at around 571mm2) but were made using the much larger 65nm manufacturing process and thus, only managed to include about 2 billion transistors.
The card is the probably at the pinnacle of what the current Keppler architecture is capable of and will have to do till the next generation is out. This is the first card that NVIDIA decided to christen with an actual name rather than just a serial number and that's because it's a rather special card as you can see from the specs shown below:
| | | | |
| --- | --- | --- | --- |
| NVIDIA | GTX Titan | GTX 680 | GTX 690 |
| Stream Processors | 2688 | 1536 | 2x1536 |
| Texture Units | 224 | 128 | 2x128 |
| ROPs | 48 | 32 | 2x32 |
| Core Clock | 837MHz | 1006MHz | 915MHz |
| Memory | 6GB GDDR5 @ 6.008GHz | 2GB GDDR5 @ 6.008GHz | 2x2GB GDDR5 @ 6.008GHz |
| Memory bus | 384-bit | 256-bit | 2x256-bit |
| Transistors | 7.1 billion | 3.5 billion | 2x3.5 billion |
| Price | Rs.68,000 | Rs.35,000 | Rs.68,000 |
As you can see from the table above, the card, from a strictly monetary standpoint, is not really value for money, seeing as you can get a 690 for the same price. However, NVIDIA has positioned the card as a luxury item in a way, an item of pure indulgence for people with money to splurge (or those who truly need that much power). And anyway, the sheer number of stream processors and transistors alone put this card in a league of its own.
Package contents:
ZOTAC's bundle with the card is quite bare-bones and only included the following:-
1x NVIDIA GTX Titan
1x Molex to 8-pin PCI-e adapter
1x Molex to 6-pin PCI-e adapter
1x DVI-D to D-Sub adapter
Driver CD
User Manual
Assassin's Creed bundle (all 3 games)
1x ZOTAC sticker
Of course, don't forget to check out our unboxing and first look here:
We would have liked a few more adapters (display-port / HDMI to DVI, etc.) and maybe even an SLI-bridge, but considering the price it is retailing for abroad, the bundle is acceptable. The card itself is a thing of beauty and feels very much like the premium card that it is. ZOTAC went with the standard NVIDIA reference design and we have no complaints. The vapour-chamber that NVIDIA specifies is extremely efficient and NVIDIA doesn't allow its partners to either enhance the reference PCB anyway.
How we tested
The main problem we had while testing this card was the fact that ZOTAC could only spare the card for a few days. Keeping that in mind, we only ran the essential benchmarks and real-world tests so that we could get an idea of the card's performance but more importantly, we wanted to have some fun with the card (what's the point of having the fastest card if you can't play with it?)
Our test rig:-
CPU: Intel Core i7 3960X @ stock speeds
RAM: 4x4GB Kingston Hyper-X RAM @ 2133MHz in quad-channel
Motherboard: AsRock X79 Extreme 6/GB
HDD: 2x120 GB Kingston Hyper-X SSDs
PSU: Cooler Master Silent Pro M850
OS: Windows 7 SP1 x64 (fully updated)
Graphics Drivers: NVIDIA Forceware 314.09
Benchmarks used:-
3DMark 11
3DMark (2013)
Resident Evil 6
Unigene Heaven 4.0
Crysis 3
Batman: Arkham City
Test results:-
Given the limited time we had with the card, we couldn't re-run the updated benchmarks. Pending a thorough review and comparison, here is a sampling of our results.
3DMark 11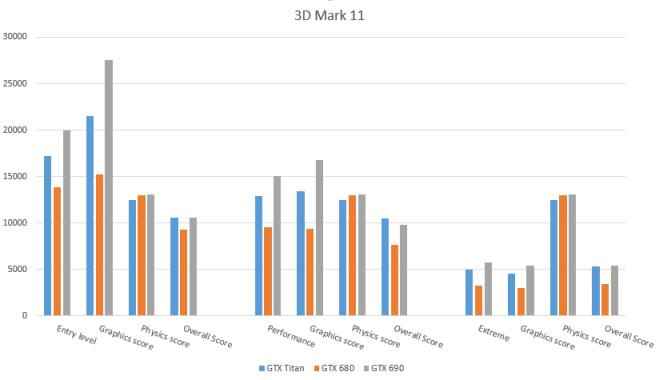 As you can see from this chart, the Titan completely blows away the GTX680 and is within shouting distance of the GTX 690. Do note that the scores shown (of the 680 and 690) are from last year's benchmarks and the current scores might vary when those cards are tested again with the current drivers.
| | |
| --- | --- |
| 3D Mark | |
| Ice Storm | |
| Overall | 151195 |
| Graphics | 301851 |
| Physics | 55043 |
| | |
| Cloud Gate | |
| Overall | 26669 |
| Graphics | 65684 |
| Physics | 8662 |
| | |
| Fire Strike | |
| Overall | 8758 |
| Graphics | 9601 |
| Physics | 4073 |
| | |
| Resident Evil 6 | |
| 1080p max | 13654 |
| 1080p med | 15162 |
| | |
| 720p max | 17031 |
| 720p med | 18366 |
| | |
| Unigine Heaven 4.0 | |
| 1080p Ultra | |
| FPS | 50.8 |
| Score | 1280 |
| | |
| 1080p high | |
| FPS | 74.9 |
| Score | 1888 |
| | |
| 1080p med | |
| FPS | 108.6 |
| Score | 2735 |
| | |
| 720p Ultra | |
| FPS | 80.4 |
| Score | 2025 |
| | |
| 720p high | |
| FPS | 127.5 |
| Score | 3212 |
| | |
| 720p med | |
| FPS | 171.9 |
| Score | 4330 |
| | |
| Arkham City | |
| PhysX off | |
| 1080p max | 121 |
| med | 153 |
| low | 220 |
| | |
| 720p max | 162 |
| med | 175 |
| low | 198 |
| | |
| PhysX on | |
| 1080p max | 73 |
| 1080p high | 99 |
| | |
| Crysis 3 | |
| 1080p Max | 35 |
| 1080p high | 81 |
| 1080p med | 106 |
As you can see from the above table, the Titan's performance isn't surprising. It really is the fastest single-GPU card and one of the few cards that is capable of running Arkham City at the absolute max settings with PhysX enabled. No other card, short of the dual-GPU monsters, has ever managed to achieve such a feat.
The standout feature of these benchmarks has to Crysis 3. For a card that is supposedly capable of running a triple monitor setup, Crysis 3 manages to bring it to its knees, and fast. The barely playable 35fps @1080p is testament to the power of CryEngine 3. You'll need a couple of Titans for sure if you're even considering playing Crysis 3 at its max settings.
Another interesting point to be noted is the temperatures that this card was running at. Idle temperatures never exceeded 35C and full load with FurMark managed to push the card to 90C. However, during gaming, even Crysis 3, the temperatures rarely crossed 70C. This is one cool card, in more ways than one.
Overclocking
Now we come to the real meat of the testing. NVIDIA has insisted again and again that this card is designed to be overclocked, in-fact, that is what GPU-Boost 2.0 is all about. They say that the design is so good, so efficient, the vapour-chamber so capable, that this card can be pushed to its TDP limit with ease.
Obviously, being Digitians, we had to put this to the test. The first thing we did was overclock the CPU to a more acceptable level and after a few hours of tweaking the voltages and multiplier, we finally managed to get the CPU running stable at 4500MHz (1.55V VCC). We would have really liked to push it further but the temperatures were hitting 90 and no matter what we did, we couldn't hit 4600MHz on the cooling setup we had.
Overclocking the card was a breeze. We used MSI AfterBurner and literally just moved a few sliders back and forth and stress-tested till we thought the card was running stable and fast. The final, stable frequencies were 128MHz on base core clock and 428MHz on the RAM. We could have easily pushed the RAM past 700MHz, but since it didn't seem to make any difference to our scores, we just left it at 428MHz.
We used FurMark to ensure stability and recorded the scores using the Fire Storm benchmark in the 3D Mark test suite. We started with a score of 8758 at stock speeds and with almost no effort, managed to push the score to 9700. After that, it was just a matter of careful tweaking and testing till we finally managed to reach a high of 10396. A significant performance boost of 20%. Which, by the way, puts us at 5th place on 3DMark's hall of fame. At least for now.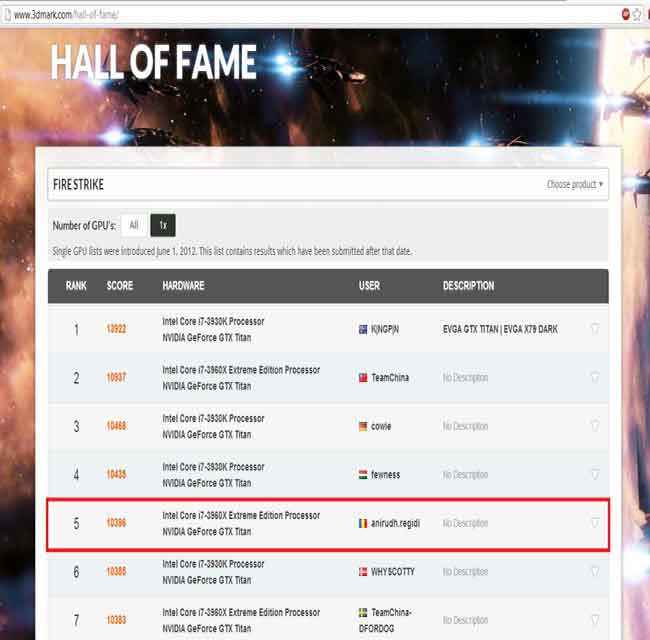 At this point we could literally do nothing more. Even a 5-10MHz increment would give us a blue screen and any further tweaks to the RAM or CPU did absolutely nothing other than ensure that the PC didn't boot.
You can rest assured that we will do all in our power to claim the top spot in that hall. If only we can get some LN2 from somewhere (sigh).
Conclusion:
This is not a card for the average gamer. It might very well be the fastest single-GPU card on the planet, but it is also the most expensive single-GPU card on the planet. A 680 retails for almost half the price and a 690 for the same. Yes, the performance numbers are incredible and yes they completely blow away every single-GPU card that was ever tested, but at a very high price.
That said, this card is analogous to the Bugatti Veyron. There are cars that are more powerful, faster even, but the sheer power, control and refinement that this card offers under heavy load is almost unparalleled. The card runs cool, doesn't break into a sweat and will handle everything you throw at it with aplomb.
The much-hyped overclockability is almost as good as we thought it would be. The ease with which we pushed the card into 3DMark's hall of fame was surprising, but then again, there are limitations that a true enthusiast might find unsatisfactory (such as the very minimal voltage control and the enforced TDP limit).
This is an excellent card, a piece of engineering excellence and one of the few, truly drool worthy products in recent memory. It's expensive, out-of-reach of the masses and only a true enthusiast will appreciate the beauty of this card. If only this card had been cheaper, somewhere between the 690 and 680, this would have been one of the best things you could buy for your rig this year.