Nvidia teased "something super" a few days before Computex 2019 and while we all waited with varying levels of excitement for an announcement, it didn't happen. Since then, there have been various leaks about the 'Super' variant of Nvidia's RTX GPUs, and they have not been wrong. Nvidia sent over their RTX 2070 Super for us to test out and give you a look at just what the card can do. With the card bearing a price tag of Rs 43,600, you might be wondering whether to buy the card. Maybe our findings will help you decide.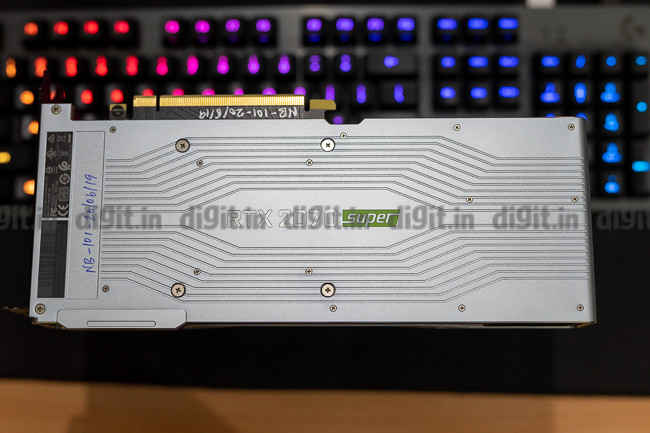 The Nvidia RTX 2070 is now Super
Specifications
The new Nvidia RTX 2070 Super utilises the same architecture as the other RTX Cards, meaning there's no major change in terms of the processing. What we have here is a version of the RTX 2070 with an increase in critical processing components across the board. You have more RT Cores, more Tensor cores, more CUDA cores, and a higher base and boosted clock speed. The basic spec-sheet is detailed in the table below.
| | | |
| --- | --- | --- |
| Specifications | Nvidia RTX 2070 Super | Nvidia RTX 2070 |
| CUDA Cores (single precision) | 2560 | 2304 |
| Tensor Cores | 320 | 288 |
| RTCores | 40 | 36 |
| Texture Units | 184 | 144 |
| ROP Units | 64 | 64 |
| Rays Cast | 7 Giga Rays/second | 6 Giga Rays/second |
| Base Clock | 1605 MHz | 1410 |
| Boost Clock | 1770 MHz | 1710 |
| Memory DataRate | 14Gbps | 14Gbps |
| Total Video Memory | 8192MB GDDR6 | 8192MB GDDR6 |
| Memory Interface | 256-bit | 256-bit |
| Total Memory Bandwidth | 448GB/s | 448GB/s |
| Texture Rate (Bilinear) | 325.7 Gigatexels/second | 246.2 Gigatexels/second |
| Fabrication Process | 12 nm FFN | 12nm FFN |
| Transistor Count | 13.6 Billion | 10.8 billion |
| Recommended Power Supply | 650 Watts | 550 Watts |
| Total Graphics Power (TGP) | 215 Watts | 185 Watts |
Given that the Nvidia RTX 2070 Super has more cores packed into it, the minimum wattage of the power supply needed for the GPU has also gone up. The RTX 2070 required a minimum 550W power supply, but the RTX 2070 Super needs a minimum 650W power supply.
Gaming Performance
We used the card in two systems to play a number of games and run our standard suite of benchmarks. Machine 1 is an older Intel Core i5 machine while Machine 2 is a top-of-the-line AMD Ryzen Threadripper-powered system. The first machine runs on the Intel Core i5-6600K CPU, which has been overclocked to 4.4GHz. The exact specs are listed below.
| | | |
| --- | --- | --- |
| Component | Intel Build | AMD Build |
| Processor | Intel Core i5-6600K | Ryzen Threadripper 2970WX |
| RAM | 8GBX4 Corsair Vengeance Pro @ 3200MHz | 8GBX4 G.Skill @ 3200MHz |
| Motherboard | Gigabyte Z170x-Gaming 5 | Asus ROG Zenith Extreme |
| SSD | 1TB Samsung 970 Evo Pro | 1TB WD Black SN750 |
| Power supply | 1000W | 1000W |
We wanted to see whether the card would be a good fit for a low-end system, figuring out where the bottle-necking happens and also offer the 2070 Super enough headroom to flex its muscles, hence the Threadripper build.
Our standard set of test games include Metro Exodus, Doom, Shadow of the Tomb Raider, Battlefield 5 and a few others. We test all the games at their highest graphical setting, which we refer to in our charts as "Ultra" for the sake of clarity. We also test the same games at a graphics setting one less than the highest, which we refer to as "High." The only exception to this rule is Metro Exodus, which has an "extreme" graphics setting that's even higher than Ultra. The developers themselves say that this setting has no discernable difference in terms of the visuals but does tax the system. While playing games, we pull up the Resource Monitor and HWMonitor on a secondary display to keep an eye on the CPU-GPU usage and heat. It's an essential part of digging into a GPU's performance, especially one that demands a minimum 650W power supply.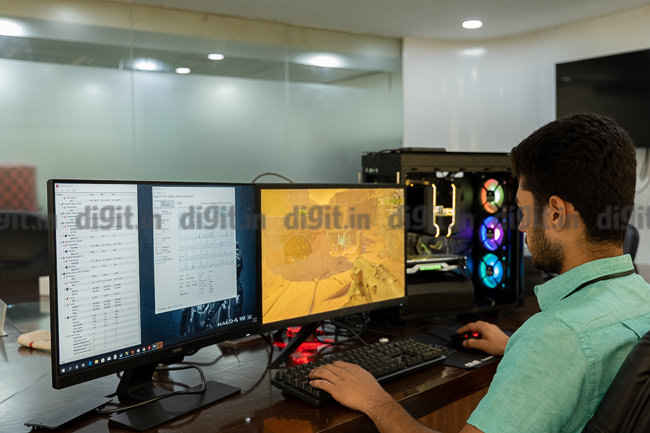 Benchmarking Doom on our AMD Threadripper build
Pairing the Nvidia RTX 2070 Super with an AMD Ryzen Threadripper 2970WX
From the 1080p, Ultra setting test, we see that the AMD rig outperforms our older Intel machine by a noticeable, but not that large a margin. What was interesting, however, was seeing Hellblade: Senua's Sacrifice and Doom deliver higher frame rates on our Intel build than on the AMD machine.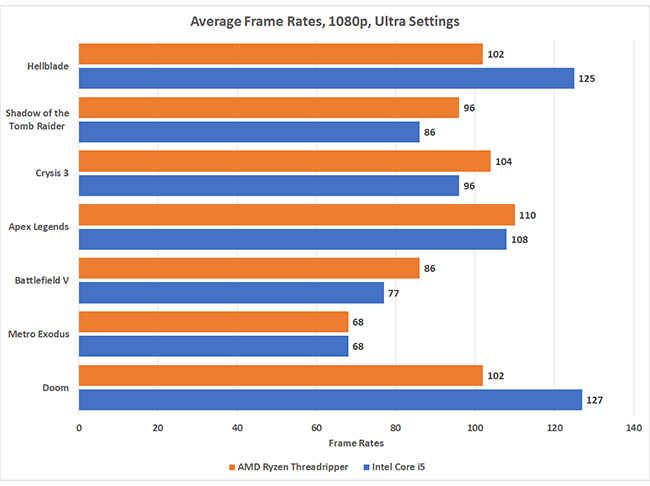 Average frame rates with graphics setting set at Ultra
Switching the graphics down to High from Ultra sees a noticeable jump in performance in most of our games. Metro Exodus continues to punish both our builds, with frame rates staying below 100fps on both machines, in both graphics settings. We see some very respectable frame rates when playing Battlefield V on Ultra on both machines, but the AMD build does help get far higher numbers.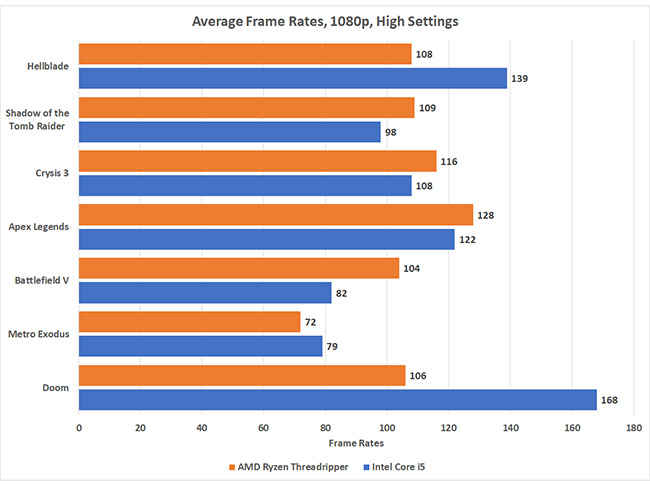 Average frame rates at 1080p, High Settings
Overall, the Nvidia RTX 2070 Super offers roughly a 10-percent boost over the card it replaces, the RTX 2070. On the Intel build, we definitely found the 2070 Super being bottlenecked by the Core i5 processor, even though it was overclocked. Looking at CPU usage on the Threadripper, we noted that not all the cores were being utilised by any of the games we played. But what did take advantage of a large number of cores was video editing and encoding.
Bottom Line
Nvidia is launching the Nvidia RTX 2070 Super at Rs 43,600, which is much cheaper than the RTX 2070 when it launched. In addition, the company is going to discontinue the RTX 2070 moving forward so the Super variant will be all that there is. In the next few days, we will continue testing the card on different configurations and more importantly, at higher resolutions, like 2K and 4K, to see just how far we, and consequently you, can push the card.