With the launch date creeping closer and closer more details about NVIDIA's latest flagship, the Pascal-based GTX 1080 have been released. We've already covered much of what has been released till now in our announcement and the Ansel demystification article. So what exactly is new? Read on.
Ansel
The in-game photography engine is supposedly easy to integrate into existing video games. The image below illustrates exactly where in the existing model, does the Ansel layer step in. What this means is that a good portion of the Ansel technology is present in the driver and whatever remains has to be integrated by the game developer into the video game.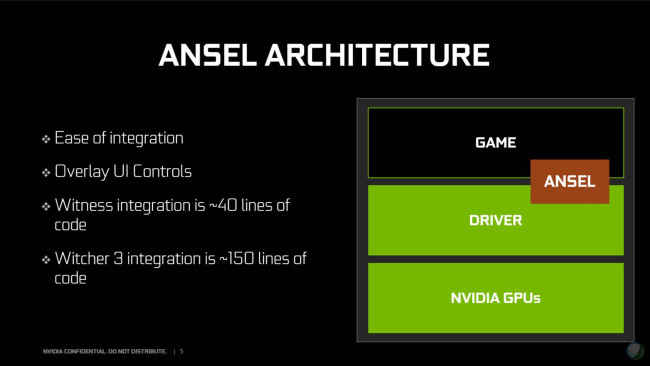 Essentially even 3D game has a free camera mode if you know the proper console command to release the rigging. So the developer basically has to hook that up to the Ansel code. NVIDIA has released information on how many lines of code two developers had to add in order to incorporate Ansel into their games – Witness - 40 lines of code, Witcher 3 - 150 lines of code.
Witness is an Indie game which has been developed by Jonathan Blow and uses in a proprietary game engine developed by the studio. Witcher 3 requires no introduction and uses REDengine 3, developed by CD Projeckt RED. Needless to say, popular engine might just as well ship plugins to make the job easier. Here is list of all the games supporting Ansel.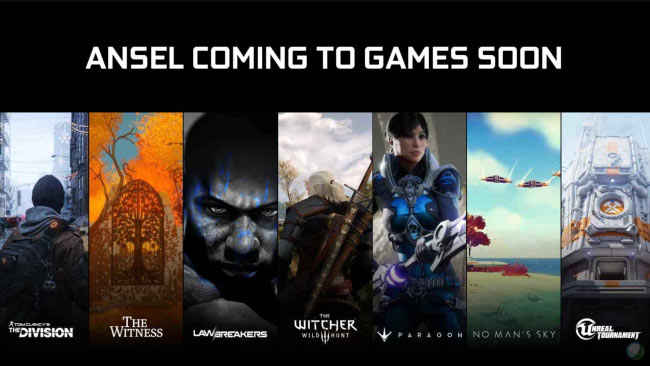 NVIDIA VRWORKS AUDIO
Path tracing for audio has been around for quite a while but NVIDIA aims to achieve a higher level of immersion by incorporating the system into their ecosystem. By basically tying everything together without the need for extra layers of code, NVIDIA VRWORKS AUDIO should achieve a higher level of synchronicity. Each extra layer of code rakes up additional compute overhead and by eliminating this additional overhead from the audio and visual elements would make for a better experience.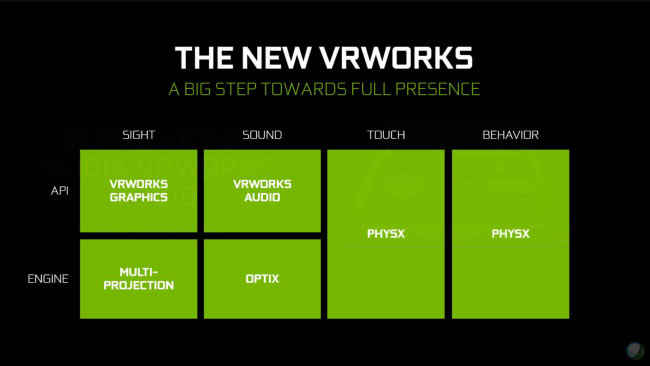 NVIDIA VRWORKS AUDIO will involves interfacing with VRWORKS GRAPHICS and SIMULTANEOUS MULTI-PROJECTION for the visual elements. OPTIX for the audio elements and Physx for interactive elements within the game.
NVIDIA GTX 1080
The Pascal-based NVIDIA GTX 1080 has quite a few new features which we've covered earlier but for the sake of it, here's what's new. With Pascal, they've moved to a smaller 16nm FinFET manufacturing process improving power efficiency and allowing more transistors to be squeezed onto the die. Speaking of which, the GP104 which the GTX 1080 will be based on, has 7.2 Billion transistors.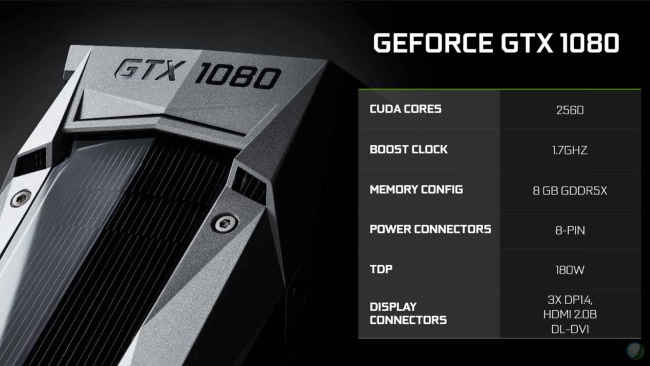 The GTX 1080 will also be using a different memory architecture, namely, GDDR5X which gives it much more bandwidth to play with. In this case, that number stands at 10 Gbps with a bus-width of 256-bit. Also, they've re-routed the copper traces in order to reduce latency between the GPU and the memory chips.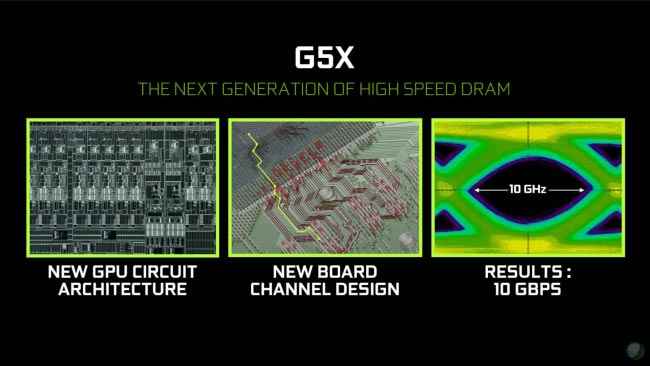 Aside from the physical improvements there's something new on the software side as well. We're talking image compression now. With Pascal, NVIDIA brings in the fourth iteration of their delta colour compression technology. This brings improvements to the existing 2:1 compression and adds two new forms of lossless compression – 4:1 and 8:1. As for those wondering what these numbers mean, take a look at the image below.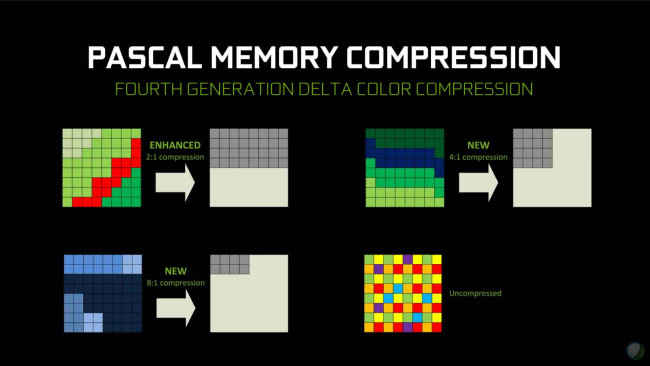 2:1 simply implies that your pixel data is compressed by a factor of ½ i.e. it gets halved. So less data bandwidth is required to move pixel information around. Similarly, 4:1 and 8:1 compression algorithms will result in much higher savings. To be precise, 4:1 will save 75% of data bandwidth and 8:1 will save 87.5%. Obviously, these algorithms will be applicable in certain scenarios only so don't expect 87.5% savings across the board.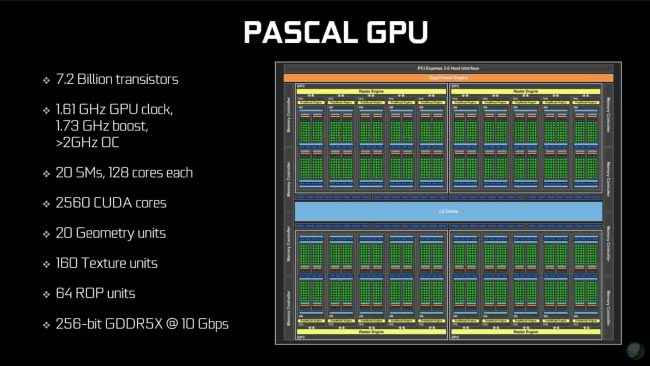 As for the remaining numbers, the GTX 1080 will sport 2560 CUDA cores, 160 Texture units and 64 Render units. The GP104 will be clocked at 1.61 GHz going all the way up to 1.73 GHz boost clock. At the event where the GTX 1080 was showcased, the GPU was overclocked to an impressive 2.1 GHz.
SIMULTANEOUS MULTI-PROJECTION
A boon for enthusiasts with multi-monitor setups, Simultaneous Multi-Projection is quite interesting. Till now, the image/frame to be displayed on a multi-monitor setup was part of one large image which would be segmented before being displayed. The issue with this particular approach is that when you rotate and tilt monitors, the images lose perspective.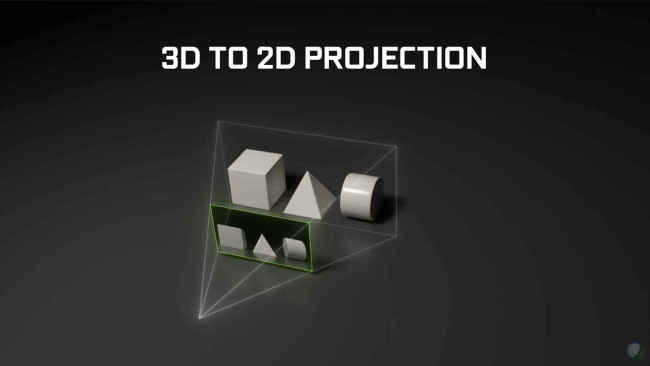 So with Simultaneous Multi-Projection, each segmented frame will be rendered to ensure a proper perspective. This makes the images displayed on curved monitors to seem a lot more natural ingame.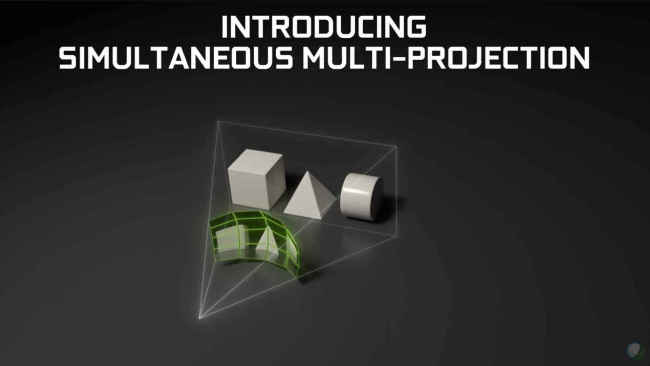 Also, since the Pascal architecture is engineered to handle VR better you're bound to get better performance overall. NVIDIA is claiming a 1.5x improvement in VR performance over the Maxwell architecture. If compared with the GTX 980, the GTX 1080 is supposedly 2.7x better at VR performance and 1.7x better gaming performance.
PASCAL HDR
Pascal brings a little more to the table with HDR. We've already seen how HDR has been implemented in Ansel, and now Pascal allows for 4K HDR video to be encoded and decoded.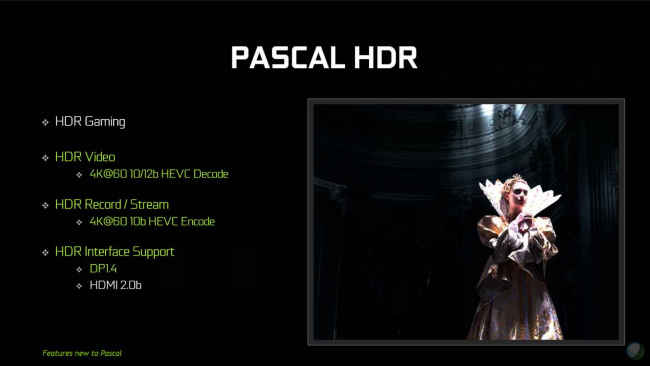 Again, here's a list of all the games that will have HDR available at the time of launch. Quite a lot of games mentioned here are also present in the Ansel list.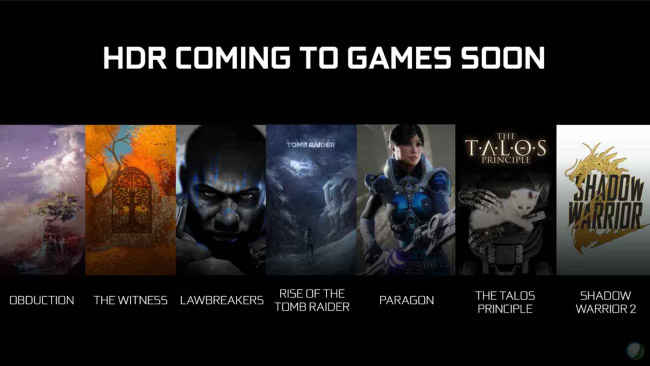 FOUNDERS EDITION
And now for the much talked about Founder's Edition cards. These are nothing but the reference cards that NVIDIA used to send out to their board partners. So they incorporate the GPU in its most nascent form. But nascent doesn't mean featureless. The reference card have had excellent build quality till now.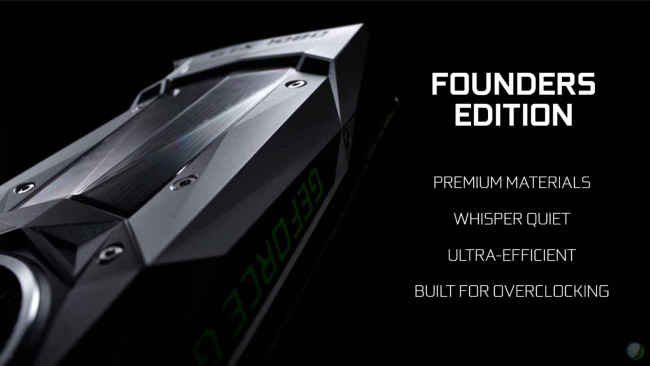 The body is usually machined from a magnesium based alloy and the cooling fan is pretty sturdy. We're assuming it's BLDC. The heatsink for the GTX 1080 will feature a vapour chamber which is something we've only seen with premium cards so far.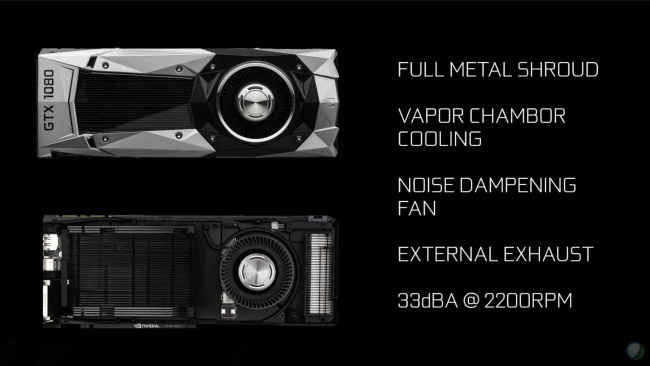 Also, the Founder's Edition card will feature 5-phase dual-FET power delivery system for the GPU and if we are to go by what was prevalent with the GTX 980, a single phase power circuit for the memory.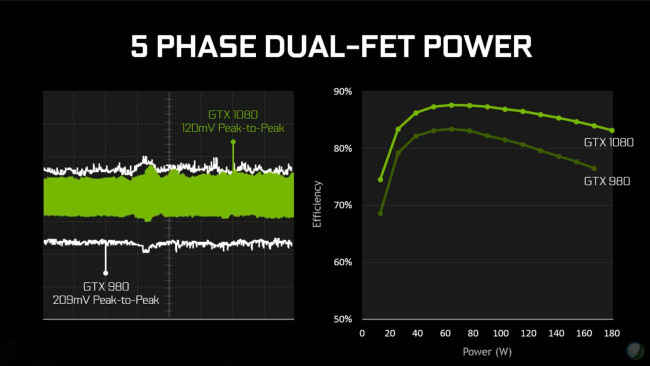 Pricing
The GTX 1080 Founders Edition will be priced at $699 which is $100 more than the MSRP that partners are bound to price their cards around. So you're paying more for higher build quality and good overclocking capability. This might mean that these are better-binned chips but we'll have to confirm this.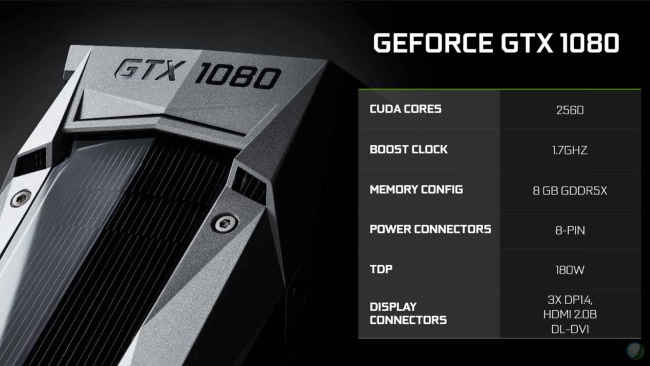 The GTX 1070 will feature 1920 CUDA cores and will most probably run on the same GP104 that the GTX 1080 is based on. And the GPU has a TDP of 150W against the 180W that the GTX 1080 is designed for. All the other specifications will be revealed in due time.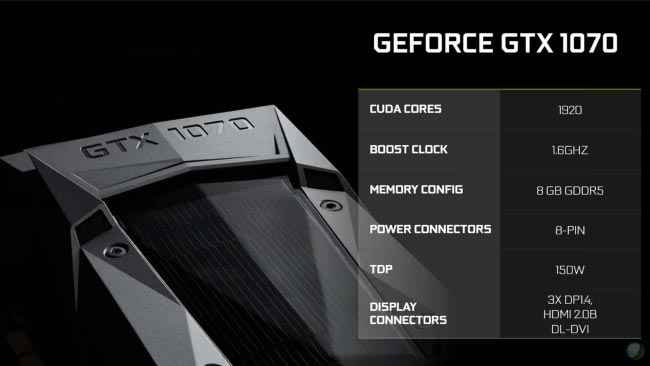 NVIDIA GeForce GTX 1080 Founders Edition Price in India
The Founders Edition GTX 1080 will be priced at Rs.63,250 in India but we have seen units selling for Rs.63,799. Currently, the GTX 980 Ti is priced around Rs.65,000 in India which pales in comparison with the GTX 1080 so older Maxwell cards might see a price drop. Compared to US pricing, this is heavily overpriced. The GTX 1080 Founders Edition cards are retailing for $699 in the US which works out to around Rs.47,130 at Rs.67.42/dollar. Which means the Indians have to pay 35% over foreign pricing. The GTX 980 launched in India in a similar fashion and had resulted in a lot of enthusiasts opting for purchasing them from overseas as those cards, even with import duties, cost far lesser. It seems enthusiasts might go the same way with the GTX 1080 as well. All Founders Edition GTX 1080 cards are exactly the same, so it is highly unlikely that we'll see different prices from different brands though that hasn't stopped companies from pricing cards in a wayward fashion till now.