The march towards making this world as much wireless as possible is going on in full swing and we've witnessed this very thing because of the increasingly rising number of wireless networking products in the market. ASUS as one of the known manufacturers in this stream is no different, as they've sent us three wireless products from their arsenal of networking devices. We'll be doing a coverage on all the three devices in a series of articles starting today. So without waiting more, let's check out these devices and see what they have in store for us.
ASUS RT-N14U
Wireless N-300 Cloud Router
Let's start with the RT-N14U. Firstly we would like to say that ASUS has designed this device brilliantly, as the first thing anyone would notice after opening its box is the design of the RT-N14U. The router comes nicely bubble wrapped and has the trademark ASUS texture design on the top which ASUS calls as "Black Diamond design". Another thing we liked in the package of this router was the bundled stand which can be used to mount the RT-N14U vertically. This stand can come in handy when you may want to place the device at an area which does not have much space.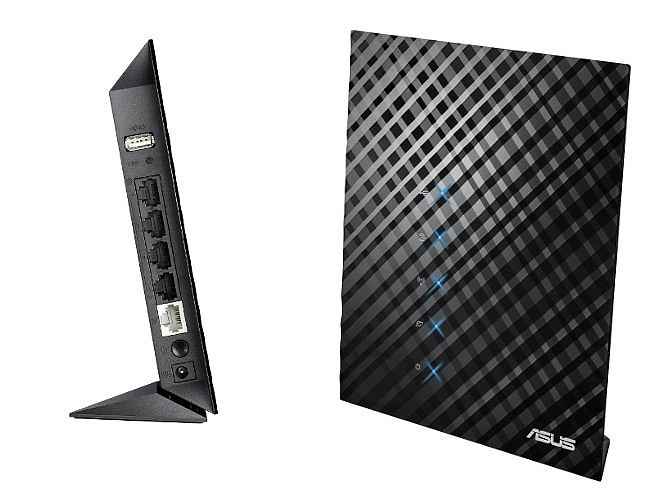 The RT-N14U is an 802.11n 300Mbps router and is primed for cloud services. Speaking of the cloud, this router has support for syncing, sharing and streaming data everywhere via the ASUS AiCloud. The best feature of this router has to be the included USB ports which not only support 3G/4G dual WAN but also support an all-in-one printer and FTP server functionality. The added Download Master utility helps to download files 24/7 by just using the router only.
ASUS DSL-N55U
Wireless-N600 Gigabit ADSL Modem Router
This comes as no surprise that the ASUS DSL-N55U won a Red Dot design award. Following in the footsteps of other networking devices from ASUS, the DSL-N55U too has the same textured pattern on the top with bevelled sides. Unboxing this ADSL router, one would notice that the DSL-N55U comes with a set of three detachable antennas which get connected to the back. At the top front part we have the indication LEDs with a symbol signifying each LED's purpose. Going at the back of the router, we see a collection of the usual network ports along with a few nice additions such as the stand-alone WiFi On/Off switch, a WPS button and USB ports.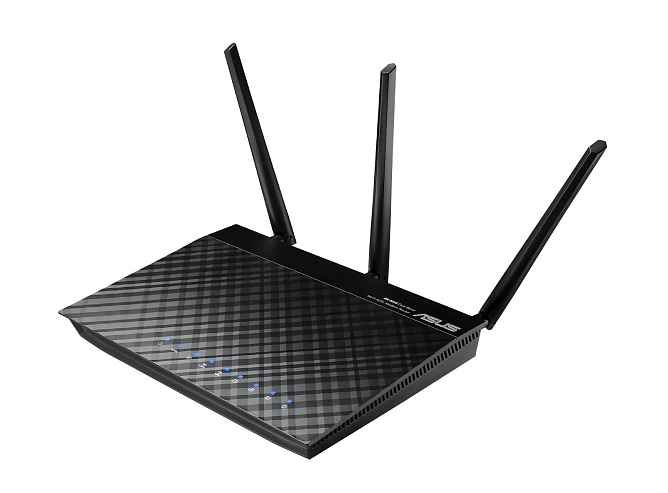 This ADSL router is innovative in terms of it home gateway feature, as it has individual CPUs for modem functionality and router functionality. Being a Dual-band Gigabit ADSL modem router, the DSL-N55U can deliver up to 600Mbps bandwidth. It also has an auto detecting ADSL connection which allows you to configure it without using a CD or Manual. In terms of data sharing, this device supports 3G/4G sharing, printer sharing and file sharing features. The included multi-function USB ports can also be used for charging your iPad.
ASUS RT-N12HP
Wireless-N300 3-in-1 Router/AP/Range Extender
We were actually searching for a high powered wireless range extender to improve the WiFi coverage at our office and coincidentally we got our hands on the RT-N12HP. Well for starters, the ASUS RT-N12HP is a high power wireless range extender with the wireless-N300 specification. And no, range extending is not its only functionality as it is a 3-in-1 device. It is a wireless router, access point and range extender all built in one single device. Opening the package of this router, we found that apart from having the same textured pattern based design, it also comes with two extra-long detachable 9dbi antennas with adjustable power. ASUS claims that using these antennas, the device is able to provide 300% wider signal coverage.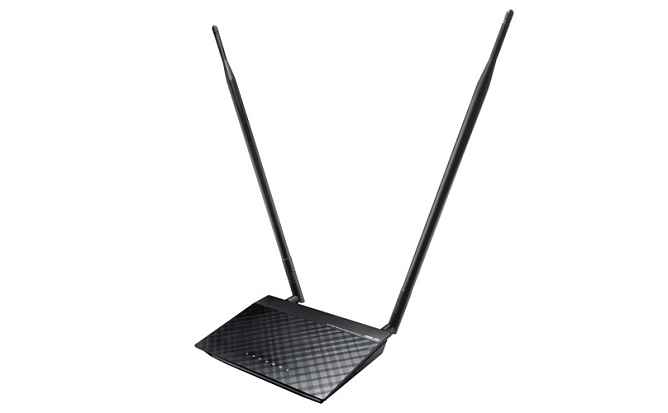 The ASUS RT-N12HP improves online multi-tasking by providing support for up to 30,000 data sessions. The included Broadcom chip enables better and faster routing. At the back of the device is a switch which ASUS calls as "EZ switch". This switch provides the user an option to quickly change between router mode, repeater mode or access point mode.
This was the introduction and preview of ASUS RT-N14U, ASUS DSL-N55U and ASUS RT-N12HP. We've also shot a preview and unboxing for all the three devices. Be sure to check out that video below. We'll give you more details about all three routers introduced here in our next post. Stay tuned.