Plenty of changes this year from both camps.NVIDIA started off early in May with its 700 series GPUs and the launches will continue well into the next year given that we've yet to see the elusive 790 or any Ti variant if there ever will be. The Titan was launched early this year and blow away our minds it did! Sorry for the Yoda-speak but a card having 6 gigabytes of memory seemed a bit ahead of the times but then again gaming isn't all that can be achieved using graphics cards. The mid-range and low-end cards were again victims of rebadging where older GK104 chipsets were used. This isn't anything new and has become a standard practice even by the competition. The conference held in Canada saw NVIDIA showcasing Shadowplay - a service that let's you capture and stream your game using your graphics card. Another highlight was GeForce Experience which logs your game settings and your computer configuration and sends it to NVIDIA. Using data from all its users, GeForce Experience can suggest graphics settings that would get the best out of your computer configuration.
AMD has been working hard and they finally unveiled a new series this September which not only boasts an architecture revision but also a new nomenclature system. However, turns out that just like NVIDIA, almost all cards were rebadged with Tahiti chips. Only the R9 290 and the R9 290X featured the new Hawaii chipsets and they sure did perform great. One of the most talked about things that AMD did this year was come out with Mantle, a new API that allows programmers direct access to the GPUs memory and reduces CPU overhead. They claim that Mantle can call about 9 times more draw commands compared to other higher level APIs. The first game with Mantle is already out and we're sure you've heard of it - Battlefield 4. However, we'll have to wait till mid-December for the update that claims to make the magic happen. AMD seems to have incorporated Raptr's client into their driver which is very similar in function to GeForce Experience.
Most of the high-end offerings are out and the midrange and low-end cards are being introduced on a regular basis. Dual GPU cards are yet to be released though aftermarket cards like the ASUS 760 MARS have been released. With the new chips from both camps coming very close, the onus is now on Nvidia to do something in order to regain the edge they had over AMD or we could see a shift in sales statistics soon enough.
Zero1 Winner
NVIDIA GTX 780 Ti
The GTX 780 Ti was released soon after the R9 290X and it retook the crown of the fastest GPU with at least 5% increment in performance over the Titan with certain benchmarks pulling about 15% increment which is considerable. Functionally, it has 16 texture units and 192 stream processors than the Titan. What's even better is that the GTX 780 Ti is cheaper than the Titan which makes it the right choice if you are a stickler for NVIDIA products. What remains to be seen is how long it'll be before the aftermarket models arrive which are bound to have some sort of factory overclock raising the bar even higher.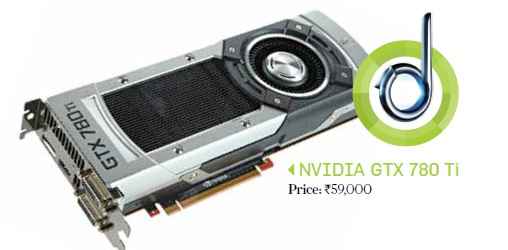 Notable Mentions
AMD R9 290X
AMD's flagship has everybody all excited for two reasons. The first would be that these cards are powerful and offer the same performance as a Titan but at half the price. Secondly, there's Mantle which we've talked about. The Hawaii chipset outperforms the competition when crunching code written in OpenCL which even the Tahiti chips did with ease. The card is built in the same manner as previous AMD cards with the same noisy fan, however, performance wise it offers a significant improvement with up to 20 fps increment in AAA titles.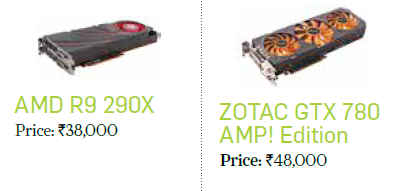 ZOTAC GTX 780 AMP! Edition
This triple fan graphics card comes with a factory overclock that pushes it way ahead of the stock GTX 780, so much that it nearly equals the GTX 780 Ti stock card in terms of performance. In some of the gaming benchmarks we ran, this card performed slightly better than the GTX 780 Ti but the difference wasn't much greater than the error margin. Being an aftermarket card, this boasts better construction and would thus be preferred over a stock card.