RATING: 72 / 100
PRICE: Rs. 1,70,990
PROS: Aggressive gamer oriented design, plug and play setup, powerful performance, Fast NVMe storage
CONS: Costly, Not meant for 4K gaming
Building a new gaming rig consumes a considerable amount of time and money, particularly when you aim to build an extreme configuration. We remember the days when we would go to our nearby components mart, bargain for discounts and come back home with the graphics card that we were eyeing everyday. Still more exciting was bringing everything home and assembling the PC like solving a puzzle, and finally seeing the shiny new monitor light up.
The times have changed since then, and many gamers nowadays prefer consoles over the elaborate episode of building a gaming PC. In all honesty, owning a console is much more convenient as you get to play most of the latest games without the constant hassle of keeping your hardware up-to-date, every now and then. While graphics, processor speeds and the overall performance level still stays superior in PCs, gaming rigs come at higher prices than consoles, alongside requiring periodic upgrades and care.
It is this gap that the Asus ROG G20CB aims to fill. It is a PC tower pre-configured to give you seamless PC gaming experience, hence practically being a plug-and-play gaming PC. Does it manage to achieve its target? Find out, in our in-depth review of the ASUS ROG G20CB gaming PC.
Build and Design: The charisma of colours
The ASUS ROG G20CB doesn't exactly look like a PC. That is the whole point, though: ASUS wanted it to look like a console — relatively compact, with good looks that fits beside your television or a big monitor. The Asus ROG G20CB looks like a mean machine from all angles, and even the side panels have an angular structure instead of straight panels to give it an aggressive stance. The whole machine is painted matte black, highlighted with red accents around the edges. To complement the entire gaming design, ASUS has loaded the G20CB gaming PC with full RGB lighting with support for lighting effects such as sound, pulse, sync and tuning.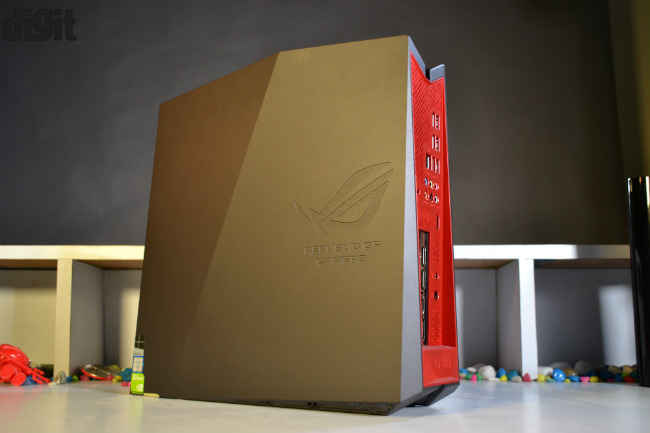 Once you get over how good the design is, the other major likeable aspect about this off-the-shelf custom PC is its cooling mechanism. The small chassis may not be able to hold proper 120-140mm fans, but ASUS has done a relatively good job in keeping the temperature levels in check. Inside the case, two air blowers sit on top of the processor and RAM, pumping hot air out from the top. The graphics card has been mounted flat against the motherboard, with the fan facing the side panel. The GTX 980 does not require its cooling fans under 60 degree Celsius and stays relatively cool unless pushed really hard, and ASUS has made good use of this ability. Even when the cooling fan initiates on the GTX 980, the air is channeled out through the back. While gaming at 1080p, the temperature remained relatively stable with the processor going up to 70 degrees, and the GPU remaining at around 50-55 degrees.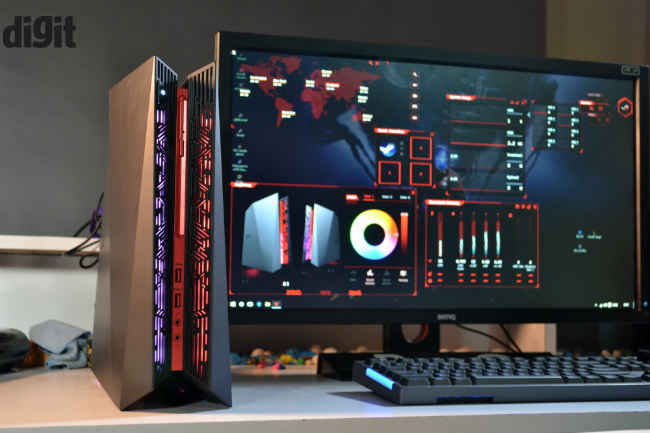 While the unit looks and feels quite premium, ASUS may have overlooked certain issues regarding aesthetics. Firstly, the two-part (180W+230W) power brick resides outside the main body, which may not fit well with clean desk layouts. The other thing worth mentioning is that this PC cannot be kept on its sides. It is understandable that the asymmetric design does not offer enough room to achieve these, but since it is a custom chassis, integrating the power brick within the chassis and providing it with a custom stand to keep it horizontal would have been ideal. Nevertheless, the design of the ASUS ROG G20CB will certainly appeal to the gaming community, and hopefully, in future iterations, ASUS will introduce workarounds for power brick integration, a horizontal stand and cooler colour variations.
Specs and Ports
Processor: Intel Core i7 6700
RAM: 32GB DDR4, 2133MHz
GPU: NVIDIA GeForce GTX 980 4GB
Motherboard: Intel H170
Primary Storage: 2 x 256GB Samsung PCI-e SSD
Secondary Storage: 3TB Toshiba HDD
Front I/O: 1 x Headphone, 1 x Microphone, 2 x USB 3.0
Rear I/O: 2 x USB 3.1, 2 x USB 3.0, 2 x USB 2.0, 1 x HDMI-Out ,1 x RJ45 LAN ,1 x 7.1 Channel Audio,1 x Kensington Lock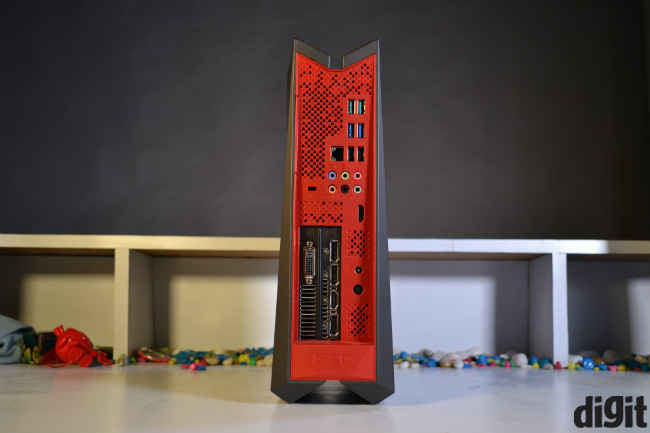 Notably, the legacy PS/2 ports have been left out, although I don't really mind their absence as every new laptop or keyboard is now shipped with USB 2.0 interface or better. One port that is notably missing here is the USB 3.1 Type-C port, although the usage scenarios of this port are pretty limited at the moment. Within a year or two, though, things will change, and a USB C port would have made the gaming PC more future-proof. A manual RGB toggle would have been appreciated too, but you cannot have everything, can you?
Performance: The joy of Full HD gaming at Ultra settings
The ASUS ROG G20CB is the not the most powerful pre-built gaming machine in the market, but if want to play games at Full HD resolution and Ultra settings, this should flawlessly do your job. Powered by an Intel Core i7-6700 processor and 32GB of DDR4 memory, the ASUS ROG G20CB packs a lot of firepower. While the standard Core i7 processor does a fine job, I would have personally preferred the i7-6700K when gaming is concerned. This would have given the processor an extra kick and given you the bragging rights, as it is a faster processor and is optimised better for gaming. The graphics performance is handled by the powerful NVIDIA GeForce GTX 980 GPU. This is also a very powerful graphics card and has enough power to run circles around all AAA gaming titles if you are playing in 1080p or even 2K. However, the card has its limits, and pushing output resolution beyond 2K really takes the steam out of the GPU. I tested the ASUS ROG G20CB on a Sony 4K HDR TV, and while older titles like Bioshock Infinite do render playable frame rates of just over 30fps, newer titles such as Tom Clancy's Division were unable to run properly at 4K. With frame rates not going beyond 15 fps, the game was pretty much unplayable. Our other favourite game, DOOM, ran at around 27-32fps in 4K resolution, and without any issues. We weren't able to check the Nightmare mode of DOOM as that requires more than 5GB of VRAM.
Here is how the Asus ROG G20CB performed during gameplay. All tests were done in High or Ultra settings, with all graphics options set to Max.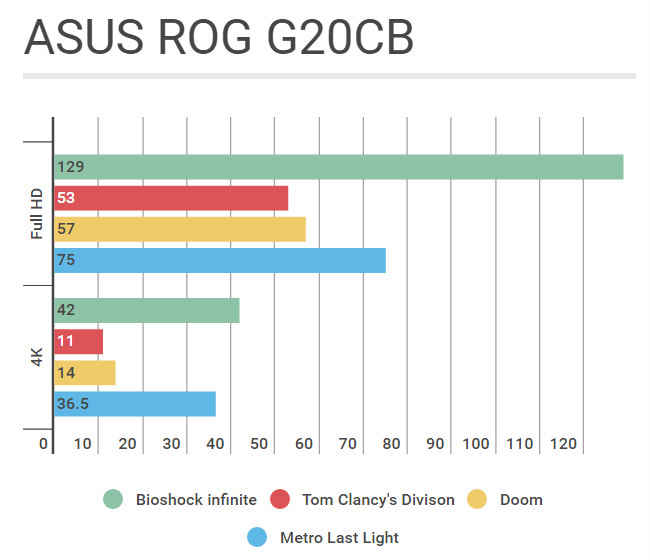 Average FPS During 1080p and 4K gameplay
If you do video editing, the 32GB DDR4 RAM will be a joy to work with. More importantly, the NVIDIA GeForce GTX 980 will offer great rendering speeds, making this PC amply fast and smooth.
Accessories: Not that hardcore
The ASUS ROG G20CB is shipped with a standard backlit membrane keyboard, and a standard mouse with glossy plastic finish. While the mouse feels cheap and unusable for gaming, the backlit membrane-based keyboard is reasonably alright. The keys are contoured inwards and offer decent travel, a volume dial and blue backlighting. If you are not accustomed to a mechanical keyboard, this might feel alright.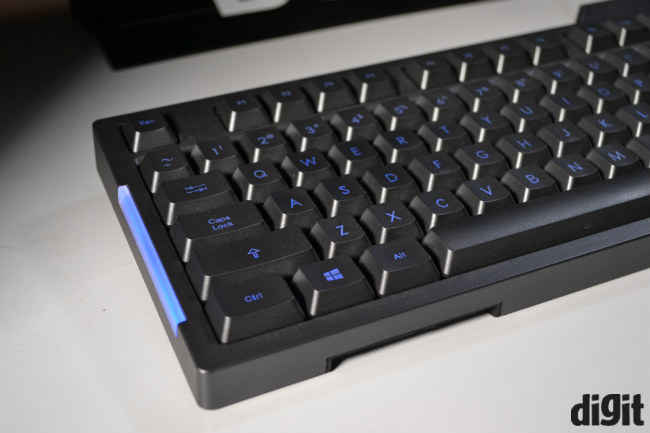 Bottomline
Admittedly, plenty of gamers will prefer building their own gaming rigs over buying this, seeing that you can actually build a better gaming PC at this budget. However, the ASUS ROG G20CB manages to offer competent gaming performance with a custom gaming chassis the kind of which you will not really find when you assemble your own gaming tower. There will also be no hassle of cataloguing multiple customer care numbers.
The ASUS ROG G20CB is for those gamers who wish for the ease of console gaming combined with the convenience of a keyboard. At just below 6.5kg, it is conveniently portable, even when compared to a normal ITX gaming rig. The ASUS ROG G20CB is a good pre-configured gaming PC that will serve your gaming needs well. However, as of now, you should hold on to your money, as ASUS is likely to be upgraded with NVIDIA's GeForce GTX 1080, in the near future.