Intro
Announced today, the 7th Gen Intel Core Processor series codenamed Kaby Lake is the Optimization phase within Intel's new Process-Architecture-Optimization strategy or cadence cycle. If that sounded like Greek or Latin, then the 7th Gen Intel Core Processor is the successor to the 6th Gen Intel Core Processor and is all focussed on improving the existing architecture. What started with Broadwell and then made a tremendous improvement with Skylake will now end with Kaby Lake as the most optimized form of the current Intel Core microarchitecture. OEMs have already been getting U and Y-series SKUs of the new 7th Gen Intel Core Processors and devices sporting these units are ready to hit the shelves in the coming month, i.e. September 2016. Desktop CPUs of the 7th Gen Intel Core Processor will be announced early next year.
If you're wondering what U-series or Y-series processors are then here's a little primer. Intel introduced the U-series of processors for Ultrabooks which are very thin but tend to offer good performance within a low power envelope. The Y-series takes it even further with a lower TDP than the U-series. So you'll find U-series Intel processors in Ultrabooks and Y-series processors in devices like the Microsoft Surface Pro which has a entry level unit featuring an Intel Skylake Core m3-6Y30.
Immersive Internet
"The way we interact and connect with each other has evolved. It's richer and more immersive, as video has become an increasingly important medium we use to enhance our conversations. The emergence of 4K Ultra High-Definition, 360-degree video, and virtual reality has dramatically widened and deepened our vantage points. These trends in how we consume and create content, in how we communicate and interact, reflect what we at Intel call the immersive internet."- Navin Shenoy, Corporate Vice-President and General Manager, Client Computing Group at Intel Corporation.
4K is obviously big at the moment, with multiple web-platforms streaming 4K content and more software incorporating 4K content creation features, it was only natural for Intel to make arrangements for the same in the personal technology space. No longer should 4K remain the bastion of those who've deep pockets, not if Intel can do something about it. And it's not just Intel, mobile devices with 4K screens sporting ARM processors and AMD's next-gen offerings are all hinting towards the move to 4K. Coming back to the the whole optimization phase in Intel's 3-step cadence cycle, how is it that Intel figures out what to optimise? Well, research of course. Surveys over the years have indicated an increasing trend pointing towards gaming and content creating becoming more mainstream.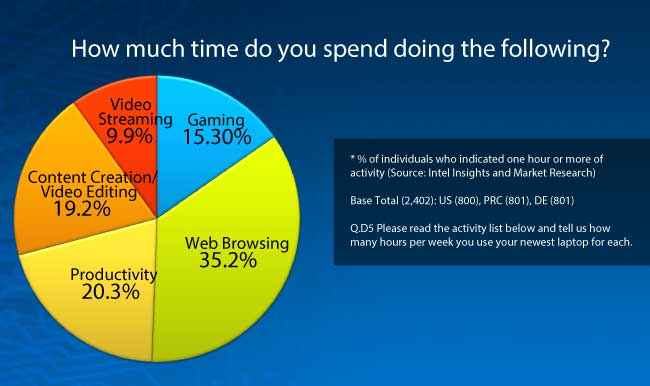 Of all the core areas surveyed, Gaming is heavily dependent on the graphics card, web browsing and productivity is dependent on the compute portion of the CPU. However, the video streaming and content creation is currently handled by the CPU but current low-power CPUs end up using too much compute power to render 4K streams. That's because Intel CPUs don't have 4K hardware HEVC and VP9 CODECs. 6th Gen Skylake processors had 1080p HEVC hardware decode and encode capabilities but not for 4K or VP9. That changes with the 7th Gen Intel Core Processor.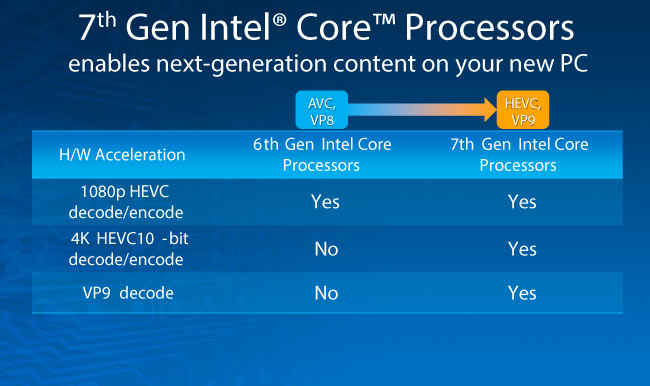 What's new
If we are to cut through all the marketing lingo, the the core improvements to the microarchitecture can be narrowed down to two key items.
Improved Media block
Speed shift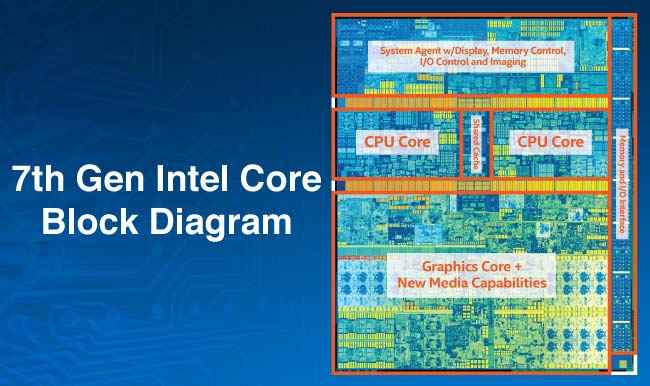 More from 14nm
The Optimization phase improves upon the existing 14nm manufacturing process. Intel is calling this 14nm+ because they've managed to eke out more from the microarchitecture. The company is claiming a 12% increment in productivity performance based on this transistor level improvements coupled with other improvements made to the design.
Improved Media Block
The first key improvement is the media block which now incorporates a hardware CODEC for 4K HEVC and VP9 content. Since Kaby Lake is improving upon Skylake, we're going to see improvements to the Multi-Format Codec (MFX) which basically offers power optimised simultaneous playback. With Skylake the IGP could handle 28 Full-HD video playback and handle native 4K images but with Kaby Lake they're going all the way with 4K video support. Then there's the Video Quality Engine (VQE) which handles things like Skin Tone Detection, Gamut compression, Colour Space conversion and more. While this has been present in Intel's CPUs since the 3rd Gen Core processors, what we see here is more focussed towards crunching more data for 4K. And then there's the Scalar and Format Converter (SFC) which works with the aforementioned MFX and VQE to enable a more power-efficient operation.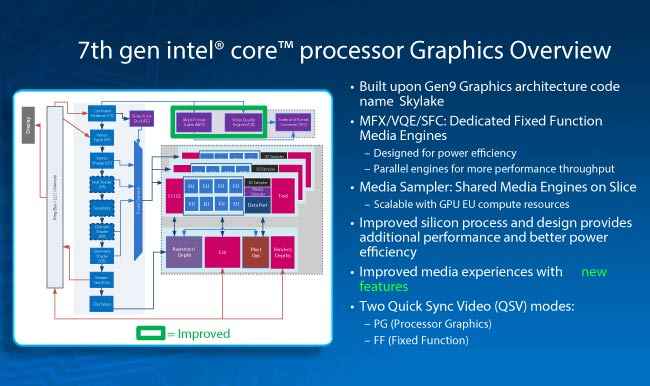 Now, how big an improvement did these things bring about? Intel's presentation had a few benchmarks to share. The slide below compares Intel's 6th Gen 6500U against the upcoming 7th Gen 7500U in a test that involves playing a 4K video from YouTube on Google's Chrome browser. Video playback involves a lot of spikes in performance and this correlates to the compression algorithms which focus only of the pixels which have changed between frame. The average power consumption on the 6500U is about 5.8W and that drops tremendously down to 0.8W on the 7500U. All of which is thanks to the hardware codec.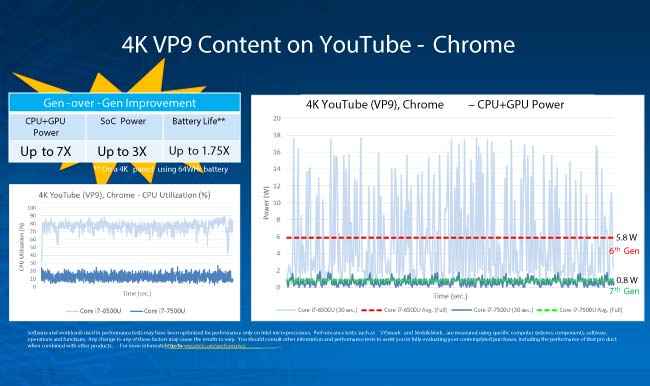 Improved Speed Shift
The second key improvement to the architecture is with the Speed Shift technology and this happens to be a more noticeable change. Speed Shift is Intel's technology that rapidly transitions core frequency based upon demand. With Speed Shift disabled, the core is still going to transition to a higher frequency but it'll take its own sweet time which in the slide below is roughly 90 milliseconds on the 6500U. These tests were run on Red Stone 1 which was the codename for Microsoft Windows 10 Anniversary Update that came out recently. The moment SpeedShift is switched on, the time taken for the core to hit peak frequency is somewhere around 30 milliseconds. In Kaby Lake processors, not only is there the benefit of hitting peak frequency much earlier at around 15 milliseconds but since the 7500U is higher binned than the 6500U, you get a little extra performance. The benefit of this Speed Shift processor is that the general responsiveness of the computer increases and is can be very easily noticed in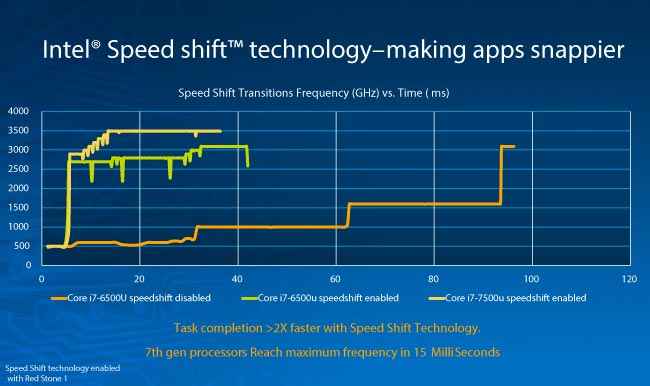 Processors lineup
At launch the following processors will be made available, or rather, has already been made available to OEMs and devices featuring them will enter the market within the next month.
Y-Series
Core i7-7Y75, Core i5-7Y54, Core m3-7Y30
U-Series
Core i7-7500U, Core i5-7200U, Core i3-7100U
More details regarding these SKUs can be obtained from Intel's website.
What about the desktop SKUs?
On the eve of the reveal, Navin Shenoy,Corporate Vice-President and General Manager, Client Computing Group at Intel Corporation has this to say - "We are incredibly excited about the strong partnership with our OEM customers and expect more than 100 different 2 in 1s and laptops powered by 7 th Gen Intel Core to be available starting in September through this holiday season. We will share more on the rest of the 7 th Gen Intel Core family for desktops and enterprise PCs early next year. To say we are excited about our new 7 th Gen Intel Core family is an understatement. I don't think there has ever been a better time to check out what a new Intel-powered PC can do."
So there you have it, 7th Gen Intel Core processors for the desktop can be expected in the first half of 2017.
Here's what OEMs had to say
Acer
"With the advancements offered by 7th Gen Intel Core processors and our proprietary technologies, Acer is pushing the limits of ultrathin notebook design, in both form and functionality. With our new and exciting lineup of thin-and-light notebooks, we are excited to give consumers powerful and beautiful devices for all of their work and play needs." - Jerry Kao, President, IT Products Business, Acer Inc.
ASUS
"ASUS and Intel have had an incredible partnership delivering exciting and innovative devices for the last three decades. We're proud to work with Intel to develop new products with 7th Generation Intel® Core™ processor inside, including the thin & light Zenbook family, the new 2 in 1 Transformer family, and the upcoming powerful Republic of Gamers (ROG) products. This next-generation processor, coupled with the Intel Thunderbolt 3 technology, enable us to design stylish, versatile PCs with great performance, longer battery life, ultra HD capability, and one wire simplicity with fast data transfer for better productivity, creativity, and immersive user experiences." - S. Y. Hsu, Chief Operation Officer, ASUS
Lenovo
"We are delighted with the launch of Intel's 7th Gen Core processor family. As we continue to innovate and develop trend setting customer-centric products, ranging from our multimode Yogas and Windows detachables to legendary ThinkPads and immersive Y series gaming PCs, we're confident Intel's latest gen processor will only multiply our efforts in shaping the next chapter of PC user experience," - Johnson Jia, Senior Vice President, PC & Smart Device Business Group, Lenovo
Microsoft
"We are delighted to see the advances in graphics, performance and battery life that the upcoming release of the 7th Gen Intel Core will deliver. We are engaged in a lot of exciting work with Intel, including our collaboration on Windows Holographic. The best experiences for our customers come from the combined innovation of the 7th Gen Intel Core, the newest OEM devices, and Windows 10." - Michael Fortin, corporate vice president, Windows and Devices Group Core Quality