When it comes to profession gaming, having the right equipment can be the difference between being very good, and being great. Sure skills, talent and reflexes play a very important part, but proper hardware can really augment those skills, and take them a notch higher. While most gamers tend to look towards input devices such as a mouse or a keyboard when it comes to gaming hardware, the importance of output devices such as a proper gaming monitor cannot be overlooked. Let's take a look at one such gaming monitor, the LG 34UC79G.
The first thing you'll notice about the LG 34UC79G is the way it looks. Most standard monitors on the market offer a 16:9 aspect ratio, this monitor of offers a wider aspect ratio of 21:9. This means that you get to see more of the game and will be able to better spot enemies that would have been in your blind spot if you were using a 16:9 display. Further, the wide aspect ratio, coupled with the curved screen means that your gameplay experience will be more immersive as the display will take up more of your field of view.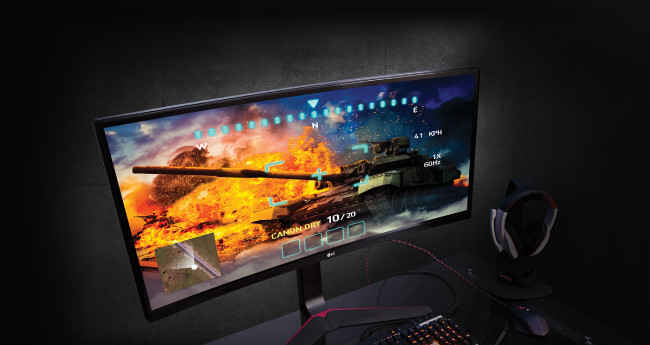 However, a wide field of view and a curved screen isn't all you get with the LG 34UC79G gaming monitor. The monitor offers a refresh rate of 144Hz. This means that in one second, the display is able to refresh itself 144 times. This means that you get smoother gameplay and a better experience overall as compared to a monitor that offer refresh rates of 60Hz, 75Hz or 120Hz.
This makes a big difference, especially if you like playing fast paced shooters where a lot of action happens on screen. With a slower refresh rate, gamers would get blurring when they move about or there is a lot of action happening on screen. With a 144Hz refresh rate, the action will be smoother, more fluid, and you would be able to see your targets or the objectives more clearly if you (or it )are moving about.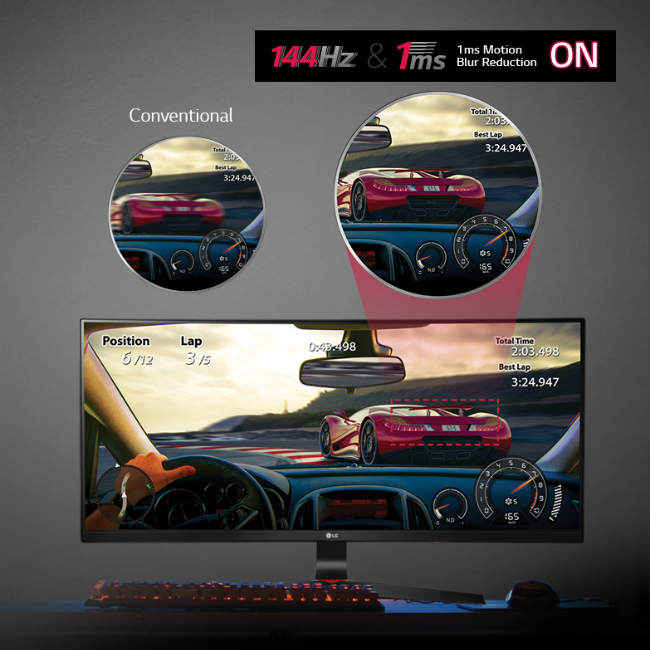 Besides a fast refresh rate, the laptop also offers a feature called called 1ms Motion Blur Reduction technology. This technology reduces the response time of the monitor down to one 1ms. This means that any input that you give will be displayed to you almost instantaneously. It does this by adding a blank screen between frames which lets each frame appear on a fully refreshed panel. This is just as important as refresh rate and slower response times can lead to blurring as well. On top of this, a very high input lag means that your enemy will have a higher chance of hitting you first. Something that no gamer would like.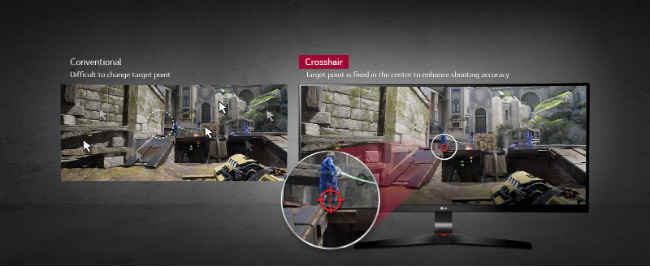 The LG 34UC79G ultra wide gaming monitor also comes with a bunch of other gaming centric features. The Crosshair feature places a target reticle on the center of the screen. This helps to enhance accuracy in first person shooters as you would know exactly where the bullet will go. Black Stabilizer increases brightness in dark areas, helping you spot any enemy that might be hiding there. A feature that would be vital in levels set at night. Dynamic Action Sync or DAS helps keep things smooth when gaming. Something that every gamer will appreciate.

Aside from so many other features, the LG 34UC79G also offers a feature called Game Mode. This lets you quickly set up the monitor for optimal gaming conditions. There are three modes that you can choose from, two of which are for first person shooters and one is for RTS games. The first FPS mode is aimed at playing games set in the day, while the second FPS mode is for games set at night or in dark conditions. The RTS mode is specifically tuned for playing real-time strategy games like Starcraft, warcraft and League of Legends.
With so many gaming-centric features such as 144Hz refresh rate, 1ms Blur Reduction technology and more, the LG 34UC79G is definitely an interesting choice for any pro gamer looking for a gaming monitor. Add to this the curved ultra wide monitor that improves immersion and viewing area, and you've got a monitor that should help any gamer take their skills a notch higher.
Find out more about the LG 34UC79G here.
[Sponsored Post]