Do you remember the last time you came from a long holiday and just when you were about to land on your home turf, you realised that you will need to do a lot of laundry, restock your refrigerator and make sure your room is cool when you reach home? You wish that all this could be done without you having to do the manual labour. Well, LG is hoping to make your wish come true by expanding its portfolio of connected home appliances in India. LG Electronics gave us a glimpse at their latest range of IoT-enabled home appliances under its connected smart home ecosystem. The company says that with these premium products in India, it looks to increase the share of the segment in overall sales and boost its profit margins.
According to LG these products, which include Dualcool residential air conditioners, InstaView Door-in-Door refrigerator and TWINWash washing machines, have been launched with an aim to place the brand in the premium segment in the country. "When we talk about our home appliance business in India, we have been enjoying the top position in India and maintaining our leadership in the Indian market for a very long time. In the future, rather than going for the volume, we would like to focus on becoming a premium brand and for that we have launched these products," Chris Jung, Senior Vice President, Head of Appliance Overseas Sales and Marketing Group at LG Electronics Home Appliance and Air Solutions company, told the visiting reporters here in Seoul, South Korea, home to LG's headquarters.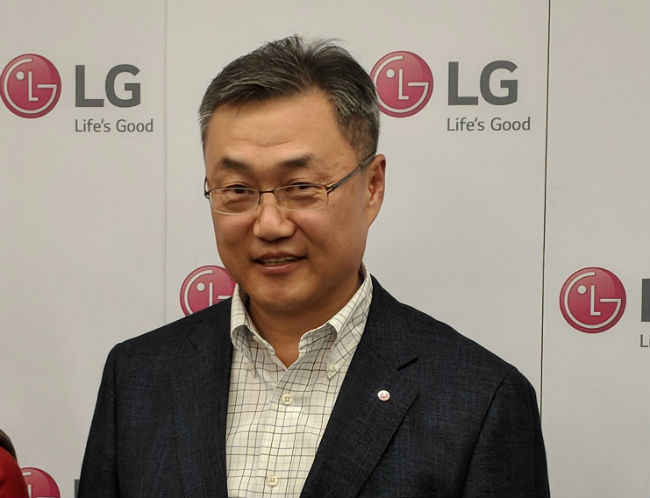 Chris Jung, Senior Vice President, Head of Appliance Overseas Sales and Marketing Group at LG Electronics Home Appliance and Air Solutions company
The executive also said that LG Electronics will continue to offer latest technology to the Indian consumers. The company, which completed 20 years in India last year, has two manufacturing facilities at Pune and Noida in which it manufactures the compressors for refrigerator, air conditioner and washing machines. When asked if the company would also promote its new products under the "Make in India" branding, the executive said the company is open to the idea. "We can take that route if necessary. Rather than focusing on manufacturing size and how the products are promoted, we want to brand LG as LG," Jung told Digit. He added that the company is facing a lot of competition from the Chinese brands which play around volume numbers and price, "but LG is making huge investment in R&D to maintain the leadership and focus on delivering new features and values to customers."
Jung also noted that Chinese brands won't catch up with LG when it comes to innovation. "Chinese brands play on price and that market is limited. Often, consumers buy products by not only keeping in mind the price but on the other values as well. When it comes to India, the market will take some time but I know it will also be going for premium," he added. According to Jung, LG's premium products presently account for 30 per cent of its global sales, including in India, and the company is planning to enhance this share to 50 per cent with a renewed focus on the segment and a series of new launches.
LG's premium product series includes - Dualcool residential air conditioners, InstaView Door-in-Door refrigerator, TWINWash washing machines, NeoChef oven, PuriCare 360 AirPurifier, and QuadWash Steam dishwasher equipped with company's exclusive TrueSteam technology.
InstaView Door-in-Door refrigerator: LG InstaView Door-in-Door refrigerator comes with a four-door design and a tinted glass panel that allows its users to see inside the easy-access door without letting the cold air out. One has to simply knock the glass panel twice which will illuminate the contents within. The Wi-Fi-enabled refrigerator is one of the IoT products that LG Electronics is expected to launch in India soon. There is a camera functionality by which users can see inside the whole unit using the LG smartThinQ app. The contents of the refrigerator can also be seen on the glass panel which doubles up as a display and users can also leave photo messages on the display.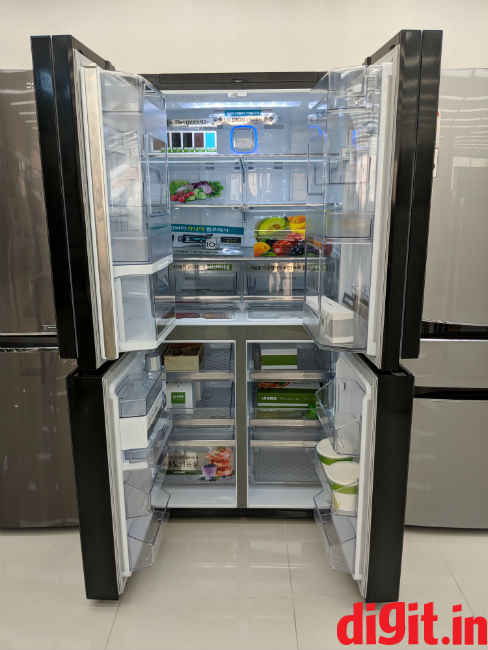 PuriCare 360 AirPurifier: LG says that its PuriCare 360 AirPurifier is designed to deliver a 360-degree pure air. It has two bottom-mounted circular cleaning chambers which pull the polluted air through the small holes on the surface. These chambers are fitted with two different filters and feature the company's True HEPA Filtration System. LG claims that it is the only AirPurifier in the market that can sense and eliminate particles as small as PM1.0. There is a smart indicator which changes colour depending on the polluted air, and it is fitted with LG's SmartThinQ Technology with Google Assistant and Amazon Alexa compatibility. The air purifier is available in India at LG online partner stores for Rs 98,080. There is another model which comes with a single bottom-mounted unit and costs Rs 59,930.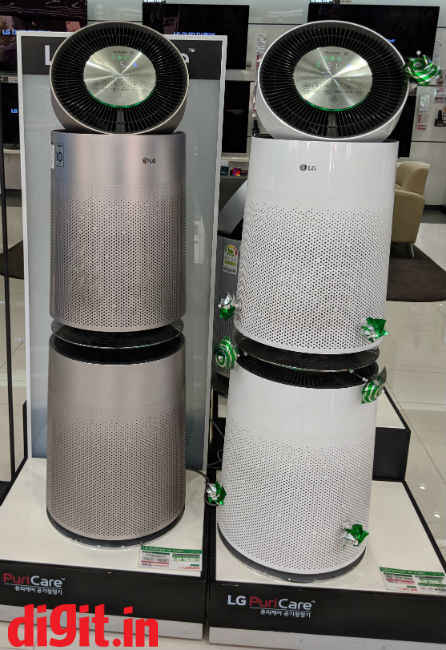 TWINWash washing machines: Another IoT-enabled product is the TWINWash washing machine in which users can wash two loads of clothes simultaneously. There is an on-door control panel and LG has given a number of presets or cycles to wash clothes on the device itself. Users can also download more presents through the LG smartThinQ app and can set it on the smartphone itself to wash. Users can start, pause and stop the laundry using the smartphone and can get the notifications about when your laundry will be done. The washing machine works with the Google Assistant and Amazon Alexa, and users can manage their laundry with simple voice commands.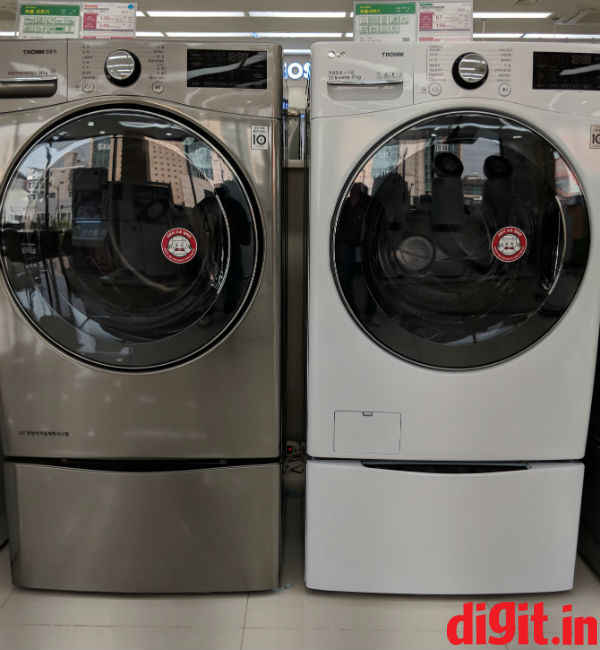 NeoChef microwave: The NeoChef microwave comes with features like Smart Inverter and EasyClean. LG claims that its Smart Inverter technology delivers more effective cooking and simultaneously lowers the power consumption. The insides of the microwave oven have Anti-Bacterial Coating, making it easier for consumers to clean the product. It consists of a tempered glass design, touch-based controls and a hexagonal-shaped stabiliser ring which provides six wheels for the turntable to rest upon instead of just three.
QuadWash Steam dishwasher: The LG QuadWash comes with four spray Multi-Motion arms that rotate back and forth while spinning spitting out high-pressure jets to clean the dishes. LG claims that its TrueSteam technology offers steam coverage to give users 60 percent less water spots after washing. The smart dishwasher come with SmartThinQ technology built-in which will send smartphone notifications when a washing cycle is complete. To check on the cycle status, users can use voice commands using the Google Assistant and Amazon Alexa support.
LG's smart home strategy
According to IHS Home Appliances market trend, Smart Home and Connectivity is the key trend for 2018, and Smart Appliances penetration is forecasted to grow 31 percent in 2020. LG says that it aims to be the top provider of connected appliances and claims that it will have almost 100 percent connected appliances by 2020. LG says that from next year onwards, all the products - whether its TV, mobile phone, refrigerator or washing machines - will come with the ThinQ branding. ThinQ is LG's AI platform and it depends on company's Deep ThinQ technology which learns from consumer habits and appliance usage. LG says that it has partnered with Amazon and Google to include Alexa and Assistant platforms, respectively, in its products which will be complemented by the company's ThinQ AI platform "for an enhanced experienced."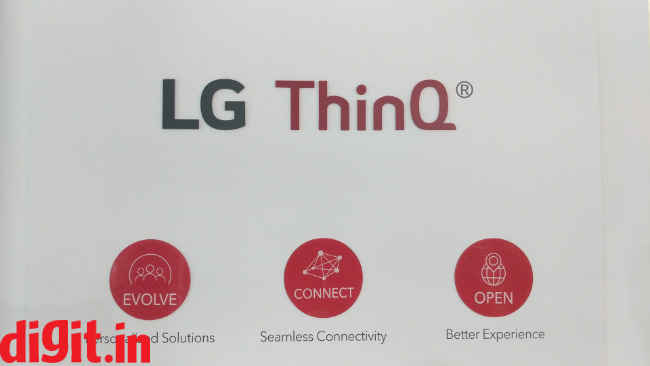 As per LG, its thinQ platform works independent of Amazon's Alexa and Google's Assistant. ThinQ leverages AI to perform self diagnostics and provide recommendations, product maintenance and software (webOS) updates to the appliances itself. For security, the company claims that it will put in place a system which will utilise hardware and software authentication to register a product. According to the company, all IOT products will be secured with bank-level encryption and the data communication between the product and the server can only be authenticated via LG server. For data privacy, LG will leverage the security measures of Amazon Web Services infrastructure.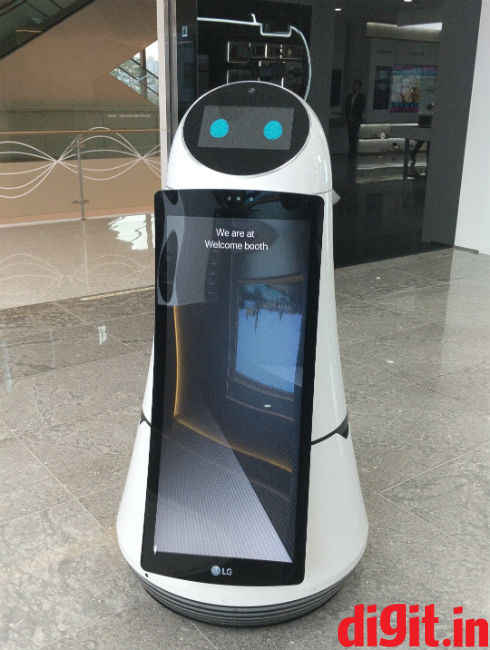 The company is also working to launch AI-powered robots. It recently launched CLOi, an AI-powered speaker and child-sized robot that is kept at the Seoul airport. When it comes to smartphones, LG acknowledges that its mobile business is not doing as expected. In Korea, LG is the third best brand after Samsung and Apple, and globally, it only enjoys a market share of less than 5 percent. LG says that it will now focus on A (Audio), B (Battery), C (Camera) and D (Display) to revive its mobile business. Recently, the company launched the G7 Plus ThinQ smartphone (Review) in India and it plans to bring its flagship device, the V40 ThinQ smartphone to the country soon. Hong says that LG believes if a business is not generating revenue for the company, it will move on and rather focus on other areas.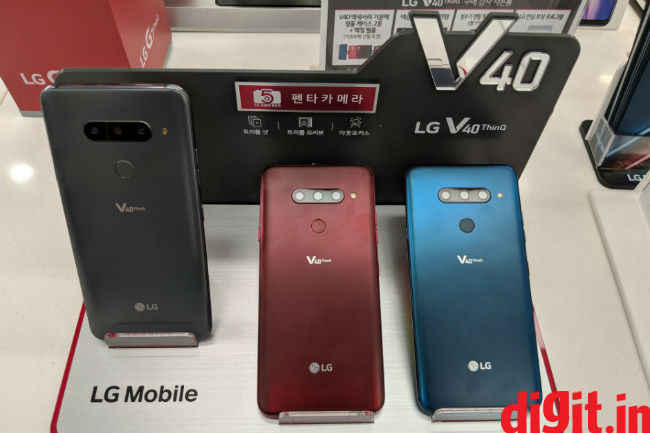 LG business in numbers
1) LG Corp currently has 71 sister companies under its banner name which are located in South Korea. When it comes to the revenue, about one-third of the total revenue is generated from the home turf. LG Corp registered a cumulative revenue of $142 billion in 2017.
2) Out of 71 companies, 15 belong to electronics segment, 26 are into chemical business and 29 are telecom and service arms. Interestingly, the the electronics arm constitute a whopping 60 percent of company's revenue while the remaining two arms generate 20 percent revenue each.
3) Hong says that company's home appliance constitute 31 percent of the revenue generated by the LG Electronics. This is followed by home entertainment at 30 percent, mobile communications at 19 percent, connected vehicle components at 6 percent and others (like solar panels) at 14 percent.
4) LG has a total work force of nearly 74,000 employees out of which 51 percent are based out of Korea and the rest 49 percent is spread globally.
5) LG says it is a leader in washing machine and refrigerators in India with a market share of 35 percent. The company says that India contributes to a whopping 39 percent of all its refrigerator business which mainly comprise of single door units.
6) The company claims that the recent hike in customs duty on OLED panels in India will not have a significant impact on the company's profit margins from the country.
7) On foldable smartphones, Hong said that LG can make such phones easily but it will wait for the right time to launch the product. According to him, there is currently no market for a $2,000 phone.