YouTube Go: How it differs from YouTube and why you should care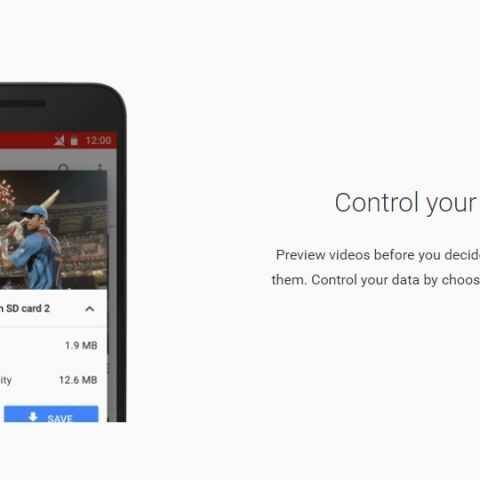 HIGHLIGHTS

At the Google for India event, Google announced YouTube Go for the next generation of YouTube viewers with low internet connectivity at their disposal.
Google, the search engine giant, spoke at its Google for India event about its video streaming service, and how it aims to capture the next billion, who are plagued with internet connectivity issues. On the official blog, YouTube narrates the same story that we heard at Google for India.
"Earlier this year, I had the chance to travel to India to see how people there were enjoying YouTube up close. While in Nagpur, I met a young man who loved using YouTube to watch WWE wrestling and wanted to show us his favourite video. But after he found it and tapped to play, the video just wouldn't load. Maybe it was his phone or his 2G connection, but it just wouldn't work. Unfortunately, this story isn't an exception for our Indian viewers. They love YouTube and its amazing selection of Bollywood hits, comedy vlogs, cricket matches and—yes—even wrestling. But even as they discover the joys of YouTube, their experience is not great on slower connections and less powerful mobile phones."
To tackle this problem, YouTube has decided to introduce YouTube Go, a "new YouTube app built from scratch to bring YouTube to the next."
According to YouTube, the app has been built keeping four concepts in mind:
Relatable – video recommendations and a user interface made for the user
Offline first – also works when there's low or no connectivity
Cost-effective – providing transparency and reducing data usage
Social experience – connecting you with the people and content you care about
So, how does it all come together and distinguish itself from the current YouTube app? Let's tackle this one feature at a time.
Find and discover relatable videos right on the home screen
Well, if you have the normal YouTube app, you will be introduced to content that is popular in your country, or you can choose the topics you enjoy, and YouTube will recommend the same to you. If you are hooked to YouTube Gaming, then gaming content is all you will see. It is safe to say that with YouTube Go, content recommendation will be based on what's popular and the content you enjoy watching. YouTube Go's home screen will be populated with videos that are trending in your area.
Preview videos before you save or watch
There are times when you want to know what the video contains before actually watching it. This is a feature that isn't available on YouTube, but we have seen it on other video streaming services. It's quite a handy feature for those interested in the visuals being presented. On YouTube Go, when a user taps on a thumbnail, it'll trigger a quick preview of the video. A small improvement, but one that will definitely be appreciated.
Choose your resolution when saving or streaming videos
A very cool feature with the current YouTube app is the ability to save videos for offline playback. Personally, I make a playlist of interesting videos that I like to watch, save them for offline playback and enjoy them on long flights where I don't have access to the internet. On the current YouTube app, you can choose between 360p and 720p. The downside here is that there is no option for a lower resolution, in case all you want is to save your favourite song for offline playback and don't want to spend too much data on it.
The solution for this comes with YouTube Go. This service will allow you to save videos at 144p, making it easier to get access to content and watch it smoothly when low bandwidth is all that you have at your disposal. The question in my mind lingers, why not introduce this feature in the regular YouTube app also? Another thing to keep in mind is whether content creators are okay with the content being available for offline viewing, as there are a lot of channels that I have subscribed to, that don't give me the option to save a video for offline viewing.
Share videos with friends nearby
Now this is a cool feature, but I would like to see it in action before I say that it's the best feature of YouTube Go. Being a gamer, there are so many times when I save my favourite gameplay clips and trailers for offline video, and would like to share them with my friends but of course, bandwidth becomes an issue. With YouTube Go, viewers will be able to share videos without using any data. Users can send and receive videos instantly using the YouTube Go app. Both the sender and the receiver will need to have the YouTube Go app. Google says that it will use Wi-Fi Direct for the transfer, and we would like to see how entry level smartphones, which are popular among the masses, use this technology.
So, to conclude, I'd like to infer that YouTube Go seems to be a great initiative. What remains to be seen is how the masses are made aware of the existence of the service. One reason why everyone is aware of YouTube is because the service comes preloaded with every Android smartphone in the market. Will YouTube Go also come preloaded with budget smartphones? Time will tell, as YouTube Go will hit smartphones only in early 2017. As of now, Google is working on an Android version of the YouTube Go app, and no plans for iOS have been shared yet.
You can sign up to be one of the first to get access to the app, on youtubego.com/signup.