Cyber security is an issue of growing concern, and security firms are considerably more concerned when it comes to personal security and protection of connected devices. Norton's latest report echoes this very aspect, highlighting how user complacency is key to security breaches in India. The company also notes bank account, email and social media passwords as the ones that are hacked the most.
While 79% of Internet users in Norton's survey were aware of the need for protection of cyber security, one in every four of them still carried an unprotected, connected device with them. Out of these use cases, 36% regard their usage as "not risky", creating a thin borderline for what may or may not be a breach to privacy of data on the Internet. 29% of the people believe that they can deal with security breaches if they occur, and 24% believe that they do not require additional safety measures on their devices.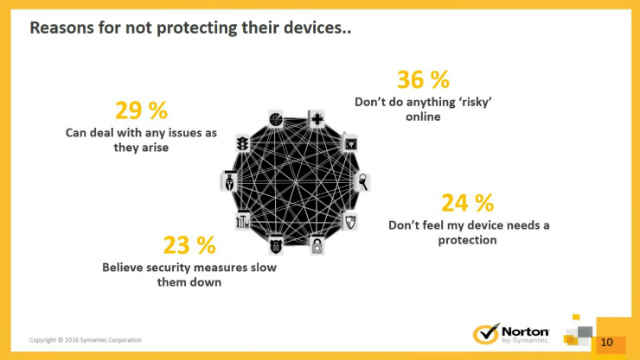 A casual approach to cyber security has also been a deterrent in protecting people from Internet frauds. One in four of the surveyed audience felt comfortable in sharing passwords with known people, which often dilutes the importance of it. While the elder generation is evidently less comfortable in sharing passwords, millennials are quite adept at sharing account passwords between each other. Through all this, another important source of security breaches is home wifi networks. While 56% know how to keep the wifi networks secure, many fall back upon less secure habits in trust of not getting things wrong again. Among those who can keep their networks secure, a third of them admitted to having snooped in on neighbours' wifi networks.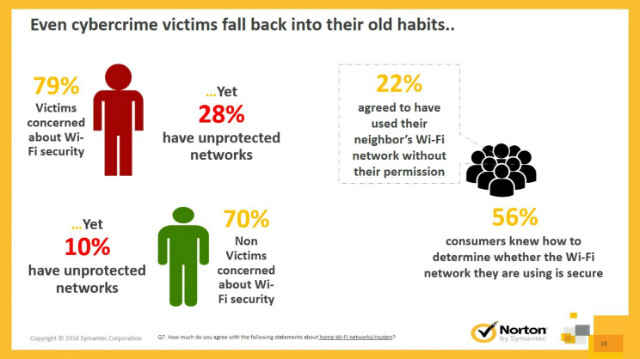 For many, despite being aware of the risks that connecting to a public wifi hotspot present, a large section of the audience still engage with unauthorised activities that may give hackers access to sensitive information. This includes answering surveys, installing apps, giving access to files or switching off security features. The overall note among the surveyed audience is a wish to make less information available online, in light of increasing proficiency of hackers. Cybercriminals, for instance, launched over one million attacks against users every day, in 2015.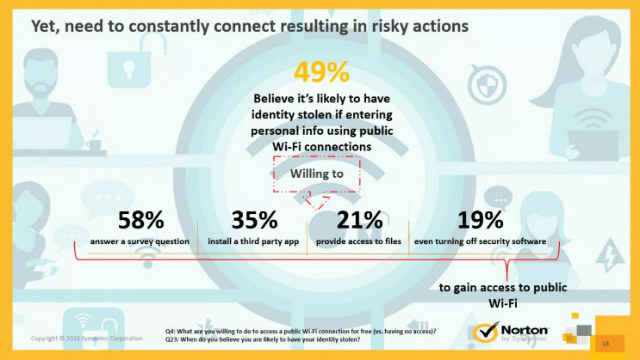 All of these statistics highlight an important issue of Indian Internet users not taking the issue of privacy seriously. While the awareness has risen in light of increasing phishing attacks, many still consider their Internet usage to be "not risky", which keep cyber security a difficult matter of concern for India.
Note: Norton's cyber security survey has been undertaken across 21 markets, each with over 1,000 participants, with respondents aged 18 and above.