Reliance Jio has been one of the most talked-about 4G networks to have launched in India, and initial tests seem to be affirming the stability and speeds that it is delivering. The true results will of course be known when the network is actually live, and congested enough. On this note, we recently caught hold of a Reliance WiPod - a 4G dongle that uses a Reliance Jio SIM inside. Is this the data connectivity solution that we have been looking for? Let's find out in our detailed walkthrough and review of the Reliance Jio 4G WiPod mobile hotspot dongle.
The device, and how to activate:
The Reliance Jio LTE WiPod has a plastic casing with a removable back. It is 16mm thick, and weighs 80 grams. Once you remove the back panel, you get access to a 2300mAh battery, which is removable and conceals the SIM and microSD slots underneath. The WiPod accepts a standard SIM card, and Reliance provides SIM adapters for micro- and nano-SIMs.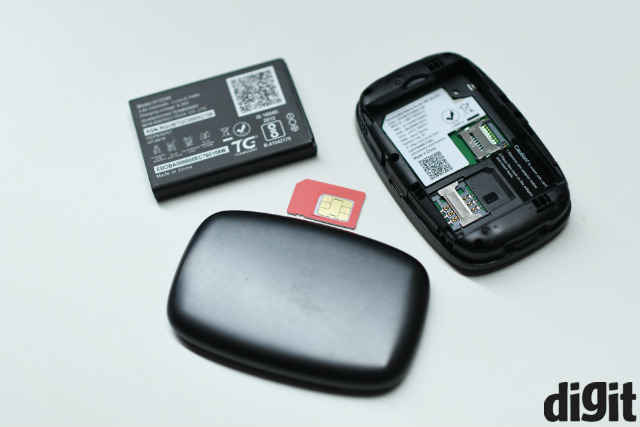 Once you purchase the Reliance Jio WiPod and submit your documents, Reliance will typically take about 24 hours to activate it. Although, some posts on our social forums suggest that it may take as much as three days for some. You will need to insert the SIM card into your phone (Reliance gives a nano-SIM with micro- and standard adapter attached, so SIM compatibility with phone will not be a problem), and call 1997 to confirm activation. Once the network is activated, you will need to insert the SIM into the dongle, which should subsequently activate LTE connectivity.
Note: We tried running the LTE network on an iPhone SE. While the phone did recognise Jio's SIM, the LTE signal didn't work.
The Reliance WiPod has four LED indicators to the top of the Jio logo, one LED power indicator, and an LED battery indicator (with three bars) beside the Power button. To make sure this does not confuse you, this is how it looks: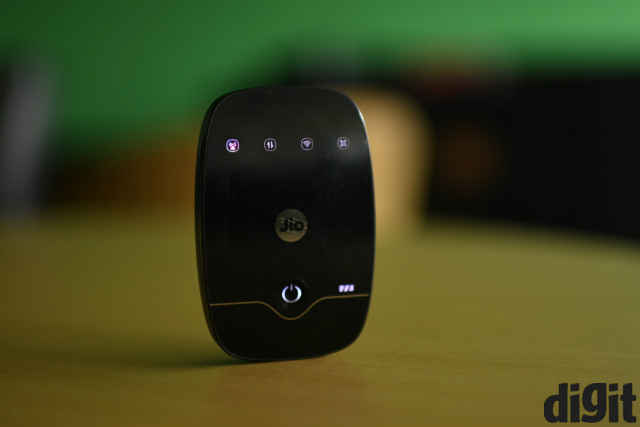 Long press the Power button to switch on the dongle, following which all LEDs will blink once. From left to right, the indicators are for LTE connectivity, Data on/off, WiFi status and WPS status. To the left of the dongle, there is a WPS switch. The security switch is to ensure that your LTE network remains secure, and tapping it once will activate it. After you switch the dongle on, the LED denoting LTE connectivity will blink red, and tapping on the power button once will make it blink blue and send it to standby. Check on your phone to spot the dongle's SSID, and enter the password to connect. The LTE LED will blink green, to confirm that you are connected. Once connection is established, the data (second) LED will blink continuously and the WiFi LED will remain stable.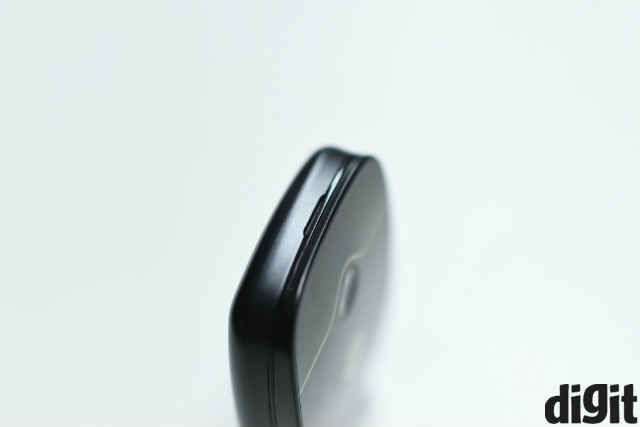 Tap on the power button once to check on connectivity status and battery status. The Reliance WiPod shows three bars of battery, and the power button will blink to tell you that the hotspot is active.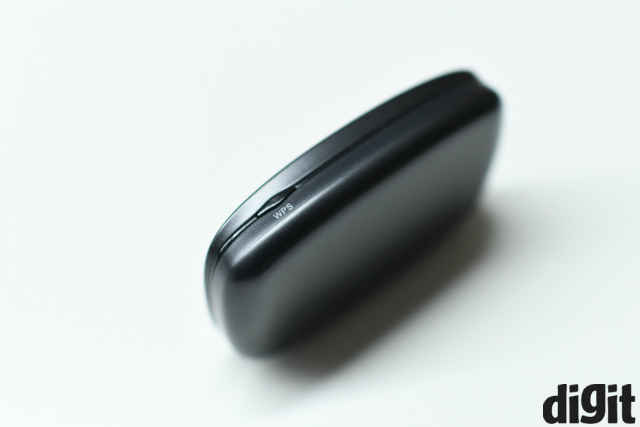 Connectivity speed and range
Reliance specifies that the WiPod can remain connected to 31 devices simultaneously. Practically speaking, even in a reasonably large family, or when out with friends, you will probably be connected to about 10 devices at most. In our office at Sector 2, Noida, we retained stable LTE connectivity throughout.
We tried checking download and browsing speeds in multiple situations, with a single device connected, six devices connected and eleven devices connected. With the load of a single device streaming a Full HD video with no buffering, the Reliance Jio WiPod returned downlink speed of 35.5Mbps, uplink speed of 6.9Mbps, and 65ms ping.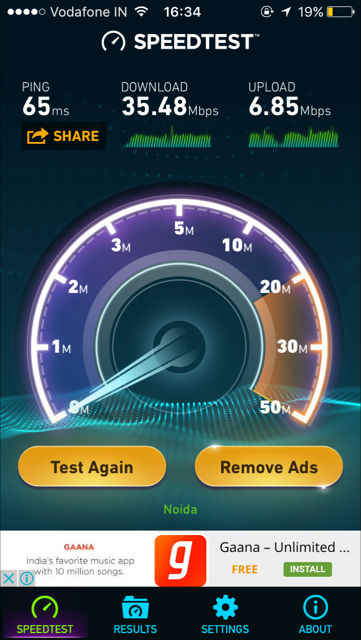 With six devices connected and streaming videos, we got downlink speeds of 23.3Mbps, uplink speed of 4.4Mbps and 65ms ping. It is important to note that none of the devices faced any buffering of videos, all of which were streaming at Full HD. One device was also downloading two 1GB games simultaneously on the network.
With 11 devices connected, with Full HD videos streaming without buffering on five devices and active upload on one, we got speeds of 9.9Mbps and 5.8Mbps in download and upload, respectively, and ping time of 158ms.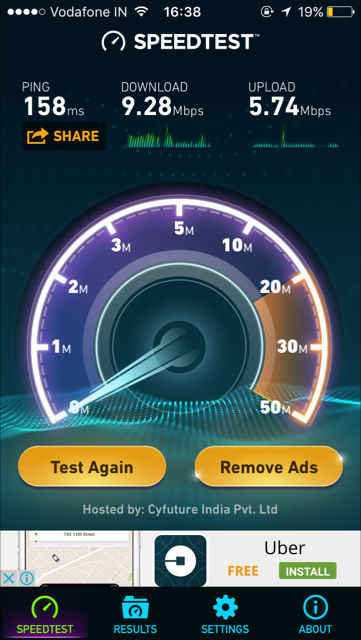 In terms of range, the Reliance WiPod retained connectivity through 27 feet through concrete and glass walls. When placed beside a refrigerator to check whether it faces interference, we could retain connectivity with the WiPod till about 21 feet from the source. The WiPod does not remain connected between floors, though, and I could only go till half of one floor, before the connectivity dropped completely.
Note: This is all on the testing phase of Reliance Jio's network. The actual speed results when the network is live, with many more users, may differ significantly.
Battery life
While we are still in process of testing the battery life, the Reliance Jio LTE WiPod certifies about 5-6 hours of continuous usage. In our labs, with about five devices connected on average, we have retained connectivity for over 12 hours, which is quite good for a mobile hotspot. The WiPod charges via microUSB, so charging it is also quite easy.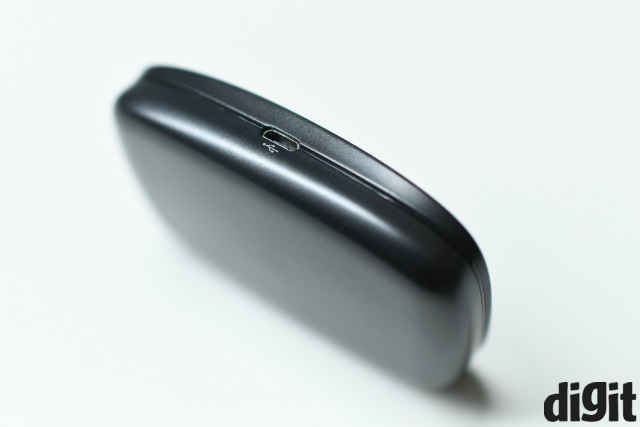 Bottomline
To sum up, the Reliance Jio LTE WiPod seems to be one of the most accomplished mobile hotspots around, along with delivering connectivity at very good speeds. The connection also remains quite stable, setting it up is easy, and the range should suffice if you wish to share your connection between two friends within an apartment.
Buy Lyf Flame 8 at Rs. 4199 on Flipkart
Buy Lyf Wind 3 at Rs. 6999 on Flipkart