E-commerce sites Flipkart and Snapdeal saw phenomenal response to their mega online sales on Monday. While Snapdeal claims to have witnessed sales of over Rs. 1 crore per minute, Flipkart says it achieved its 24 hour sales target of $100 mn in GMV (Gross merchandise volume) in just 10 hours.
Even as we debate possible dominance of e-commerce over the traditional brick and mortar stores, the massive sales figures clearly indicate the advent of explosive growth in the e-commerce sector in India. That said, Monday's online mega sale wasn't without a large number of customer complaints. Customers were irked by random site crashes and deals dissapearing in a blink of an eye.
While it wouldn't be fair to draw a comparison between the Monday mega sale and the insanely popular Black Friday sales/deals in the US, the sale was definitely a step towards fuelling and boosting the online retail sector in India. Here are three important takeaways from Monday's mega online sale:
E-commerce goes big
As said above, it has been widely debated how the e-commerce segment and traditional stores will co-exist in the near future. With several smartphone brands going online-exclusive and managing huge sales figures, the e-commerce segment has grown stronger in India. On Monday, Flipkart and Snapdeal both saw a phenomenal response. Interestingly, the competition between the two ( we hope Amazon to join the race as well) has helped give more options to users. Also read: How exclusive online launches are boosting e-commerce in India
Flipkart founders, Sachin Bansal and Binny Bansal said in an offical press release- "With a range of exciting offers on quality products at disruptive prices available throughout the sale period, we have created history in Indian e-commerce. Our technology team has been dedicated towards addressing errors and providing constant support to accommodate the largest scale of traffic and customer visits e-commerce has witnessed across the country. Our teams and sellers worked days and nights to make this sale a success – and our efforts paid off. We got a billion hits on our site today and achieved our 24 hour sales target of $100 mn in GMV in just 10 hours."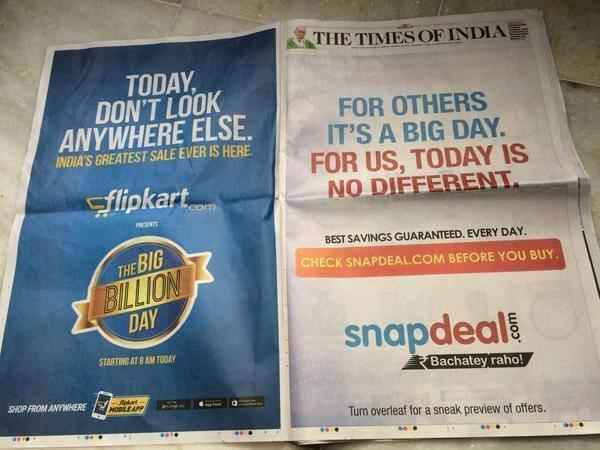 Flipkart and Snapdeal in an open fight Image source: TOI
Here's what Kunal Bahl, Co-founder and CEO Snapdeal.com said: "Snapdeal had a record breaking day of sales on October 6, 2014. We witnessed sales of over a crore rupees a minute, with lakhs of products being sold in a single day. We were trending throughout the day on Twitter and the App Stores, receiving phenomenal positive feedback from customers. Over a million Snapdeal apps were downloaded in one day."
Taking a dig at Flipkart's massive marketing campaign for Monday sale, he added: "The best part of the day: we didn't really spend much to bring customers to Snapdeal. We promise to deliver great value on great selection of products every day to all our new and existing customers and that is the simple recipe that continues to work for us."
"If Flipkart witnessed a record 600 crore sale it is a an indication that people were OK with no cancellation policy.With the big billion day deals active only for limited time, if cancellations were enabled around 30% people would buy instantly, only to cancel later. So many users would miss out on deals due to early stock outs," points out Mr Mehul Jobanputra- CEO and Cofounder of DesiDime.com
Mega discounts: Just a gimmick?
In our previous analysis of the Flipkart Big Billion day sale, we discovered mant discrapancies in prices (discounts being offered on inflated prices). Flipkart was criticized for offering discounts on MRP. Items, especially the ones with hefty discounts, went out of stock in the blink of an eye, only to further irk customers. As pointed out by TOI, several customers took to the social media to create hashtags such as #Flopkart.
"I tried to buy several items. Only few I could finish purchasing. Out of those the ones with maximum discounts have SUDDENLY DISAPPEARED from my order history. I also cannot see any of my older orders! How convenient for you. Now you can resell whatever items you cancelled from my orders at higher prices tomorrow, right?," says a comment on our official Facebook page.
From @Flipkart to #FlopKart. Hugely disappointing #bigbillionday or whatever the heck it was they spent so much advertising.

— Dr Pranab Chatterjee (@scepticemia) October 7, 2014
Among the #BigBillionDay billion things sold by @flipkart,one of them surely was their credibility! #Flopkart

— Ruben Mascarenhas (@rubenmasc) October 7, 2014
Mr. Ashish Jhalani, Founder eTailing India elaborates on the issue: "There were definitely some glitches in the execution of the sales. Some were inadvertent and some were just not being prepared. Price criticism was one such where the sites have claimed that it was inadvertent and not done to misguide the customer."
Better preparation required!
E-commerce sites need to improve their technology infrasturcutre to cope up with the surge in traffic during such mega sales. The popular and infamous Xiaomi flash sales also saw users comparing Flipkart bookings with IRCTC's ticket bookings. We expect Flipkart to be better prepared in the future.
"The sites crashed because the software and hardware infrastructure was not able to scale to the sudden spike. Similar issue came towards products where a lot of the products were sold out from almost the start of the sale. BUT this was realistically the first time any player tried to create such demand in a single day and were successful at it. The issues faced are growing pains for a very nascent industry," adds Mr. Ashish Jhalani.
How was your experience with Monday mega sale? What are the other things you liked/disliked about the sale? Let us know your views in the comments section below.