E-commerce segment in India has seen a massive growth in the recent past. While the companies such as Flipkart and Snapdeal are banking on 'marketplace' model, the likes of Quikr have shown the potential in the 'online classifieds' segment.
We had an opportunity to have an interaction with Pranay Chulet, CEO of Quikr, who shared his detailed views on the state of e-commerce sector in India as well as how his website is performing. He also explains how Quikr moderates listing on the portal, and educate sellers and buyers.
How many active users does Quikr have? What is your demographic break-up and which is the most active demographic?
www.Quikr.com is the leading online classifieds platform in India, with more than 30 million unique visitors per month. In India, we are the market leader in online classifieds as per comScore and the largest player in terms of online traffic, listings and revenues.
We are present in 940 cities in India and operate across 13 categories and in 170 sub-categories which range from mobile phones, real estate, cars, services, jobs, entertainment, furniture, electronics and many more. We have the largest number of buyers and sellers with 65% of market share.
In terms of demographics, our users consist of more men than women; however our platform has seen an increase in women sellers. We have also noticed a sharp rise in the users from Tier 2 and Tier 3 cities. Today they contribute to more than 50% of our traffic. Overall, 50% of our users are between the ages of 18 years to 35 years and 30% are between the ages of 40 years to 45 years.
Which categories (type of products) are the most active on your portal?
Real estate, electronics (mobiles, laptops, accessories), cars & bikes, services and jobs are the categories that are most active and doing very well. One of the most popular service categories on our website is the jobs category which is growing tremendously for both job seekers and employers. Recently, we also launched a new TV campaign which focuses on job listing.
Jobs have been a primary part of Quikr and it is one of the most visited sections of the site. There are a lot of mid-level employees and freshers, especially in the sectors of IT, BPO, retail and sales who face difficulty in finding suitable jobs for themselves. Our objective was to position Quikr as a great place to look for 'mass market jobs' jobs in various sectors which are not usually featured on popular job platforms.
With the increase in the number of consumer electronic durables in the general market, have you seen a corresponding rise in the same on Quikr too? What trend have you noticed when it comes to the ownership life of consumer electronics (such as phones, laptops, TVs etc.)?
We have seen a rise in the listings for consumer durables in India. Mobile phones is one of the largest sub categories on www.Quikr.com. We have seen that consumers who cannot afford first hand high-end electronics prefer to buy second hand devices. www.Quikr.com is a platform for buyers who are looking to purchase second hand products. Our platform connects the buyer and a seller so that the buyer actually gets a chance to experience the product before taking a purchasing decision.
We provide the platform that is best suited in India, with solutions that are made for the Indian market.
What business model does Quikr follow? How do you generate revenues and what are your projections for future revenue growth?
www.Quikr.com focuses on the consumer to consumer (C2C) model as well as the business to consumer (B2C) model, both of which work very well for us. While the C2C model helps connect individual buyers and sellers, the idea behind the B2C model is to help small businesses grow their businesses on the strength of our platform. Our site takes care of one of the key challenges SMBs face in India - marketing.
Our business model follows the three streams: advertising, premium listings and lead generation from other channels. Our paid listings and lead generation services are working well with a large number of small businesses as well as consumers who subscribe to these premium services. The fact that people are paying us in increasing numbers is a testament to our leadership position as the #1 classifieds marketplace in India.
Our non-ad revenue is indeed well over 50% now and continues to grow fast. We have grown 5 times in US Dollar terms in the year so far. In Rupee terms, the growth would be even higher. Also note that our growth is accelerating and our revenues are in double digit million US Dollars.
What sets you apart from established sites like Sulekha and OLX, and forums like Tech Enclave and Erodov?
Our differentiator is that we are Quikr, Bigger and Better. Our mission is to provide the local community with a platform to help them sell, buy or find anything they want in the quickest possible way. We were the first internet company to go mainstream in the media with the Missed Call Service campaign in 2012 to provide the non-internet users a way to use Quikr. We want to make consumers Quikr users before Internet users and we will continue to grow in momentum by aggressive marketing in the coming years.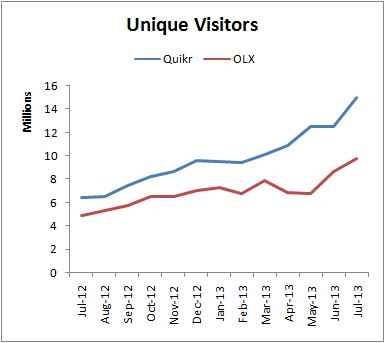 Quikr shares ComScore data showing its growth versus competition
Does Quikr's only responsibility end when the buyer and seller meet? Do you take any measures to ensure validity and safety of transactions?
We use a combination of human effort, technology and phone verification to moderate our listings. There is a team of over 20 people, who manually review the listings; the team works 24 hours, 7 days a week. The use of technology filters is an added advantage.
The technology team has spent several hours to create some cutting-edge tools that filter listings with unwanted words and/or detect wrong listings. At different times, the team has also reached out to customers for verification over on the phone to crosscheck the authenticity of the listing. If we do come upon a listing that is spam, we delete the listing. We also spend time educating buyers about what to check before buying the product listed by the seller.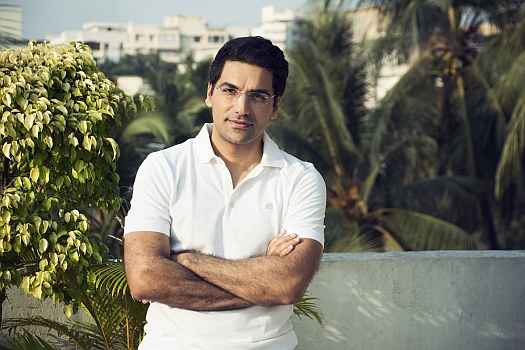 Pranay Chulet, CEO of Quikr