Update: Flipkart has got back to us with an official statement on the matter. You can click here to read what they have to say.
Flipkart started out with the ambitious, unsaid goal of being the Amazon.com of India. Initially, they showed a major fervour in growth, with the simple aim that their customers had to be happy. Towards this, they invested heavily in warehouses, creating an inventory, introducing a Cash on Delivery system and even a "no questions asked" return policy. This helped build the company's reputation as one of India's biggest and possibly best retailers, but someone had to ask the important questions. How in the name of GOD were they able to offer insane discounted deals? "30% off on that Xbox 360 title? Oh my god yes! 60% off on that Logitech gaming mouse? Holy crap!" Not to mention everything almost always being in stock. There was no way Flipkart was making money off an operation like this.
The losses continued and eventually, Flipkart's business model changed. From being an online retailer, they went to becoming an online marketplace. The difference, in case you're wondering, is that they went from being the "seller" to being the "broker." Now if you place an order on Flipkart.com, you are not technically buying from them, but from one of their many "sellers," with Flipkart's role in the entire transaction being that of an intermediary. They handle the ordering and delivering of the said product, nothing more. This is where sh*t gets all kinds of messed up.
The Basics: Flipkart's Terms of Use
Here are some excerpts from Flipkart's Terms of Use page.
"The Website is a platform that Users utilize to meet and interact with one another for their transactions. Flipkart is not and cannot be a party to or control in any manner any transaction between the Website's Users."
They go on further to say:
"Flipkart is not responsible for any non-performance or breach of any contract entered into between Buyers and Sellers. Flipkart cannot and does not guarantee that the concerned Buyers and/or Sellers will perform any transaction concluded on the Website. Flipkart shall not and is not required to mediate or resolve any dispute or disagreement between Buyers and Sellers."
The above is clause number 3 from their Platform for "Transactions and Communications" of the Terms of Service agreement. What this essentially means is that the site is more than willing to take your money the moment you hit the "buy now" button, but in case you run into any trouble with the seller, Flipkart will not take any responsibility. Simply put, it's not "their responsibility." Oh and if you think you're going to get justice on your own, you can forget it. Every seller is shielded by Flipkart's "Contact Flipkart about this Seller" button, which is basically a sugar coated way of saying "yea whatever."
If you want to read their entire terms of service, which I STRONGLY recommend you do, you can go here. If you go through the entire ToS document, you should feel emasculated at best, as you realize that Flipkart will offer you nothing in return for your loyalty, business and money. Here, the consumer is not king, but only a replaceable asset. What makes me arrive at this conclusion (besides their ToS agreement) you ask? Well, I recently had the unfortunate displeasure of having to deal with their absolute incompetence.
The Nightmare
On August 1st 2013, I placed an order for a Microsoft Desktop 2000 Wireless Keyboard Mouse Combo after coming home to find that Dexter, my two month old Labrador pup had chewed through the cables of my existing keyboard and mouse. He's a teething little demon and needs to chew through a fair share of precious things before he will slump into a peaceful slumber. Anyhow, I digress. After discovering that my favourite keyboard's cable had been ravaged into more pieces than a victim in a poorly made Hollywood horror flick, I ordered myself a nice wireless combo from Flipkart. Upon placing the order, I was intimated through an online tracker that the Combo would be delivered by August 10th. A few expletives later, I figured I'll wait till the 10th and just use my iPad for whatever work I might have to do at home.
The constant need to check on the delivery tracker is a form of OCD that comes with online shopping. Every day, I'd religiously log-in once in the morning and once at night to see if there was any progress. Their rather neatly designed tracker maintained that my order had been placed and was being processed. However, on the 8th of August, the tracker still showed no progress, so I called Flipkart's absolutely unhelpful helpline to ask about the status of my order. It is funny how we all want to talk to a human since machines can't really answer our questions, but when you do get in touch with a person at the other end of the phone, they are nothing more than drones. The customer representative kept repeating that my order was being procured and would be delivered on time. It was now 11th August and one more phone call later, they said that it would now take three more days. Today, on the 12th of August, I got an email from the company saying that my order had been cancelled. Several expletives later, I called up their "customer helpline" number again and was told that since a refund had been initiated, there was nothing they could do.
"What The Epic F**K?!" "Who authorized the cancellation?" "Who authorized a refund?" "Why did it take these bumbling idiots eleven days to figure out that they didn't have my Keyboard Mouse combo in stock?" These questions became the existential crisis equivalent for me as an online shopper.
I got a call from the Flipkart customer service department to "confirm that my order was cancelled" and upon pressing for a reason, I was told that "the product was no more available." When asked to go to the website and see how it is still listed as available from not one, but FIVE sellers, their representative told me "but it is not available at the price of Rs. 1,595 that you had ordered it for. Since it is now only available for Rs. 1,900 and not for Rs. 1,595, we have to cancel your order." Basically, they wanted me to pay the higher price, now that the discounted price was not available. Super.
The Persistence of the Flippant Behavior
Upon going on a rant about my experience on Facebook, many people came forth with the exact same problem. Flipkart accepted the orders, and then cancelled them after an extended period of waiting citing the reason as "product not in stock" despite the website still flashing the product as available. In one particular case, they cancelled a friend's order for the Canon 85mm f/1.8 lens because he placed it one day before the infamous 30% price hike in Canon lenses. Flipkart promptly cancelled his order (because the difference between the old and new price was Rs. 8,000) and told him the lens was out of stock, while their website continued to advertise the lens as available, at the new price. It was evident they did not want to honour his order, despite it being placed in timely fashion before the price hike.
The number of cases where Flipkart has cancelled orders because the updated price was higher than the original price at which the product was ordered continue to rise. Even as I type this, I continue to get messages from people complaining of being wronged.
The Problem
The problem with Flipkart is that it is NOT the online retailer we had all come to love and believe in. When they maintained their own inventory, it was easy to trust them, but now with a marketplace model, that simply can't be the case. If you're wondering why, besides the horrible experience (not just mine, but others' as well) aside, their Terms of Service seems to shed light on just where the company's priorities lie.
In the ToS, the rules that the sellers must adhere to are only eight lines long and mostly pertain to the description of the product being sold and that it must not infringe on intellectual property. However, the FIRST rule the buyer must adhere to reads:
"You, as a Buyer, understand that upon initiating a Transaction You are entering into a legally binding and enforceable contract with the Seller to purchase the products and /or services from the Seller using the Payment Facility, and You shall pay the Transaction Price through Your Issuing Bank to the Seller using Payment Facility."
Dear Flipkart, my question is, if you can levy such strong responsibility on the customer to dish out our HARD EARNED money, then why not have your Sellers abide by the same rules? Why are you not going to hold a seller responsible for backing out of this legal contract that was sealed the minute money was credited from my account into theirs?
As things stand today, I am disputing this action on Flipkart's part, in the hopes that it will be resolved. The question is not about the 300-400 rupee difference in price, but about how a company needs to be reminded that it cannot and should not treat its customers like dirt. We, as consumers, have rights too, which cannot be nullified by a simple cleverly worded "Terms of Use" document.
Update: Last Monday (August 12, 2013) I got a call from Flipkart's grievance cell, stating that they'd resolve the issue within 2 days, where they were expecting the "seller" to have the keyboard in stock again. After that, I heard nothing from Flipkart, and upon calling the grievance cell, the lady at the other end told me that it was still not in stock and since the money had been refunded to my account, there was nothing they could do. Mind you, by now, my order has crossed the 19 day mark, 2 days shy of three weeks. That's three weeks without a keyboard and mouse, killing my productivity. Three weeks of hoping that a company that has the audacity to call itself the leading destination for online shopping in India, will actually show some concern for its customers. As I had mentioned before, Flipkart has a history of randomly cancelling orders after they are places in case the product price goes up. They will leave you hanging for as long as they can and then say "but we refunded your money" as if they did a favour by doing so.
Update 2: Many of our readers have been commenting that I would not have faced this issue if the seller was WS Retail. I'm sorry to disappoint, but that is exactly who the seller was in this case. Below is a screenshot of the order confirmation to appease those who would want to cry foul.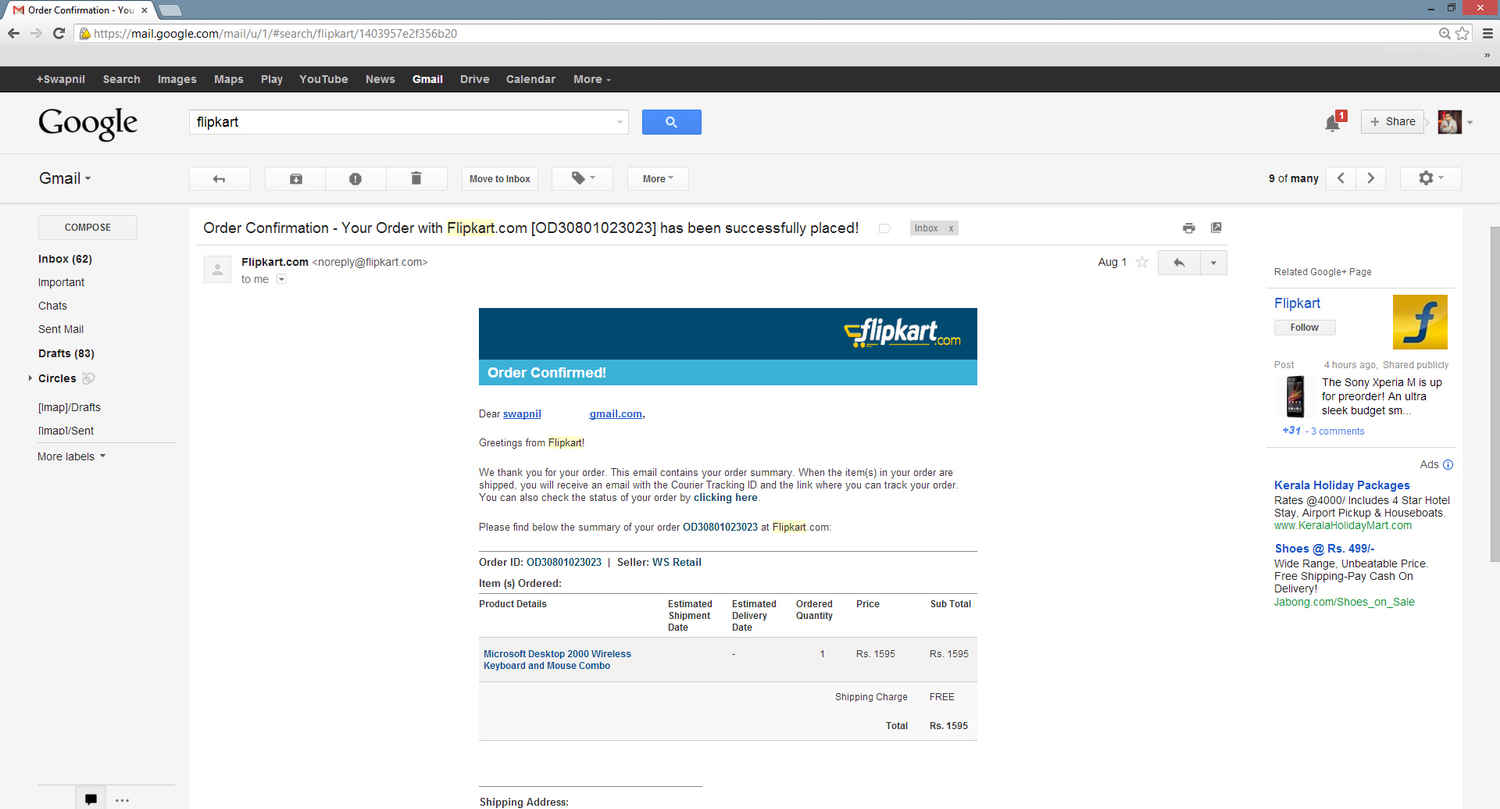 Update 3: Following the massive feedback on this story, Flipkart has responded to us with an official statement:
"Hi Swapnil,
First of all, apologies once again for the unpleasant experience you had while shopping with us. A good customer experience has always been our biggest priority and we are truly sorry that we fell so short of expectations.
Our marketplace is still fairly new and we are learning each day.
We have worked very hard on building a reliable shopping experience for customers on Flipkart.com and we would not want to see it diluted at any cost.
Based on your feedback we have made several changes to our order management processes to ensure that such instances do not get repeated.
Some of these are –
a) Stricter policies that protect customer interests in case any order gets cancelled
b) Ways to intimate the customer about their order status well before the delivery date in order to avoid delayed cancellations.
c) Steps to eliminate cancellations (as far as possible) in the system.
We really do appreciate your effort in highlighting this matter. And we will ensure that it helps us improve the overall shopping experience at Flipkart.com."

Along with that, it turns out that Flipkart CEO Sachin Bansal, when asked about how Flipkart employees felt about the article, responded on Quora saying that:

"It hurts ... a lot. And just to clarify, it is not the criticism which hurts, the criticism in the article is totally justified. It was our mistake and we should not have let that happen.

What hurts is that a customer is having a bad experience because of us. A promise to the customer was broken by us. Also, to add, there are actions being taken on these issues even as I write this. We are committed to keeping our promise with our customers."

Flipkart, as a show of good-will, has credited Rs. 500 to my Wallet, which I am told is for the inconvenience caused. I explained to Flipkart that the voucher goes against Digit's policy and therefore I will convert it into a gift voucher of Rs. 500 that will be given away through a contest.

Since this whole saga began with a keyboard, one which could not withstand the teething needs of a two-month old puppy, I call upon you, our amazing readers, to submit photos of your keyboards to editor@thinkdigit.com. The keyboard that has visibly gone through hell, high water, and possibly even a nuclear fallout will win this Rs.500 voucher. Of course, since keyboards are a topic that is now of great emotional importance, I will have some say in who wins. So let's see some photos of your insane/wacky/battleworn keyboards, yes?