Facebook at Work comes to India: What you need to know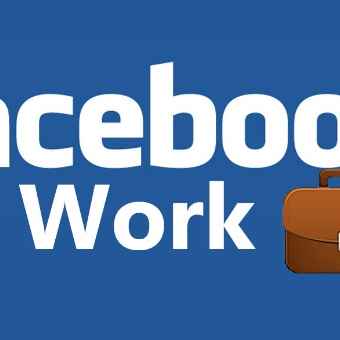 HIGHLIGHTS

The service is now being tested at India, and aims to further streamline your work life.
Facebook has started testing its Facebook at Work product in India by getting a number of companies on-board for the initial phase. The social media giant decided to enter the enterprise segment with Facebook at Work about two months ago, with a platform that is a cross between the usual Facebook, Gmail and Slack. The company has tied up with the likes of L&T Infotech, Yes Bank, Godrej and Zomato for its initial round of gauging interest on its enterprise services, and will aim to expand further, soon.
It has been a while since Mark Zuckerberg's genius idea took over our lives in the form of a social medium, and it has not been the same ever since. From being a platform to trace down your high school crush and her photos, Facebook gradually grew as a platform that has grave implications on the way we read, think, publish and get influenced. Facebook now has multiple veteran publishers using the platform as an efficient way of reaching out to its target audience, as most readers spend a considerable amount of time on Facebook, anyway. It has also promoted the need for curating topics that are pertinent to real-time, thereby becoming an important source for breaking news to many. Its push for promoting videos and immersive content is slowly translating across multiple major networks.
With such strong influence across the world, Facebook at Work was the next step for Mark Zuckerberg and his blueprint of conquering the world. Aimed at enterprises with an objective of streamlining work-related communication chains, Facebook at Work is a network that brings individual profiles, one-to-one communications, group project mails and separate groups into one platform. Facebook is promoting it as a way to integrate all your essential services in one, coupled with an interface that you are already familiar with.
This brings us to the essential questions - do you really need Facebook at Work? What exactly is Facebook at Work? How is it different from the usual Facebook? Would you really be helped by its services? What would you miss if it were not there? Summing up all of these factors, here are five essential things that you need to know.
What is it, and how does it work?
"As the workplace transforms, businesses want new ways for co-workers to collaborate effectively and be more productive," says Julien Codorniou, Director of Facebook at Work. Essentially, Facebook at Work is an enterprise version of the standard Facebook platform that you access every day. You get profiles, newsfeeds, groups and messages. Your profile is a brief overview of who you are, your news feed shows you the latest facts and figures from the groups and channels that you follow, your groups are work circles that can either be open (for collaborative projects), closed (for team objectives) and secret (for… well, anything). The messages section works similarly as Facebook Messenger, and lets you communicate personally or within groups to your co-employees.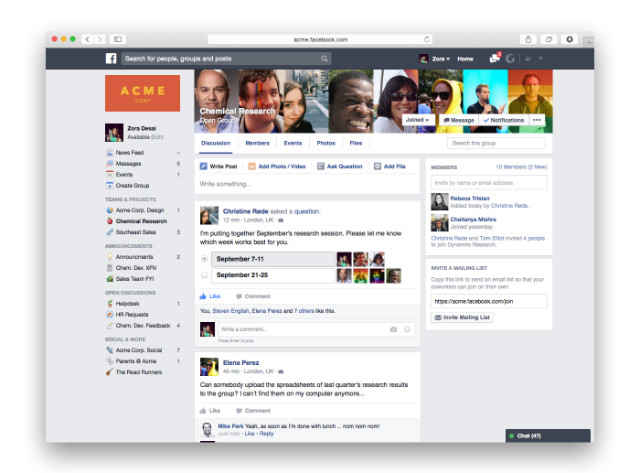 In short, it is your mailing client, messaging platform and individual profiles fused into one. Facebook at Work keeps your personal profile away from your work profile, and with that, keeps you safe from any accidental controversy that may crop up on your personal account, in front of your boss.
Would you really need it?
To put it simply, a majority of the services that Facebook at Work provides are things that you have already. What Facebook intends to do here is to bring all of these into one, tightly-knit platform. To gauge whether you need it without using the services would be wrong, as we are mostly unaware of what we need until we start using it. The argument in place is, if you get the services of multiple clients in one, along with an interface that you are already accustomed to, why would you not?
That is exactly what Facebook is pitching it for. Until now, Facebook has kept its Work platform free from any advertisements, and it may continue being this way for a while. Eventually, though, it will translate to being monetised some time in future. Elucidating on how much of a difference Facebook at Work actually makes over dedicated clients like Gmail, Slack, etc., Loveleen Bhatia, CEO and Co-Founder of Edureka, states, "These is a humungous difference between email and tools like Slack in comparison to Facebook At Work. We have tried Slack in the past and we had to discontinue it for the simple reason that the pace of adoption was very slow. With Facebook At Work, adoption is a breeze since every single employee is pre-trained by default to use it. Secondly, with email, conversations get buried over a period of time, while on FB at Work, it stays on and you can revive a post simply by liking or tagging new people to it. It is more personal and pleasantly informal." Edureka was the first Indian startup to join Facebook at Work's India bandwagon.
Facebook at Work entering India signals a sign of intent from Facebook to spread its services widely, along with increasing focus on India. As of now, Facebook has seen a number of companies adapt to Facebook at Work, including Godrej, L&T Infotech and others. With wider implementation, Facebook at Work can become an essential tool for workplaces and their millions of employees.