Ecommerce behemoth Amazon is all set to rule the Indian ecommerce market with a $3bn investment, taking their total vested monies in the country to a whopping $5bn. On Wednesday, Amazon CEO & Founder, Jeff Bezos announced that the world leader in online retail is looking to expand its footprint in the country, posing some tough competition to already bleeding Indian ecommerce firms Flipkart, Snapdeal.
At an event hosted in the US, and attended by Prime Minister Narendra Modi, Bezos said that he sees "huge potential" in India and that Amazon has already created 45,000 jobs in the nation with a billion plus population.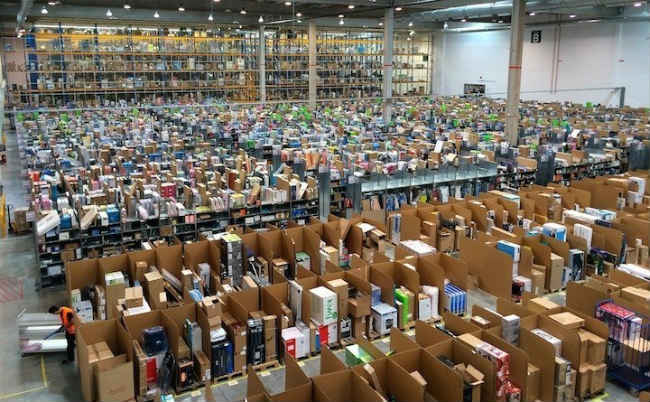 An Amazon fulfillment center
Amazon entered India back in 2013, and in 2014, it quickly followed up with an investment of $2 billion, which announced the e-retailer's commitment towards the booming Indian ecommerce industry. Since then, the online retail market in India has grown 57%, as per a recent report by Internet and Mobile Association of India (IAMAI). Of course, this surge in the Indian ecommerce industry came about with over $9 billion investments into native ecommerce startups like Flipkart, Snapdeal, Paytm and shopclues, back in 2015.
So when Amazon entered India, with its big bucks and over 2 decades of experience in the online retails segment, it threatened to uproot native online retailers in India that were sitting pretty with VC funding and ballooned valuations. Now, all that green is quickly fading for the Indian ecommerce startups, that once seemed indestructible. In March, Morgan Stanley marked down its investment in Flipkart from $142 per share to $103.97 per share. This was followed by other Flipkart allies like Valic Co and Fidelity Rutland Square Trust II, tightening their fists as well. Recent reports also say that investors Flipkart approached this year, none wants to invest in the company, which prefers a valuation of $15 billion.
Snapdeal is also in the same boat. In March this year, Amazon India breezed past Snapdeal to bag the number 2 spot in the Indian ecommerce sector, and the company's woes don't end there. Adding to the drop in its market share, Snapdeal is also struggling to score funding for its ask of $6.5 billion.
So, how does the ecommerce leaderboard stack up now? Well, Flipkart is now fighting to hold on to its number 1 position, with a market share of an estimated 37%. Amazon ranks at number 2 with an increase in market share to an estimated 24%, while Snapdeal finds itself at the number 3 spot, with a share of around 14%.
All this will soon change, now that Amazon has upped the ante with added investments in India. What's more important to note is the fact that India is now one of the key emerging markets for Amazon in Asia, since it fell short of wooing audiences in China. Chinese ecommerce giant Alibaba humbled Amazon in the country known as the biggest market for online retail. Apparently Amazon could not compete with Alibaba when it came to pricing of its products. For Amazon, this means that India is more valuable a market than ever before.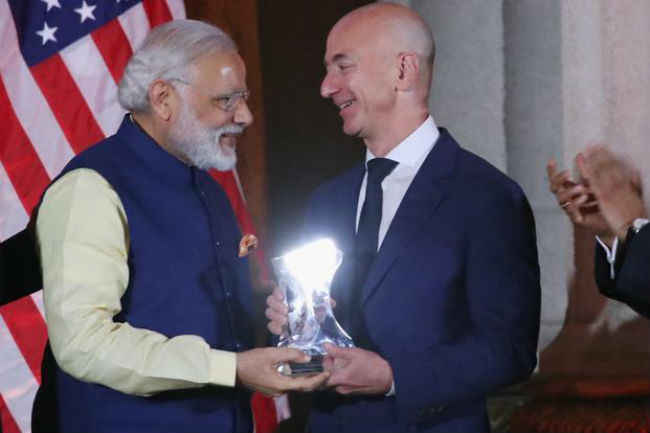 Jeff Bezos meets PM Modi
Although Amazon seems to be up to its usual tactics of buying market share to grow, it needs to watch out for brick and mortar stores trying to leverage low ecommerce valuations. Titan for instance, bought out online jewellery retailer Caratlane, Future Retail acquired Fabfurnish, Tata Group entered the ecommerce space with Tata Cliq, while the Aditya Birla group jumped into online fashion with ABOF.
Who will dominate the Indian ecommerce space this year is anybody's guess, but it seems likely that Amazon will take the cake and eat it too.