Two months after the release of Opera 11.10, which brought a major update to Opera's Speed Dial feature, comes Opera 11.50, which brings yet more features to the Opera Speed Dial.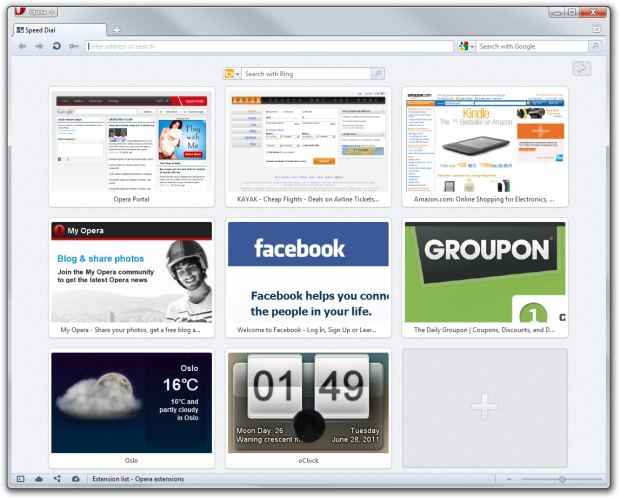 Opera 11 introduced extensions, and Opera 11.10 introduced a new flexible speed dial. With Opera 11.10 the speed dial was no longer limited in the number of entries it showed, and instead adopted a flexible layout that would change to accommodate as many entries possible. One could also zoom in or zoom out thus changing how many speed dial entries are shown in a page. Additionally, the icon / content to display on the Speed Dial could now be picked by the website creators, which meant more relevant information on the dial than just an illegible screenshot.
With extensions, and speed dial renovations behind, what should come next? Extensions for speed dial of course!

With Speed Dial extensions, developers can create widgets that will display in place of one of the speed dial entries. Already a number of extensions for displaying tweets, or the time, a calendar, news etc. are available in Opera's add-on collection.
With an extensible speed dial, your new tab page becomes more of a dashboard / desktop with widgets pulling in date from different websites. One could, for example, keep widgets for their various social networks / email account installed on the speed dial rather than keeping their tabs open. This way one can get an overview of the latest updates across accounts, and launch the relevant websites only when there is an update.
A great new feature for Opera Link lovers, Opera Link now supports password synchronization, so passwords saved in one instance of Opera will automatically be synchronized to other instances. For those worrying about the security implications of storing your passwords on Opera's servers, know that they have recently improved the security of their infrastructure. Opera encrypts your sensitive password date before sending it to their servers, so even if a malicious employee were to access it, decrypting it wo­­­­uld be infeasible. Essentially your data is safe as long as you have chosen a strong password.
But Opera 11.50 isn't just about the brains, the looks of the browser have once again been revamped, and the browser is now a lot sleeker. The browser hasn't reduced the UI chrome any more though; instead what was there has been streamlined. We were so sure that UI had been reduced again we actually had to open both Opera 11.11 and 11.50 side-by-side before we realized they were the same size.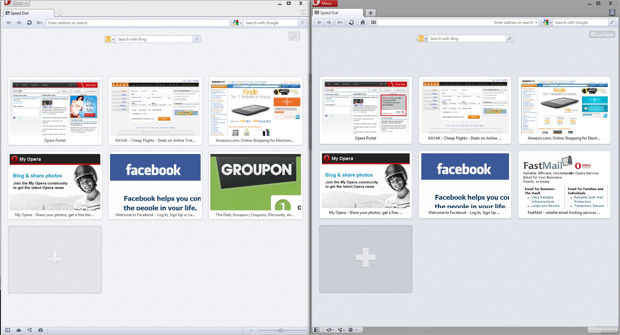 Many icons have been redone, and are now cleaner and simpler designs of what they represent. The Opera link icon for example, is now a cloud; an image that has now come to represent cloud services, and synching, which is essentially what Opera Link is all about. Instead of the previous colourful icons we now have monochrome icons in Opera, which give the interface a little more consistency.
| | |
| --- | --- |
| Simplified Opera 11.50 icons | Older Opera 11.10 icons |
The UI overhaul is rather major, and touches nearly every corner of the browser. You can immediately notice the icons and the new tab, the new Opera menu, which is now smaller and doesn't intrude into the interface as much.
| | |
| --- | --- |
| | |
| New Opera 11.50 menu, tab etc. | Older Opera menu tab etc. |
When a tab now has new / updated content, it shows up as a subtle fold on the upper right side of the tab much like one would fold the page of a book In lieu of a bookmark a practice I personally detest rather than the older system of placing a lit dot on the tab.
Opera never really looked bad, but now even Opera 11.10 look as jaunty as it used to. Best of all, all these changes are so subtle that they will need no introduction, and require no adjustment.
Opera 11.50 also features the usual bug fixes, and performance improvements, and according to Opera there have been tweaks to the graphics engine and we should expect faster CSS and SVG. With this race to implement more and more of the HTML5 feature set, it would be hard to leave those out. New standard specification implementations include "Session History and Navigation, the W3C File API, classlist, and the <time> element."
There is some disappointment from Opera 11.50 too. The HTML5 parser, WebGL support, and hardware acceleration, have all been showcased by Opera Software in Opera 11.50 builds, but are missing from the release version. Luckily these features are as yet not required by many web applications, mostly just demonstrations. According to Opera Software these features will remain in development until they are stable enough to be released in normal builds of Opera rather than functionality preview builds.
It's odd that Opera likes to make big user interface changes in "minor" releases, with the previous overhaul coming with v 10.50. With Firefox and Chrome both in rapid release cycles, and Opera releasing new versions every few months, versions numbers don't really matter, all that matters is that we get a better batch of browsers every few weeks.
Here are a few videos of Opera 11.50 in action:
You can find out more about the latest release from Opera website and can download it from here.