Communication apps are a dime by the dozen. Once a niche market occupied by the big tech companies of the 90's like Microsoft and Yahoo, it's impossible to catalogue all of them. Rummaging through the near similar features of all of them, it is a struggle to find those small features which distinguish one from another. Every messaging app promises the same – better communication, faster connection, file sharing and easy collaboration. So, which one is the best one for your team?
Why online collaboration?
Starting off, why would you need a collaboration app? What's wrong with traditional methods?
Traditional methods of collaboration are very fragmented. Each person in your team might be used to a different app for messaging, a file collaboration service and email. Collaboration apps create an ecosystem for work which integrates all of these. They are able to integrate with other services and apps as well. Apps like Slack, Asana, Trello and many others do everything, but specialise in one thing.
Slack
Slack, for instance, is a concept derived from IRCs or Internet Relay Chat services which used to be the most popular services for instant messaging on the internet in the past. IRCs were often complicated to set up, administer and manage and it became difficult to block out spam once the bots took over. Other messaging platforms faced similar problems too. When people began to realise that traditional messaging services weren't going to cut it they reverted to email. Email has its own set of problems. Most organisations had to invest quite a bit in email servers to get good experiences or had to put up with bad interface design and reliability. A person belonging to multiple teams or organisations often found it difficult and cumbersome to keep switching between work and personal emails.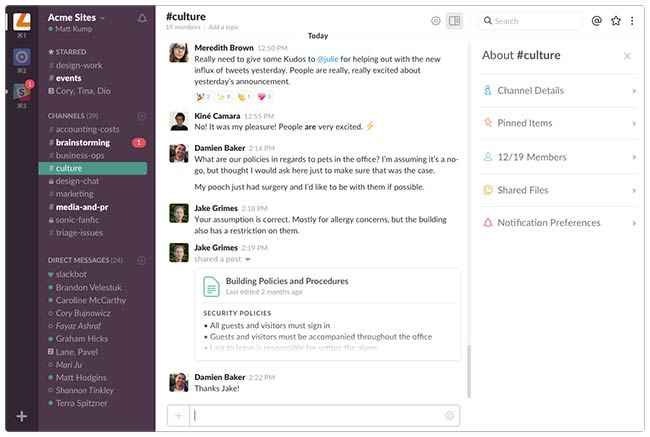 That is when Slack was envisioned. Slack is meant for all team sizes, from a small five member struggling startup to a very large organisation valued in billions. It is very easy to scale and works with existing services. The pricing structure of slack is also very convenient. It provides organisations with flexibility in billing and managing workforce in the team by billing per user and how they use it. Slack also detects when some employees are inactive and stops billing the organisation for those. For a typical organisation with average usage, slack would work out to around $5 a month per employee, which is much better economically than paying for multiple services or dropping a lot of cash in developing a custom solution. A service like slack also takes the pain of manually maintaining and upgrading the service. It lets you concentrate on the working alone and eliminate the pain of setting it up.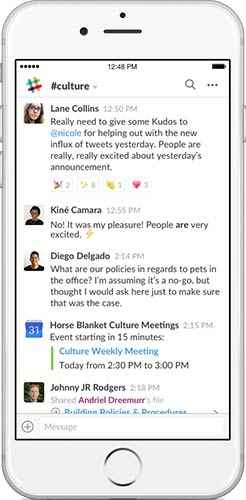 After a rather uninteresting launch in 2013, Slack has added a ton of features to its kitty like video conferencing, the long awaited integration with Trello and the ability to make calls to other team members. It has also added a lot of billing options, including ones for non-profits, enterprises and custom solutions for very large companies. While most other collaboration software aim to stand out by offering distinguishing features, slack is going in the opposite direction by aiming to integrate all services into one platform. It is worth noting that slack has one of the best customer support teams on social media.
Podio
Podio on the other hand is a completely enterprise-based platform. It is targeted at enterprises working on a lot of projects. It has a lot of features focused on users who'll be creating and sharing updates with the rest of their team. Podio works for organisations which use a lot of project management tools like calendars, tasks and work assignments. Podio doesn't do messaging very well, so if you're expecting to chat with your office mates well, you'll be disappointed. Instead of integrations, they have a mini app within the platform which does different things. So when you're just setting up a workspace on Podio, you'll have a blank canvas.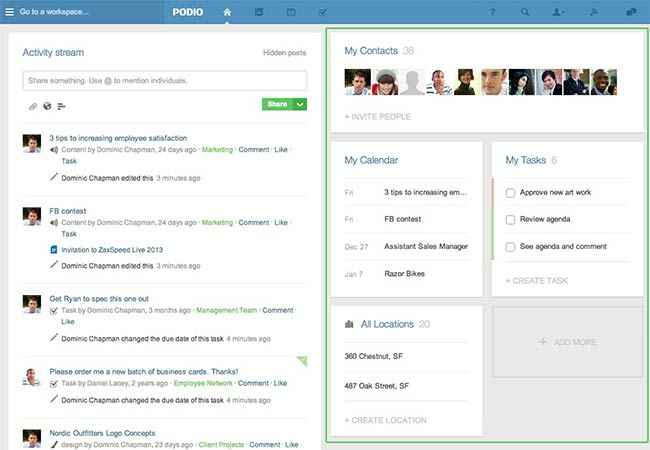 You then add the functionality you want for your organisations by installing the necessary apps. There are some really good apps made by Podio themselves which provide basic productivity and project management tools. The developer community is pretty active and Podio are ready to provide custom solutions for your business. Podio works more or less like Facebook, but for work. You can create and comment on status updates, share updates regarding projects or people and of course manage advanced projects. Podio integrates with Google Calendar and lets you sync all your events to your devices. This works well for managers and people who assign tasks.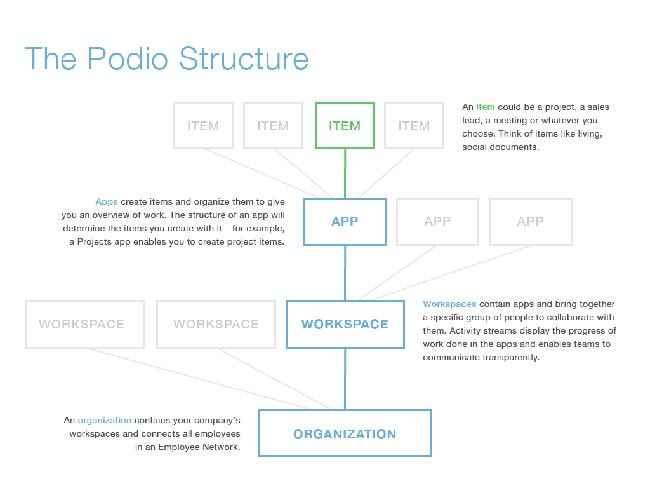 You can set membership levels of users and have complete control over the teams. Podio also offers discounted rates for Students and Non Profits, and is a non expensive option to custom made collaboration software.
Hip Chat
Hip Chat as the name says, is a cloud-based collaboration software that has chat as its main focus. A team has multiple rooms each of which can be set for a specific purpose. A large team can have several rooms such as marketing, development, IT support, web design etc. It is very similar to Slack, and has the ability to send files, links, and add integrations to make your experience better.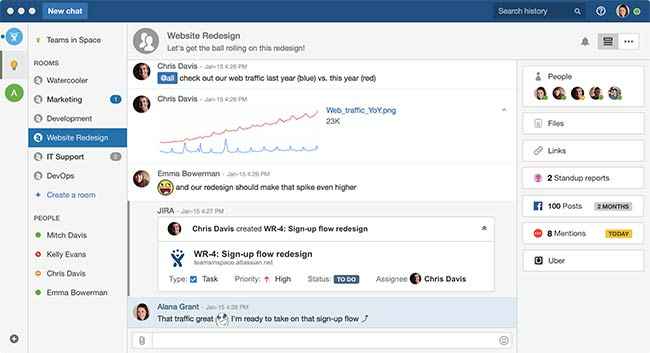 Hip Chat does not bring anything new to the table, and promises to eliminate email completely for your organisation. Hip Chat did not do well initially, but after a good interface overhaul, it looks promising, but still struggles to differentiate itself from Slack.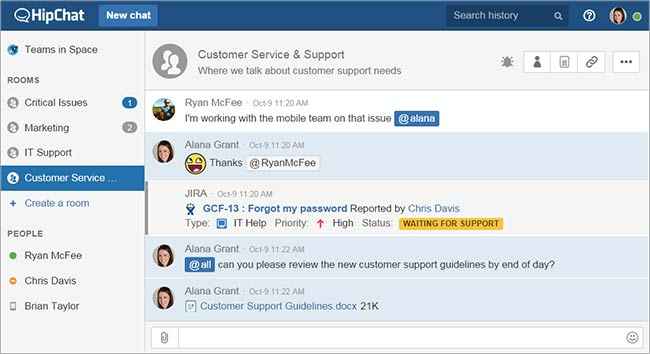 Flock
Flock is India's answer to killer productivity. Honing the Make In India badge, Flock is a natively developed solution to killer office productivity. Flock claims to be much faster and more efficient than Slack. With optimised search and well-placed hamburger menus. Apps seem to work better in Flock and their APIs integrate much deeper into the platform than Slack.
It has integrations which can help you have video and audio calls from within the app itself and even share your screen. It has the usual features of tasks, to-dos, reminders, document collaboration and polling. Flock is relatively a new player in the game and even has dedicated sections on its website, trying hard to explain why it is different from Slack. We'll have to see how well they market amongst the already saturated market in collaboration apps.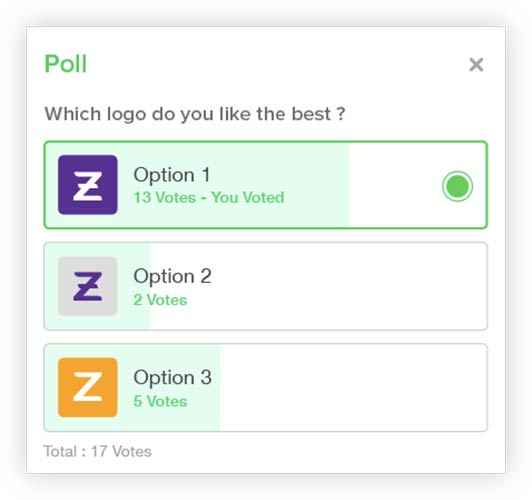 Asana
Asana on the other hand is a task management platform. It is mainly targeted at managerial people who love assigning tasks to juniors, while integrating with most collaboration platforms. This too works to eliminate email. Asana has APIs which integrate with Evernote, Drive, Jira, Dropbox etc. Teams create their own workspaces, workspaces have projects and projects have tasks. These tasks are then assigned to members in your team and each person can see the tasks assigned and mark it as complete or perform actions based on the task. Asana is good if you're a part of a lot of teams. It helps you switch easily between projects and notifies you if the state of any task or project changes. Asana is very complex to set up, with a lot of scope for customisation, but is a real workhorse once you get it up and running.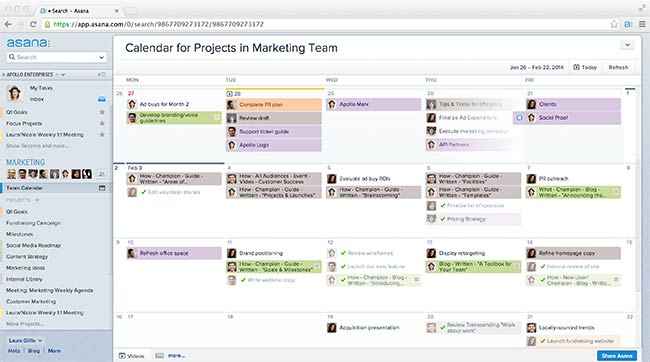 Verdict
We have detailed all the major players in the online cloud-based collaboration platforms, most of which are free to use and require you to pay for additional features. There is no perfect solution to online productivity that exists right now and you'll usually end up using a combination of products to suit your needs. The most common combination would be to use Slack + Trello/Asana and their suite of mobile apps to keep you annoyed with notifications on the go. Evernote is another popular tool which isn't exactly targeted as a collaboration app, but it is used in more ways than you can imagine. With Apple pitching the new iWork suite of applications with live collaboration, it can be considered along with Google Docs as a collaboration tool, but their chat and integrations are often very poor or don't work very well.
The biggest problem with these productivity apps is not that there are several of them which do the exact same thing, but that users are very reluctant to adopt new software and platforms. So the biggest hurdle you're going to be facing is getting the users to adapt to these new tools. Apart from that if your organisation is not using any such tools, you'll need to train the employees to use the new tools. Last thing you'd want is for only a few members of the team using the new tools. Your productivity will get destroyed if it is not implemented properly.
This article was first published in October 2016 issue of Digit magazine. To read Digit's articles first, subscribe here or download the Digit e-magazine app for Android and iOS. You could also buy Digit's previous issues here.