While telecom operators are striving hard to popularise their 3G services in India, Bharti Airtel has gone one step further by launching the latest 4G services in the country. The telecom giant today announced the launch of wireless broadband services based on fourth generation wirless technology in Kolkata circle. Airtel now plans to bring 4G in Bengaluru as well.
With the latest 4G services, users can now access the Internet, video conference and download online content at a rate several times faster than 3G services, which is still in its nascent stage in the country. Interestingly, Airtel has priced its 4G data plans competitively as compared to its 3G services in the Kolkata circle. We bring you a detailed comparison between Airtel's 3G and 4G tariff plans (Kolkata circle). Read on.
Airtel 3G
Airtel is providing 3G services through a roaming arrangement with Vodafone Cellular in Kolkata. The minimum 3G data plan start at Rs. 9 for 10MB (validity 1day). The highest data plan goes up to Rs. 1,250 for 12.5GB (post-paid). Airtel offers a range of 3G data plans, categorised as Sachet, Standard, FlexiShield and High Value. Airtel also provides volume based charging packs. Moreover, the company gives video calling service at 5p/sec , which is valid on local, STD & roaming. Airtel's 3G services are available for both prepaid and postpaid customers.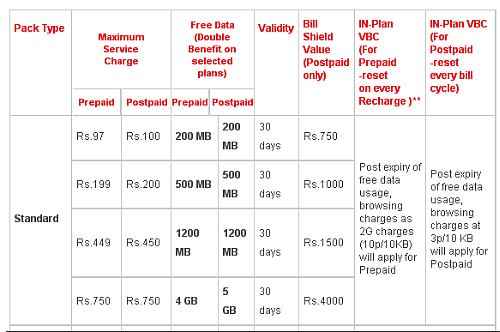 Details taken from Airtel's website
Airtel 4G
For 4G, Chinese telecom equipment maker ZTE will be facilitating the roll-out of the fourth generation telecom services. Airtel has 20 MHz of BWA spectrum in 2.3 GHz frequency band, which is supposed to be suitable for 4G. Speaking of data plans, unlike its 3G plans, Airtel 4G plans aren't very diverse. The minimum 4G plans start at Rs. 999 for 6GB, while the maximum one goes up to Rs. 1,999 for 18GB. Airtel is offering 4G data plans under three categories namely breakfree, breakfree max, breakfree ultra.
To provide 4G services, the carrier is offering services initially through the dongle and Wi-Fi gateway. According to Light Reading India, Airtel's dongle costs around Rs. 7,999 and the Wi-Fi gateway comes for Rs. 7,750. It's notable Airtel's 4G dongle costs four times higher as compared to the average 3G dongle that costs around Rs. 2,500.

Airtel's 3G plans look better as the cost of the 4G dongle (Rs. 7,999) may turn off many users. Airtel has more flexible 3G data plans than 4G. Hopefully, Airtel will come up with new 4G data plans, which are affordable for common users. To push 4G popularity, Airtel should bundle its 4G plans with the forthcoming smartphones/tablets that support the fourth generation mobile technology.
What do you think of Airtel's 4G services? Let us know in the comments section below: