For years runner have relied on expensive shoes to lock down the perfect stride. It has been a common belief that a good pair of running shoes, preferably from a popular manufacturer, can not only improve a runner's posture, but also make a marked difference in the pace, grip and the stress experienced by the foot.
On the other hand, theories originating from experiences of professional runners also state that barefoot running is better, and in fact, less harmful than running with shoes. But, let's face it, running barefoot is not ideal in every situation. Neither are overly priced sports shoes, with added gimmicks for attractiveness. So, what's the solution? Technology, of course!
Running as a hobby and as a sport has seen a sea change since the advent of smart wearables that can assist a rookie and a professional alike. Wearables have proved to be successful in improving training times, training knowledge and goal setting behaviour. Wearable tech is also useful in sports data analysis, enabling coaches and athletes to make more informed training decisions, rather than using pure instinct.
This is where startups like ReTiSense come in. ReTiSense is the brain behind Stridalyzer, an insole that can make any ordinary shoe smart. A fairly new entrant in the wearables space, but nevertheless, fast rising, Stridalyzer was a Kickstarter success story. The company first listed on the crowd funding platform in December 2014 and 303 Kickstarter backers pledged $30,768 to help bring Stridalyzer to life.

"While there are a lot of fitness trackers out there that essentially track what people do in their fitness activity, we wanted to go a step further, and build a Virtual Coach, which can monitor what a person is doing and whether it's appropriate for them and how can they improve on what they are doing," says Anshuman Singh, Founder of ReTiSense. With an IIT- Kharagpur pedigree and over 15 years of industry experience with the likes of Intel, Singh is an Engineer turned Entrepreneur who wants to make people run smarter.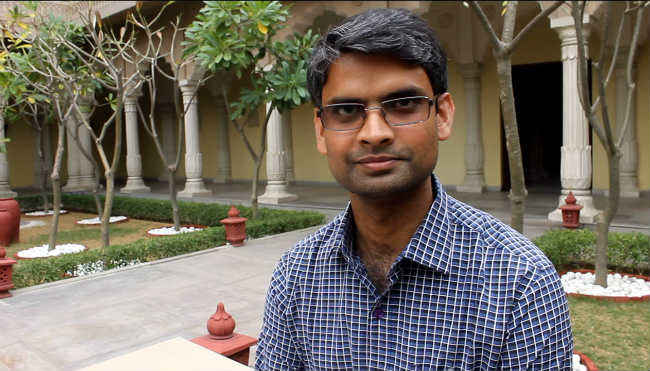 Anshuman Singh, Founder, ReTiSense
Himself an avid runner, Singh feels, "Most of us runners go through this phase and we all suffer all kinds of injuries throughout our running career. I have been a runner myself for over 13 - 14 years and it's essentially that we runners take injuries as part of life, but it doesn't have to be that way. I have a torn ACL (Anterior Cruciate Ligament) and that is why Stridalyzer is close to my heart."
So, how does Stridalyzer work? For starters, it is a smart insole that has all the basic fitness tracking features such as - Pace, Distance, Calories and Step Count. The insoles have an app connect and all data collected by them can be viewed on a user's smartphone. "The insoles track the movement of a person's foot and body. What we can tell the user is - are they off-balance? Are they striking the ground in a way that causes them too many jerks on their bone structure? Along with information for stress distribution in the body," says Singh.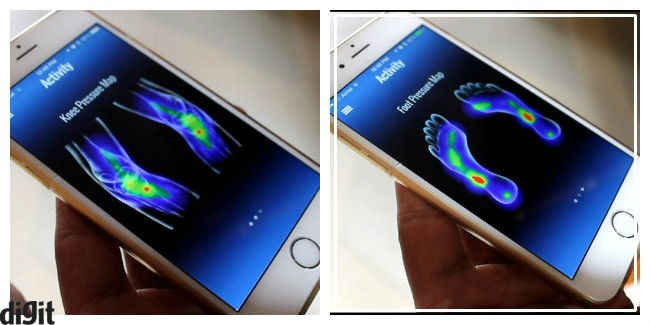 Stridalyzer stress maps for knees and feet
Stridalyzer features real-time measurements, real-time stress maps for knees and feet, post-run analysis & guidance, data storage on cloud, running form summary, stride-level web-based analysis, exercise & cross-training recommendation and more. That's not it though, the insoles are also moisture and sweat resistant along with a capacity to provide 20 hours of run time. 4 sensors are placed inside the Stridalyzer insoles, that measure all the running data comprehensively. The company has recently released a pod version of the Stridalyzer, a round button shaped device which fits onto a shoe and provides similar statistics as the smart insoles. ReTiSense recommends different products for different levels of runners namely - Advanced Athletes, casual Joggers and beginners. The insoles also connect to a corresponding app via Bluetooth and the app is available for both iOS and Android.

Stridalyzer app view
When it comes to price, Stridalyzer is not exactly inexpensive. The Stridalyzer PERFORMANCE smart insoles costs $139 (Rs. 9,538) whereas the Stridalyzer Pod is priced at $45 (Rs. 3029). Although the price may sound steep, the longevity of the Stridalizer insoles make them worth the buy, especially for those who take running seriously. "There are a bunch of international level users of our product. There is a silver medal winner Olympic racer as well, who uses our Stridalyzer technology in his training. It is not too expensive if you look at what it does. It essentially acts like a virtual coach for you. If you are trying to prepare for a marathon, you would hire a coach to guide you, but with this, you don't have to," claims Singh.
Video: Watch Stridalyzer in action here
So, while Stridalyzer makes headway in the wearable fitness tracking space, we will keep getting you more such stories from India's tech startup space. Stay tuned for our a special video on Stridalyzer coming soon. Watch our YouTube channel for more.