Apple, Amazon and Google have each announced a new smart speaker in the past few weeks. But which one should you buy? Well, we aim to find out with a deeper look at all three smart speakers.
These devices are core to each company's smart home ambitions, since a Rs 10,000 voice-driven speaker -- housing Siri, Alexa or Google Assistant -- acts as one of the best anchors for a connected home experience. Each speaker not only brings with it a smart assistant that ties into an ecosystem but also features that may entice you. If you are an Apple user with a Mac, and an iPhone then the HomePod Mini may be a no-brainer for you. On the other hand, if you are in the Apple ecosystem but use services like Amazon Prime and Audible, then the Echo becomes an enticing device. Similarly, if you have an Android smartphone or pay for YouTube Premium, then the Nest becomes an enticing offering. If you have a mix of devices and services, then it can get quite confusing as to which is the right device for you.
We will have a detailed review on each of the devices and let you know real world evaluation, but till then let us break down the features and help you understand which could be the right device for you.
Apple HomePod Mini: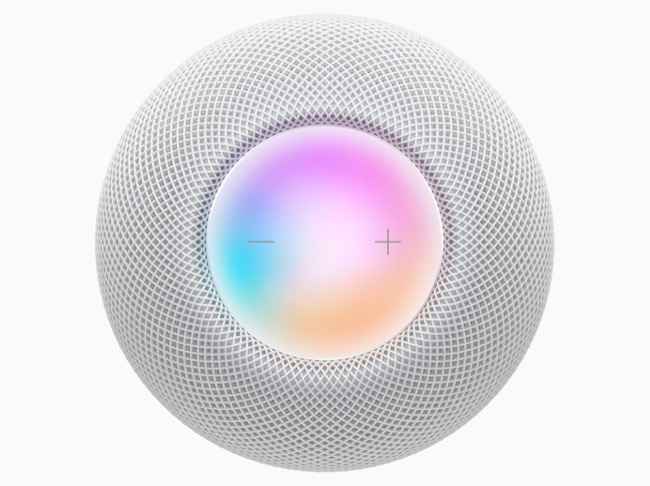 This is the long-awaited sibling to the HomePod. It is cheaper and smaller than the HomePod. The speaker is powered by Siri and will work exactly as it does on your iPhone. The speaker will have a slew of Apple-specific features, such as reading your messages, control your Wi-Fi-connected light bulbs and more.
In addition, Apple says the HomePod Mini will be able to adjust its audio output to the acoustics of the room and receive music "handed off" from iPhones held in its proximity. Plus multiple HomePod Minis will be able to automatically play songs in stereo thanks to the new ultrawide band chip.
The 'intercom' feature lets users play a message on a HomePod Mini speaker placed in any room. All they have to do is ask Siri on their iPhone to play the message. The recipient can send a message back by voice, too. The HomePod Mini can also tell the difference between different household members' voices and send personalized responses back to them.
If your family members have an iPhone and are invested in the Apple Ecosystem, then the HomePod Mini is a no-brainer. Especially if you were holding off on getting the HomePod due to its price.
Google Nest Audio: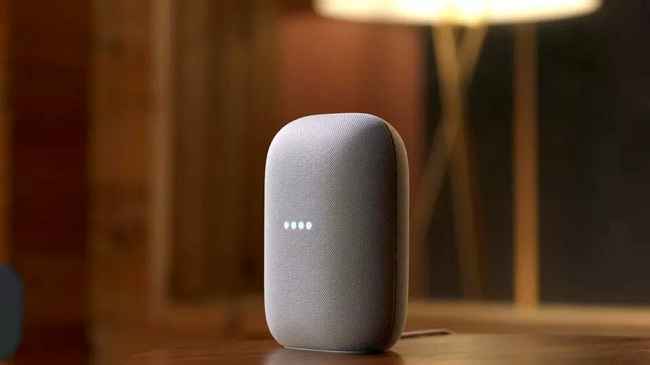 Google has been launching smart speakers since 2016 under its Google Home umbrella and this recently the company has been branding all its smart devices under the nest umbrella. The Nest Audio is a large soap shaped smart speaker which Google claims is 75% louder than the Google Home with 50% stronger bass.
Google Assistant continues to be the most natural-sounding voice assistant, though Amazon is keeping the competition tight with its recent upgrades.
For most people, whether you prefer Siri, Alexa or Google Assistant will probably come down to use-cases: Siri integrates with iPhone functions, like messaging; Google Assistant works with Google's Calendar, Gmail and search services; Alexa works with Amazon shopping. All three will get the job done to varying degrees for most requests in between.
Just as previous Home/Nest speakers the new speakers can be paired with each other and form a stereo setup.
The real wow features for Google Assistant is in the software and not the devices itself. It supports calling over Duo to your contacts, a feature missing in the HomePod which is missing from the HomePod speakers. You can however, answer an incoming call on the HomePod Mini. Coming to smart home connections Nest brings a solid array of connections for connected home space, such as smart bulbs, smart TV's and other range of smart devices.
If you are not a part of a particular ecosystem or are looking to dip your toes in the functionality of a smart speaker, then you can't go wrong with the Google Nest.
Amazon Echo (4th Gen):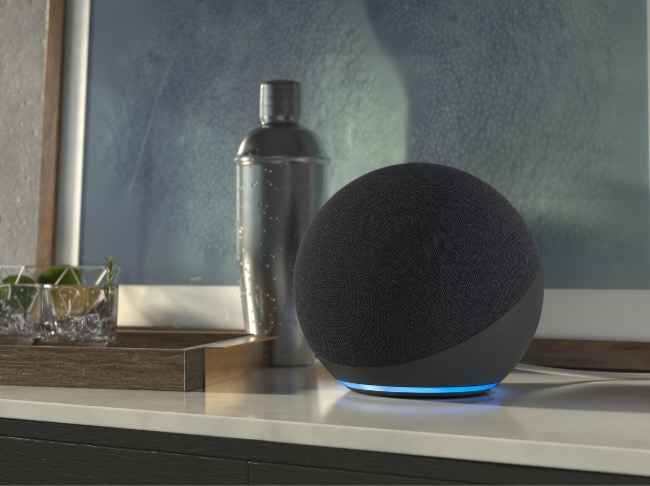 The Amazon line of smart speakers is switching up its design; the new Amazon Echo speakers are spherical. The 4th Gen Echo has a 3.0-inch woofer, dual-firing tweeters, and Dolby processing claiming to deliver stereo sound with clear highs, dynamic-mids, and deep bass that automatically adapts to any room as the company says.
The new Echo's hardware similarly prioritizes home integration, featuring a Zigbee receiver to connect smart light bulbs, plugs and other compatible devices making this the largest in the segment to support this large array of devices.
If you are using Prime services such as prime music, Amazon Prime (shopping) then tracking orders and playing songs from Prime Music would be an integrated feature for the device. The speaker supports connectivity on both Android and iOS platforms.
You generally have to be more precise in your requests to Alexa compared with Google Assistant and Siri, and that can be frustrating unless you're willing to get used to the syntax. On the flip side, Alexa supports the most third-party skills of the three voice assistants, though most third-party skills feel more like novelties than must-use features. For example, if you have the new 5th generation Honda City, in India you can use Alexa to switch on the car and the AC. so when you reach the car 5 minutes later, it is cool and ready for you to go. Alexa's skills and routines give it an edge above the other 2.
The right smart speaker for you?
Honestly, like we said above, the primary decision should be based on your ecosystem. If you are integrated in the Apple ecosystem, then the HomePod Mini makes sense. If you are an active Amazon Prime member and use its services such as Music, check your orders and listen to Audible, then the Echo is the one for you. Not to mention the thousands of skills available from third party services for Amazon Echo devices. On the other hand, if the Google Assistant is your best friend, you use Google Calendar, Gmail, maps, and have an Android TV, then the Nest is a speaker you can exploit.