Google announced the Google Home at I/O 2016. Now, two years down the lane, Google has finally introduced the Home speakers to India. The Google Home is priced at Rs 9,999, while the smaller Google Home Mini, which has also made its way to the Indian shores, has launched at a price point of Rs 4,499. We spent a little time with the smart speaker a while back and and experienced a quick demo. Here is a quick introduction to some of the things that the Google Home can do.
The device will essentially let you enjoy music from Google Play Music, Saavn or Gaana, get answers from the Google Assistant, manage everyday tasks like lists, to dos, etc, and most importantly, control your IoT enabled smart devices like lights, fans, stream content to a Chromecast, use Netflix with voice commands and more.
Kicking things off with the form factor, the device is cylindrical with a slanting top. It's minimalistic and will blend in easily with your home decor. There are a bunch of options for the base speaker grill if you want to customise it to suit your requirements. The top of the device is touch enabled so if you don't want to communicate with it by saying "OK Google", you can touch the top of the device and then speak your instructions. You can use the touch interface to pause music that Google Home is playing and also use the touch panel to adjust the volume. Coming to the speaker setup in Google Home, it was loud and clear and even though we were in a noisy environment, one could still hear it accurately. That said, the sound quality is not that great and at if a quality bluetooth speaker is what you were looking for at the Rs 9,999 price point, you would be better off with a first generation UE Boom. The Google Home feels a bit heavy when you hold it and that's a good thing. It feels well built. However, its white body is prone to marks and smudges, so make sure to get a good cleaning solution to keep your Home squeaky clean.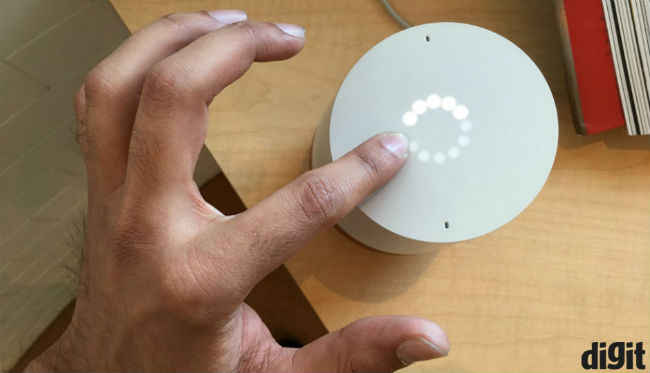 The Google Assistant is the biggest highlight of Google Home. By now, you would have spotted Google's "Make Google Do It" in a metro station or an Airport and that's what the Google Home is for. You can ask the Google Assistant on the Google Home to play songs from your favourite music streaming service which includes Saavn and Gaana. Google added support for the two popular music streaming services just a few days ahead of the India launch of the Google Home. Users can also play videos from YouTube or Netflix to the Chromecast in their house or even ask Home to make a to do list or a set a timer. The use case scenarios are more elaborate. We are just listing the basics here. For the longest time, one downside to the Google Home was that one could not receive incoming calls on the device. While Google has now added that ability, allowing users to make and receive calls on the smart speaker, it is only available in select countries not including India. The Google Home speaker can also recognise up to six different users, so you can programme voice commands from other family members or friends as well and the Assistant will recognise each different voice individually.
Unlike Amazon's Echo Plus device, the Google Home and Home Mini are not smart hubs that come with Zigbee or Z-Wave connectivity. Instead, the Google Home speakers link to various smart home hubs using the accompanying Google Home smartphone app. Overall, the Google Home is compatible with more than 1,500 smart devices from over 225 brands. These include smart Android TVs from LG, Sony and other manufacturers.
The other difference is that Amazon's Echo speakers allow users to shop from the Amazon website using voice commands, whereas the Google Home does not have the shopping function activated in India. It is currently only available in the US.
When it comes to voice commands, both the Google Home and Amazon Echo bring support for Far-Field voice recognition technology to listen for voice commands from any direction. In India, the Google Assistant inside the Home speakers can currently understand and respond to voice commands in English (India) and Google says that it is working on adding support for Hindi. On the other hand, Alexa on the Amazon Echo can understand and speak a bit of Hinglish and offers contextual responses based on a user's location.
Overall, Google Home feels like a device that will evolve as customers in India start to use it. The fact that the Home can now connect to other Bluetooth speakers makes it quite desirable for playing music on demand given the extensive library available across three music streaming services. At first impressions, we can list a bunch of everyday scenarios where we would potentially use the Google Home, so it looks like a product that is aiming at the average household. However, It is too early to recommend the Google Home as a sound investment, mostly because the average Indian household is not yet smart home ready. We will bring you a detailed review of the Google Home after using all its functions and features. Stay tuned.