Christmas is the time for joy; family, presents, festivities, blasting Mariah Carey on your speakers and watching some hearty holiday specials while sipping on some steaming hot cocoa. It's one of those seasons where everyone deserves a break. Especially with the kind of burdensome year we've had, this time around. Every year, around autumn fall, Netflix rolls out a fair lineup of Xmas-themed projects without fail. And this year is no different, as we have a brand-new, young adult romantic comedy series based in New York City - Dash & Lily. Created by Joe Tracz, the eight-episode, half-hour show is an adaptation of the novel - Dash & Lily's Book of Dares by David Levithan and Rachel Cohn. And follows the story of a cynical Dash and a cheerful Lily, as they trade dares, desires, secrets and scavenger hunts, back and forth via a red notebook, that they hide in several locations around the holiday-embracing city, until they eventually fall in love.
We know that you probably had a great time, huddling up in your blankets and soaking in all the winter magic that Dash & Lily had to offer, in the short, 4-hour timespan. So, it might come to you as a shocker when we tell you that a good majority of the snow, that you saw on-screen was not even real! And was in fact added in post-production. You see, the filming process on the show took place in 2019 fall and winter, on location, when the weather wasn't all that snowy. Flowers were still blossoming, tree leaves and bushes were bright green, and well… the skies were generally sunny and at times, pouring down hard. Understandably, you can't portray a Christmas tale, without it actually looking and feeling like one. Meaning, it required VFX enhancement that would remove any signs of summer from the frame, and bestow upon it - a touch of holiday spirit. Seeing that visual effects is one of those delicate aspects that can easily make or break one's viewing experience, Netflix decided to hit up some long-time professionals in the field - Chicken Bone FX (CBFX). Having been in the business for over a decade, the company has worked on some pretty high-profile titles such as Westworld, The Walking Dead, The Highwaymen and quite recently - The Queen's Gambit, to name just a few. We over at Digit are huge fans of some of those shows. So, when we finally got the opportunity to chat with the VFX team on their latest project, we were quite ecstatic!
Establishing The Holiday Spirit
Creating the dazzling, and almost magical winter wonderland for the show, wasn't as easy as just slapping on a "snowfall filter" onto the raw footage. As stated by Gabriel Regentin (VFX Supervisor for Dash & Lily), there were quite a few steps that CBFX took, to make sure that the chilly, Big-Apple-Holiday-Experience was delivered in the best possible manner. Some of the techniques were extremely basic. Such as carefully planning the shoots around the ever-changing weather patterns. And directly working with the special effects team, to add practical on-set snow effects in desired locations. Back in the VFX offices, the artists would then add onto it, by messing around with digital matte paintings (DMPs) to further amplify the Christmassy feel. This would involve covering the streets, fences and building tops with snow, and adding brightly-lit Christmas decorations. Additionally, the team would add layers upon layers of DMP snowfall onto the footage, keeping depth perception in mind. This makes the snowfall feel 3-dimensional in a sense, where some of the flakes appear to be dropping behind the subject in focus, while the others float in between the camera lens and the subject. This creates a far more realistic snowfall effect, in comparison to one of those drag-and-drop filters that come in-built with certain video editing softwares.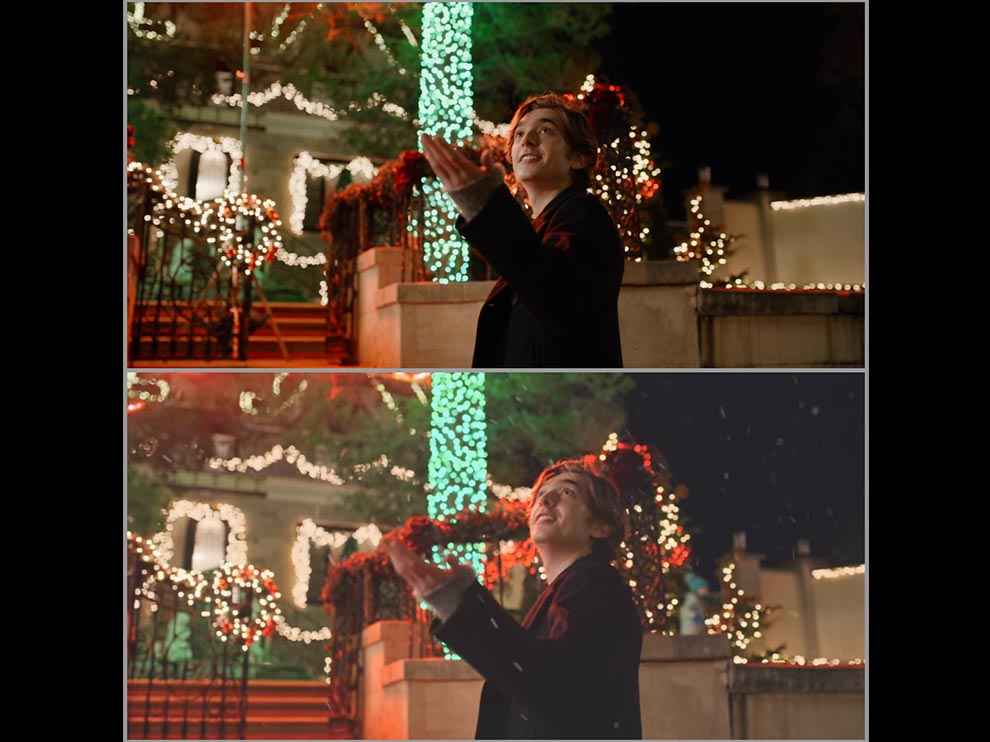 Furthermore, Regentin mentioned that the DMPs and snow elements were often created in 2.5D, to allow perspective changes with scenes involving a moving camera. This makes the laden snow appear practical where, as the camera moves along, the elements would show new angles, develop shadows, and move closer or farther accordingly. "A great example of this is when Lily is walking up to Grand Central Station in episode 3. We covered sidewalks, tables, chairs, and the station itself with a blanket of "fresh snow" using DMPs."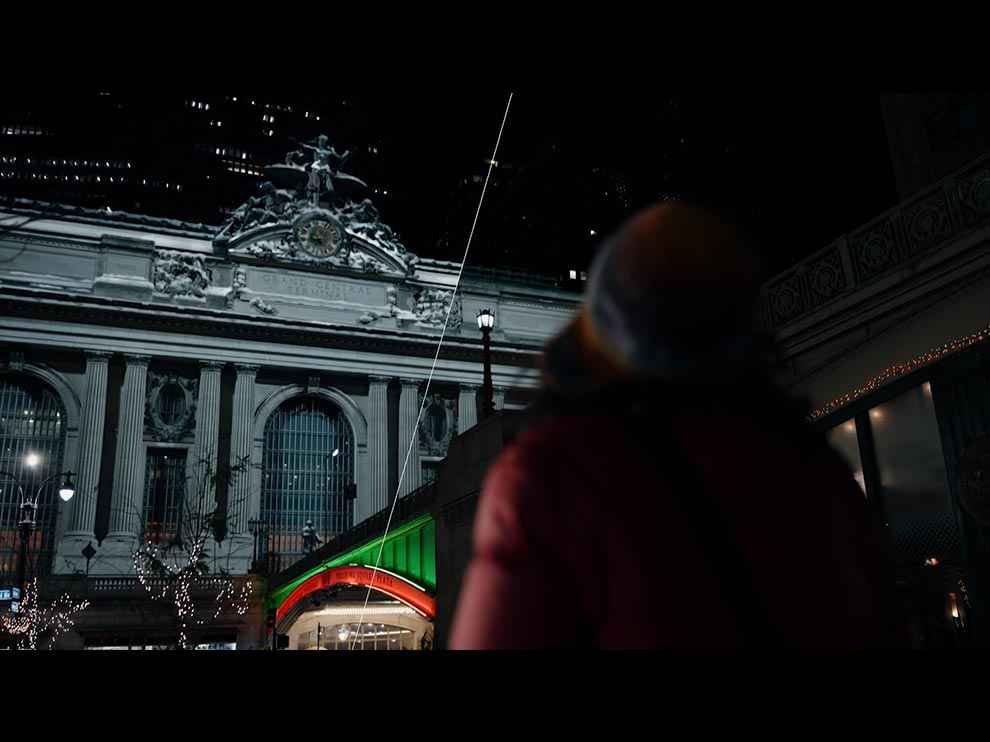 Fading Vegetation
As the holiday season draws closer and closer, it leaves behind a saddening sight of bleak, dried-up vegetation in its wake. It's a part of nature's cycle, and thus had to be recreated in the show as well. In the third episode, there are scenes shot over at Central Park, where one of the dares in the notebook forces Dash to mimic a living statue for 10 minutes. The background of this scene features a blindingly white sky, and an entire set of dying trees, with barely any leaves clinging onto its branches. But as mentioned earlier, at the time of filming, these trees were completely fine. In order to achieve the barren and gloomy scenery in the most natural way possible, CBFX implemented a quite smart and efficient trick. Which was to film the exact same shot, at two separate intervals in time, and somehow merge them together. As stated by Regentin, originally, the actors were shot over greenscreens, when the trees were densely populated with green leaves. The crew then came back to the location, later in the year (winter), to shoot the exact same backdrop. But this time, with no leaves on the trees. From there, it was simply a matter of replacing and merging the original greenscreen background with the newer one.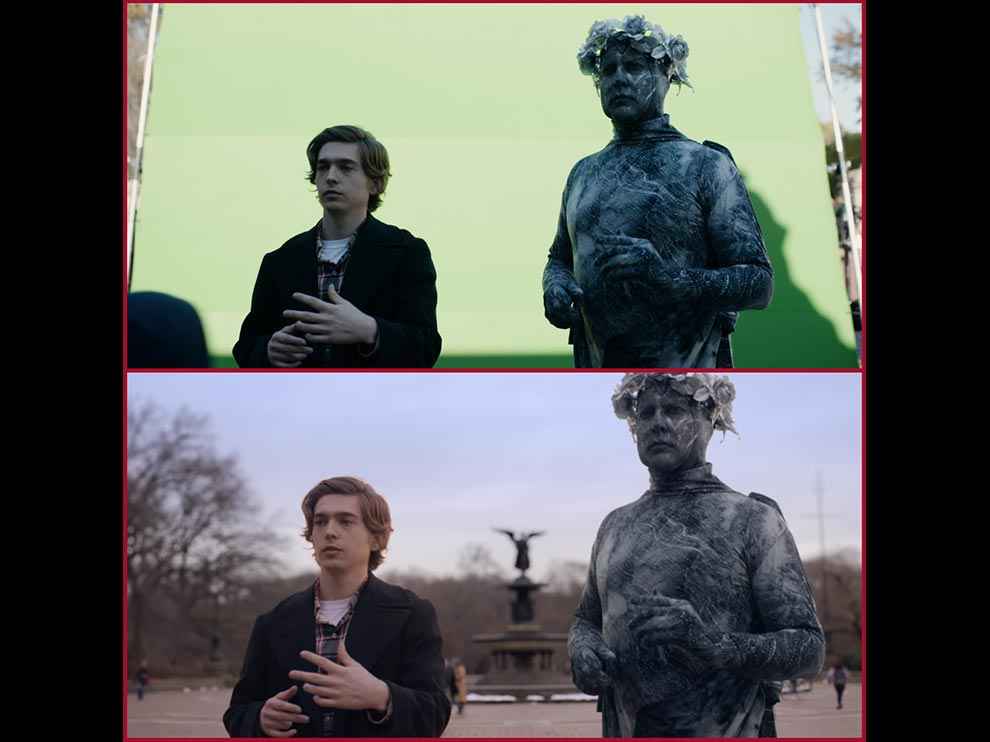 As for the remaining, autumn coloured vegetation, the team chose to colour-correct much of the foliage to a deep brown or red, while keeping the shrubbery dark green. During this process, it was important to leave a good amount of brightly popping colours in the shots, to seamlessly capture the holiday feel and magic. John Renzulli (CEO / Chief Creative, Chicken Bone FX), further touched upon their creative process by saying, "We love "weatherizing" to complement the story being told."
Turning Rain To Snow
It's a universally accepted law that all good things must eventually come to an end. In Dash & Lily's case, it's all about putting an end to the cheerful Christmas season, and welcoming the year ahead. The final episode of the season takes you to a New Year's Eve party, where we see the Jonas Brothers playing a live concert, in the middle of a snow flurry. As lively and vibrant as the performance looks, you would have probably guessed by now that the snowfall, is obviously fake. But, there is a twist. This time, filming took place on a rainy day. Meaning, CBFX had to work with that footage and create a winter concert scene, by replacing the raindrops with snowflakes. Based on the weather forecast, the day of the shoot was actually supposed to be sunny. But unfortunately, midway through, it started to rain, which further led to the filming process being halted. In the interest of saving time, Regentin and his team persuaded the production crew to keep filming, given that VFX would help by adding snow or rain to the other (previous) shots, for continuity. "The decision was propelled by a very quick proof-of-concept we made of a falling snow treatment, composited on a couple of takes from the other day.", says Regentin. Fair to say, the filming resumed smoothly, which brings us to the real task at hand.
Coming to post-production, a good majority of the visual effects process merely involved - adding tons of snowfall onto the footage, and playing it off of concert lights; to the point, where it would cover-up and overshadow much of the rainfall. Which is why, when you closely compare the snowfall in this particular scene, to any other scenes from within the show, you notice an increase in the density and the amount of snowflakes flowing across your screen. Simply because, there actually is, more falling snow. As for the removal of rain droplets, it was only needed for a few of the shots, such as close-ups, since the VFX layers would read most of it as snow and do a fine job. "We found that the real rain would read as snow once we added our VFX layers, and it really transformed the whole scene.", says Regentin. "Instead of a dreary, rainy concert, I think we created some real New York Jonas Brothers holiday magic!"
Thanks to Chicken Bone FX, Dash & Lily was able to unfold a wondrous Christmas tale about two lovers, while seamlessly pulling the audience into their magically gorgeous world. Taking on this task wasn't that easy of a deal, considering, by the time they actually began working on the project, the pandemic had just set its first imprints into this world. Adapting to the new normal put a lot of mental and emotional stress onto the team. But, thanks to their pre-existing virtual workflow system, and the timely and efficient mental health support, CBFX was able to push through, and masterfully churn out a cosy holiday special, just in time!
Similarly, the VFX team for Martin Scorsese's The Irishman were tasked with de-aging their actors based on time period. You can find out more about their process here. Also, if you're interested in cinematography, feel free to check out our stories on The Lighthouse and 1917.
"Dash & Lily" is streaming now, on Netflix.