I've been a long time concert photographer who's been fortunate to have worked with several big name artists. Having used every single big name DSLR and popular lens in the arsenal of both Nikon and Canon, I have to say that nothing compares to the ease of mind you get from using these bad boys. Many a times, as a "purists" (or rather a former purist) I tend to discount anything that's not a DSLR as a credible tool for making great photos, but being in the line of work that I am, I keep getting hit by surprises every now and then.

I received three very interesting cameras for testing over the last few months, the Fujifilm X100s, the Ricoh GR and the Nikon Coolpix A. All three of these cameras have a fixed focal length lens, a really good starting aperture of f/2.8 (even better for the Fujifilm as it has an aperture of f/2.0). With acceptably wide lenses and a pretty decent megapixel count, I had the ludicrous idea of, for once, using point and shoot cameras instead of my DSLR to see how things turn out. Sunburn Noida was coming up and I figured where better to put these little puppies to the test than the biggest electronic music gig to happen in the city? Here's what happened that fateful night.

Prep-Work
Ground work on what you're going to carry with you to such a gig is imperative. Since Sunburn Noida goes on for about 6 hours and requires a LOT of walking around, you must be judicious about the things you bring to the arena with you. Here is a list of items I carried on my person.
The cameras:
Fujifilm X100s
Ricoh GR
Nikon Coolpix A
The Accessories
An Adidas Darth Vader Sling bag
A ton of assorted high speed 16GB SD cards, in case I went the "spray and pray" way
Lint free cleaning cloth for the camera lens
The Reinforcements
Red Bull. Cameras aren't the only things that need spare batteries.
A towel. ALWAYS bring a towel.
A 3M respirator mask, to filter out the dust and the various kinds of smoke found at the venue


A minimalist kit, powered by the dark side
After leaving all the batteries for charging overnight, and making sure the memory cards were clean (and working) I loaded the two into their respective cameras, which ended up going into my sling bag. If I had to carry a DSLR (or THREE!) and equivalent in lenses, I'd have to lug around my huge LowePro AW 350 backpack, which is half my size and the total combined weight of the equipment could shame a baby elephant. Yes, I exaggerate, but a DSLR kit of this caliber would be very heavy, while the three point and shoot cameras neatly fit into my sling bag and hardly weighed anything, in comparison. I even threw the extra cards, a small hand-towel and a few cans of RedBull in there and even then the bag's weight was barely noticeable. I'm already liking the ease and convenience of this setup!

At the Venue
Once inside the venue, I discovered that there were two stages, both separated by a two minute casual walk. Now if you camp out at one stage, you're good, but try shuffling between the two stages for the 6 long hours and you'd know just how tiring it can get. This isn't even accounting for all the extra walking you have to do in order to get the "great view of the stage." Needless to say, I wore my favourite sport shoes for maximum comfort and started the shoot with the Fujifilm X100s. Now mind you, I didn't have stage access, but I could manage to get into the pit in front of the stage, so most, if not all the shots you see in this piece have been shot from the said pit.

Getting down to Business
The Fujifilm rocks a 35mm (equivalent) f/2.0 Fujinon lens that is incredibly sharp, even wide open. The pit, in all honesty, is one of the worst places to shoot an electronic gig from. The concept in of itself isn't thought through and here is the problem. In an electronic music gig, you have a stage and on top of that stage, there is a very flashy console atop a rectangular structure. The artist stands BEHIND this rectangular structure, which is on top of a stage that is anyway 15 feet above the ground. Oh and the icing on the cake is the fact that the console is placed several feet away from the edge, pushing the artist even further back. Now imagine being in a photographer's pit at such a gig. You will always have to look up (almost at a 60 degree angle) just to see the artist's face (because that is all you get to see). Pits work great for Rock concerts, and any other, but not for electronic music. Anyhow, I digress.

To get most of my shots, I climbed onto the barricades that had been created for the photographer's pit. Started off with the Fujifilm X100s and since it was still 5 in the evening, with plenty of sun beating strong against my back, I kept the ISO at 100, aperture at f/5.6 and the shutterspeed at a decent 1/125th of a second. Of course, every single shot looked like it was shot on a wide angle lens (well, because it was) but the amazing X-Trans II sensor with its 16 million pixels really helped me work some magic. Check out this before and after shot.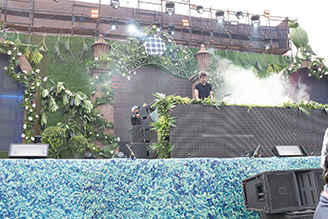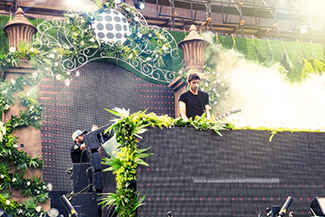 Left: Original Image Right: Crop of the left image
Climbing up and down barricades, walking between stages and interacting with the good people who had come to just enjoy the music was a great, but exhausting experience. However, nothing is more tiring than having to wiggle your way through a crowd of hundreds of sweaty, dancing bodies, being careful that, more than anything else, they don't knock your camera around. Now normally, smiling and saying "excuse me," works, but for this particular gig, I had to do neither. Probably has everything to do with how I looked that day. Here's a photo of why the crowd was eager to part ways to let me through.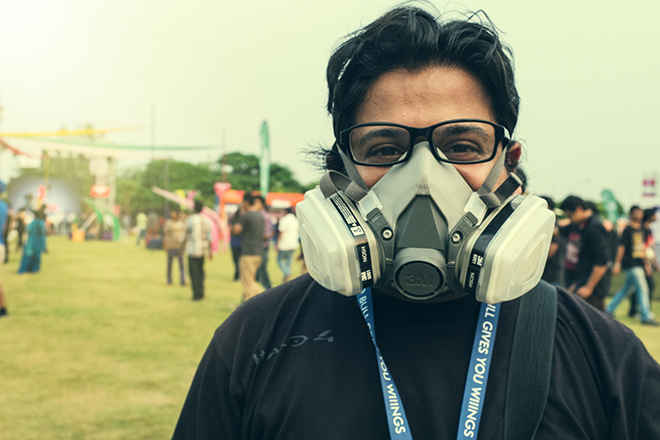 3M Respirator Mask: Making sure you don't breathe in the funny stuff, also making sure everyone wants photos with you
As the evening progressed and the crowd swelled up, it got harder to walk through the crowd and the constant back and forth between stages got taxing. A can of Red Bull to rejuvenate a drained soul and the towel to wipe off the sweat and I was as good as new. As the light dwindled and we moved into the Twilight sets, the Fujifilm's modest battery started giving way, but not before letting me capture this amazing shot Porter Robinson just as he switched his set to Dark Psy.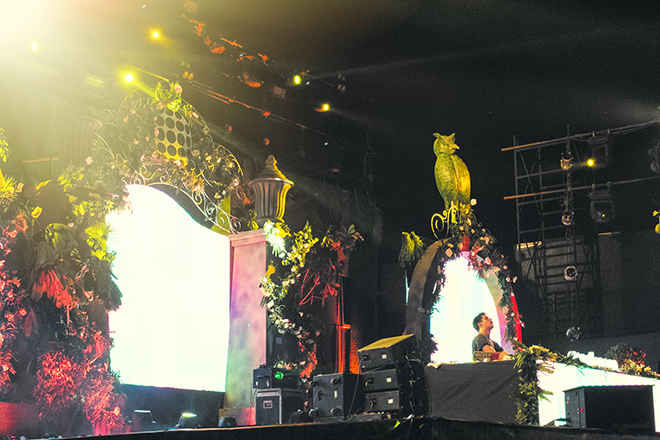 Porter Robinson: ISO 3200, f/8.0, Shutterspeed: 1/30 seconds
Once the Fujifilm was laid to rest in my bag, I turned to the Ricoh GR for continued documentary needs. There was no choice but to start at ISO 3200, as I was very clear that my aperture shouldn't dip below f/4.0, at least for the shots of the artists on stage. These point and shoots are notorious for missing focus on objects that are far away, so I ensured that given the focal length and aperture, I was creating enough depth of field for my shots.

With the Fujifilm, I was pretty sure that ISO 3200 wasn't going to be an issue, but this was me using the Ricoh GR in low light for the first time. I was worried, but figured that it's better to have images that have had noise reduction run on them than to have no images at all. Check out this small collection of photos from the Ricoh GR.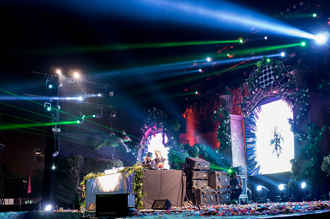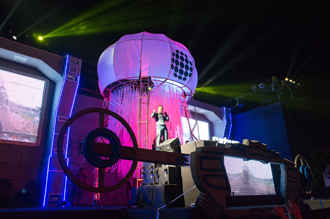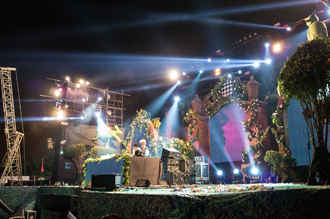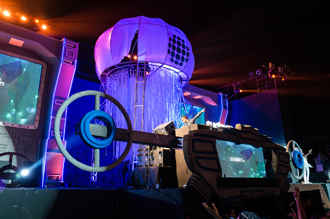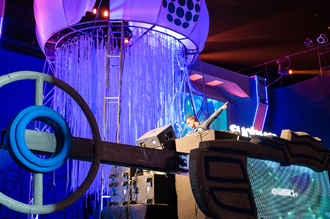 A few samples from the Ricoh GR. The last pair is the original image on the left and the crop on the right

The Ricoh GR was surprisingly good in terms of image quality, keeping noise totally at bay even at ISO 3200. The focus was incredibly fast to lock on, but when I reviewed the photos on my computer, some of them had mis-focused. However, the number of such images was rather small which is sort of surprising as I expected the number of mis-focused shots to be a lot higher.

Moving onto the Coolpix A was caused by the battery draining on the Ricoh GR, but not before the GR gave me some 35 shots, including many with the flash enabled. Now the Coolpix A has the same specs as the Ricoh GR (almost) and so I didn't expect to run into a lot of trouble using this camera. I'm already familiar with the Nikon Menu system, so it took all of five minutes to get the camera ready to shoot. Unfortunately, by the time that the Nikon Coolpix A got a chance to show its true potential, the gig was winding down and it was time to leave. Only managed to get fifteen odd shots with it, a few of which I have shared here.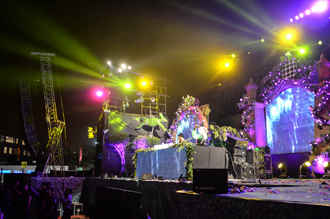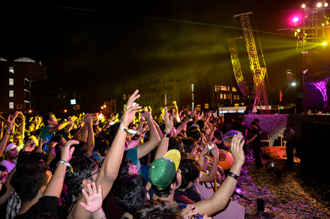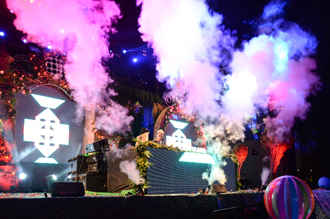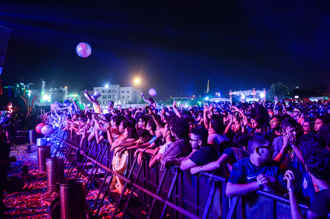 A few samples of the Nikon Coolpix A, which surprised me with its photo quality, but not so much with the AF performance
I went to Sunburn with three "point and shoot" cameras with fixed lenses, with absolutely no clue as to how these three would perform. I didn't assume they'd do well, I didn't predict that they'd match the DSLR quality. I just went with an open mind and now looking back at not just using them, but also the images, I have come to some realizations.

The Good:
Shooting Sunburn with point and shoot cameras, I didn't feel out of place even for a minute. In fact, shooting with these little guys was actually quite a lot of fun and here's why.
- Shooting with a high end compact like the Fujifilm X100s, the Ricoh GR and the Nikon Coolpix A is so much more convenient due to how little they weigh.
- There is little to no noise in the images, even when shot at ISO 3200
- The compact size of the camera means no worrying about bumping the camera in awkward places.
- Delivered sharp images, despite the high ISO
-Surprisingly GOOD AF quality, even in dim light.

The Bad:
While shooting with the trinity that I had carried with me, the only area where I felt they let me down was in the department of zoom. The lenses on all three were rather wide, and getting the close-ups of the artists meant cropping the wide shots. This has two disadvantages, firstly that it assumes that your wide shot would have the artist perfectly in focus. The second is of course the resolution you lose by cropping. Had I carried my DSLR with a 70-200mm f/2.8, I could have gotten incredibly close to the artist, and STILL managed to retain the full resolution of my sensor.

The Afterthought
A point and shoot camera is at the end of the day, a point and shoot camera. Its compactness comes from the fact that it has a fixed focal length lens, which happens to be incredibly sharp. Sure you can't zoom, but the sensors in each of these cameras give you not just quantity of pixels, but also quality. Cropping is possible, and if you're just going to limit these images to web use and not really get into making large prints, then there really is no need to lug around a mountain of equipment.