Panasonic is a long established name in the field of imaging, and have had their own share of industry-firsts to boot. In over a decade-long journey, Panasonic's LUMIX lineup has produced a number of interesting mirrorless cameras, with distinctions like the first mirrorless camera to shoot Full HD videos back in 2008, and also the first mirrorless camera to shoot 4K videos, introduced in 2014.
As is evident, Panasonic's focus has been around shooting videos. With the new LUMIX GH5, the company aims to step out from being videography specialists to presenting a camera that excels as an overall imaging device. Naturally, the upgrades lent to the Panasonic LUMIX GH5 also work towards making it an efficient mirrorless camera for photographers, and not just videographers.
The 20.3MP micro four-third sensor
The Panasonic LUMIX GH5 uses a 20.3-megapixel micro four-third sensor, which is smaller than the APS-C sensors used by the likes of Sony in mirrorless cameras. While purists may raise an eyebrow here, Panasonic has used this to leverage smaller, lighter lenses. Inherently, the micro four-third sensor has higher crop factor, and as a result, allows Panasonic to use shorter optical ranges in lenses ~300-400mm and produce similar results as a Sony/Canon ~500-600mm lens. This is crucial as such engineering effectively allows lighter lenses, which is very important for interchangeable camera bodies that are smaller and lighter than DSLRs.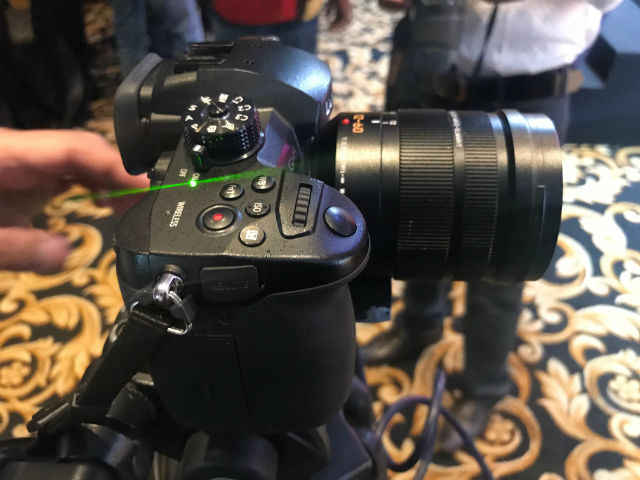 4:2:2 sampling, 10-bit depth
Keeping the importance of videography intact, the Panasonic LUMIX GH5 produces videos with 4:2:2 colour subsampling and 10-bit colour depth. Video resolution extends up to 4K (2160p) at 60fps, and better slow motions can be produced in HD (720p) at 180fps. Colour subsampling is essentially the compression factor of colour data in reference to brightness data, and most consumer (and even broadcast) cameras of today use 4:1:1 subsampling, which can lead to loss of colour. Seeing that this is not a professional-oriented camera, the 4:2:2 subsampling combined with greater colour depth allows for better contrast levels, wider range of shades and higher vibrancy in photographs. This adds a prosumer touch to the LUMIX GH5, which upon first impressions seem good enough to suffice in wedding and night videography. For photography, too, the LUMIX GH5 seems fairly adept with wider buffer that allows upto 5.7fps continuous shooting in full-frame RAW.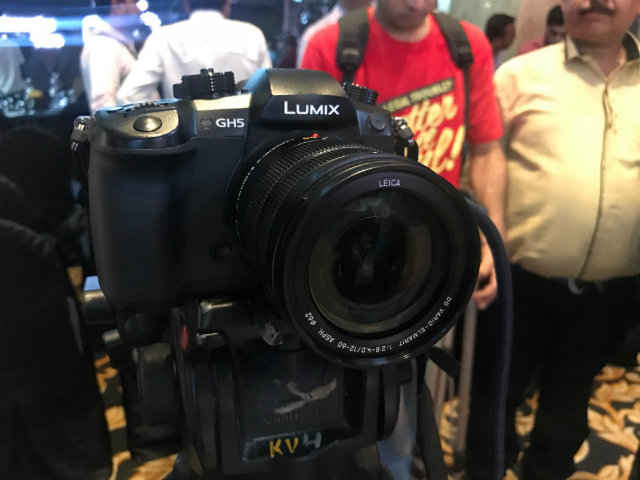 225-point AF, 5-axis dual IS
Panasonic also boasts of dual-image stabilisation - a 5-axis mechanical stabilisation in the camera body, and as well as in lens, to produce inherently stabilised videos. In the short while that we spent with it, we could not really catch the superior stabilisation standards at play, and reserve our verdict for the eventual review that is to follow. Coupled with this is the new, Advanced DFD autofocus mechanism with a total of 225 focus points. Upon first impressions, not only did the AF system seem accurate and fast, it also had an interesting procedure of focusing up its sleeve. Seeing how we often tend to get the focus wrong especially in low light, the 225-point AF system takes all the focus points on the focal plane in account and shoots a burst of photographs. Post shooting, you can surf through the photographs and retouch the focus for efficient adjustment. This essentially cancels out the probability behind out-of-focus photographs, and seems promising upon first impressions.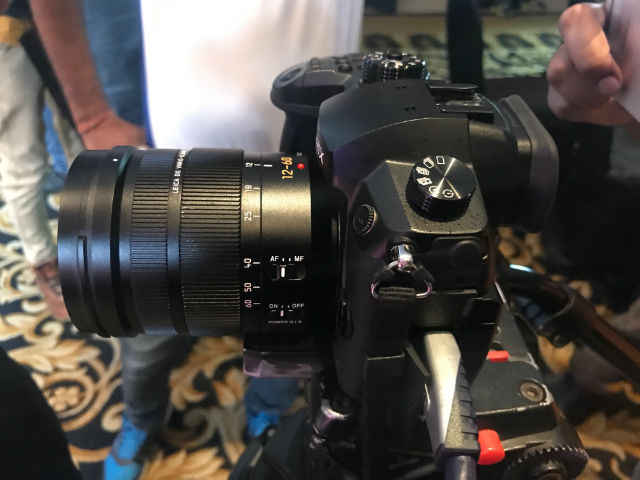 Other new features include weather sealing on the body, which is smaller than prosumer DSLRs of similar prices, and integrated wireless connectivity that will allow you to transfer compressed or full resolution photographs on the go. The wide range of connectivity options include HDMI-A, USB-C, 5GHz WiFi band and Bluetooth.
Initial reactions
On overall terms, the Panasonic LUMIX GH5 is quite formidable on paper, and does impress upon first sight. What has not entirely convinced me is the comparatively restricted range of lenses, and the seemingly larger body despite the use of a micro four-third sensor. This, along with a price of Rs. 1,43,990 (body only) may make the Panasonic LUMIX GH5 appeal as a comparatively compact mirrorless camera body for prosumers who shoot with bulky full-frame or medium format cameras. There is, however, no denying that this is a really well-equipped camera, one that seems well-suited for photographers and videographers alike.