Of all the camera-makers in the world, GoPro has a rather unique position. The company specialises in action cameras, and have found wide acceptance among adventure enthusiasts, bikers and more. Prior to the Hero5 launch, GoPro's Hero4 action cameras led the company's portfolio. Now, the company has held an official launch here in India, introducing the Hero5 Black and Hero5 Session. The company says that it is reading the signs, and India is becoming a steady market for GoPro. As Rick Loughery, Senior Global Director of Media Relations for GoPro stated, "India has been an interesting market for GoPro, and we're investing our interests here with the same strategy as our bigger international markets."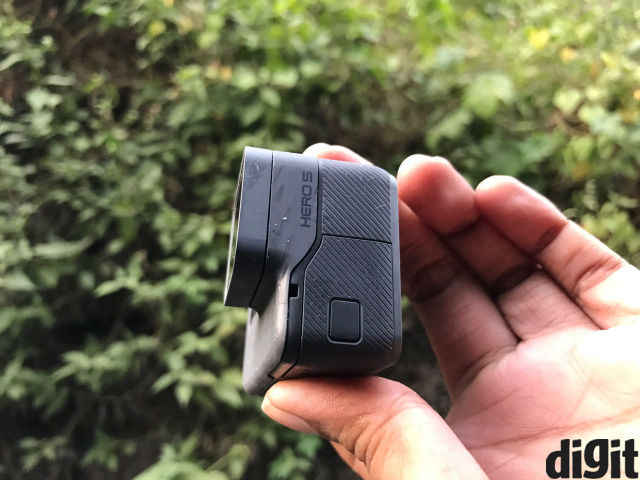 The GoPro Hero5 Black is the camera that we extensively tested, through two days of catamaran sailing, kayaking, sailing on a yacht, and biking through a trail. On the face of it, the Hero5 Black is an intriguing camera. It is small, and weighs 117 grams. It is bigger than the Hero4 Silver, though, which weighs 88 grams. The larger size is mostly because the Hero5 Black is now waterproof natively, and does not need a separate casing for water activities. This actually has a bigger impact than what you may think, and I felt that only after my GoPro Hero4 Silver dropped in water, without its casing. The Hero4 Black was not waterproof natively, and making the Hero5 Black's body waterproof has helped GoPro in ensuring lesser damaged products in the long run. This, effectively, has actually lowered the overall weight of the camera from its predecessor.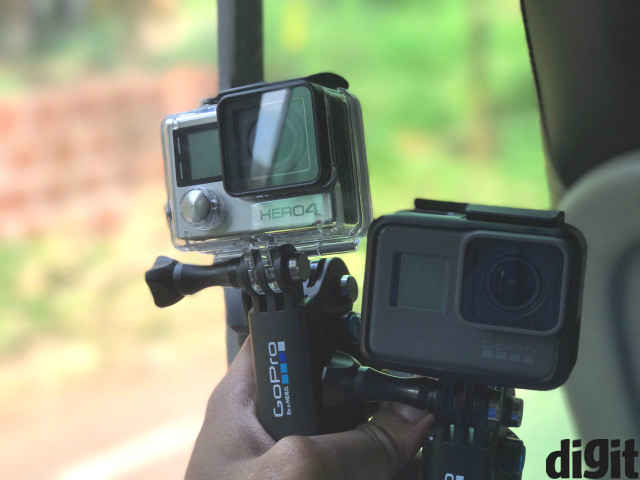 The Hero5 Black also gets a 2-inch LCD display with touch input capabilities. It's a bit of a struggle to maneuver the touch inputs effectively when the camera is housed in the skeleton, and there are erratic missed touches or slow response from the display quite often. GoPro acknowledges many of these as firmware bugs, which they promise will be fixed soon. Nevertheless, the touch input does make operations familiar, but the minuscule size means individuals with fatter fingers may often struggle. The resolution seems fine - good enough for a display of such proportions, but a slightly underpowered image processor means skipping through a video becomes slightly difficult. The Hero5 Black also gets voice control, which - like the touchscreen - is often unresponsive. It works similar to how "Hey Siri" or "OK Google" works, and you do not need to press any button to activate it once you've set it up. As a result, the learning curve is minimal, but you do host the risk of looking incredulous while repeatedly saying "GoPro take a photo" and looking at the camera with a frozen smile. It does fail to respond at least five out of 10 times, and GoPro has only added support for seven languages, regions to its firmware so far. This is certainly a step in the right direction, although the refinements are much needed.
Coming to the core operations and image/video quality, the GoPro Hero5 Black retains much of the Hero4 Silver's performance traits. You can now shoot 4K videos at 30fps instead of 25fps max, 1080p videos can now be shot at 240fps, a significant upgrade for activity enthusiasts who shoot for slow motion video clips. You also get a 'Superview' Field of View mode, which essentially records footage at 1440p, then pillarboxes it to output video at 1080p, 60fps. This ends up delivering the widest field of view, improving on GoPro's prime forte - wide-angle shots from insane heights. You also get the standard 'Wide' Field of View, and a new 'Linear' view, which essentially crops into the sensor to give you a 35mm-simulated point of view, as against the bulging horizons that appear from GoPro's fixed wide angle lens. This is somewhat like the opposite of the Superview mode, but works for when you need shots that simulate a different lens. Because this cuts into the sensor's full field of view, 'Linear' and 'Superview' FoVs are available only in 1080p and below.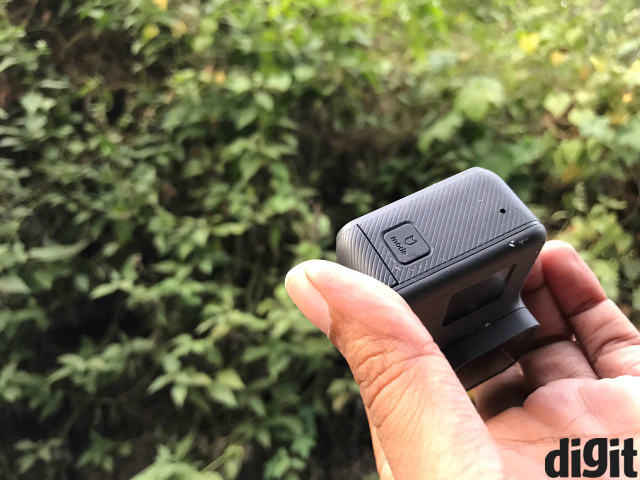 Stills remain the same at 12 megapixels, although GoPro has improved by including Burst, and Time Lapse - which basically takes the principles of a time lapse movie photography but does not stitch the shots into a film by default. The Time Lapse mode works when you are out surfing - set it to 0.5 seconds interval and hit the shutter, and shut it only when you're done hitting the highest waves. You are left with a wide array of shots, from which you can easily choose your favourite. The Time Lapse mode also helps in a football match or in an act when you aren't sure of your shooting duration. For similar results for short stunts, the Burst mode shoots continuous frames really well. You can customise Burst to choose from 3fps, 5fps, 10fps and 30fps. All of these sum up the multiple shooting modes and scopes of the Hero5 Black, and all of these features really make for a versatile camera for sports, adventure, biking and extreme situations. The small sensor may be a bother at times for noise in low light, but the versatility is an impressive trade-off.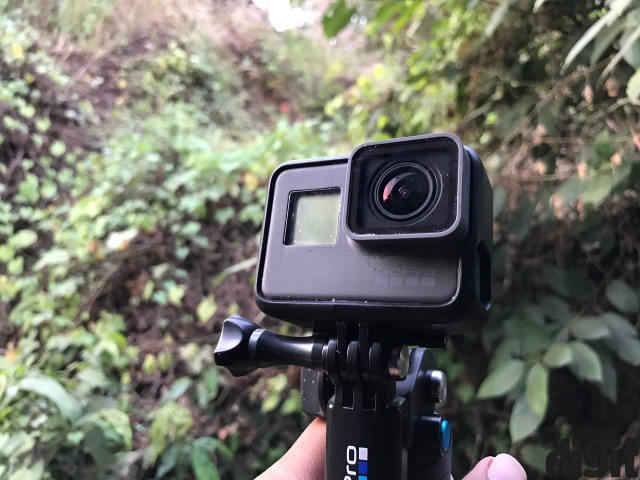 In terms of colours and sharpness, choosing 'Protune' allows you to set your own ISO limit, white balance and colour profiles - either 'Flat' or 'GoPro Colour'. Colour reproduction is quite enjoyable, and adding Flat has allowed GoPro more power to professional post-processed colour grading. Sharpness seems somewhat compromised in low light, but extensive tests need to be undertaken for that. The GoPro Hero5 Black's biggest drawback, though, is battery life. At best, with wireless off, you can draw up to 45 minutes of video recording at 30-50 still photographs. It is hard to criticise, as most action or stabilised cameras at this point deliver similar battery life (the DJI Osmo, for instance), but an increase in battery stamina is much needed.
One thing that really bothers, though, is speed of operations. While we do hope that GoPro improves this with firmware updates in future, the Hero5 Black slows down drastically when storage is close to full, or battery is running low. Even without these factors, switching between menus and settings feels sluggish all along. This can be a bit bothering when you are attempting to review media on the fly.
To sum up, the GoPro Hero5 Black is quite the versatile shooter for action photography and videography, but has its fair share of drawback thus far. Unless you really use the new intermediate video resolutions and field of views, the GoPro Hero4 Silver gives you no reason to upgrade right away. GoPro also has a number of firmware glitches to solve, and for Rs. 38,000, the company will look to convince action users to use the new features and opt for the Hero5 Black. It will be interesting to see how it fares.