Canon EOS M50: First impressions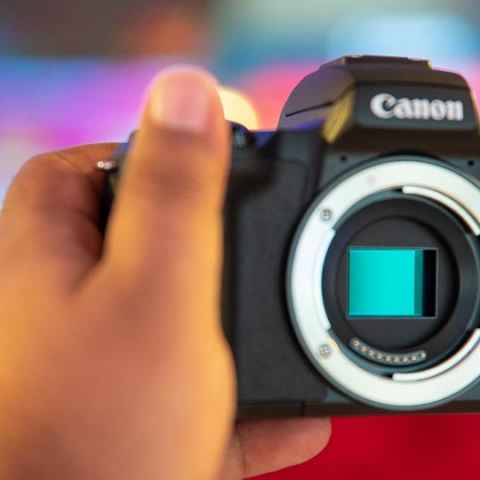 HIGHLIGHTS

Canon's fourth mirrorless camera designed for frequent travelers and social media aficionados, bringing its imaging prowess to a super lightweight camera.
Canon has come to be synonymous with DSLR cameras, covering the entire gamut of entry-level to super professional. For some reason, one still doesn't think of them as the makers of Mirrorless cameras, even though they already have three distinct mirrorless cameras on sale in the market right now. Today, they added the EOS M50 to their portfolio, a very consumer-focused product that brings Canon's lineage of producing great cameras into a far more compact and manageable form-factor. Canon continues to put its focus on DSLR for its professional line as the segment continues to see growth, while mirrorless products will be more consumer focussed. After spending a brief amount of time with the Canon EOS M50 here's our takeaway of the product.
Canon EOS M50 Specifications
The Canon EOS M50 houses a profess24-megapixel APS-C sensor, just like all of Canon's APS-C DSLR models, except, the lens mount, in this case, is different. Due to the need to reduce the flange distance (distance between the sensor and the back mount of the lens. In order to reduce the size of the camera, manufacturers have had to reduce the space between the sensor and the lens's back element. This had necessitated the creation of a new mount. Therefore, Canon has a dedicated series of lenses for the EOS M cameras. There is also an adapter Canon has developed which allows you to use any EF and AF-S lens on the EOS M series of cameras, with no loss in function or performance. The camera can shoot up to 10 frames per second (RAW) with the AF locked and roughly 7 frames per second with AF tracking. However, the big highlights for the M50 are its video capabilities, which now include the ability to shoot 4K video. You can even produce 4K time-lapse videos in-camera, although there is no internal intervalometer for shooting stills. You get the whole gamut of connectivity options such as Bluetooth, Wi-Fi, and NFC, so as to enable instant sharing. We live in a social media-obsessed world today, so it is no surprise Canon is trying to capitalize on that. Canon's catch-phrase for the event today was "Starting Conversations" aimed at those who like to engage people over social media.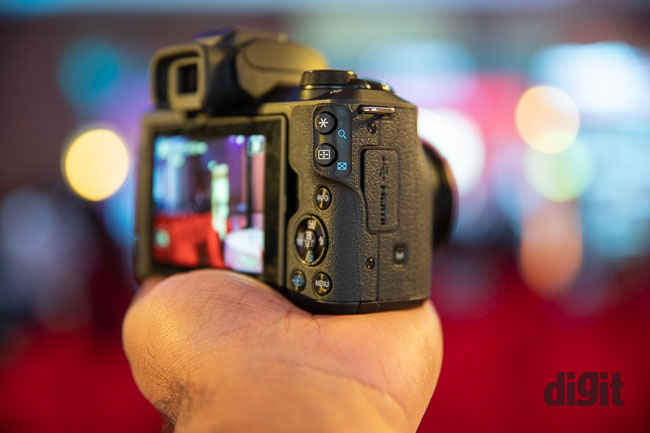 Build and Ergonomics
One concern that many people who use mirrorless cameras after having been on the DSLR wagon is the grip and operability. On a DSLR, there's ample space for placing buttons in a way so that the controls don't feel cluttered, and you don't end up pressing buttons adjoining the ones you were actually supposed to press. On mirrorless cameras, this continues to be a challenge as manufacturers try and get creative with button placement and feature access through the touchscreen or dedicated buttons. The Canon EOS M50's button layout seems very inspired by their advanced point and shoot cameras but also does a few things differently. Two buttons are placed on the curvature on the right side, with a really tiny four-way dial and two buttons. The layout works if you have small hands, but those with large hands will definitely find it a little cumbersome to operate.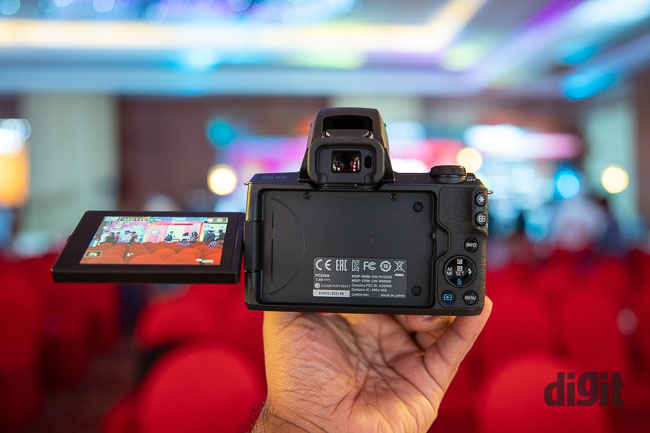 Performance & Usage
The Canon EOS M50 has a 24-megapixel sensor capable of shooting 4K video. At the event, Canon did not permit attendees to use their own memory cards to take sample shots, r to take the camera out of the designated areas. So our test samples are limited to photos of the various setup canon had in place at the venue, and were shot in JPG. Samples had to be transferred from the camera to a smartphone using Wi-Fi connectivity and hence, we chose not to shoot RAW. While using the camera, one thing that absolutely stands out is the simplicity in operating the camera. The EOS M50 has two versions of the system menu, one which is a classic Canon DSLR style menu and the other a visual "guided" menu. Canon has ensured that anyone from a complete newbie to a pro should be able to navigate the features and functions of EOS M50 with ease.
In terms of image quality, there is hardly anything bad to say. We shot the camera with its standard 15-45mm f/2.3-5.6 kit lens. The venue had mixed lighting that leaned mostly towards the blue and purple hues, and the white balance on all the test shots reflects that. Focusing was fast and there was negligible shutter lag while taking photos. We tried out the burst mode, but with static subjects, it doesn't really reflect much about the camera's performance. The image quality in JPG from the Canon EOS M50 seems to be impressive, but a judgment on the actual performance of the camera will have to wait till it has undergone thorough testing in our lab.
You can check out the high resolution images taken by the camera here.
Conclusion
Canon continues to launch products in the mirrorless lineup, with now four cameras in this segment. While Canon's leadership in the DSLR segment remains steady, they've yet to make a notable dent in the mirrorless market. A consumer focused camera like the M50 might be a step in the right direction, but this product category is still pretty dynamic and there really is no sure shot way to predict which way things would go. For now, the Canon EOS M50 with its price tag of Rs. 61995 puts the camera in a really competitive price segment.