There is this reputation that European carmakers have gathered over years, and you are always reminded of that every time you step into one. Having driven newer executive sedans with extensive technology inside, the Volkswagen Jetta is somewhat of a calm in the storm the moment you step in. There are no plethora of ports and LEDs adorning the interiors, nor are Android Auto or Apple CarPlay or any of the wizardry that makes cars nothing short of connected hubs. In fact, at first, you'd even think that this one is somewhat bland in front of the likes of the present generation Chevrolet Cruze or Hyundai Elantra.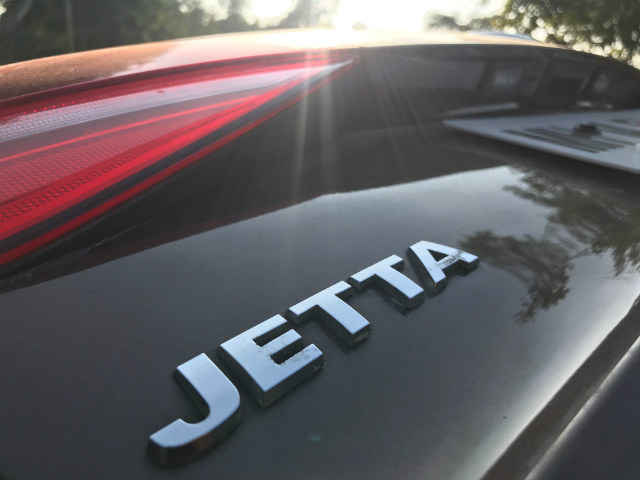 But, what you get in exchange for such features is sensibility. The Jetta does pack in most of the essentials that you would need while driving, and focuses on what a classy sedan is primarily supposed to do - drive and ride well. All this said, here's looking at the technology that the Volkswagen Jetta Highline packs in.
The infotainment system
The present VW Jetta was last refreshed in 2015, which too was incremental, and the age really shows. You do not get a full colour display with extensive features, and the system even misses out on a sat-nav unit. The fairly large touchscreen infotainment panel sits with a slight indent on the central dash, flanked by a CD player on top, physical buttons and dials on either sides, and an SD card to its bottom. It has a basic colour interface, without the ability to play any photographs or video files, and offers a rather resistive touch feedback.
Music playback
There are plenty of options for you to play music. You can still play CDs, load music files on an SD card, or connect your mobile phone via aux or Bluetooth. Connecting devices is fairly simple, although for the first time, not getting to see Bluetooth pairing options on the central display and instead on the MID was slightly disconcerting. It took me some time to realise that the Bluetooth pairing code and options are appearing on the MID, and this gives the steering-mounted controls a bigger, more important role to play than usual.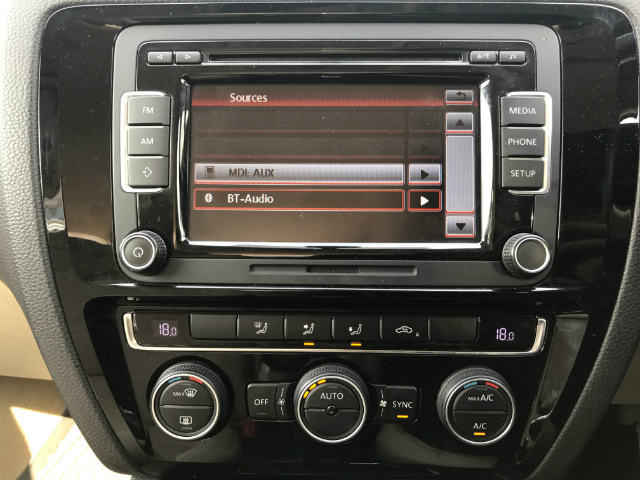 Interestingly, the VW Jetta shows music, phone, radio and trip details on the multi-information display mounted on the central console, while the central touchscreen also gets the same functions. It may actually be easier for you to control all settings from the steering controls and MID, as this doesn't need you to take your eyes off the road. The screen is also placed at a good height for the driver to access - well-thought-out engineering by VW here.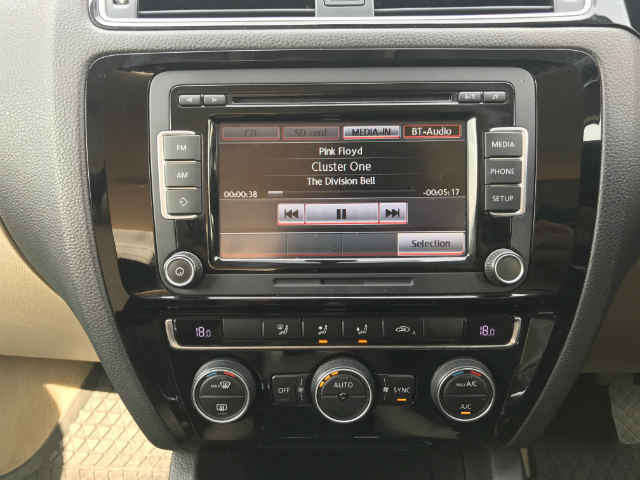 For connectivity modes apart from Bluetooth, simply inserting media in the respective drive initiates and chooses it. You also get a few options to toggle with the playback, including speed-sensing audio, precedence to voice navigation over music playback, and an equaliser to control the characteristics of the sound. All of this ensures that you do have all the necessary elements of music playback in your car. FM/AM radio reception also worked as intended, and there are not many fusses about this until this point.
Audio
The Jetta gets four speakers and four tweeters, which combine with the premium stitched fabric and leather interiors to produce a wholesome auditory experience. The overall audio is loud and fairly clean, although there is a trace of distortion at higher volume levels. The speakers can play really loud, and you wouldn't really need to go beyond volume level 15 at any point. You also get a fader and an audio balance adjuster, along with speed-sensing audio that I preferred switching off for the most part.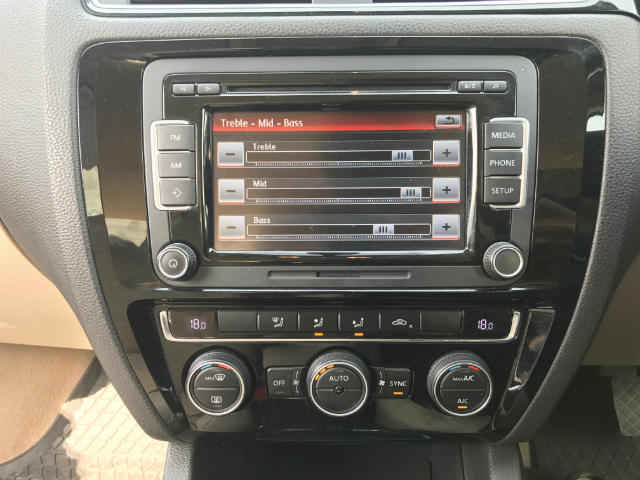 On the equaliser, you would typically need to cut down the treble slightly for a more balanced audio response, and the bass sounds slightly weaker than the default speakers in other D segment sedans like the Chevrolet Cruze and the Hyundai Elantra. To sum up, the overall audio performance is fairly impressive, and is among the most tightly-knit audio delivery in its category.
Phone controls
The VW Jetta has an extensive setup of phone controls to ensure that your communication needs are well tended. You get a full dialer, contact search by name, lists of recent calls, and even select six favourites on the car's own speed dial. All of this is fairly easy to operate. You can also do the same from the MID, although it is evidently a bit more cumbersome to operate from the tiny monochrome display.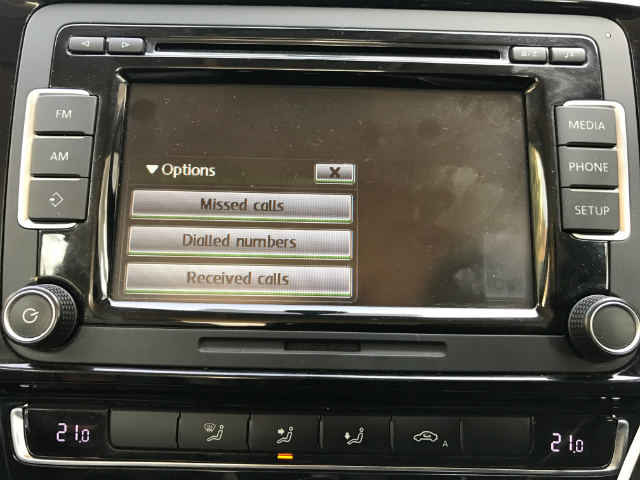 It is fairly easy to make calls while driving, and the added options on the MID mean you can easily make calls even without taking your eyes off the road. You can also choose a custom in-car ringtone for incoming calls, which seems to be a fairly neat addition. However, it did take me some time to get used to the new ringtone. VW has taken care of necessary options here, yet again reinstating its focus on practicality over a show of gizmos.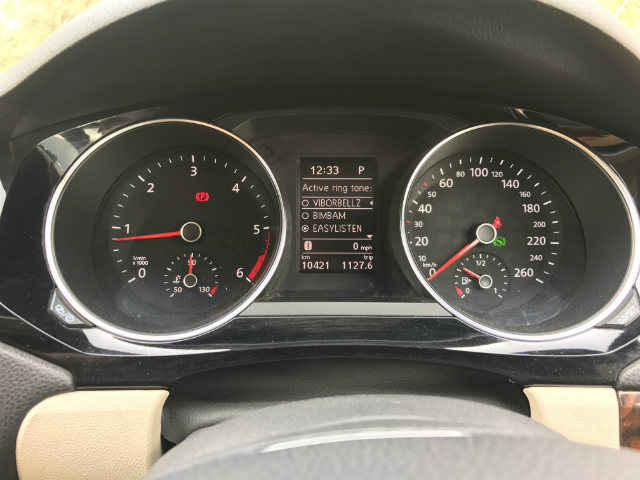 Multi-Information Display
We have already spoken about music and phone controls on the MID, beyond which it also shows two trip details, including distance travelled, instant and overall mileage figures, time, present gear, a digital speedometer, and total distance travelled by the car. You also get distance-to-empty figures, which did seem to dwindle rather fast despite me drawing an average mileage of nearly 14kmph constantly. It may just be a tad off the accurate estimate.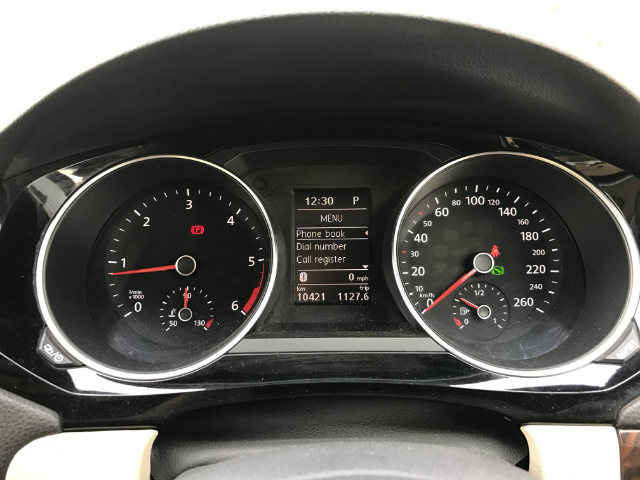 Others
FM and AM radios work as intended, with the standard setup of two physical rotary dials controlling frequency shifts and volume. The physical keys around the touchscreen panel allow you to access the limited number of in-car settings here, with good button feedback prevalent all along. You do not get any USB ports in the car, and only get three 12V power sockets. However, you do get a Lightning port inside the glove box. This is certainly a rather weird choice, although VW seems to have had road safety in its mind when it designed this. While driving, all you need to do is keep your iPhone paired to the system via Bluetooth, and you will keep getting all your calls and play your music, and even follow voice-based navigation. You're not supposed to require the phone while driving, after all.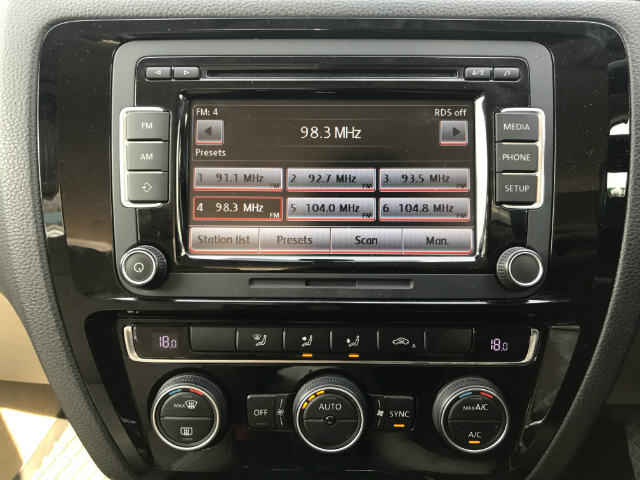 That is all you get in this car's infotainment unit, making it a rather dated setup in the face of the new Hyundai Elantra, or even the 2016 Cruze.
Optical Parking System
It is actually a bit of a surprise that even the top-spec Volkswagen Jetta Highline does not get a rear parking camera. Instead, it relies on what the company calls 'Optical Parking System'. An array of sensors to the front and rear, even the top-spec Jetta Highline relies on the parking proximity sensors to alert you about space.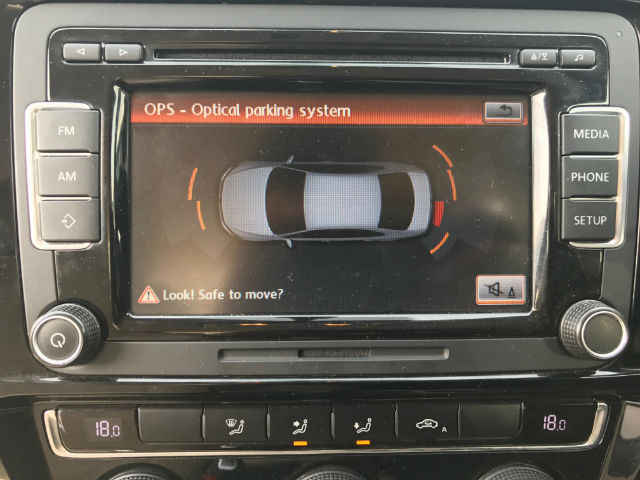 While this may seem restrictive in face of a video feed, the sensors are fairly accurate, and VW has implemented them well, too. A switch bearing the mark is placed right ahead of the gear knob, and you can switch it on at any given point of time, to maneuver tight spots. Neatly done, but throwing in a camera wouldn't really hurt. After all, customers of the Jetta are paying nearly Rs. 20 lac for this car.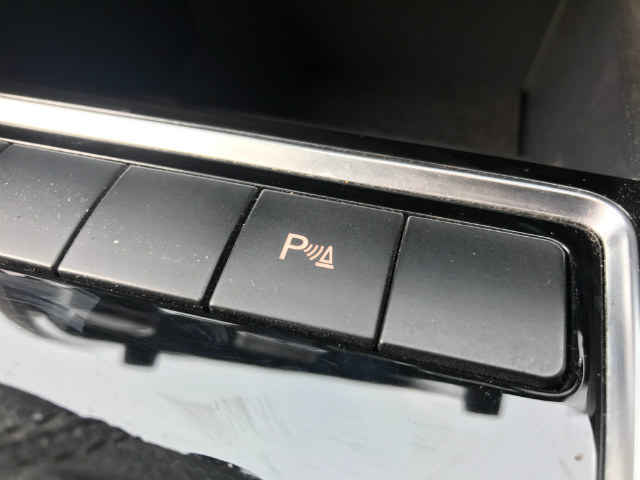 Interiors
Other electronic wizardry in the VW Jetta Highline includes bi-xenon headlamps with dynamic cornering lights, LED DRLs, headlamp washer, LED-backlit buttons inside, chrome-garnished speedometer and tachometer, all-electric windows (the front two are power-operated), full electric mirrors, electrically adjustable driver's seat with lumbar support, paddle shifts for manual control, cruise control, and a dual-zone automatic climate control system. On the back seat, apart from the 12V power socket, you get two AC vents with air blow adjustment on each.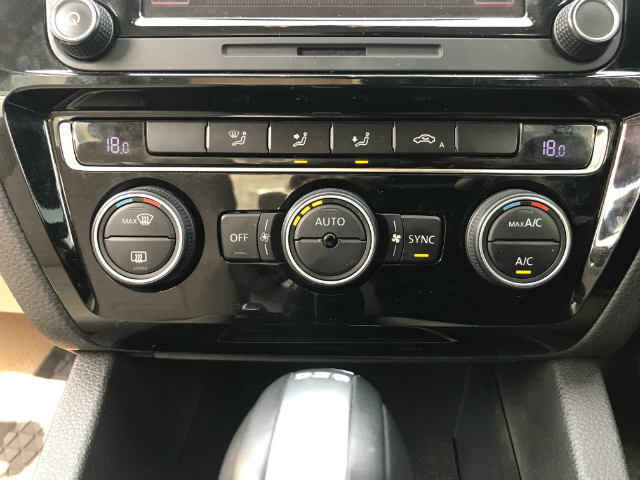 However, the age of this sedan shows again, as even in the top variant, you do not get a sunroof, or automatic folding ORVMs. The sunroof is a part of the optional package, but in an era where lesser-priced sedans are including electrically operated sunroof, the Jetta surely falls behind competitors here, at least in terms of the equipment list. You also do not get keyless entry or keyless ignition, all of which will possibly be made up for in the next revamp of the iconic Jetta.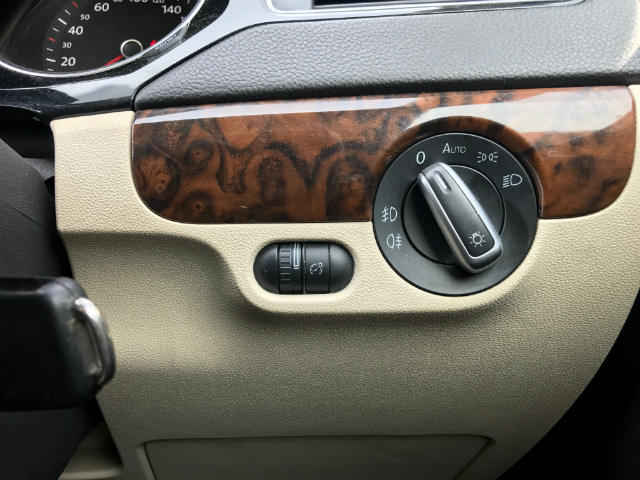 The dynamic cornering lights are a nifty addition, and really help at night. You also get kerb or blind spot view with ORVMs, yet another proof of VW's sensibility-over-swagger outset. The red LED-lit inside buttons create a neat ambience, and the dash looks quite chic when all lit up at night. The air-conditioner is reasonably powerful, and is not really too noisy. In-car NVH is well-limited, although the engine noise does filter through. The Highline's equipment list also includes leather seats, the use of veneer as inlays, and overall very premium materials in the rather simple dash.
Safety
The standard safety equipment list includes ABS with brake assist, front and rear disc brakes, electronic stability control (ESC), anti-slip regulation (ASR), electronic differential lock (EDL), hill hold control, retro reflectors on all doors, ISOFIX child seats, eight airbags, brake pad wear indicator, and an intriguing 'Fatigue detection'. Volkswagen claims that the car can identify if you are dozing off at the wheels, and alert you acoustically. Fortunately, I did not get to test it. However, seeing that this car feels incredibly safe and stable from the onset, I would believe that the car really can tell if you're drained out.
The drive
It is here that, despite falling behind in terms of the equipment included, the Jetta still proves its mettle. Two years into the cycle, and the Volkswagen Jetta still drives impressively well. The 2.0-litre, four-cylinder turbocharged diesel engine is a joy to drive, producing 140bhp, and 320Nm of peak torque. This is mated to a six-speed DSG transmission, and 16-inch alloys keep the car firmly on ground.
Beginning with the drive, once you are beyond the slight lag of the turbocharger, the engine feels responsive to short revs, is zippy in city roads and brilliantly strong on the highway. You can really feel the powertrain, and given the road and relaxed speed limits, you can even push the car all the way up to 160kph without breaking a sweat. The DSG gearbox is exceptionally smooth, and you will barely ever feel the shifts.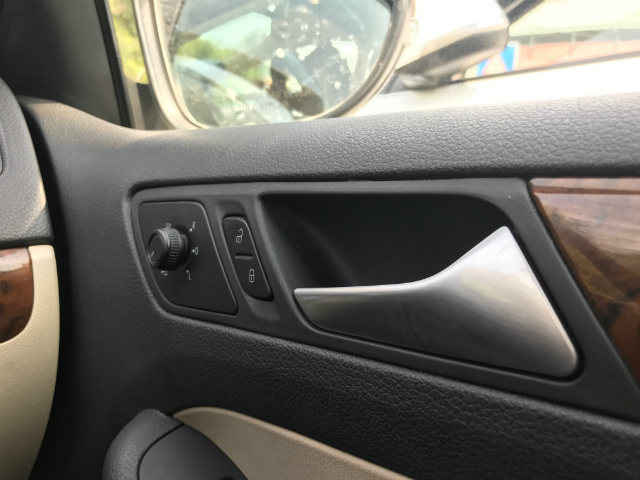 The leather-wrapped electronic steering has both tilt and telescopic adjustments, and offers great handling and feedback. Despite its size and rather heavy kerb weight, the Jetta is particularly swift around corners, and the steering feels sharp and precise. It is really a driver's car, seeing how easy it is to drive, and how the car can liven up from being easygoing to enthusiastic depending on how you drive. The overall vehicle feels solid and stable on the road, and not once do you feel the car waiver.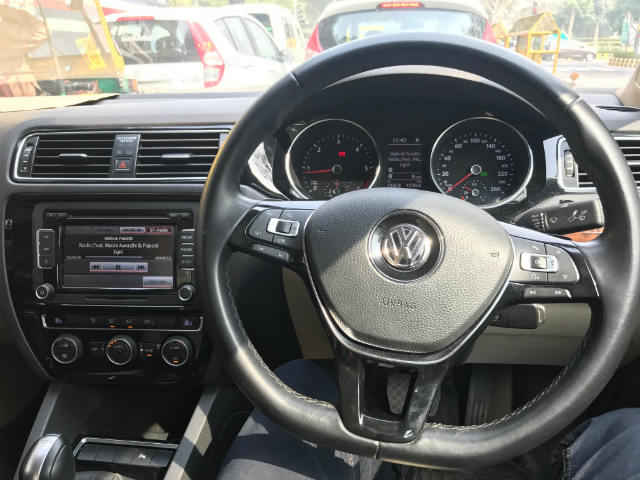 Moving on to the ride quality now, the suspension is well-weighted. It is amply soft to absorb most of the bumps and potholes, and stiff enough to be pliant on the highway and across corners. There is minimal body roll, and you feel relaxed even on uneven city roads. In the back seat, thigh support could have been better, but the seats offer ample space, a very good cabin quality, comfortable seats with good lumbar support and ample knee, leg and headroom. With the two front seats adjustment to my 5' 11" frame, I could still sit comfortably at the back of the car and not scrape my legs or knees against the front seat. You can even sit three at the back, and not feel cramped.
Bottomline
Admittedly, the Volkswagen Jetta is not a technology festival inside. There are better-equipped competitors in the market now flaunting greater touchscreens, more options and flashier LED plays. In fact, the Jetta even misses out on a couple of taken-for-granted elements in this category. Despite all of that, it aces the drive and ride quality bit, which is why you would buy a car in the first place. It is a driver's delight, and also provides ample comfort to the backseat passengers. The equipment list may not be endless, but is enough to provide you with calling and music features, and even relay navigation instruction by voice via your phone. This can arguably get the job done for most, although when you are paying as much as Rs. 21,42,000 (ex-showroom Mumbai), you would want that bit of extravagance. Mileage figures obtained by us were 13.2kmpl in city, and 16.8kmpl on the highway, which is also fairly impressive.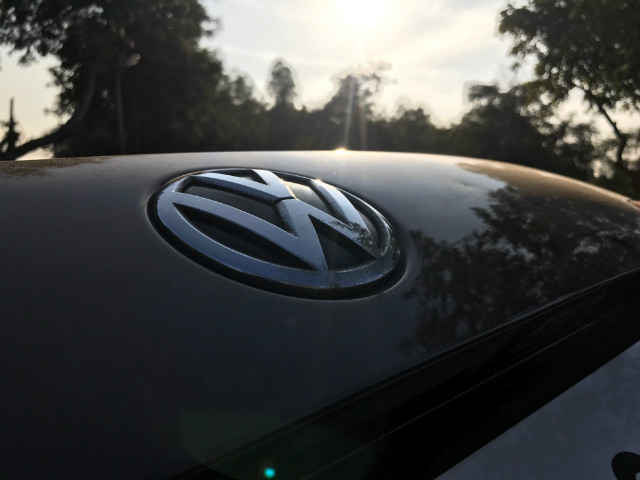 To sum up, the Jetta is a driver's delight, as long as you're not too keen on cutting-edge technology in your car. The all new 2018 Jetta does pack in ample technology to catch up with competition, but has so far been ruled out of an India launch. As a result, although the Jetta is among the best cars to drive in its category, it falls short on the equipment list, and is also rather pricey.