Price: Rs. 14,07,000 (ex-showroom, India);
Powertrain: 1.5-litre, 4-cylinder petrol, 106 bhp, 140 Nm, Seven-speed CVT;
Fuel economy: 13.2 kmpl (obtained);
Pros: Incredibly feature-loaded, Class-leading safety equipment, Roof-mounted AC vents provide better airflow, Spacious and comfortable;
Cons: Interiors are too plasticky, Dashboard rattles despite being new, Infotainment interface a bit childish;
Rating: 4 out of 5
The Toyota Yaris launched amidst much fanfare. Following its initial showing at the 2018 Auto Expo, where it was Toyota's highlight alongside its future-oriented mobility portfolio, the Yaris soon started receiving customer enquiries and pre-bookings. What really worked for the Yaris pre-launch is its reputation as a reliable, spacious and feature-rich family sedan that sells pretty well in global markets.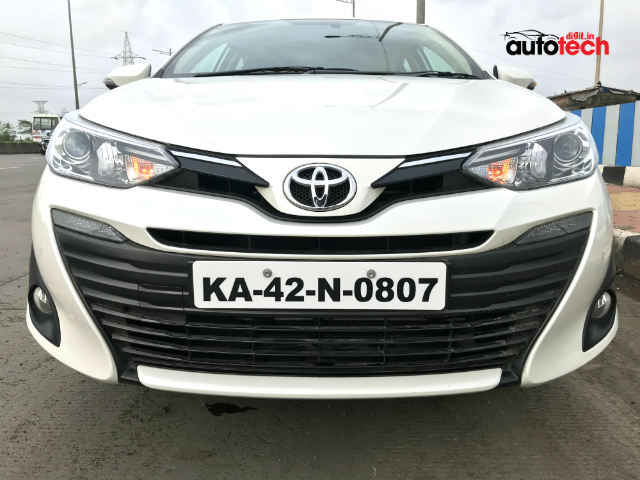 When it comes to India, however, many companies often struggle to match the levels of quality and refinement in cars that sell heavily in more mature markets. In India, the foremost questions while buying a car revolve around its value proposition, fuel efficiency, ease of servicing and how much more can it provide against its competition, for around the same amount of money. Does the Toyota Yaris manage to do all of this?
The immediate competition
In India, the family-size sedans have been making a comeback of sorts. The prime players in this segment include the Honda City, Hyundai Verna, Maruti Suzuki Ciaz, Volkswagen Vento, Skoda Rapid and Nissan Sunny. The Honda City has been a forever favourite among buyers, recently celebrating 20 years of its popularity in India. However, the City has of late started facing the consequences of having oversold, and beckons a bigger makeover than Honda's recent overhaul of the City in 2017. In face of this, the recently revamped Hyundai Verna has come up and provided a package that resembles the Elantra very closely - rich in features, fresh styling and all the goodness of a car that feels every bit premium. Maruti Suzuki, too, has been eating into the sales figures of the former two, buoyed by Suzuki's near-imperious stronghold on the Indian car market.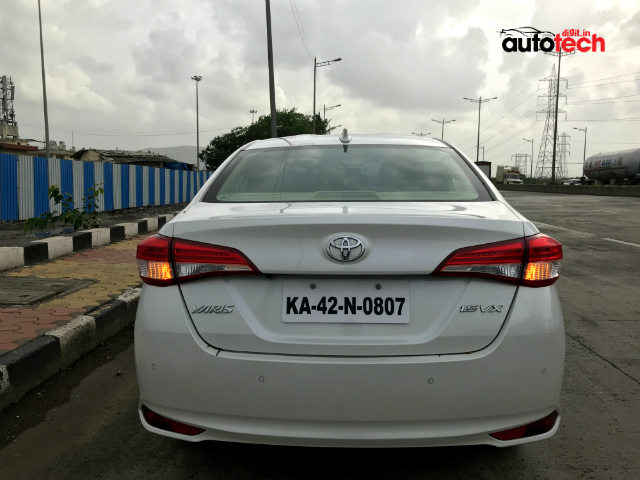 The Yaris, meanwhile, enters the market with a whole set of interesting new features - seven airbags as standard, gesture controls (albeit gimmicky than functional) for the infotainment system, roof-mounted air conditioning vents, and so on. Alongside, it presents manual and automatic gearboxes across all its variants, thereby offering one of the least expensive automatic sedans that you can buy in India (barring the AMT options). For a thorough analysis of all its variants, click here. For further reading on exactly how it fares in face of its prime competitors, read more here.
Infotainment system and MID
One of the key USPs that the Toyota Yaris is being marketed on is its feature package. Impressively, all but the lowest variant of the Yaris comes with the 7-inch touchscreen infotainment system. Alongside the usual array of input interfaces, you also get WebLink, Miracast and an HDMI port as standard across the three top variants, and the VX variant we drove also had gesture-based media control, integrated navigation, an SD card slot and Wi-Fi hotspot support. There is also a CD drive, which is revealed by flipping up the entire display panel.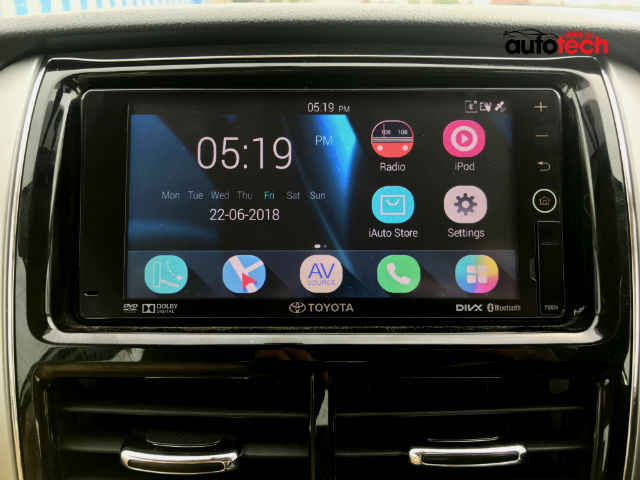 The display is not of the highest resolution, so icons and other visuals don't look very sharp. The rather colourful interface is bright, and with its smartphone-like layout with large, chunky icons, is easy to operate. It is not the most subtle in terms of design, but it does score high in terms of discoverability of features, ergonomics and ease of usage. The home screen includes a day-date-time readout alongside four icons that can be arranged as per convenience, and a five-icon shortcut bar complete with an app drawer, almost exactly like smartphone interfaces of today. Opening the app drawer shows every accessible setting, app and widget, with which you can customise your interface. Once you synchronise the infotainment system with your smartphone, you can also load a list of third-party apps to the system to further customise it. However, the list of compatible third-party apps with the Toyota infotainment system is very limited as of now, and only includes second-tier apps and services like DMPlayer for music, and so on. While this app store may be built upon in future with more consistent connectivity and developer support, it remains an extra feature that will not really be used much, at least as of now.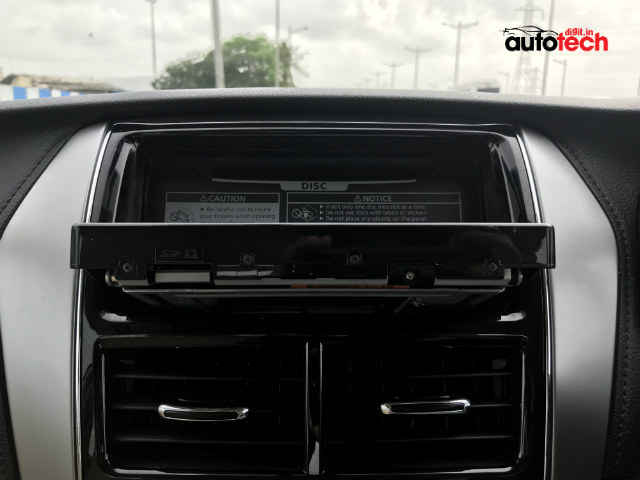 The technology arsenal of the infotainment system is very similar to what Honda provides with its DigiPad. While DigiPad is purely based on Android, the Toyota system mimics Android-like functionality to the hilt, and that's a good thing. Comparatively, the Yaris gets the upper hand over Honda City's DigiPad, being the smoother system among the two. However, the navigation system appears to work better with Honda's unit, and we wish Toyota made the interface look slightly less jovial.
One big advantage that Toyota has with its display is its tilt-up function, which allows you to adjust the angle of the display's inclination by 90 degrees, facing outward. That said, the display looks aftermarket since it does not sit flush with the 'waterfall design' of the Yaris' dashboard. While this is done to accommodate the swivel of the display, this can lead to minor dust particles accumulating in the crevices of the display over time, and you would be required to clean it every now and then, for this purpose.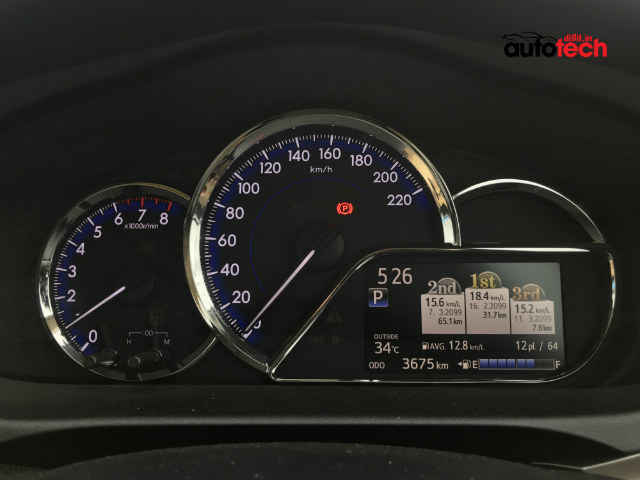 The 4.2-inch multi-information display in the instrument cluster is an interesting addition as well. The full-colour display shows a whole array of information, including outside temperature display, a fuel efficiency leaderboard that urges you to drive more efficiently, digital speedometer, eco mode savings and entertainment and phone controls, alongside the usual trip and odometers. It is fairly easy to control via the steering-mounted buttons, and helps you navigate through a considerable range of options without having to fully divert your eyes.
Safety and other electronics
Safety-wise, the Toyota Yaris includes seven airbags, ABS with EBD and Brake Assist as standard across all variants. The top-of-the-line VX variant includes Hill Start Assist, Stability Control, Tyre Pressure Monitor, front and rear parking sensors with dynamic rear parking camera, speed-sensing auto door-lock, impact-sensing auto lock-opening, follow-me-home headlamps, ISOFIX mounts in rear seats, rear defogger and rain-sensing wipers, making it one of the most richly-equipped cars in terms of its safety quotient. The tyre pressure monitor is unique to its segment, and the overall package easily outdoes the safety package in top trims as offered by other similar variants of its competitors.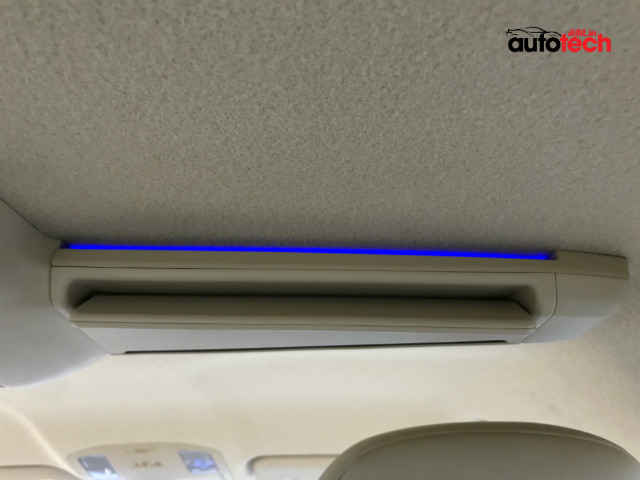 In terms of other equipment, the Yaris features acoustic and heat-insulated glass, rear sunblind, eight-way power-adjustable driver seat, paddle shifters (in the VX trim), LED projector headlamps, six speakers that deliver reasonably decent audio, keyless entry and ignition, electronically-folding ORVMs and automatic climate control. The most unique bit here are the roof-mounted rear air-conditioning vents with cool blue ambient LED lights with an adjustable flap to control direction of air flow. You can control both the ambient light and the fan speed for the rear vents, and this is much better than the floor-mounted AC vents found in all other cars simply because it distributes the air flow so much better.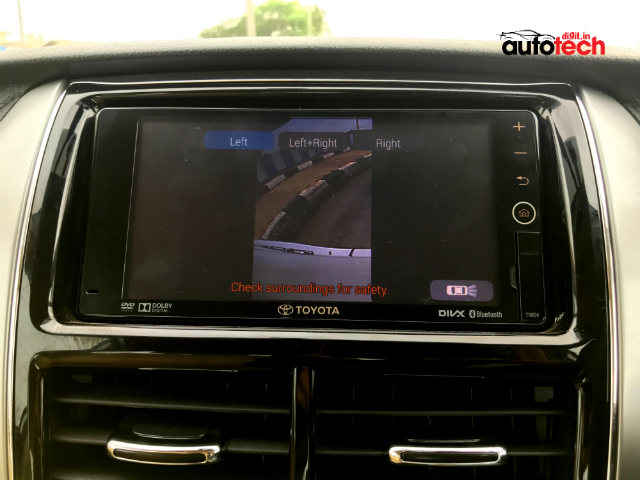 The Toyota Yaris is hence loaded to the hilt, and all of these features come together to present you a car that is richly equipped, and truly urges you to give it the benefit of doubt. Small elements like the rear sunblind, the roof-mounted vents and tyre pressure monitor make it a very convenient car to live with, which most will like.
Design and quality
The Toyota Yaris has been referred to as a mini Corolla Altis by many, based on the sheer number of features that it comes with. In terms of design, the Yaris has a tall-ish stance, rather than the floor-hugging format of conventional sedans. The front of the car looks quite engaging, and its shorter wheelbase in comparison to the Altis makes it immediately recognisable on road. That said, the overall exterior design is not overtly remarkable, in the sense that it does not wow you upon first sight. Yet, the Yaris tends to grow on you as you see it more, and while it may not win awards for the flow of design, it is functional, and makes for a refreshing addition to India's car market.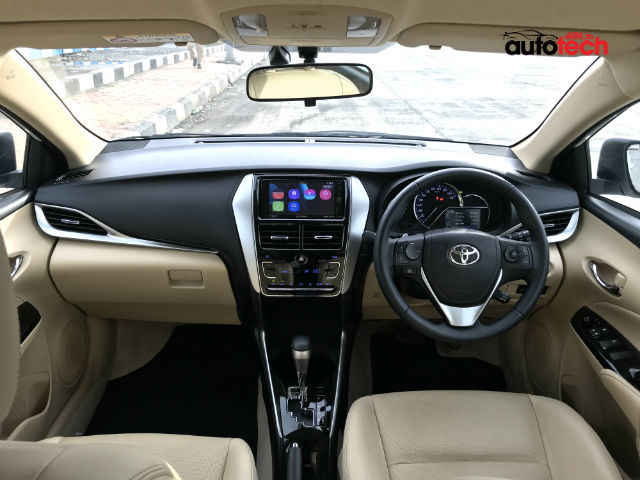 Inside, the overall dashboard is designed smartly. The touch-looking AC controls is a smart touch, the overall cabin looks roomy and airy, but misses out on a sunroof even in its top trims owing to the roof-mounted AC vents. The dashboard is laid out well too. However, this is where I had the biggest issue with the Yaris - while the interiors are designed fairly well, everything inside is a bit too plasticky. The plastics used seem flimsy, and the textured bits on the dashboard are too scratchy and tacky. This leads to a dashboard that rattles severely owing to Mumbai's pothole-ridden roads, and such rattles are a bit unexpected in a nearly brand-new car like this one. While the use of plastic is justified considering its pricing and the amount of features that are on offer, Toyota could have applied better quality of material and a better overall touch to the finesse. On road, it is this that tends to disappoint about the Yaris, and owing to the constant rattles and the hard touch of the plastics used, it is hard to ignore.
Drive and ride quality
The Toyota Yaris is powered by a 1.5-litre, 4-cylinder petrol engine that produces 106 bhp and 140 Nm torque. This is combined with either 6-speed manual or 7-speed CVT gearboxes, commendably across all trims. While fuel efficiency for our automatic variant of the Yaris is rated at 17.8 kmpl, we obtained an average of 13.2 kmpl, which goes down to 12.1 kmpl in peak city congestion and rises up to 15.5 kmpl on the highway, which is not bad at all.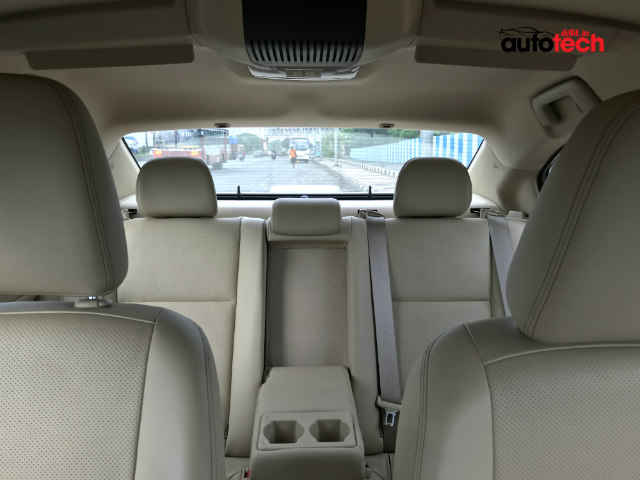 In terms of the drive quality, the Yaris is fairly easy to drive. The hard-plastic feel aside, the Yaris' steering wheel is easy to operate and offers some amount of feedback. While this may not make it particularly engaging to drive (and certainly not as much as the Volkswagen Vento or the Skoda Rapid), it is still an easily maneuverable car that does light work of navigating heavily congested areas like Kurla during Monday morning rush hours. The CVT gearbox works pretty smoothly, with the constantly variable gear ratios matching well with the torque delivery to never make the Yaris feel out of power. You do feel the initial lack of punch once you hit the highway and floor the throttle, but the gearbox catches up soon and responds with eagerness, making it almost as fun as the Hyundai Verna. It does feel a bit more agile than the Verna, too, but the Honda City feels more slick in terms of overall response.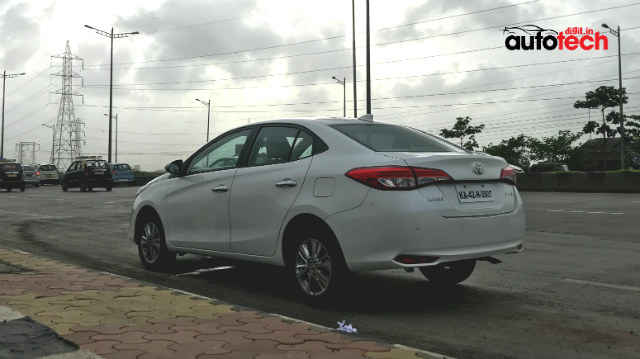 In terms of ride quality, the suspension is a tad firmer than what we would have hoped. Potholes are managed well and the vehicle does feel sure-footed, but there is a slight, occasional jitter that occurs when you hit a large pothole. On the highway, it feels well planted, and the 15-inch alloys suit the car well both in terms of its road balance and the overall aesthetics. The rear seat comfort is pretty decent, and NVH refinement levels are quite good too. There is not much to complain about the ride quality, except for, again, the quality of plastics used inside. Inside the Yaris, you travel in good comfort, and if you're on the driver's seat, you would be having a comparatively good time too.
Bottomline
The Toyota Yaris is here to stay, and eat up a share of the same cake over which Honda, Hyundai and Maruti Suzuki have been fighting over for a while now. You have probably started seeing the Yaris more often around you nowadays, but the slight niggle in terms of the interior plastics may see Toyota sell slightly lesser numbers than what they should with such a good car. The Yaris is a segment-leader in terms of its features and safety equipment, and if you want a very well-equipped car, you can certainly go ahead and book your Yaris. That said, both the Honda City and the Hyundai Verna still offer better interior quality, and in our books, better overall design and elegance.