Electric car concepts are not even remotely new any more, and to say that BMW has unveiled a new, all-electric concept car at the Frankfurt Auto Show 2017 is, well, what everyone would have expected. The company has already spoken about electrifying its entire car portfolio over the next decade, which would include about a dozen fully electric models. Now, the German automaker has given us our first glimpse at what will become BMW's first all-electric sedan for the masses. That is what makes the BMW i Vision Dynamics concept vehicle so important.
From early glimpses
BMW has long been interested in the game of sustainable energy vehicles. It already has two fully electric vehicles in production form for a number of years now - the BMW i3 and i8. The BMW i3 was designed to be a fun, small hatchback with gross range of around 350 kilometres per charge that would be ideal for quick city driveabouts. The BMW i8, meanwhile, is a thoroughly extravagant sports car that was built more as an exhibition to prove a number of concepts (performance of electric powertrain, reliance on advanced technology, etc).

While neither of these two cars were perfect in terms of mass viability, they still served as an early glimpse to the kind of potential that BMW's electric powertrain had. The two cars exhibited short range practicality, alongside proving that the performance figures can also be retained, with non-gasoline or diesel drivetrains.
A while ago, after the BMW i3 and BMW i8 started selling worldwide, the company unveiled the BMW Vision Next 100 - its concept for the next century. The BMW i Vision Dynamics that we've seen at the Frankfurt Auto Show is in fact a child of the early glimpse that the Vision Next 100 provided into BMW's future aim.
Competition for Tesla
Straight off the bat, the BMW i Vision Dynamics is way more practical than the outlandish Next 100 concept. Just like most electric cars and car concepts, the i Vision Dynamics do away with the front grille - an essential component of combustion engine vehicles, and replace it with an aggressive stance made of solid components. In fact, the BMW i Vision Dynamics look almost practical, with proportionate dimensions, conceivable lines, and drivetrain specifics that combine to form an all-electric sedan for the masses.
BMW has historically specialised in building sedans - for the family, for performance enthusiasts, for luxury travellers, and practically every possible occasion. It is this go-anywhere/be-anything outlook that somewhat defines the i Vision Dynamics concept, and the four-door Gran Coupe looks like the base on which future mainstream all-electric sedans can be built. That, however, spells disaster for the upstart that has led the all-electric sedan space till now - Tesla.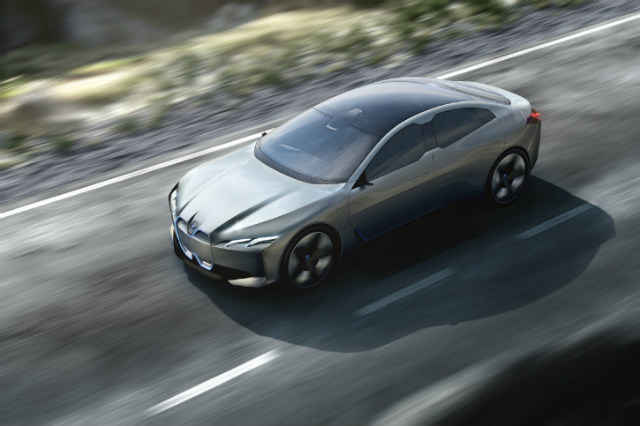 Tesla is, of course, a much smaller company by volume, production strength, and in almost every metric of comparison. The company has built a name for itself based on its all-electric sedans - first the rather expensive Model S, and now, the $35,000 Model 3 that is soon expected to reach out to customers. Going by its rather limited production lines and resources, Tesla often faces delays, which puts a lot of people off from buying the futuristic, heavily equipped, high performance and all-electric sedans.
However, with the likes of BMW entering Tesla's territory, Elon Musk's brainchild may have a lot to worry about. BMW has a much larger pool of resources (in every way), and a certainly larger production chain. When the BMW i Vision Dynamics enters production stages some time in the coming years, BMW aims for it to have total travelling range of 600 kilometres in one full charge, a top speed of over 200kmph, and acceleration of 0-100kmph in just four seconds - the kind of performance figures that Tesla prides upon.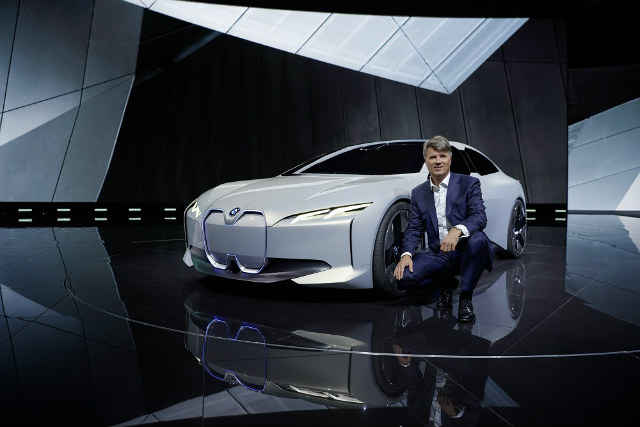 Simultaneously, BMW has been at the forefront of automobile technology. Its present ConnectedDrive infotainment firmware is among the best in the industry, and it has further collaborated with Intel, Mobileye and Fiat-Chrysler to work on autonomous, assisted and connected car technology. All of this would presumably lead to semi-autonomous cars with advanced interiors and a green footprint - in short, everything that Tesla sells on right now.
More details
While BMW has not divulged specific details of technical elements for the i Vision Dynamics, it has indeed spoken about its focus on connected, autonomous and semi-autonomous cars through designing. The concept comes with realistic underpinnings like the swooping aerodynamic design, long wheelbase and the symmetric glass cabin that aims to provide a uniform view outside for all passengers inside. This, BMW reckons, will be among the tiny elements which will soon play key roles with lesser driver involvement.
It is all of these, along with the promise of faster and more assured production times, that makes the BMW i Vision Dynamics one of the most important unveilings at the Frankfurt Auto Show 2017. We expect to hear more about its production potential soon, and see it enter production by 2020.