The Tata Hexa is an important milestone for Tata. The multi utility vehicle has big responsibilities on its shoulders - holding together a sea of change that Tata is looking to bring to its passenger vehicles in India. Tata wants to bring a more refined cabin experience to enthusiastic drivers and laidback passengers alike, alongside retaining the essentials of a quintessential SUV. The Hexa also brings with itself a Harman-powered entertainment console, with multiple connectivity options, a suite of smartphone-compatible applications, and more features will follow. Here's looking at everything that the Tata Hexa offers.
The Technology Inside
Built on the QNX operating system made by BlackBerry, the Tata Hexa's entertainment console has been custom built by Tata Motors in association with Harman Kardon. The 5-inch touchscreen is standard on four of the six trims that the Hexa will sell with. To begin with, the touchscreen is reasonably fluid. It is fairly responsive to touch input, which will help when you wish to operate the console when driving.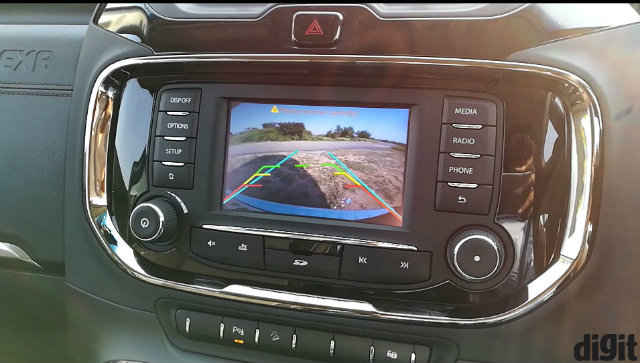 However, the capacitive panel does miss a number of inputs, particularly if you are looking to operate it in haste. You can also choose to switch between features with the buttons provided, which seemed more convenient to me than operating solely with touch input. What's good to note is the screen resolution, which is now much higher than many other touchscreen infotainment units we see in cars today. This gives you a better quality display, making it more pleasant to look at.
You can connect to the system either via the USB port at the bottom of the central console, or wirelessly via Bluetooth. There is also an aux port beside the USB, and an SD card slot resides right below the display. This should give you ample connectivity options to connect your smartphone to it and use Tata's custom-designed suite of apps for the Hexa's infotainment unit.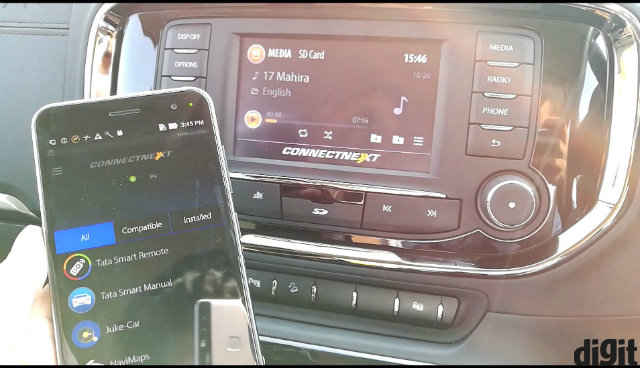 The Tata Hexa gets NAVIMAPS GPS navigation, powered by MapMyIndia. The GPS unit worked fairly accurately in the pre-planned route I took, and rerouted to sudden direction changes from my path quickly. It also gets native voice support, and navigation guidance alerts you 200 metres before any turn that you are expected to take. Navimaps also alerts you when you speed up, and I kept getting a noticeable speed alert at the top-left corner of the display as soon as I breached the 120kmph mark.
The second app in Tata's suite is JukeCar - an app that pairs wirelessly with your system and allows you to give access to the console to fellow passengers. This makes sharing music playback easy, and you would not be constantly pairing/unpairing your smartphone to accommodate other playlists. The Smart Remote app further allows you to use your smartphone as a remote, giving you control over music playback and input, and navigation.
The other two applications include a Smart Manual and Service Connect. The Smart Manual is a digital copy of the car's user manual that gives you a guided access to how the car's multiple features work, in case you need it. The Service Connect gives you easy connection to scheduling your car's servicing, and even allows you to reach out to service executives as you would need. It will also alert you when your next car servicing is near.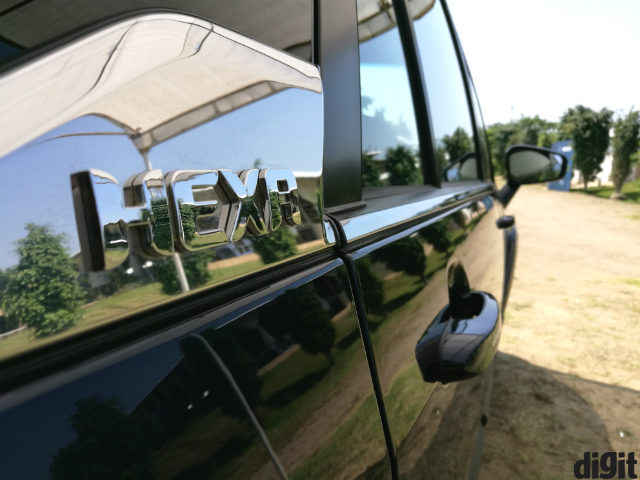 With all of this, Tata has provided a 10.1 speaker arrangement on the Hexa. The JBL-powered speaker setup includes a multi-channel amplifier, a subwoofer to the rear, and ten speakers arranged strategically to give you a wholesome surround sound experience. One speaker is placed right in front at the median, while the rest are either door-mounted or arranged at angular positions. To begin with, the system is incredibly loud, draining out any noise from the engine at volume levels of 13. The loudness also sounds fairly powerful to suit the stance at which you drive, but unfortunately, the bass is not thumping even when you tune the equaliser to full bass and trimmed highs. The audio clarity is fairly decent, too, unless you crank up the volume beyond 17. The surround audio is great in creating an in-car ambience, which makes for a good entertainment package. If you are not too finicky and particular with your audio, the Hexa's default speaker system will suffice. It is actually very impressive with its default audio delivery, and most will find it great.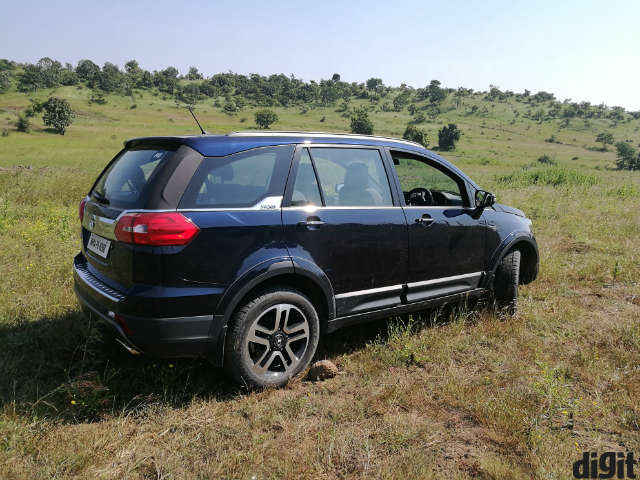 Tata has also included Ambient Mood Lighting in the Hexa, a series of faint, ambient LEDs that are placed in the crevices. At night, the mood lighting creates an aura inside the car, and is aimed at giving you a more premium driving experience. At present, you can set the mood lighting to automatically alternate by itself, or in terms of the mode you are driving in. Tata acknowledges the possibility of improving it further with intelligent algorithms based on further metrics such as the distance of your travel, or the speed at which you are travelling, or the playlist chosen by you. Such features may be updated on the Hexa some time in future, but for now, you get rather basic controls with the lighting.
The Tata Hexa relies on sensors to provide Hill Hold and Hill Descent Control. Activating this mode from the central console allows the car's sensors to gauge the hill incline, and activate the car's braking controls accordingly. Safety features and technology on the Tata Hexa, along with the Hill Descent Control, includes six airbags, antilock braking system (ABS), electronic brakeforce distribution (EBD), brake assist, traction control and electronic stability program (ESP). All of this contributes to a fine, powerful ride on the Tata Hexa.
Build, Drive and Cabin Comforts
The Tata Hexa, to begin with, offers a reasonably stable ride. At 4.76m, the Tata Hexa presents a long, powerful stance that somewhat resembles the Aria. However, the Hexa is way more muscular, and looks aggressive on the road. The 4x4 variants also give it off-roading capabilities, and the 19-inch alloy wheels add to the road grip.
On the outside, the Tata Hexa flaunts a signature honeycomb grille with a bold chrome strip. It gets daytime running lights (DRL), and bold lines give it a lean, muscular look that most SUV lovers will like. It sits upright, but with a slightly laidback stance that makes Tata's intent clear - this is an SUV that aims to provide power as well as luxury. On the inside, you get big seats that remained fairly comfortable all through my over-three-hour ride. The middle seat is also a good place to be in, as the Hexa rode fairly comfortably. The SUV gives you confidence to take on rough roads and sudden bumps, and you will not get unsettled because of a sudden bad patch on the road.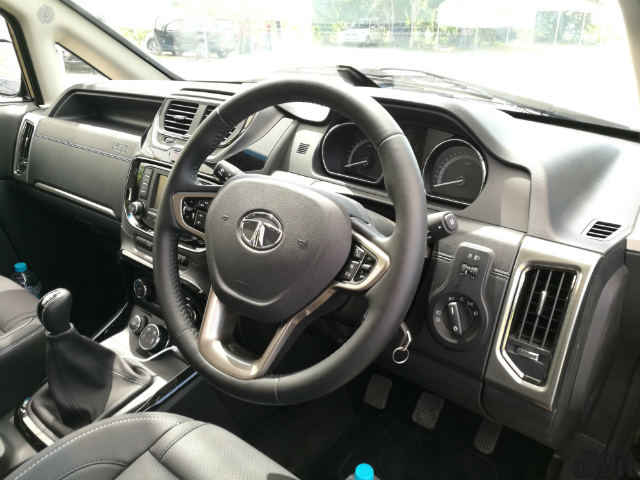 The third row of seat is not merely functional. It is big, and even for a 5'11" person like me, it did fairly well. My knees just about fit the space, and shorter individuals and kids would find ample space here. The third row also gets cup holders and personal AC vents, a neat touch by Tata. Overall, third row ride quality should remain comfortable for long city rides, and even short highway stints up to 75 kilometres. The seats have been designed to support your back, and they hold fairly well. Both the front and middle row seats offer ample thigh support, and headroom is not an issue.
The dash looks reasonably suave and yet retains the feel of a big car. There are leather trims with stitches that match the leather seat covers, giving a seamless feel. The AC vents and the central console up front are flanked by glossy plastic panels, which look fairly decent. The only bit that did not really impress me is the quality of plastic used, which I personally feel could have been even better. The instrument cluster includes an LED panel between the speedometer and engine rev counter, which displays the present gear, distance-to-empty, time, total distance travelled and outside temperature. Overall, a neat mix of features and essentials have been fused in here to look seamless, making the Tata Hexa a good cabin to be in.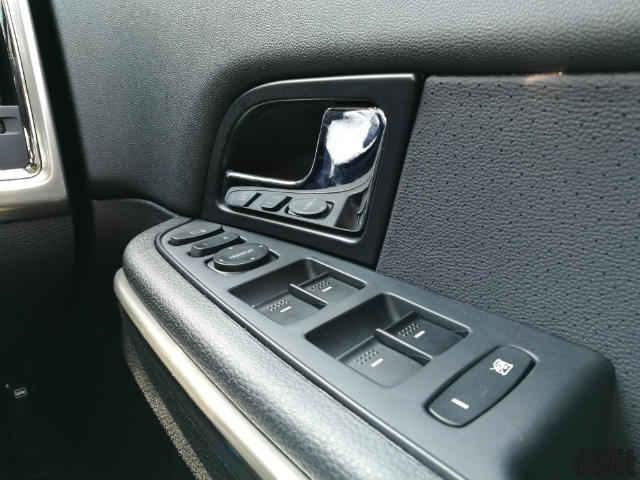 This is further amplified by the in-cabin noise cancellation. Even at higher revs, the engine noise does not really seem to bother you. Outside noise is filtered out and kept at bay, giving you a smooth, enjoyable ride experience. This is one of the quietest cabins you'll come across, considering the engine and the stance of the Hexa, and most will like that. The air conditioning, though, seems to be slightly noisier than optimum.
Coming to the ride, in our first ride impressions, the Hexa is a confident, powerful vehicle. The engine goes all the way up to 400Nm of torque and delivers ample power for performance enthusiasts. The manual variant gets 4x4 ride option, and you get to switch between comfort (4x2), dynamic (4x2) and rough road (4x4). I failed to clearly distinguish between the comfort and dynamic mode, and in the short off-road stint I took the Hexa on, it seemed to do fairly well. The engine did not seem stressed, and the Hexa had enough power to tackle a slightly uneven incline.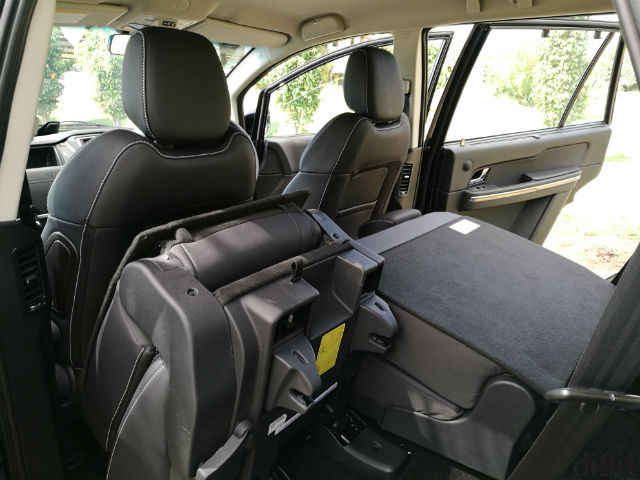 On highways, the Hexa is an assured ride. The suspension feels well-balanced, and the EBD works well to never let you worry about sudden braking. Acceleration is power-driven, and you do feel the powertrain when you accelerate from 50kmph to upward of 130kmph. However, the gear distribution seemed a bit uncomfortable for me, particularly when accelerating fast. What really impresses you is how well the power seems optimised for a vehicle of this size, and even when tackling corners and bends at high speeds, the Hexa did not feel unstable for one bit. Automatic transmission is well distributed, and you do not really feel any sort of lag with it.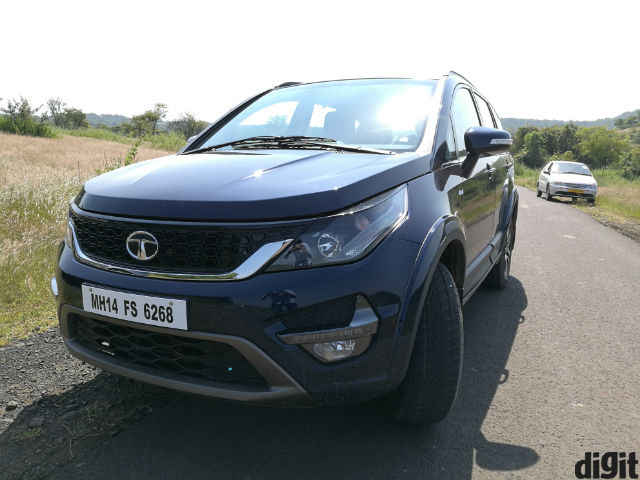 The only thing I could have wished for was a slightly heavier steering wheel. There is a dead center in the middle, and considering how well the car drives and its muscular build, I was ideally expecting a heavier steering. This may slightly affect SUV driving enthusiasts, but for those who are looking for a comfortable, premium ride quality at the stance of an SUV, this bears well. The steering gets tilt, but no telescopic adjustment, and unsurprisingly, it also favours taller drivers. Also, many sedan drivers looking to upgrade to an SUV will find the Hexa very comfortable to drive.
Our First Impressions
The Tata Hexa is quite impressive. It packs in a fair dash of technology and gives Tata a good platform to work on for the future, decent in-car speakers, and even offers a good, powerful drive, buoyed by a lean, muscular build. We quite like how the Tata Hexa is shaping itself up, and the car itself feels very safe to drive. Tata claims that the Hexa has been tested for over 800,000km across three continents, and it certainly feels that way.
Prices for the Tata Hexa begin at Rs. 11.99 lac, and the top variants cost Rs. 17.4 lac ex-showroom Delhi. The pricing seems competitive so far, and is an interesting mix of features, power and versatility as against its prime competitors, the Toyota Innova Crysta. Watch this space, as we bring you more from Tata's latest, heavily billed premium SUV.