If you think about it, getting a large six-inch smartphone to sit still on your car's dashboard is actually tough work. This is arguably truer on our pothole-filled Indian roads. After all, who amongst us hasn't seen a car mount fall unexpectedly from the windscreen in the middle of a hot summer day's drive? To add to the bother, smartphones often need to be charged on the road. And that usually means running a long charging cable across half the total width of the dashboard. I've personally disliked most of the car mounts I've bought for my phones. Many of them have been cheaply built or too inconvenient for everyday use. The Pebble Grip was a pleasant surprise. Read on to find out why.
Grip & Build Quality: Suitable for Indian Roads
Although the Pebble Grip is billed as a wireless charging pad for the car just as much as it's billed as a car mount, it's actually a terrific choice for those seeking only the latter. I was able to hook it up to the window vents of my Maruti Suzuki Zen Estilo in less than a minute. The mount employs a single spring-loaded telescopic arm with a clip at the end along with a pivoting double-arm below it to keep itself tightly locked in place inside an air-conditioner vent. In my experience with the review unit, the Pebble Grip stays firmly in place through potholes, ruts, and undulations on the road.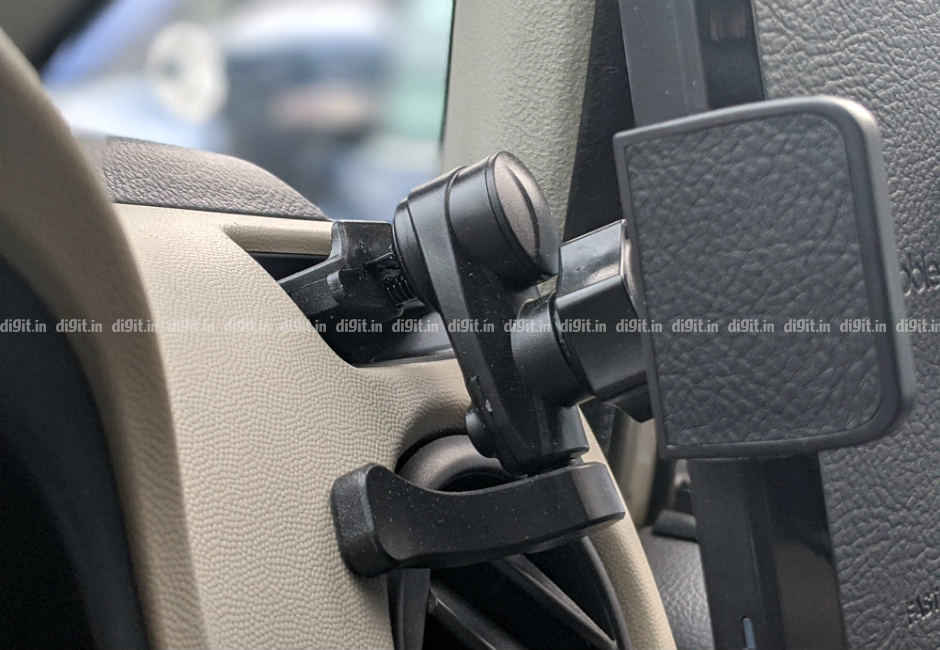 Made wholly of plastic with a matte finish, the Pebble Grip enjoys good build quality. It features a tiny spring-activated release switch on the bottom right side, which, in my experience, has decent tactile feel. Though this switch is usually the first to give way on most car mounts a few weeks after purchase, the one on the review unit has worked without any hiccups for the last four or so months. The size of the charging pad is large enough to accommodate say, an iPhone 11 Pro Max, without any problems.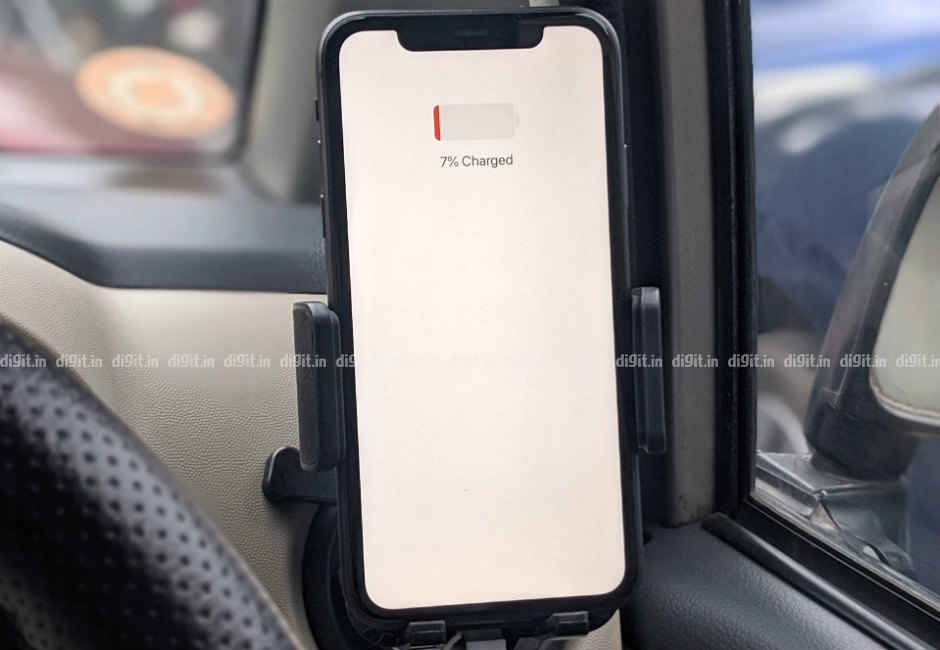 Wireless Charging: Works as Expected
The Pebble Grip draws power from a USB charger (typically from the car's 12V DC socket) using a traditional microUSB cable and is capable of charging a Qi-certified smartphone wirelessly. While many wireless charging pads in the market feature 5W or 7.5W charging, the Pebble Grip features 10W charging, which works well with Samsung Galaxy models. You should get in about 40 per cent of your iPhone 11 Pro's total charge after an hour or so of driving (because the iPhone charges at a lower wattage).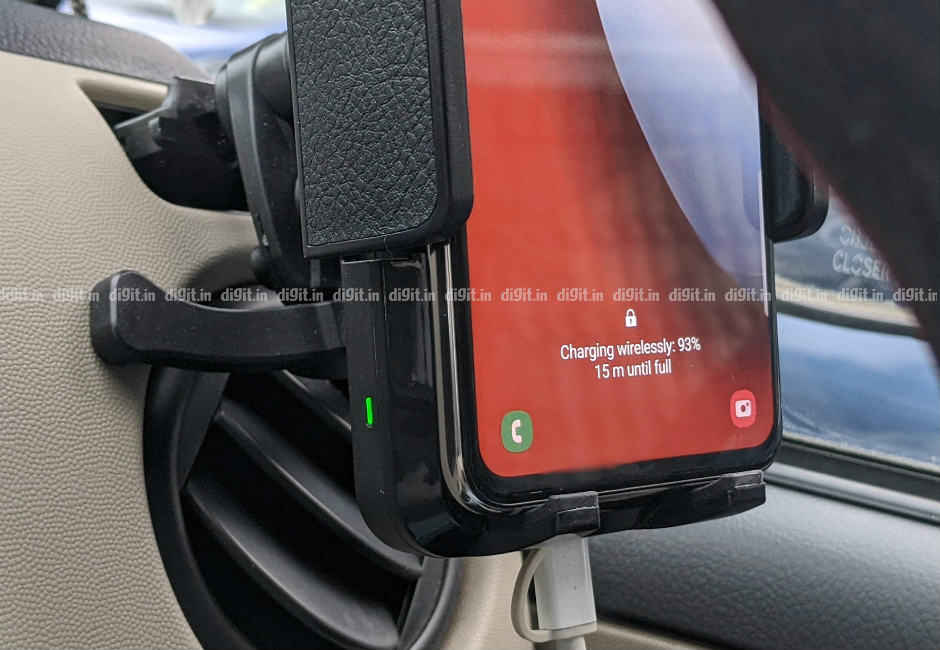 There's a blue LED light on the left side of the Pebble Grip to indicate that it's ready for charging, which turns green when wireless charging is happening successfully. Pebble says it has integrated an "intelligent protect technology" to keep the pad's temperature in check and prevent power surges."For best results, use a Quick Charge adapter (9V/2A) for Samsung Galaxy charging and a 5V/2A adapter for iPhone," recommends Pebble on its product page.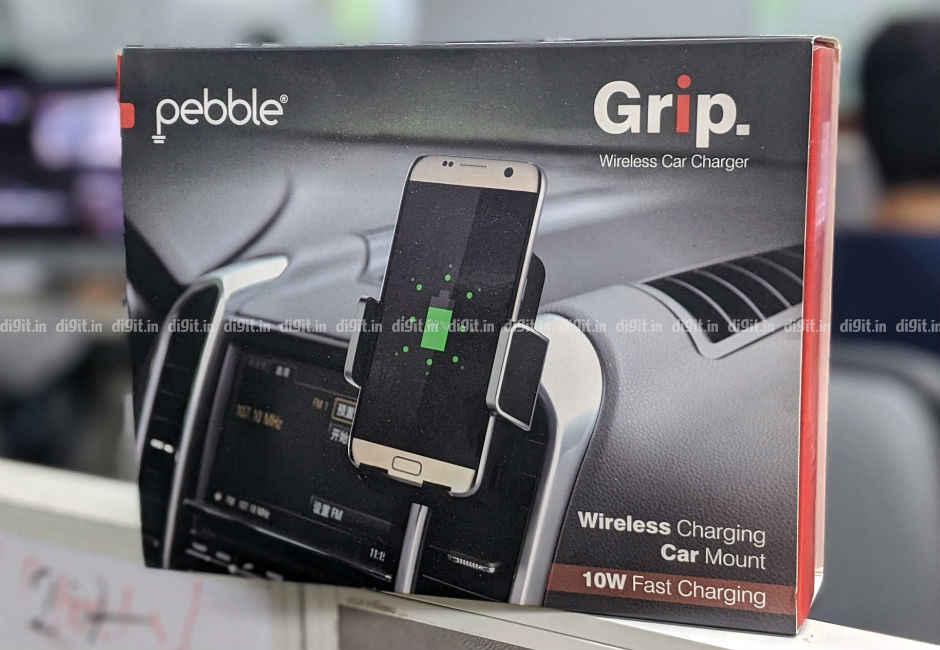 Summary: Convenient but Pricey
In my experience, the Pebble Grip is convenient for everyday use once it's properly installed in the car and wired up to charge your smartphone wirelessly. You should be able to pop your Qi-certified smartphone in using one hand while you're stuck in stop-and-go traffic without even having to concentrate hard. But this convenience does come at a price: And that's Rs 2,499. For that money, you don't get the 12V DC USB car charger but you do get a microUSB cable. Including the charger would've made the Pebble Grip a sweet deal, but it's a good dashboard companion nonetheless for frequent navigators willing to invest.