Audi e-tron Sportback
The SUV crossover concept of Audi's e-tron portfolio is quite the looker, and just like every futuristic car out there worth its salt, even flaunts an illuminated audi badge on its front facade. That's pretty much a valid justification of how seriously Audi wants to implement this concept in the coming days.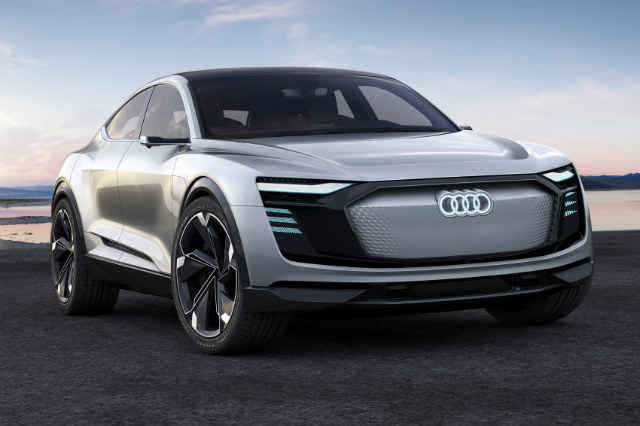 The Audi e-tron Sportback is an emission-free, all-electric crossover with a number of futuristic elements like steering-mounted touch controls, multiple OLED infotainment screens in the cabin for entertainment, operations and services, cameras in place of ORVMs, digital animation projection from LED headlamps for enhanced pedestrian awareness, and the battery will run for up to 500 kilometres of travel. It will reportedly be able to deliver up to 400bhp, and accelerate to 100km/h in 4.5 seconds.
The e-tron Sportback will reportedly come with an induction charging pad, which will bring wireless charging to this all-electric vehicle. The Audi e-tron Sportback is a more practical concept among other concepts, with a crossover chassis that sits somewhere between the Q5 and the Q7 SUVs, and presumably include a few elements of autonomy as well!
BMW i Inside Future
The BMW i Inside Future concept is not a full fledged car. Instead, it is a sneak peek into what BMW envisions future car interiors will be. The German automaker has always focused on luxury, and the key here is the living room-like dimensions that BMW has presented as what will be 'Inside Future'. The entirety of interactions that the passenger does with the car will be via the panoramic display and an augmented interface. The holographic display, called the BMW HoloActive touch system, is projected above the central console and relays information and entertainment details. It can be controlled via finger gestures, to access all details about the car.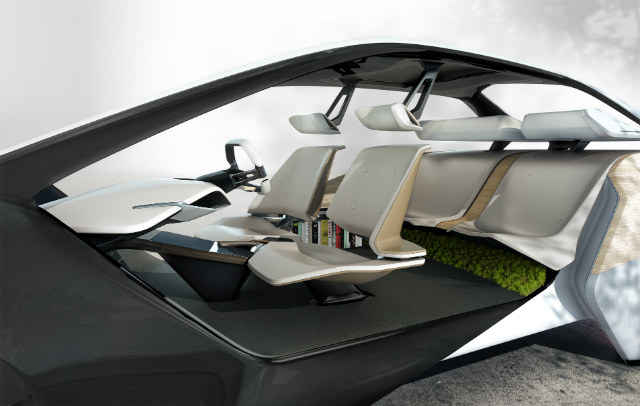 If that was not all, then a more substantial and significantly larger display is in store for the rear passengers, who has enough space to recline and watch movies on the go. If you think that is too boring, the i Inside Future concept also has a bookshelf beside the seats, showing how much interior space utilisation will change with future luxury cars.
Chevrolet FNR-X
Continuing with multiple OLED displays inside a car cabin, the Chevrolet FNR-X concept uses a total of six displays inside the pretty plush cabin. It takes cues from the original Find New Roads (FNR) concept, but summarises the futuristic elements down into a practically feasible SUV crossover body. What this means for General Motors is a concept that seems nearly ready for production.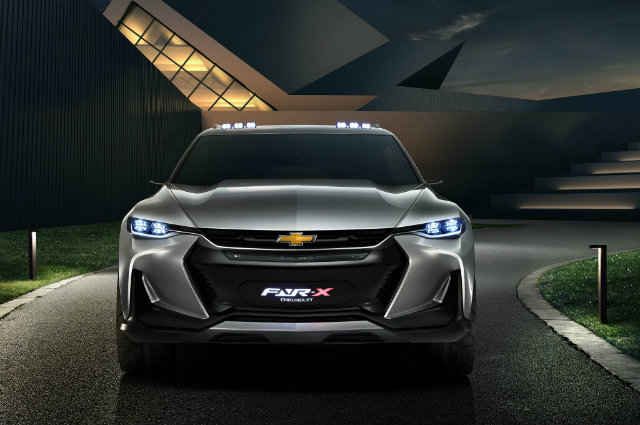 The features, however, remain aptly future-oriented. The key highlights of the Chevrolet FNR-X concept include a recurring hexagonal theme in the interior and exterior design (from the front bumper to the main infotainment display) which lends continuity and seamlessness to the car's aesthetics. The six dynamic OLED displays contain all information and controls pertaining to the car, and can communicate with one another. There will be infrared sensors, facial and gesture recognition to work as advanced memory presets and customise the car. These can personalise driving dynamics, ambient lighting, audio and other profiles to an individual.
A 270-degree wide augmented HUD further enhances the information display inside, along with adaptive lighting, wheel blades and spoilers acting according to how you're driving. The Chevrolet FNR-X will combine Level 3 autonomy, on top of all this, when it premieres as a production vehicle. We only hope most of its features do make it to production.
Mercedes-Benz Concept A
Of all the concepts that we've talked about this year, the Mercedes-Benz Concept A is possibly the most important. Debuted at the 2017 Shanghai Auto Show, the Mercedes-Benz Concept A is what the company's compact sedans will be in the near future. The shape is reminiscent of the present generation Mercedes-Benz CLA 250, but is significantly more refined.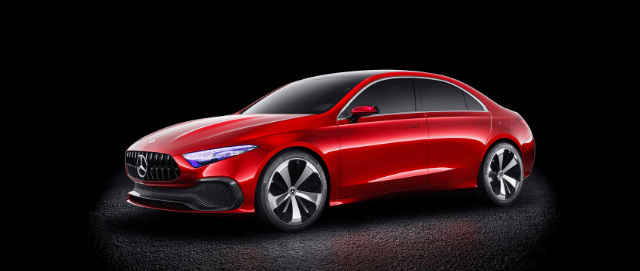 The Concept A does away with the contours and creases on the body, instead refining aerodynamics to create the smooth, low-stooping stance. It will also use lighter alloy wheels and a new grille design, all of which combine to make the future compact luxury sedans from Mercedes-Benz quite impressive. The resultant output may be a bit Tesla-esque, but that is not surprising in any way.
Mercedes-Benz has not yet elaborated on the technical prowess the future compact sedans will possess, but level two autonomy and hybrid powertrain can certainly be expected as standard inclusions.
Renault R.S. 2027
The Renault RS 2027 isn't one for the roads - it is for the Formula One tracks. Just as so many car makers roll out concept models of how Formula One racing would look about a decade from now, Renault's latest concept RS 2027 does so too. In fact, if this is what F1 racing would be 10 years from today, there actually would be minimal upgrades to the sport, from what it seems.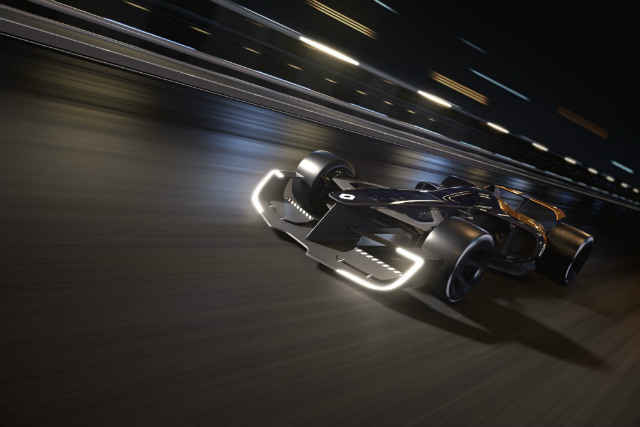 The Renault RS 2027 concept's technical advancements include LED displays on its wheels and intricate LED lighting along its sides and the front wings, limited autonomous control in case of emergencies and accidents, sequential engaging of all-electric drive (only in pit stops), four-wheel drive with four-wheel steering, and a transparent cockpit with a plexiglass-like covering to make F1 more secure.
That, though, is about it. While the RS 2027 indeed looks quite impressive, there's not much to go on in terms of features on board. It's still a concept worth looking at, though.
Rinspeed Oasis
The Rinspeed Oasis stands out for multiple reasons. First, Rinspeed has aimed at putting Oasis in use with ride sharing services. The Oasis is an all-electric, self-driving concept vehicle that looks like a way more spacious (and significantly more refined) Mahindra e2o electric car. A network of Oasis cars will be connected to an app that will show up rider profiles who are either presently selecting rides, or are already on their way, in cars along your route. The Tinder-like app will allow you to choose your co-passenger, following which the car will amble along to your location.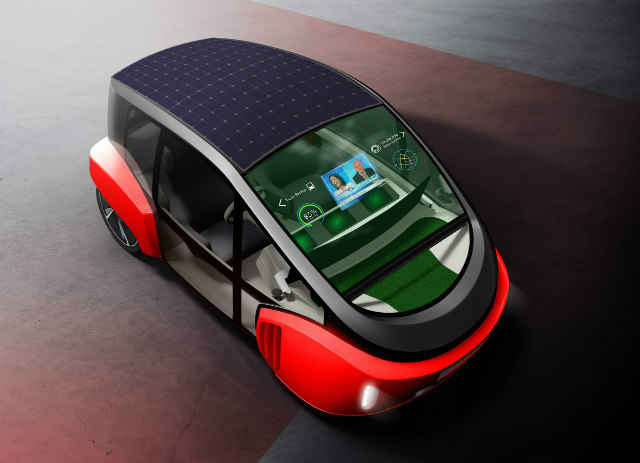 There's a solar panel on top, a massive 5K resolution display built by Harman taking up the entire dash, connected car ecosystem with live on-road alerts, an augmented HUD for interactive alerts and directions, and what is extremely catchy, a garden to the front of the dash that can house bonsai plants and even "grow radishes". Auto spinning seats make entry and exit easier, and the doors have holographic projectors that show welcome messages. Now that is some concept, although most of the features may not make it to production any time soon.
Skoda Vision E
The Skoda Vision E, like Chevrolet's FNR-X, is a production-oriented concept. It marks the first outline of what will be Skoda's five upcoming all-electric vehicles by 2025. The SUV coupe (not a crossover) is aimed at being a luxury offering, bearing the coveted 'Laurin & Klement' badge. Technological advancements include a sweeping glass panel along the dash with two infotainment displays, the primary central display and a fourth instrument cluster display, two rear displays, door armrest-mounted mobile connectivity and wireless charging slots, inter-screen connectivity, and intelligent ambient lighting.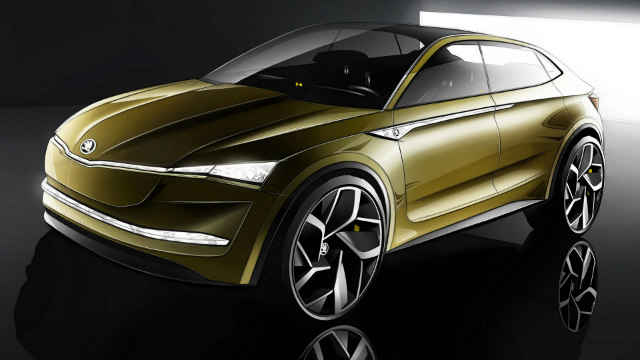 The car will reportedly include augmented eye tracking for advanced input interface, and make exhaustive use of Czech glass - two front strips housing lights to create a brilliant sparkle, and on the side skirts. The seats will be rotatable, and the production variant of this beauty is expected to include level four autonomy, once launched in 2020. The all-electric vehicle will include cumulative power of 304 horses, and the maximum battery capacity will be 80kW, which is not underwhelming by any means.
Volkswagen I.D. Crozz
Before you start raising eyebrows, let us clear out the rationale behind this rather peculiar name. The Crozz in this concept's name stands for 'crossover', just like the I.D. Buzz concept was of a self-driving electric bus (I.D. Hazz to be the next hatchback crossover?). Jokes aside, though - the Volkswagen I.D. Crozz is a large, snazzy concept vehicle that will go in product by the year 2020. It looks aggressive and brute, and possibly include a battery that is almost 100kW in capacity. All of this will allow the I.D. Crozz to reach peak speed of 180km/h and present total driving range of 500 kilometres.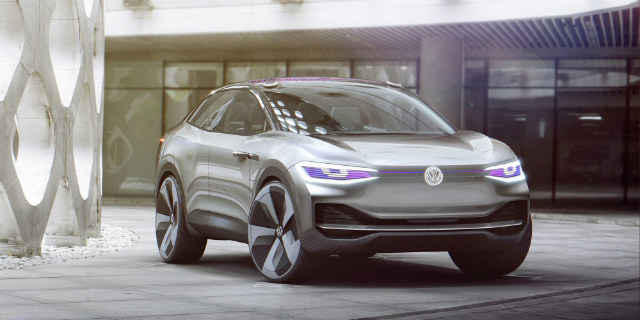 Alongside, tapping the 'VW' logo on the steering wheel will activate level four autonomous driving, and the car will host an array of augmented reality displays inside to present information and entertainment options. Passengers will be able to control everything with gestures (much like Tony Stark does), and Volkswagen states that it intends to make this one real by 2020. Promising, to be honest.