Neva's AirQuadOne is yet another flying car concept studded with practicality
HIGHLIGHTS

Four electric turbofans, 1000lb kerb weight, 25-mile range and plastic chassis makes for a flying car that might just become reality.
'Practical flying cars'. While that might sound like a bit of an oxymoron, we've seen a number of concepts of late that may just be a feasible prospect in about the next five years. The latest of them is the AirQuadOne by Neva Aerospace, revealed ahead of the Paris Air Show.
Neva Aerospace is a consortium of five European aviation companies that focus on electric aviation. Its AirQuadOne aerial electric vehicle for passengers is being built with practical city commuting vision. Its configuration includes four electric turbofans that have already been tested in drones, has a shiny plastic chassis that weighs about 450kg including a 150kg battery, and offers peak flying speed of about 80kmph to cover maximum distance of 40km within 30 minutes. The limited range right now is being proposed to keep kerb weight minimal, and Neva thinks this range itself is enough to cover daily office commute within a city. The turbofan configuration will allow AirQuadOne vertical liftoff and landing, and charging the batteries will be as simple as plugging it in to source. Future versions of the AirQuadOne may include an engine to run a power generator to increase range, although Neva would need to find ways to compensate the added weight.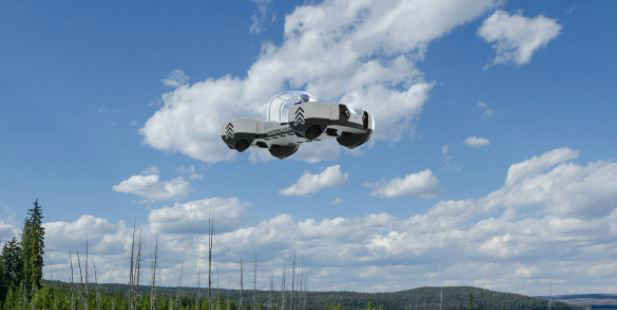 The Neva AirQuadOne falls in line with the likes of Airbus' Vahana, Kitty Hawk's Flyer, the Lilium Jet, the PAL-V Liberty, and Uber's flying taxi plans for Dubai. All of these concepts are borne from improving battery technologies leading to denser packs in smaller form with higher power capacities, lightweight composite material leading to less expensive chassis and manufacturing costs, and the need to commute efficiently with increasingly jammed roads. Some, though, are a bit less practical are more concept-like. For instance, the Lilium Jet wants to be a public AEV system with 305kmph top speed and 320km full range. Such extreme proportions may be more difficult to manifest as they would require extremely heavy density batteries in multiple configurations, which in turn make the craft itself rather heavy.
Neva Aerospace is quite serious about its future potential, but the only real obstacle in place are regulations. In India, there isn't enough clarity on how the aerospace rules would pan out for private usage. Discussions, meanwhile, have been in place to use the empty airspace to negate traffic, and a realistic timeline suggests five years till the first air taxis start plying.