MG Motors is set to follow the footsteps of Kia and enter the Indian auto market for the first time in history. The British carmaker will be launching its first car in India next year, after having established its first plant in the country already, and declared hefty investments to take a slice of one of the most lucrative car markets in the world.
So, who exactly are they? As a car maker, should you be waiting for MG's launch in India? What may they have in store for India? Here's everything that we know - and you need to know, about MG Motors, and its plans for India so far.
History
While it may be the first time for MG in India, a closer look at the brand actually reveals a rather elaborate, emotional and historic relation between the two. Morris Garages was spun off WRM Motors back in 1923. WRM Motors was founded by William Morris back in 1912, following which it was renamed to Morris Motors - the name under which the brand would operate for many years.
In 1921, Cecil Kimber joined Morris Motors and soon became General Manager of the company in 1922. Another year later, and under the wing of forefather William Morris, Kimber's tinkering with Morris' cars in its garage led to the formation of Morris Garages, and it rolled out with its first-ever production car - the MG 14/28, in 1924. The original date, however, remains in dispute by hardcore automotive enthusiasts, since the first MG cars bore both Morris and MG branding.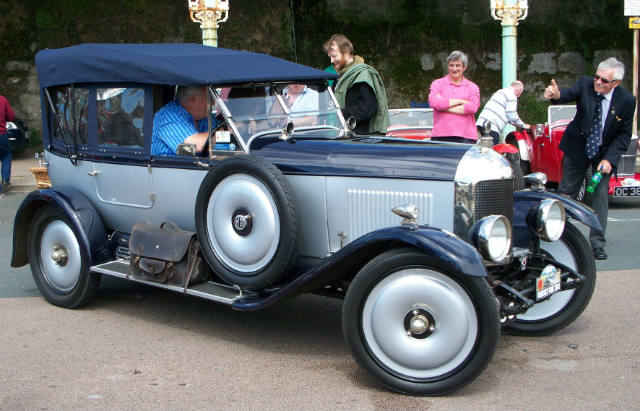 The MG Oxford 14/28
The company's main history lies in manufacturing two-seater sports cars that caused a significant rise in demand and extensive use of MG cars in professional racing and rallying. Since being sold by William Morris (which signified its end as a personal business), MG Motors first belonged to Nuffield Organisation until the formation of The British Motor Corporation Limited. The BMC heyday lasted through the '60s for MG Motors, where it existed alongside the then-fused Austin-Morris mass-market car group.
The '70s, however, saw MG suffer a fair bit, with no new launches. Furthermore, once the BMC fused with the Leyland Motor Corp to form British Leyland, MG Motors was part of a conglomerate that included the heavily money-losing Austin-Morris division, Triumph, Jaguar and Rover cars. In this phase, a bunch of MG cars were badge-engineered Austin-Morris cars to ride on the overall demand for MG vehicles. The MGB was the only true MG in production.
After a mixed two decades that saw ownership shift from the British Leyland to British Aerospace and then to the BMW Group, MG Motors eventually formed in its present state when Nanjing Automobile Group bought over MG Rover, and branded itself to its present tag once Shanghai Automobile Industry Corporation (SAIC) absorbed NAG under its umbrella.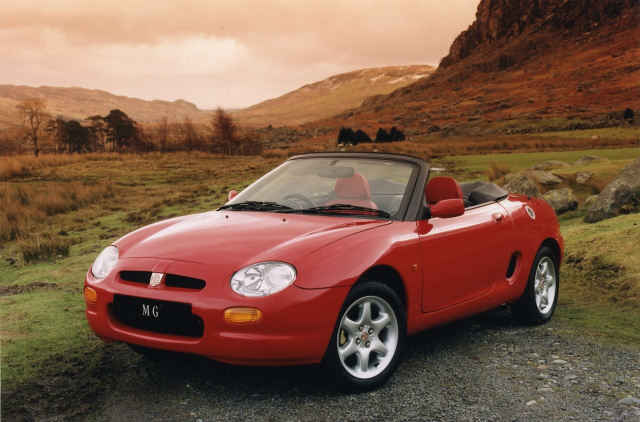 MG F, produced when MG Motors belonged under BMW
MG's relation with India dates back to pre-Independence days, when Morris Motors - when under Nuffield - used to sell cars in India. This led to plenty of Morris Minor, Morris Wagon and Austin Mini being brought to India, a particularly large collection of which can still be seen in vintage car rallies held in Kolkata. Most notable, though, was when production tools were imported along with design details to give rise to India's most iconic car ever - the Hindustan Motors Ambassador. Based on the Morris Oxford III, the Ambassador became the car of choice for the government, where it still remains in extensive use, and in the taxi and car rental industries as well.
The HM Ambassador entered India in 1957, and was finally discontinued in 2014, with the Ambassador marque being sold to Peugeot for Rs. 80 crore. Nevertheless, while the histories between Morris Motors' pre-independence run in India and MG Motors' upcoming stints are completely unrelated, it will still serve as a thin link between the then-British mass market company, and today's rather niche brand.
For India
At present, the SAIC-owned MG Motors will be looking to appeal at the mid-market segment of India's car buyers. The brand may be looking at cashing in on its British motoring heritage, while marketing cars in the country. SAIC has declared investments of up to Rs. 5,000 crore over six years, between 2019 and 2025.
Interestingly, MG Motors has adopted a similar strategy as Kia, for India. The company is bringing its ZS SUV to show what its cars stand for, which is in smaller scale in comparison to the big splash that Kia held with its 16-car bandwagon at the 2018 Auto Expo, including the made-for-India Kia SP Concept SUV. MG Motors has so far announced that its first car in India will be a compact SUV, which is no surprise as the most popular segment of cars in India are compact SUVs. The MG Motors ZS SUV, which sits below the larger GS SUV, is going to be a placeholder for what one can expect from MG Motors.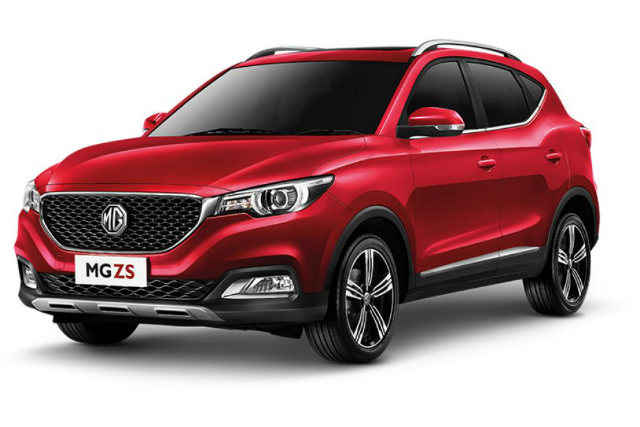 MG ZS midsize SUV, being used to show dealers in India
Beginning March 28, the company is hosting dealer meets across India, where it will be showcasing the MG ZS to potential dealership hosts. The meets are being held in Mumbai on March 28, Delhi on April 6 and Bengaluru on April 16. The company has targeted its first launch for Q2 2019, when its first India-specific production car will be rolled out from its plant in Halol, Gujarat.
The erstwhile Halol plant belonged to General Motors, which pulled out of the Indian market after having enjoyed relative popularity and going through tough times with its consumer brand, Chevrolet. SAIC, interestingly, had a stake in the Chevrolet Sail sedan and hatchback, and Chevrolet Enjoy MPV, which was an indication of the Chinese conglomerate's interest in India. With MG Motors, SAIC will now have a more direct investment in the Indian car market.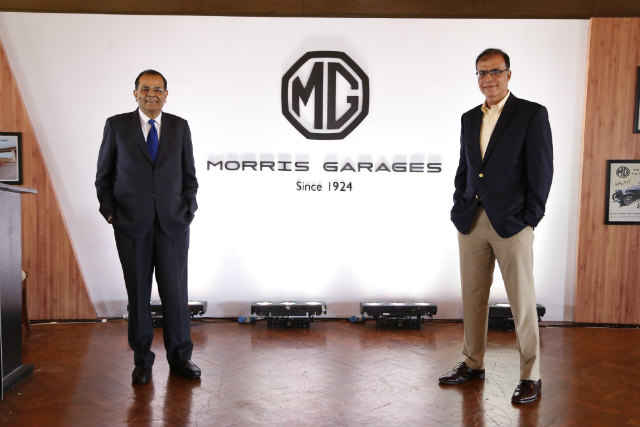 P. Balendran, Executive Director and Rajeev Chaba, President & MD of MG Motors India
As for the cars themselves, expect it to play rival to the likes of the Hyundai Creta and Jeep Compass. The Korean-origin Hyundai Creta has introduced a strong balance of upright styling, a good dose of technology and equipment onboard and the reliability of Hyundai's exhaustive service support across India to gain a good market share, while the American-origin Jeep Compass clawed in by capitalising on the Jeep brand, as well as presenting a near-luxury package in very strong pricing. MG Motors typically has a fairly comprehensive set of feature list, which include 8-inch touchscreen systems powered by all necessary gizmos that are seen in mid-market cars.
While none of that has been confirmed yet, it is certainly exciting days ahead for the Indian car market. With new brands making their way here, it will be interesting to see how the established players react, particularly when it is a brand with such rich history as MG Motors.