Lexus drives into India: Everything from its first Indian portfolio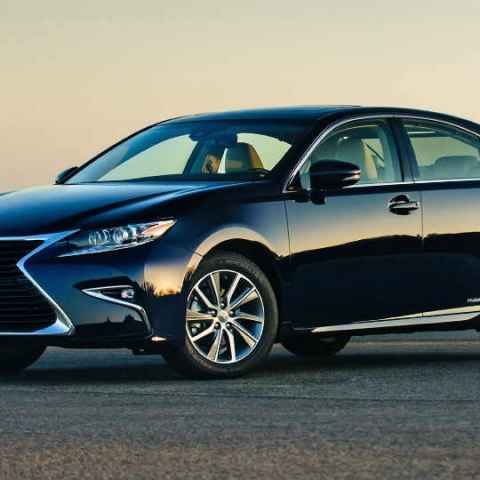 HIGHLIGHTS

Toyota's luxury branch, Lexus has finally arrived in India, and its portfolio is studded with impressive dollops of technology inside.
Lexus' official entry into the Indian roads was spoken about for quite some time, and the company has finally unveiled its first array of cars being officially launched in India. As part of its Indian portfolio, Lexus is bringing four of its vehicles to India - the ES 300h hybrid sedan, RX 450h hybrid crossover, LX 450d SUV and the LS 500h flagship hybrid sedan. Of these, the Lexus ES 300h and RX 450h are being immediately launched in India, and will be sold out of Lexus' new official dealerships from March 25, in Delhi, Mumbai and Bengaluru.
Lexus' major area of focus is on the increasingly enthusiastic and affluent car buyers of India, presenting a hybrid drive platform in three of its four announcements. Alongside the hybrid powertrain that quotes decent power figures, each of the Lexus cars announced offer an impressive dash of technology inside covering the infotainment system, driving dynamics, engineering and internal comfort. Owned by Toyota, Lexus will be up against Mercedes-Benz, Audi and BMW as its prime rivals, along with other luxury players such as Volvo, and as a result, will have a fairly steep hill to climb in terms of setting pace for its popularity in India.
Here's looking at what each Lexus' cars in India can offer.
Lexus ES 300h
The 2017 Lexus ES 300h is a mid-sized luxury sedan that will be up against the likes of the Audi A6, BMW 5 series, Mercedes Benz E Class and the Volvo S90 luxury saloons in India. The ES 300h uses a 4-cylinder 2.5L Atkinson Cycle petrol engine paired with a permanent-magnet electric motor to offer all-electric and hybrid modes for low emission drives, and engine drive for higher performance. Peak power is rated at 154bhp, and despite the long wheelbase, the sweeping aerodynamics allow the Lexus ES 300h to reach 100kph from stationary in approximately 8.1 seconds, and go on to reach top speed of 180kmph.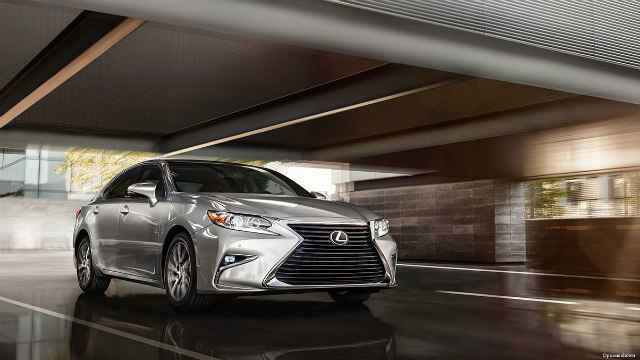 The technology inside, meanwhile, is pretty impressive too. The top trim of the Lexus ES 300h houses an 8-inch touchscreen LCD infotainment display that includes the Lexus Enform suite. Features of the Lexus Enform include an integrated satellite navigation unit with Enform destinations that will display prime points of interest and essential landmarks, vehicle information unit with driving statistics, mechanical status, fuel and trip details, Gracenote media management unit with advanced voice operations for calling, messaging and more, Bluetooth connectivity, a remote touch operator, along with a multi-speaker Mark Levinson surround speaker system. The console will also allow internet access with social media operations. You will also get the Lexus Enform app suite on phone to control remotely, and get rear parking camera with 'intuitive' guides and blind spot monitor on ORVMs to aid safety.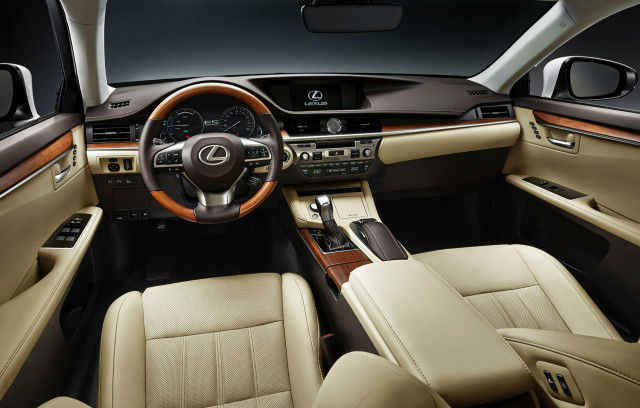 Other mechanical elements of the Lexus ES 300h include MacPherson strut suspension, e-CVT automatic transmission, ABS with EBD, brake assist and regenerative power generation for hybrid driving, all of which is moulded into a wide, imposing welded-steel unibody chassis. There is a lot of LEDs at play on its exterior, with the headlamps on either side of the impressive front grille, L-shaped rear lamps, ORVM-mounted indicators and daytime running lights. India only gets one trim, and the ES 300h is priced at Rs. 55,27,000 (ex-showroom, Delhi). While all the technology inside is quite impressive, Lexus will be banking on its hybrid drivetrain, which is unique for this segment.
Lexus RX 450h
In every right, the Lexus RX 450h is the company's flag bearer, and is also one of its most popular cars worldwide. Lexus is bringing the two top trims of its hybrid crossover - the RX 450h Luxury and F-Sport to India, priced at Rs. 1.07 crore and Rs. 1.09 crore respectively. The all-wheel drive hybrid crossover uses a 3.5L V6 Atkinson Cycle petrol engine that produces 308 brake horsepower, and is slightly quicker than the ES 300h sedan, with the company quoting acceleration figures of 7.9 seconds for 0-100kph.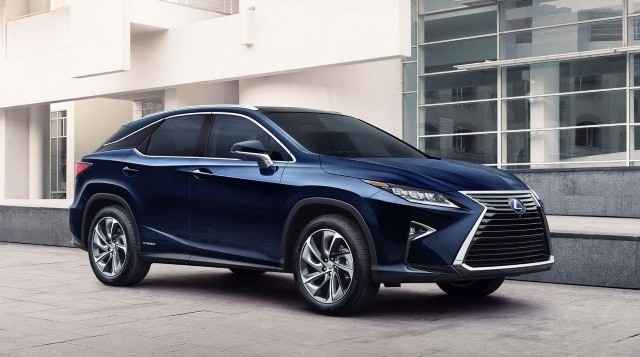 The Lexus RX 450h includes an even more impressive dash of technology inside, beginning with a 12.3-inch splitscreen infotainment display that relays the sat-nav setup with local landmarks, traffic and weather information. You also get the Lexus Enform suite of operations, multiple cameras and sensors to get a panoramic view of surroundings, touch-free rear door open/close, two screens on the rear seat for enhanced entertainment, 15-speaker, 835W Mark Levinson surround sound system for 3D auditory experience, ambient lighting inside the car, remote touch and voice commands for handsfree operations, a fully digital LED instrument cluster, and a colour heads-up display (HUD) that displays current audio, speed, gear and the tachometer. If all of this was not enough for you, there is also the Homelink system that allows the car to identify compatible garage, control gate/home lighting and monitor your connected home security system.
Phew!
Lexus LX 450d
With a butch-like design, the Lexus LX 450d will be powered in India by a 5.7L V8 petrol engine producing 383 horses, and a 4.5L twin-turbo V8 diesel engine producing 269 horses. It get almost every element of technology that the RX 450h offers, including rear infotainment screens, panoramic cameras, ambient lighting, Enform app suite and Mark Levinson audio system.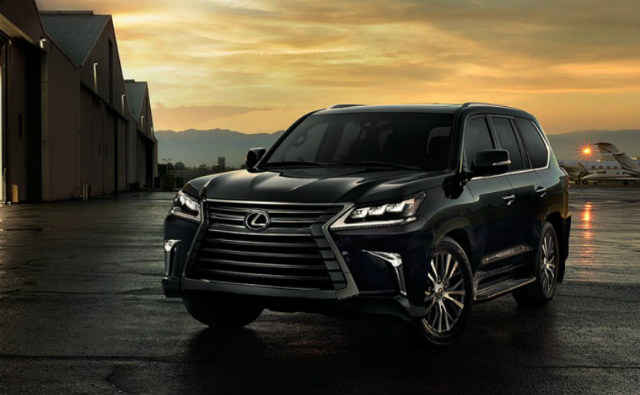 The LX 450d gets four-wheel drive for off-roading, making this a thorough, comprehensive package. Prices for the LX 450d have not been announced yet, although we expect the LX 450d to cost upward of Rs. 2 crore, and rival the likes of Land Rover's Range Rover lineup, Volvo's XC90 Inscription Luxury and more.
Lexus LS 500h
The big surprise today was the inclusion of the all-new LS 500h luxury hybrid sedan in the Indian portfolio, which also goes to show that Lexus is seriously considering the Indian market as an important prospect going forward. The LS 500h premiered globally at the recently concluded 2017 Geneva Motor Show, and is powered by a 3.5L V6 Dual VVT-i petrol engine and multi-stage hybrid drive that produces 354bhp.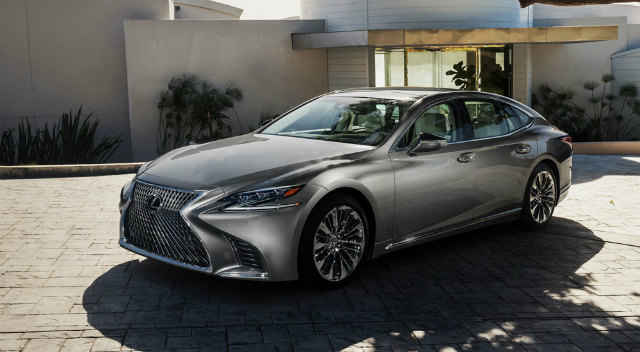 It is built on the new Lexus Global Architecture - Luxury platform that produces a lighter body than Lexus' previous flagship sedan that facilitates low centre of gravity and uniform weight distribution. It further includes interesting drive technologies like Dynamic Handling, Intuitive Pedestrian Detection System and Active Steering for in-lane driving. The LS 500h also has a number of intricate touches like Japanese origami-inspired hand-pleated door trims and glass ornamentation.
The uber premium luxury saloon will be introduced to India later, and we can easily expect its pricing to be above Rs. 1.5 crore.