Larry Page backed flying car company just announced its Kitty Hawk moment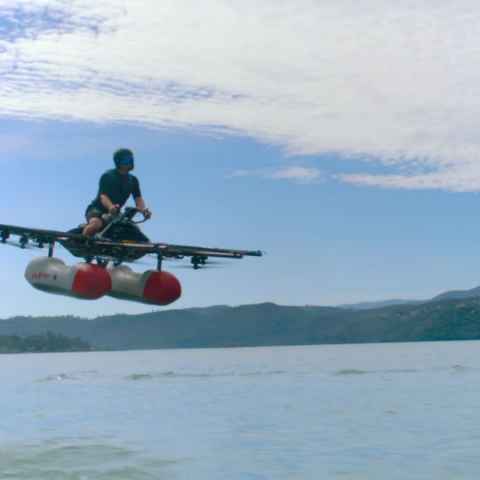 HIGHLIGHTS

Kitty Hawk's Kitty Hawk moment brings you an ultralight aircraft that doesn't need a pilot's license. It's not shipping to India anytime soon, though.
When they first created the airplane, the Wright Brothers called its maiden flight, the Kitty Hawk moment. They called it so, because the brothers had spent three years in Kitty Hawk, North Carolina, trying to conquer flight. However, Kitty Hawk also happens to be the name of a company that's been backed by Google founder Larry Page. What does the company do? Well, they're working on building a flying car.
The Kitty Hawk Flyer, as it is called right now, is an "all-electric aircraft" that functions somewhat like a hovercraft. You also don't need a pilot's license to fly it. The Flyer "is safe, tested and legal to operate in the United States in uncongested areas under the Ultralight category of FAA regulations," says Kitty Hawk, on its website. According to the company, people will learn to fly in minutes, and will be making a consumer version of the flying car by the end of the year.
The video above has footage from the company's test runs, but the parts with people having a picnic etc. are obviously shot separately. Like the Wright Brothers, the Kitty Hawk Flyer is also being tested in Northern California. The company hasn't revealed how much it will sell the Flyer for, but it is inviting people to become members for its events. The video above is a demonstration of the company's prototype.
Kitty Hawk has a $100 three year membership program right now, which gives you priority on the company's waiting list for deliveries. You also get Kitty Hawk branded gear, exclusive access to the company's flight simulator and events by Kitty Hawk. There's also a $2000 discount on the final price of the product, whenever that is announced.
Further, the company calls the Flyer an ultralight aircraft, and says it doesn't intend to restrict access to the US only. However, Kitty Hawk's FAQ page also mentions that the company doesn't intend to make deliveries outside the United States right now. "We do not intend to restrict the location from which you place an order for the Flyer except for embargoed countries, however we do not have current plans to ship the vehicle abroad. If you would like to ship abroad, we recommend that you research the regulatory requirements and delivery options that are available where you live. You would need to take possession within the US and make your own delivery arrangements afterward," says the website.
While Kitty Hawk's prototype seems a lot like a hovercraft, it seems far removed from another flying car we heard about recently. The Pal-V Liberty, which feels like the cross between a drone, helicopter and a BMW-i8, looks more futuristic. However, the Pal-V also costs about a half a million dollars, making one wonder whether the Kitty Hawk Flyer will aim for the general public.
Only time will tell how it all turns out, but if we can be certain about one thing, it's that Silicon Valley is taking a lot of interest in flying cars. So, it's only a matter of time before one of these makes a big splash with it. Of course, the bigger focus right now is on autonomous vehicles, but hey, a flying car is just as futuristic, isn't it?