The Frankfurt Motor Show has always been one of the most important auto shows across the world, and the 2017 edition has been no less. With almost every major manufacturer exhibiting (and even some obscure ones as well), there has been a lot of technology that we have seen at the recently concluded Frankfurt Motor Show 2017, which range from core technology to improve electric driving mileage, to a new system for connected GPS systems, a new tournament for Jaguar's electric SUVs, a host of new concepts that aim to redefine the car cabin and fundamental travelling experiences, and a few rather ridiculously powered cars. If that sounds like a bit of an overload, that's because it is. Nevertheless, from the technology perspective, the Frankfurt Motor Show 2017 has seen a lot, and we break all of it down for you here.
Technologies
Plug-in hydrogen fuel cell
Mercedes-Benz came all guns blazing to the party this time 'round, with multiple key exhibits, of which this particular one was arguably the least glamourous. Still, it holds high relevance, particularly in the years to come. The Mercedes-Benz F-Cell GLC SUV is powered by a hydrogen fuel cell. The car uses the hydrogen in the fuel cell to convert it into electric energy, which in turn powers the car's drivetrain. There are multiple tangible benefits here - hydrogen fuel cell-powered cars are practically non-polluting, and hence happen to be very friendly towards the environment. It is also more practical in terms of usage over fully electric cars, as refuelling of hydrogen fuel cell cars happen in minutes, as against multiple hours of charging time for conventional battery-powered cars. The downside? Charging stations are far and few right now, unless promoted over the next few years.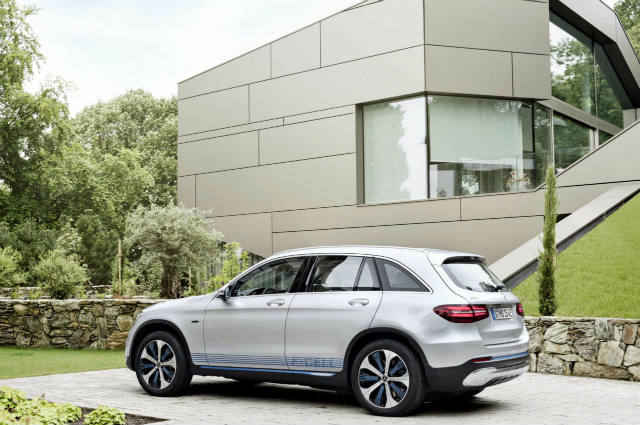 New mapping system
Yet another announcement from Mercedes' stable, this new system is a navigation mechanism to be used in future, called 'what3words'. What this essentially does is divide the world into a massive grid of 3m x 3m squares, and each square can be identified by a unique set of three words. Looking at how the present way of using postcodes, street names and latitude/longitude data to navigate to a location can prove to be cumbersome because of the sheer number of, well, numbers, this new method may not only make travelling easier for drivers, but may also aid computer-driven autonomous cars in future. Hopefully, you'll soon be able to reach our office using 'why.so.serious' some time in the next couple of years, at least as long as you're driving a Merc.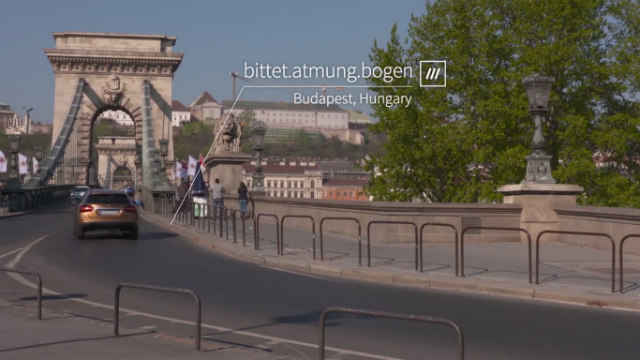 Concept cars
BMW i Vision Dynamics
BMW's latest entrant to its 'i' lineup of cars, that has so far seen the city-focussed i3 and the rather glitzy i8, is a snazzy new concept of what will form the mainstay of BMW's future - an all-electric sedan. The BMW i Vision Dynamics will be targeted at the mainstream electric sedan territory, something that Tesla has been trying to establish over the last few years. The concept is designed realistically, offers nearly 600kms of mileage, and is also really fast. The production model will materialise in about three years, by which time Tesla will hope to have solved its limited manufacturing ability issues. The times ahead will be exciting!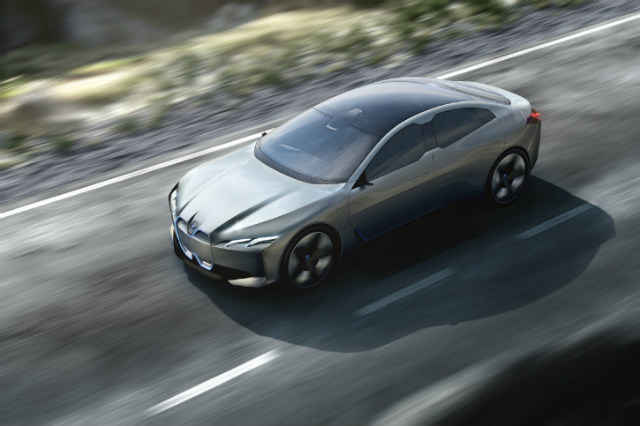 Smart Vision EQ ForTwo
Smart's latest attempt is yet again one of the most crucial concepts that we have seen of late. By the time all mainstream companies aim to enter production with their first all-electric vehicles, Smart aims to have an all-electric portfolio, and also make strides towards the autonomous ride-sharing model that we have been talking about. Smart aims to fit right into the smart city models of the future, presenting a glass box of a vehicle with no pedal or wheel inside. Instead, what you get is a large display on the dash, two seats, a front display replacing the grille and showing messages customised to riders, and a battery configuration ideal for short, shared city trips. Smart assumes that the majority of all-electric cars will come with some form of automation or the other, and owing to the growing congestion in cities coupled with the comfort that autonomous cars will bring, most people will have shifted to rented or shared cars. Of course, a number of elements from this show car will not make it to production, but Smart promises a production model close enough to this one within the next two or three years.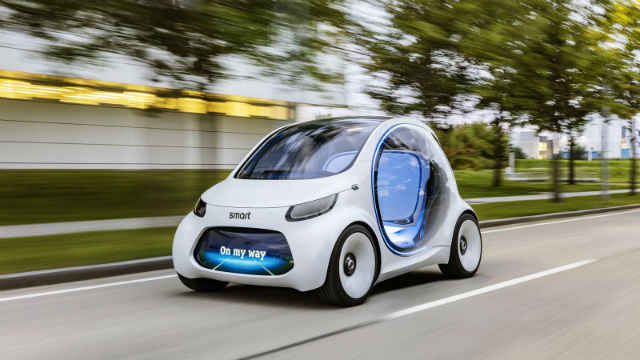 Honda Urban EV
The very boxy Honda concept has taken everyone by surprise. Instead of wowing the world with a fascinatingly Batmobile-like design that would not make to production, Honda has gone back to the roots and whipped out a car that looks like a classic throwback to the hatchbacks of the '80s. It looks clean, has subtle lines, looks impeccably simplistic and yet highly appealing and practical, and what's more, Honda states that its production variant will look mighty close to the concept itself. If this has not impressed you already, Honda states that its production form of the Urban EV will be plying in Europe by 2019, and spread out to the world gradually. Electric vehicles are certainly becoming more fun, aren't they?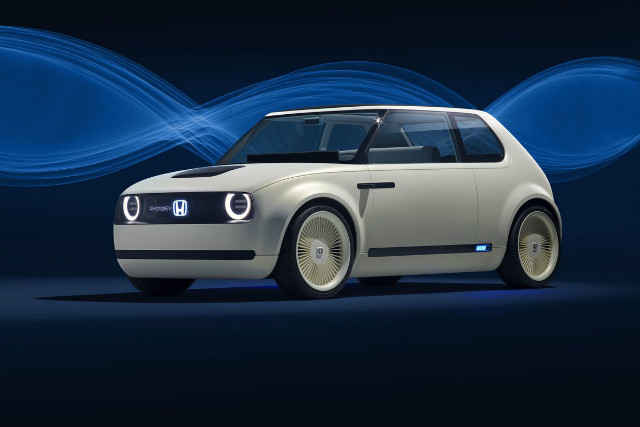 Renault Symbioz
The Renault Symbioz is essentially an extension of your home - in design, in spirit and in being. This concept is certainly one for the distant future, and is built for Level 5 autonomy. The exteriors are built to be in sync with future urban homes, and include an elaborate play of glass windows and wooden furnishings, and the interiors are described as a multipurpose living room with copper, marble and porcelain among the materials used. Seats can pivot around to face each other, and the car can be anything from a modern lounge to a co-working space, all the while remaining connected to your home and other cars in the vicinity. And if all of these were not enough, the Renault Symbioz is also compliant with feng shui.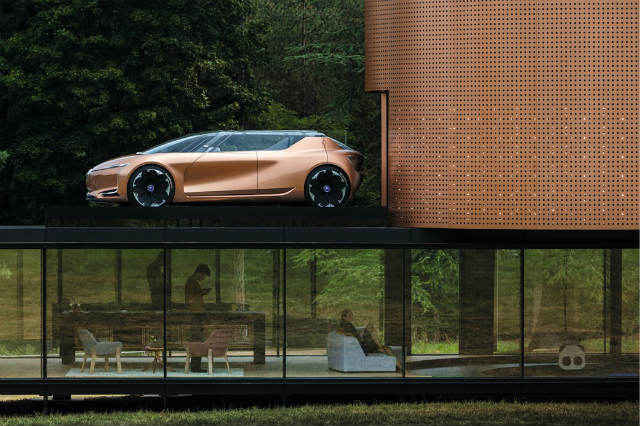 Audi Aicon
Yet another one for the more distant future, the Audi Aicon only includes a touch interface for you to control the entertainment and comfort settings, and completely does away with steering wheels, pedals or any physical control as such. The interiors are akin to a personal office, from which one can interact via messages or video calls, host meetings, or simply stretch out and relax. The Aicon will also be open to ride sharing models, or be personally owned by families who often travel together.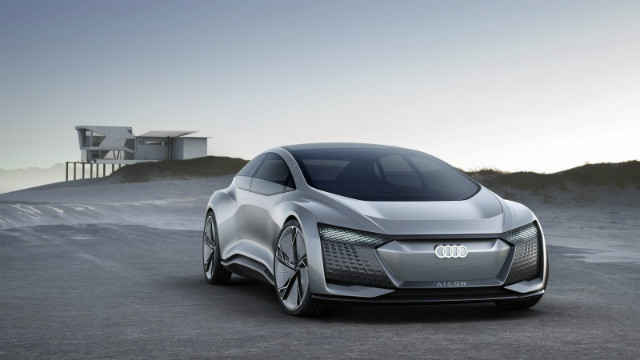 Hypercars
Mercedes Project One
The Mercedes Project One is a hybrid hypercar that matches the outlandish eccentricity of the Aston Martin Valkyrie, toe to toe. The Project One has four electric motors and a V6 combustion engine that produces a total of 1000 brake horsepower, and looks like an aggressive insect ready to sting. This $2.7 million hypercar will see only 275 units being made, at least for now, and bring a host of Formula One racing technology into a street-legal format. But, even if you had the roads to drive it and the money to buy it, you probably won't be able to get your hands on one any time soon as deliveries have been projected for around early-2019.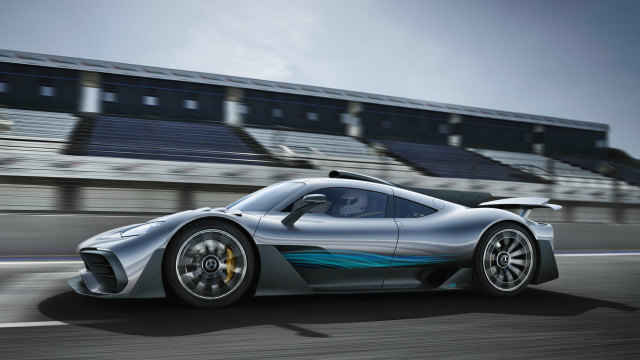 Aspark Owl
You probably haven't heard of Aspark, and we certainly won't blame you for that. This one's from a niche Japanese automaker, and it looks more like a hypercar out of a '90s Bond film. Built mostly out of carbon fibre and running on lightweight Magnesium wheels, the Aspark Owl has an all-electric powertrain that produces 1,000 brake horsepower (just like Merc's hypercar), and in case you'd want to show off how extra awesome your car is, it even has seagull doors. Oh, it also promises to reach 100kmph in TWO seconds! The only bit that remains now is its production possibility.
Brabus Ultimate E
The Brabus Ultimate E is essentially an all-electric Smart car, but then again, it's not. This one does 0-100kph in 4.5 seconds, delivers over 200bhp and 350Nm of torque, and has a range of about 160kms, which still keeps it a legitimate option for driving from one part of the city to the other, in (eco-friendly) swagger. If you ever thought that the Smart car was always rather too quiet for your taste, the Brabus Ultimate E should make you think again.