Approximately nine months after unveiling a facelifted version of its most affordable executive saloon, the Jaguar XE, Jaguar has launched it in India at a starting price of Rs 44.98 lakh. The saloon comes in two petrol- and diesel-powered trims, namely S and SE. The Jaguar XE comes with a long list of driver aids and in-cabin features, including driver condition monitoring, 360-degree cameras, wireless smartphone charging, etc. The car also sports redesigned physical elements all around. We, at Digit, were invited to the launch event to have a closer look at the car's features and take it for a quick spin. Here's what we thought:
Outside: Spruced up to look meaner
Since its launch in the Indian car market in early 2016, the Jaguar XE has managed to look compact yet appropriately upmarket while retaining its sharp F-TYPE-derived features. The new model takes this one step further by sporting an even slimmer and sharper set of headlamps along with sharper edges all around. This is partly thanks to the car's all-LED headlamp and taillamp setup. Jaguar has continued to use generous amounts of aluminium in the construction of the car's 'Ingenium' powertrain and suspension setup.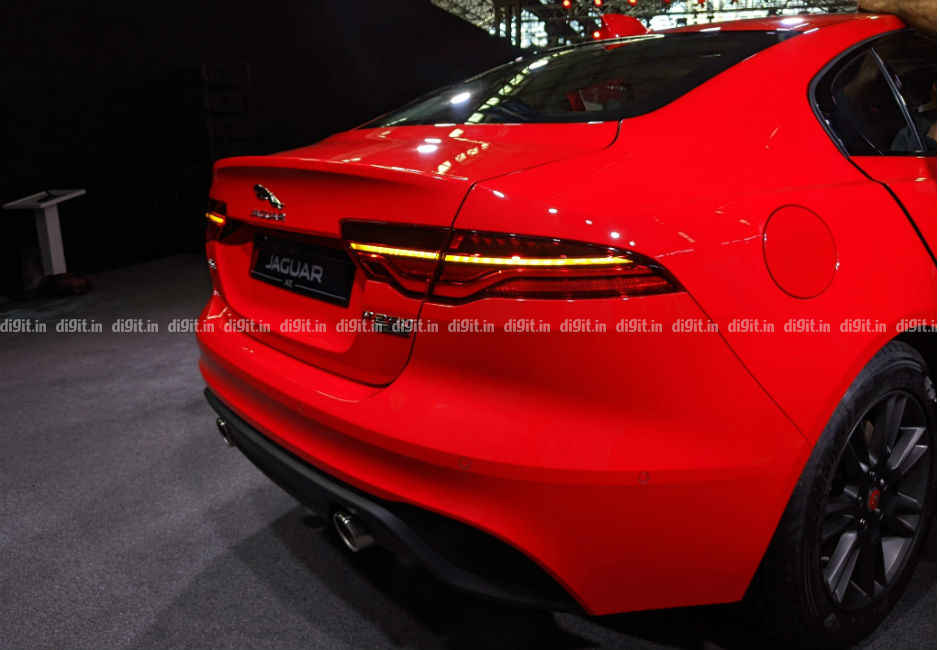 Like the previous model, the Jaguar XE's powertrain is aided by various electronic systems for better ride and handling, including Jaguar's proprietary 'torque vectoring by braking' technology, which applies brakes automatically to the inside wheels when the car is going around a tight corner to provide more rotational force to the wheels with the most grip. Of course, there's also Dynamic Stability Control and Traction Control to improve handling on everyday roads. Some of this tech was apparent when we put the Jaguar XE through a slalom section. Through the speed run section, the 250 horses from the car's four-cylinder 2.0-litre petrol sprang to life in a linear but speedy fashion.
Inside: Plenty of driver aids
The Jaguar XE already came with a long list of in-cabin features such as cruise control, dual-zone climate control, hill start assist, ten-way powered front seats, etc. The new model comes with an even longer list of features, including 360-degree cameras (for easier parking in tight spots), driver condition monitoring (to let the driver know when to take a break from driving), a wireless charging pad (for Qi-certified phones), lane-keep assist (to ensure the car doesn't drift away from the current lane), an air quality sensor (for sensitive groups in heavily polluted cities like New Delhi), etc.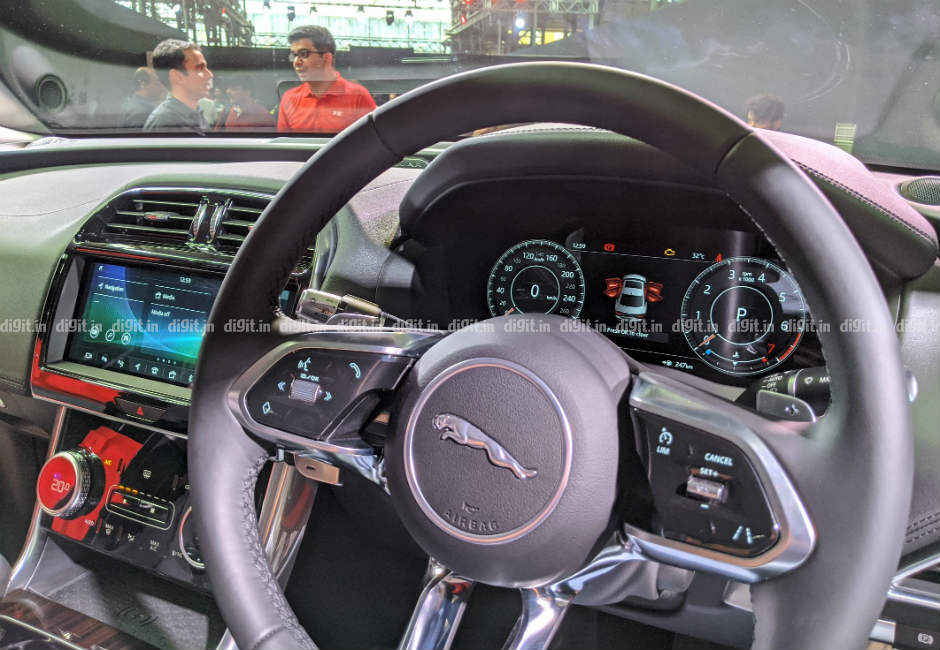 The Jaguar XE's dashboard incorporates more veneer than before to resemble a Riva yacht and a 10-inch 'Touch Pro' touchscreen display for infotainment. The media system comes with support for Android Auto and Apple CarPlay, in addition to features like inbuilt navigation and Wi-Fi hotspot. What's more, an optional 'Online Pack' for the car allows the user to control certain elements of their Jaguar XE from their smartphone using Jaguar's InControl Apps. During our time with the Jaguar XE, we couldn't test all of its infotainment features but we did notice that its UI was fairly friendly for the average user. The car had dedicated buttons and switches for drive mode and voice commands. Thanks to the electronic gear selector and paddle shifters, switching between the eight sequentially shifted automatic gears was a cinch.
Summary: A tech boost for the Jaguar XE
The Jaguar XE has always stood out proudly as a British alternative to German rivals such as the Audi A4, BMW 3series, and Mercedes-Benz C-Class. The new model gives the sporty yet affordable Jag an extra dollop of character and a fresh bunch of electronic bits that the driver can play with. If we're to comment on the car's infotainment system in greater detail, then we'll have to get our hands on a proper review unit. We expect that'll happen in the coming months. In the meantime, there's a new Jag in town for you to ogle. What's more, Jaguar Land Rover (JLR) India is preparing to bring the all-electric Jaguar I-PACE and the new Land Rover Defender to India in the coming months.