I've never been a particular fan of SUVs. More often than not, I've found our newfound obsession with turning everything into SUV-like structures to be a bit annoying. That, though, shouldn't change anything from the fact that SUVs are here to stay, so what does a sedan-lover like I do, in such times? Find SUVs that ace the design and aerodynamics departments, fuses an exceeding dosage of technology onboard, and give you a near-perfect alternative to sedans and coupes. Take one step further, and you also have coupe-styled SUV - a very small but interesting segment. Now, you have the 2019 Audi Q8.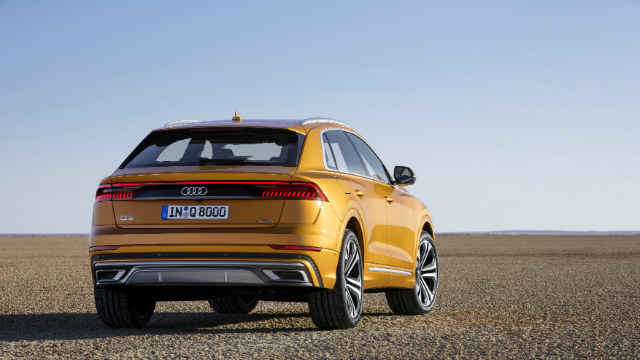 The 2019 Audi Q8 is a massive step forward for the German company, in terms of design. Up front is the new Singleframe octagonal grille that I actually like a lot. Audi probably went back to its R&D chambers and decided to make things as interesting as possible while sticking to a similar design language, and the result is absolutely delightful. The front has strong character creases and extended spoiler lip, along with new, textured fenders. It takes the mantle of being the flagship from the Q7, and excels at doing so. The dimensions measure 4,999 mm (length), 2,011 mm (width) and 1,710 mm (height), thereby being stockier and lower than the Q7. All of that, though, aids aerodynamics and lowers the centre of gravity. The result? A wonderfully sleek design with loads of muscle and a livelier overall form.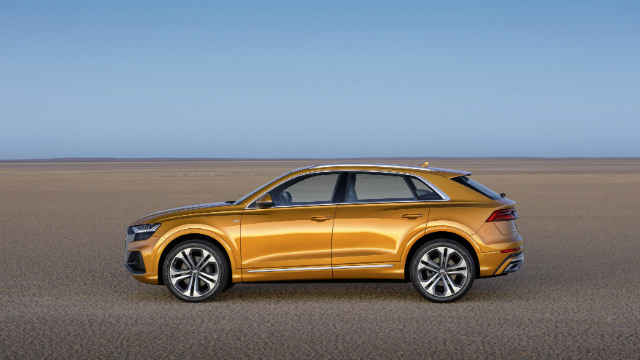 The resemblance to its fellow MLBevo-based SUV, the Bentley Bentayga, is quite visible particularly from the D-pillar. The rear is swept-back, and the length of the car would please anyone with a penchant for sweeping, low-slung saloon cars. Even the wheel arches are beautifully flared, and can house up to 22-inch wheels. The coupe-like design arrives to challenge the likes of the BMW X6, the Mercedes-Benz GLE-Class and its sibling, the Porsche Cayenne. Some would also count the Lamborghini Urus as its sibling-and-competition, and it technically is, but a Lamborghini commands a different level of exclusivity. That's not to say that the Q8 is not in the same league - they just cater to two, completely different segments.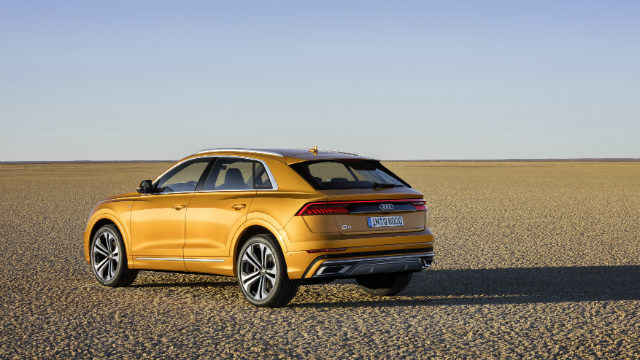 Take one look at the rear, and you'd know why there's so much to like about the 2019 Audi Q8. The overall design retains the characteristics, and yet is just so much newer on overall terms. The LED tail light runs all along the rear face, the protruding rear spoiler and the sharply contoured tailgate blend beautifully with the aggressive skid plate that integrates the dual-exhaust setup. While we've always agreed on how Audi produces incredible emphasis in quality but lacks a bit of inspiration in design (the 2018 Audi Q5 certainly felt so), the all-new Audi Q8 does very well to add flair and a bit of much-needed loudness to Audi's typically minimalistic approach to design.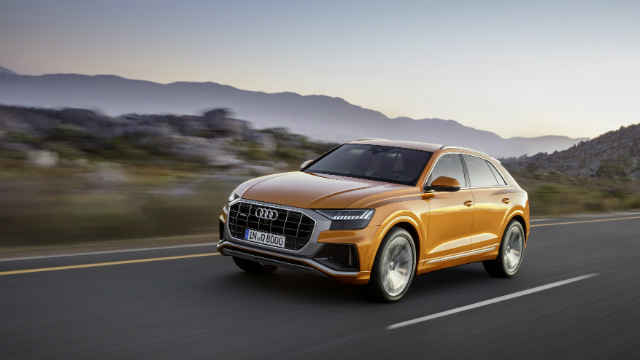 The Singleframe radiator grille may be a bit polarising in terms of overall opinion, but I personally think it adds a much-needed touch of aggression to the Q8. Beside the new, imposing grille are the sleek LED headlamps, which also get Audi's HD Matrix LED lighting technology. This fuses a group of low-beam LEDs with high-beam matrix LEDs, dynamic turn indicators and 3D LED daytime running lights to optimise lighting ahead, so as to not dazzle approaching cars and pedestrians.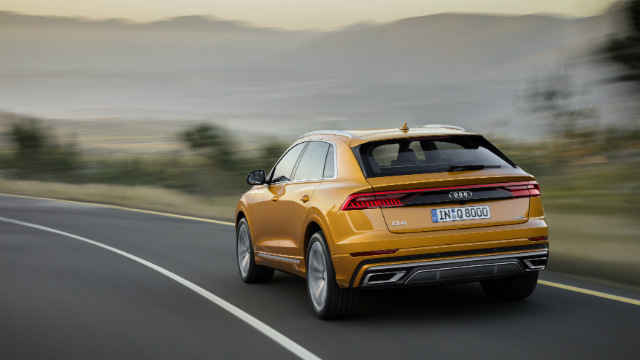 The 2019 Audi Q8 is powered by a 3.0-litre V6 diesel power mill at the moment with its Q8 50 TDI trim, which produces 286 bhp and 600 Nm torque and is paired with Audi's trusted eight-speed Tiptronic transmission. It also gets Quattro, Audi's permanent four-wheel drive technology with active torque vectoring. A mild hybrid variant of the Q8 will be introduced internationally in about a few months, which we doubt will ever make it to India. The Audi Q8 will also get a less powerful 3.0-litre diesel as well as 3.0-litre petrol engines in due course of time.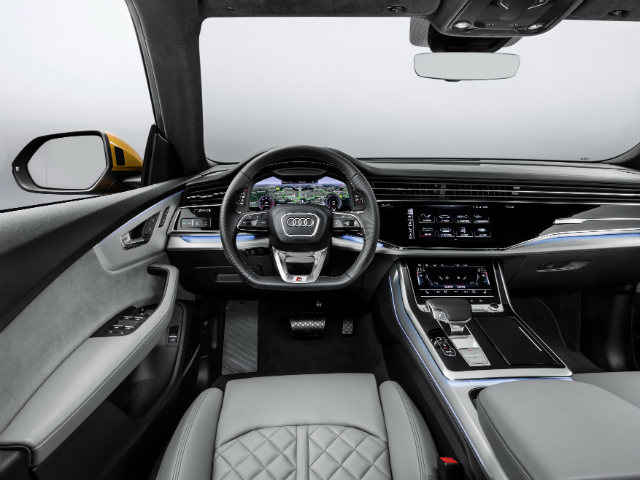 Inside, the 2019 Audi Q8 actually resembles its siblings from Porsche with the overall layout of the dashboard. It gets three displays - a 10.2-inch MMI infotainment display including Android Auto, Apple CarPlay and integrated navigation, and a secondary 8.6-inch display that includes controls for air conditioning, seat ventilation and other ancillary functions. There are barely any physical buttons here, which makes the car future-ready for times when Audi will release OTA updates, transforming its MMI system from running on a proprietary platform to being Android-powered, including a Google Play Store and Assistant in car. The instrument cluster, as you would expect, gets the 12.3-inch Virtual Cockpit cluster that is adaptive. While its present functionality primarily revolves around navigation, it can certainly be more versatile and useful in future.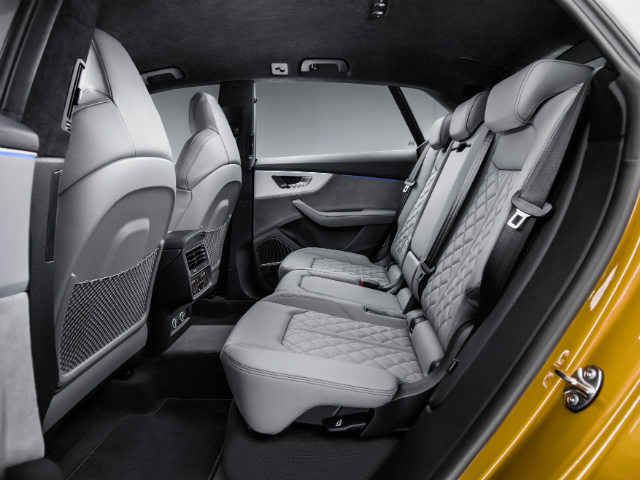 Despite being the flagship, the Audi Q8 will only be offered in the five-seater format. This maximises leg space at emphasises on luxury more than outright practicality. We expect quality to be top-notch as always, although it default configuration, you do not seem to get too many toys to play around at the back, except for the four-zone climate control and a couple of power sources. You will presumably get rear-seat entertainment screens as an optional accessory, seeing that this one will sit at the very top of Audi's SUV offerings.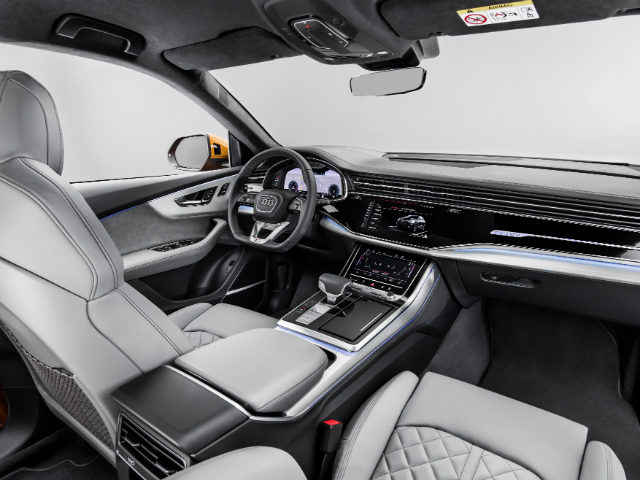 You also get the usual clutter of semi-autonomous driver assistance paraphernalia, including adaptive cruise control, lane keeping and departure assistance, brake assist, crossing alert and assistance, 360-degree cameras, pedestrian and obstacle alert and other ancillary elements. The 2019 Audi Q8 will also get connectivity onboard, with the list of equipment including Wi-Fi hotspot, LTE connectivity and even elements like wireless charging onboard. All this is pretty much becoming a standard range of technology onboard cars now, and the Q8 doesn't miss out on them either. The total range of technology-aiding hardware includes five radars, six cameras, 12 ultrasound sensors and a laser sensor. All of this may also facilitate features like remote garage parking, which will allow you to remotely park-in/out your Audi Q8 by simply using the myAudi app from your phone.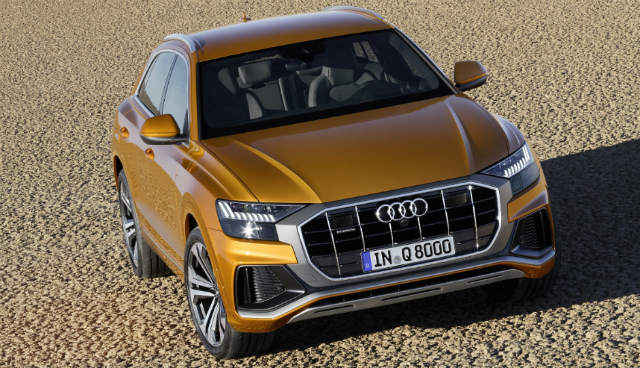 We do not really expect to see the 2019 Audi Q8 in India any time before end-2019. It will also be a fairly expensive offering, rivalling the likes of the Range Rover Sport, BMW X6 and even the Mercedes-Benz GLS in terms of its market positioning. While its initial pricing is expected to be around £65,000, it should be well above the Rs. 1 crore mark once it does launch in India.