Executive sedans, or the D segment cars of this market, are among the most exciting despite not being bestselling cars. Point in hand here is the new, redesigned Hyundai Elantra, that strives to provide upmarket features at competitive pricing, and almost achieves it too. The new Elantra is not about isolated elements, it is about the entire package, of how the seamless Fluidic design creates an aura, the plush interiors add to comfort at the end of a tiring day, a wide host of technology, and many neat little elements that make this one of the best-equipped cars in this segment right now.
The equipment onboard
Looking at the new Elantra, you get a sense of finesse emanating from here. It is an epic show of Hyundai's technological prowess and providing the new age buyer with all the new age gizmos. And, true to its suave exteriors, the interiors are equally well equipped. The Elantra is not only well equipped, but also well thought out. Hyundai has been practical, and provided all the features that you would really use on road. The car gets its own infotainment software providing built-in navigation, calling, messaging, radio and music playback, and the system even has 1GB of user-accessible storage space, should you wish to load photos, videos or music files here.
You also get both Apple CarPlay and Android Auto with USB connectivity, all of which is tucked into a fairly responsive 8-inch HD touch panel. The Elantra's technology showcase is complete with ventilated cooling seats, steering mounted controls for calls, voice control, media and the MID, which displays mileage, trip details, speed and other relevant car settings. To make things better, you also get a sunroof with auto controls and electrically operated driver seat.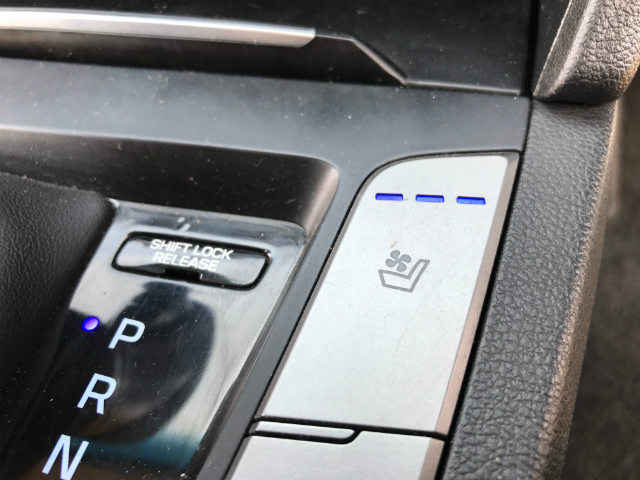 Pairing and ease of usage
We particularly love how easy it is to use the entire system. Once you're beyond the statutory caution roadblock you are greeted by a split screen view of the AV-navigation setup. Tapping on the top-right Home icon takes you to the options panel with two screens. You can choose to connect your phone via aux, or alternatively via Bluetooth. Pairing your device is easy, and you simply tap on Phone, go to Bluetooth, and choose pair new device. You can pair up to four devices at one time, and set one as primary to ensure that the car auto-connects to your own phone by default. Once you're done with this, you can stream music on your phone, access your contacts and messages on the go, and even make calls. Unfortunately, the voice control only works when you are connected to the system via Apple CarPlay or Android Auto.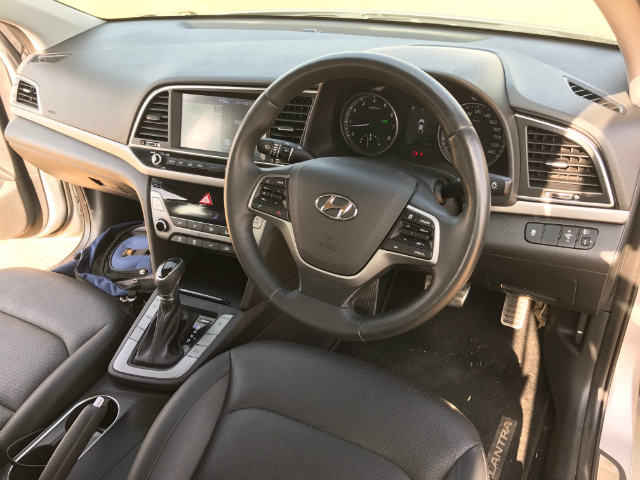 Android Auto
This brings us to the two major ecosystems being billed heavily for in-car infotainment units. Both have their own limitations, but also offer a few neat advantages. Beginning with Android Auto, you need to download the app on your Android phone, and connect it to the system via USB. You're greeted by a setup screen, followed by a brisk demo, and then an Android layout where you can access contacts, recent call lists, navigation via Google Maps with both graphic and voice assistance, messages, and even music services that somehow do not seem to work here. The supported music apps include Google Play Music, Deezer, JetAudio and other Internet Radio services, none of which work in India so far. The only real usage of Android Auto we found here are Google Maps, which is the only real advantage this has, over Apple CarPlay.
Apart from the familiar Google Maps, Android Auto itself is rather slow in operation. The interface is dated, and operations feel sluggish in an otherwise fluid touchscreen infotainment unit. There is also limited options to play music from here, and the only real benefit is the presence of Google Maps.
Apple CarPlay
Simply put, Apple CarPlay is smoother, more responsive and easier to operate than Android Auto. You do need an iPhone for it.
There's no separate downloading of apps required, and the screen will automatically show you all compatible settings and apps from your phone. You get full phone controls, messaging and Apple Music as default support. The system will eventually support Spotify, but not till now in India. The only qualm here is how you cannot get to read your messages on screen. Instead, you'll have Siri reading out your texts. Both Siri and Google Now are as responsive as they are on phones, but they do take a short while to get used to. Unfortunately, the India version of Apple CarPlay does not include Maps.
The default navigation unit
It is here that Hyundai's own system comes in. If you wish to rely only on Bluetooth, not require voice control and rather read your messages than have them read out, the default unit is quite thorough and comprehensive. The navigation unit is easy to set, and is actually quite great for Indian roads. You get voice assistance and 3D map view that will even graphically show you the exact turn you take. You also get in-map icons for points of interests that you can configure to see, which seems quite great. You can also choose a multi-destination route, making the map quite versatile, and the only thing missing from here is traffic information, which would have actually eliminated the need for Apple CarPlay or Android Auto. It really is the nav unit that impresses us the most, reinstating Hyundai's focus on practicality while maintaining the style quotient.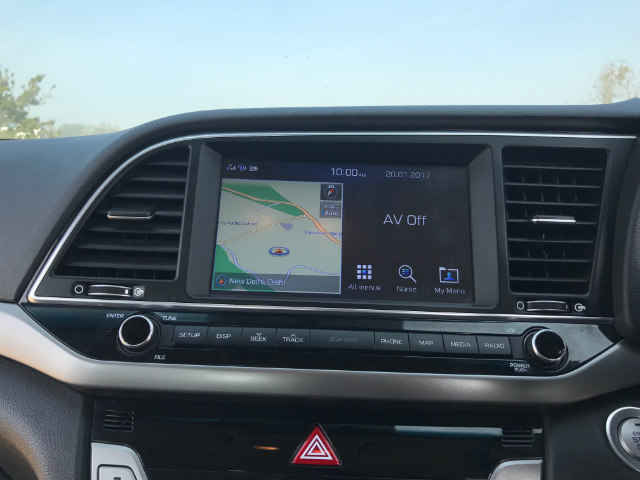 Audio and display
That, though, is not all. You have controls to adjust audio balance, an equaliser, and even ambience effects that include Normal, Lounge, Club and Live. The 6-speaker system is reasonably loud, but lacks the epicness theatricality that we've seen in a few other cars in this segment. The bass is not as impactful as you would wish for, although the presence of a responsive equaliser somewhat helps. Other features of the infotainment unit include photo and video playback from native storage, USB, aux and SD card playback, and the FM/AM radio. The Elantra includes a Shark Fin radio on the outside and glass antenna on the rear, borrowing features from more upmarket cars. The touchscreen itself is quite responsive, and you can also adjust its intensity for day, night or auto calibration, which it does pretty well. The rear parking camera is not very high resolution but gets the job done with dynamic guide rails. If you're not in the mood for any of these, you can simply put it to sleep with a screensaver.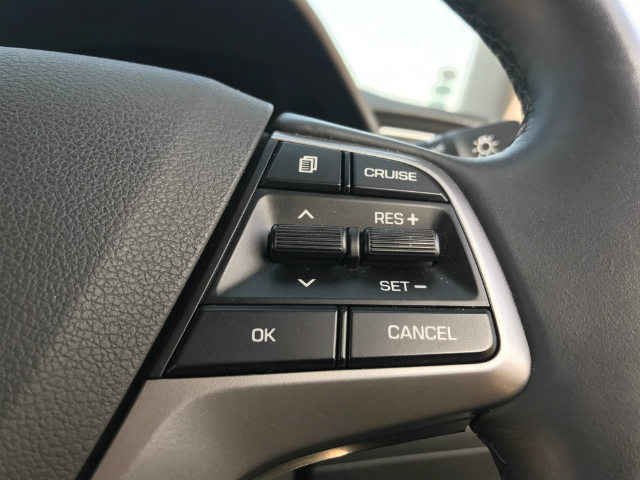 Peripherals and Smart Trunk
You also get a monochrome MID with trip details, mileage and a digital speedometer, and as with most similar systems, you get info about your car's sensors and systems. These can be easily controlled from the controls around your steering wheel. There are physical buttons on the dash should you wish to avoid the touch input, and a digital display is flanked by controls for the dual-zone climate control unit. The overall dash has a premium feel to it, complete with leather and premium plastic inserts, a chilled storage compartment, and in what is a neat little addition, cooled ventilation in the front two seats.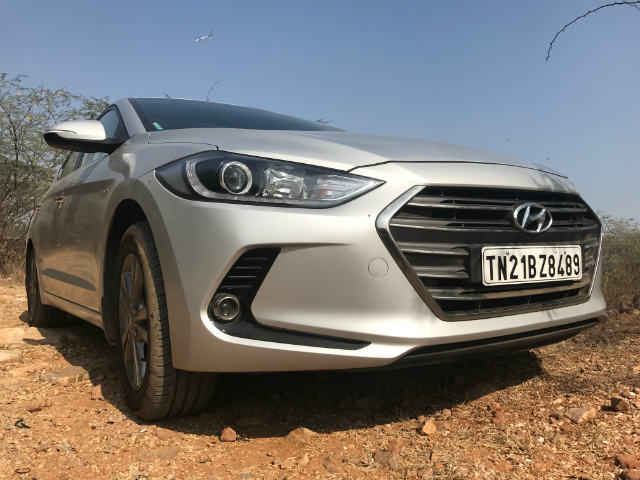 You get three-step controls for seat ventilation, although we do regret this not offering heat in the chilly winters. Nevertheless, the cool ventilation is easily operable from this button, which makes sure that you remain comfortable even in three-hour-long drives. Now it's not just the infotainment unit that is intelligent, the Hyundai Elantra also packs in auto-fold wing mirrors that fold out as soon as you approach the car, safety escort xenon headlamps that turn as per your direction, an electrochromic inside rear view mirror, tilt and telescopic steering, automatic cruise control, two illuminated vanity mirrors, automatic driver window, two-stage indicators, auto defoggers, auto-illuminating pocket lights on front door handles, and what we find to be the most interesting among all this, a handsfree smart trunk. This is a very thoughtful addition to the technology showcase in the Hyundai Elantra. If your hands are laden with luggage and the key fob is in your pocket, all you need to do is simply walk up to the boot, and after a four-second wait, it opens by itself. This is one of the best features of an intuitive technology set, and makes the Elantra stand out in the sparsely populated D-segment sedan category.
The Drive
All of this is topped by a peppy 2-litre petrol engine producing 152 horses and 192 Newton-metre of torque, paired to a 6-speed automatic transmission on the top variant. With the right dash of technology providing you literally everything you'd need in a car, the drive itself is complementary of the tech inside. The suspension is fairly well-balanced for a low-flung car, acceleration is smooth although it does take a slight bit of extra effort, which does make it a tad less exciting on the highway, but makes for a brilliant city drive. The transmission is uber smooth, and the fairly linear power flow is matched by a well-refined engine to make it an enjoyable drive as well.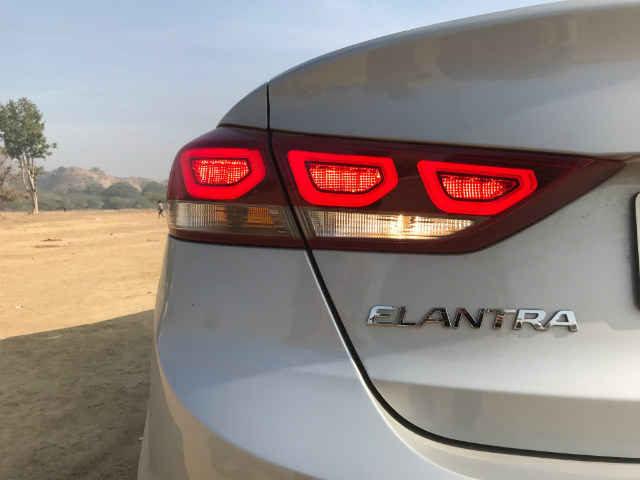 The Hyundai Elantra has been genuinely impressive, offering a great overall package in terms of the features on offer, an excellent dash of in-car technology that is not just limited to the infotainment system, plush, comfortable interiors, and a good drive as well. The car provides an average of about 8.8kmpl in the city, which goes up to 11.2kmpl on the highway, and with all things combined, proves itself to be a wonderful experience for the young, enthusiastic buyer who yearns for premium features within a reasonable price point.