Ford's City of Tomorrow Symposium: Five key factors for building smart cities in India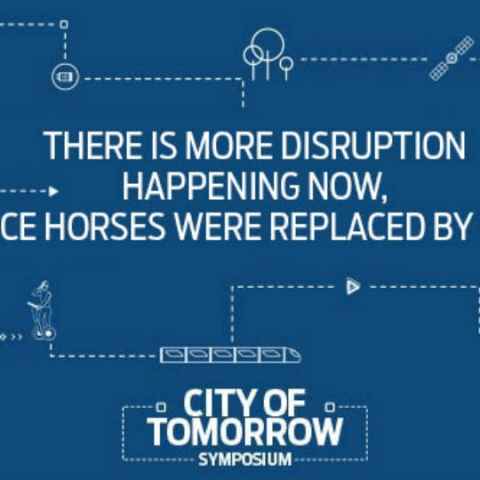 HIGHLIGHTS

At the TED talks held at Ford's City of Tomorrow symposium, the emphasis was on the viability of smart cities in India, the various strategies that need to be adopted, and much more.
The Ford City of Tomorrow Symposium presented its vision of smart cities in India yesterday, at the TED conference in New Delhi. The talk sessions had a pivotal underlying theme, of converting Indian metros into smart cities. While such talks have been on for a while, Ford is presently attempting to explore how crucial a role mobility will play in India's quest to convert its cities into smarter ones. Alongside, there are talks surrounding holistic improvement of resources available to the average urban resident, the nature of services provided to citizens, and a thorough overhaul of our lifestyle. Focusing on smart cities will also see much focus being given to improving traffic conditions, presenting and encouraging the use of ride sharing and alternate travel methods, and also include elements like modern terraforming to improve a city's green landscape, alongside other aspects.
With such objectives in sight, Ford has highlighted key areas of concern, progress and its own involvement in terms of how India's smart city initiatives may take shape in future. Here are some of its key takeaways:
Government's 100 Smart Cities project
The Government of India has set itself a deadline to convert 100 Indian cities into smart cities, by the end of 2017. These cities will begin with the metropolitans, and simultaneously include smaller model cities like Nagpur, Indore, Bhopal, etc. However, there is a lack of clarity and collaboration at the moment, and everything still has a long way to go. The Government itself has to gather a clearer picture, present better bandwidth and affordability of connectivity uniformly and it better quality, and also collaborate more to bring expert minds on board. As Amitabh Kant, CEO of NITI Aayog stated in his session with Shereen Bhan and Rajendra Rao, CEO of Ford Smart Mobility, "A number of projects in India will keep getting done by Government agencies. The challenge is when these projects are done, they should be put out for private sector to do operation and maintenance because the Government lacks there."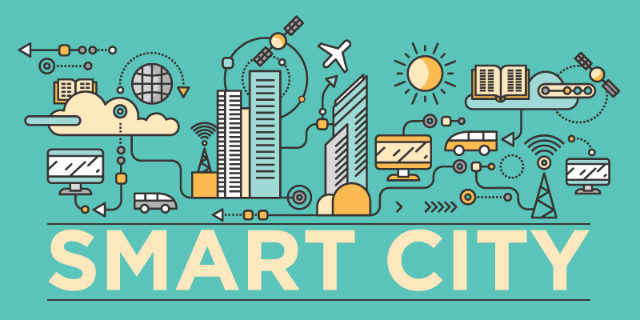 A typical smart city model
Social mobility key to preparing citizens
While smart mobility is indeed crucial to the development of a smart city, the common belief is that social mobility is just as important as transportation itself in the quest for India's smart cities. Bryn Freedman, prominent journalist and author, addressed the audience by opening on the social causes and empowerment note, the underlying theme of which states that to have a smart city running successfully, it is very important for individual empowerment. This, in turn, facilitates the removal of social stigmas, opens up more enterprises, and creates a more balanced society that Ford holds key to the sustainable smart city model.
Diverse last mile mobility
When it comes to mobility, two key factors will enable the rise of India's smart cities – the rise of connectivity bandwidth, and diversification of last mile connectivity. The rise of connectivity platforms will not only promote connected cars in the personal sphere, but also enable the usage of mobile-based connectivity services when it comes to last mile mobility solutions. These range from a variety of e-rickshaws, three wheelers and two-wheelers on ride sharing basis, which will not only promote a culture of ride sharing, but also bring about a seamless flow to traffic and mobility management. Such management will create jobs, relieve rush hour congestion and decrease confusion regarding availing of public transport that prevails in Indian cities right now.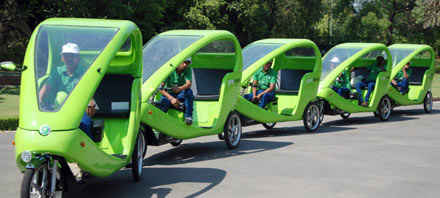 Battery-operated, mobile-connected rickshaws will offer sustainable last mile connectivity
Sustainable energy and commuting platforms
Sustainability is the key deciding factor for smart cities, and according to Raj Rao, and the key metric of measurement to gauge how happy or successful a city is lies in factoring in happiness of residents. The happiness metric can be gauged by regular online surveys, and by providing personalized services like a well-diversified education system, medical facilities, automatic traffic and police management system, easy commuting, seamless and autonomous cleanliness services, and other such factors. Key elements in the future of commuting that will promote such services in a city include cars with connected telematics and traffic information sharing, autonomous garbage management facilities, centralized traffic and police facilities, and more. These, in turn, will happen only if the problem of connectivity bandwidth is factored in and resolved, as mentioned in the previous point.
Taking transportation away from roads
Taking traffic away from the roads is the way forward, according to Wanis Kabbaj, transportation geek. According to him, the key to establishing a smart city is to reduce travel time for the residents, which can only be done if two elements are made compulsory – ride sharing and alternate traveling resources. While ride sharing models will become increasingly commonplace (beginning with the likes of Zoomcar, Ola and Uber in India), it is the advent of autonomous vehicles that will truly facilitate the rise of ride sharing as a habit and not as a last ditch option. Additionally, more underground railways and rapid commuting systems need to be formed, and government regulations surrounding the use of air space need to be finalized. A large number of startups are working with established auto giants like Ford to bring forth all-electric, autonomous drones that can carry passengers, and taking to the air can not only help bypass the limitations of roadways, but also free up the usage of road space to minimize traffic. Kabbaj relates this form of commuting to the way the vascular system inside the human body works and gets rid of clots, and this can form the stem of a city's mobility solutions in future.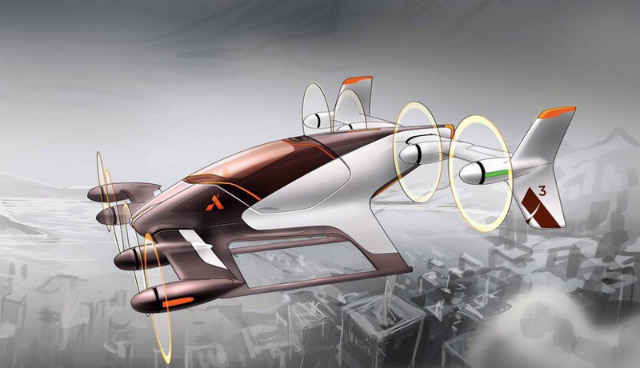 Flying cars now seem more probable than ever before
With these takeaways, the focus now is on developing more means of shared transport systems, which will also be connected via mobile networks. There also needs to be more focus on specialized transport methods, like those for disabled persons. Green energy consumption is at the center of it all, with last mile connectivity systems being pitched to work only on batteries. These are slowly materializing – Indore has a bus rapid transport system that works as a shared, fast way of commuting to skip congestion, Noida has short journey e-rickshaws that connect to local drop areas from metro stations, and more metro railway networks are being built all across India to cope up with the rising population.
However, we do not seem to be close enough to reach the target of 100 Indian smart cities by the end of 2017. There are talks about promoting a metropolitan model city for others to follow, but there is also a possibility that when it comes to the ideal mobility model, it is the erstwhile Tier II city that may lead the change.
With the rise in connectivity and lifestyle patterns, more automotive companies are envisioning their role in the rise of smart cities in India. Click here to see what Tata has in plans for promoting smart cities in our country.