Ford Freestyle's global debut in India: Everything you need to know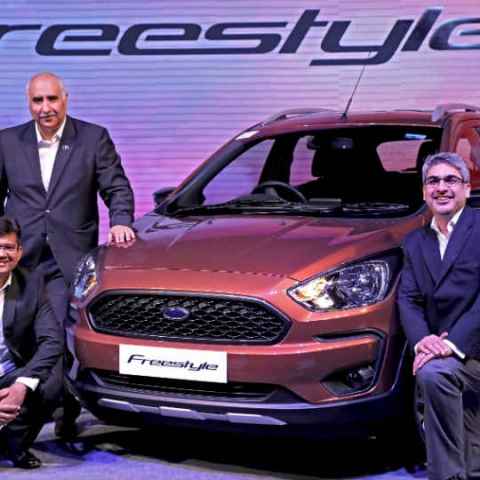 HIGHLIGHTS

The Ford Freestyle has been dubbed as a 'compact utility vehicle' and is spiritually the Figo's crossover sibling of sorts, and comes with a number of interesting elements about it.
Ford has had a good run in India as far as SUVs are concerned. The Ford Endeavour has long been hailed as one of India's first premium lifestyle SUVs, while the Ford EcoSport truly opened the floodgates for compact SUVs/crossovers in the country. Now, in a bid to keep up that run amid falling hatchback and sedan sales, Ford India has unveiled the Ford Freestyle – a car that saw its global unveiling in India two days ago, and one that Ford classifies as a 'compact utility vehicle', or CUV.
While many purists may frown upon this new segment, there's no denying the value proposition that crossover versions of premium hatchbacks offer, particularly in a car market like India. The country has a fair amount of obsession with SUVs, buoyed by rough roads, large families and the overall air of burlesque authoritarian attitude that the big cars come with. While compact crossovers may not have the exact same takeaway as full-grown SUVs, this new breed of cars are much more affordable, offer better fuel economy and similar ground clearance, and while space is an evident downgrade from the fullscape SUVs, the design language is largely retained, or at least mimicked. With the Freestyle 'CUV', Ford will look to tick all of these check boxes, and hope to enjoy a successful run against rivals like the Volkswagen Cross Polo, Toyota Etios Cross, Maruti Suzuki S-Cross, Ford's own EcoSport and the Honda WR-V.
So, what all will the Ford Freestyle offer?
Technology and Safety
Interestingly, Ford is also acknowledging the need to upgrade its rather dated infotainment system that we've seen so far in the Ford Aspire (and Figo – the car on which the Freestyle is loosely based on). As a result, the Freestyle will house a 6.5-inch infotainment display powered by the latest generation Ford SYNC 3 firmware, the same unit that powers the new generation EcoSport. The new connected infotainment system has both Apple CarPlay and Android Auto, along with its own integrated satellite-linked navigation system.


The cabin should be somewhat similar to this
Furthermore, Ford's SYNC 3 setup also has its own voice command interface, along with a rear parking camera, which we expect to see featured in the top trims of the Freestyle. Standard features like Bluetooth music and telephony, USB and aux input, and touch-based operations are retained. In terms of safety, Ford states that the Freestyle's suspension has been specially tuned to aid handling and stability in accordance with its chassis. This translates to increased track width and higher ground clearance than the Ford Figo, a newly-callibrated electronically power-assisted steering (EPAS) wheel, and standard elements like traction control, ABS with EBD and up to six airbags. The headlining safety feature of the Freestyle, however, is the active rollover prevention (ARP) combined with electronic stability control (ESC), which tallies the force vectors actively to amplify stability. It is this that Ford states will justify the Freestyle's SUV influence, and give it an engaging driving style.
Powertrain and Design
The Ford Freestyle will be introduced with Ford's new 1.2-litre, three-cylinder petrol engine that produces 95bhp and 120Nm of torque. It will also get a diesel motor, with the veteran Ford 1.5-litre diesel engine that produces 99bhp and 215Nm of torque. Transmission options have not been revealed yet, but looking at the rising popularity of automatic gearboxes, we expect both the 5-speed manual and 6-speed automatic transmission options to be present in the Ford Freestyle's range. At launch, though, the Ford Freestyle will reportedly not get any AT variants.
Design-wise, the similarities with the Figo are in line with how the Honda WR-V is similar to the Jazz, and yet different. The Freestyle, on first look, appears much more rugged, particularly with the broad claddings on the wheel arches, up front and along the sides. It also gets roof rails, and LED headlamps that retain the swept-back look. On overall terms, the Freestyle retains the Figo's spirit and quirky shape, while adding some more muscles to it.
Launch date
The Ford Freestyle is being made out of Ford's assembly line in Sanand, Gujarat, and will be introduced in India around mid-2018. The company has affirmed that India will be one of the Freestyle's first markets globally, and will be exported to markets such as Europe, Middle-East Asia, Mexico and Africa as a 'Made in India' product. Exports for the Freestyle will begin around the same time as it goes on sale in India, which should be within the next six months.