In car infotainment systems have matured manifold over the last few years, keeping the smartphone at the centre. The most sophisticated infotainment systems nowadays provide a wide range of connectivity and app support for smartphones, and mirror its activity through native firmware. The large variety of automakers have a large variety of infotainment interfaces to differentiate themselves amidst similar features and functionalities.
Despite the need for differentiating, it is also important to have a uniform interface for the sake of easing a user's learning curve. It is here, that Apple CarPlay takes its place.
Where it all began
Back in 2010, when in-car entertainment and technology was largely restricted to music players equipped with Bluetooth, Apple launched the iPhone 4. Key talking points for the phone were its new design, the use of glass on both ends, a much improved camera and, of course, the then-radical iOS 4. Among the more important multitasking and cross-device compatibility features, was hidden something called 'iPod Out'. Never heard of it? Well, very few did, to be honest.
iPod Out was developed by Apple in collaboration with the BMW Group's technology arm. It required a car's central system to have a display and a USB port. One would simply plug in the iPhone cable with the infotainment system, and enable iPod Out to host the phone's screen to the car's display. The features of the display could then be controlled via in-car buttons, and even steering-mounted buttons.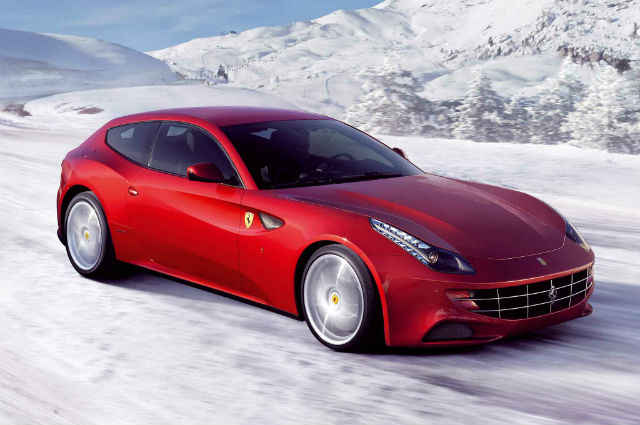 The first car with CarPlay was quite an extravagant one!
This was, in spirit, the forefather of what Apple CarPlay is today. iPod Out was rolled out to select BMW and MINI cars, with their infotainment systems carrying a 'PlugIn' mode to enable showing the iPhone's contents on the car's display. This, however, never really picked up in terms of popularity. Users were still alien to requiring extensive mobile connectivity while driving, app support was limited, in-car displays were comparatively slipshod, and the iPhone itself was yet to truly reach out to larger markets.
At Apple's 2013 Worldwide Developer Conference, SVP of Internet Service and Software Eddy Cue took the wraps off what was called 'iOS in the car'. This was basically a more refined version of iPod Out and all the features that it had offered, put together in a more cohesive manner. Following the demonstration of technology, the Geneva Motor Show in March 2014 saw Apple CarPlay being launched in its present avatar, and the Ferrari FF became the very first car to include Apple CarPlay in its in-car technology package.
So, what does it really do?
Essentially, Apple CarPlay mirrors the iPhone's screen on to a car's main display. It includes a familiar iOS interface but with nearly non-existent customisability, complete with a soft home button, large and chunky icons to access the different native apps, compatibility with select third party apps, and integration of Siri's voice assistance.
In its present form, Apple CarPlay uses a car's integrated display as a secondary extension of the iPhone itself. It is one of the many third party infotainment interfaces that aim to provide a familiar format of features for users. With Apple CarPlay, a user gets access to his call lists, contacts, messages, music and Siri as standard features across all regions. Navigation via Apple Maps and third party application support varies according to region, and is dependant on the applications installed in phone.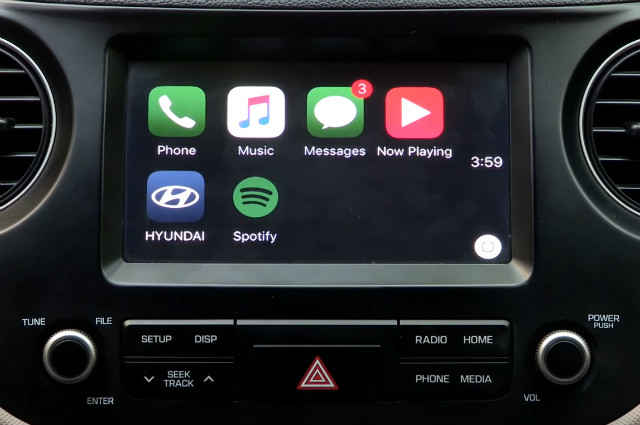 Apple CarPlay in India is not too exciting
With Apple CarPlay, most of the operations are voice controlled and the primary mode of interaction, alongside touch input, is Siri. With CarPlay enabled, you do not get a text view of your messages or contacts. Instead, you have Siri reading out the messages and making calls for you. CarPlay scrolls only the last 10 message senders, and the lack in terms of visual display of messages is done to avoid distraction for drivers.
Apple CarPlay does not get a keyboard interface in India. However, in international markets where Maps are available, you may choose to add destinations via a keyboard instead of only relying on voice. Somehow, Apple has not yet added Photos to CarPlay - possibly to avoid distractions. However, all of these combined have somewhat restricted the possibilities that could have been achieved by Apple CarPlay.
Compatibility
For smartphones, Apple CarPlay is compatible with iPhones running on iOS 7.1 or newer. However, you would at least need to be on an iPhone 5, as Apple CarPlay connects via the newer, faster Lightning bus. As for the head units, Apple has a thorough set of requirements from automakers and third party head unit manufacturers, although most of them fall within what is anyway standard for the majority of in-car infotainment systems with touchscreen displays.
The requirements state the need for a high resolution display, and the recommended display resolutions, with varying aspect ratios, are 800x480 pixels, 960x540 pixels, 1280x720 pixels and 1920x720 pixels (for wider screens). For carmakers, the minimum accepted display size is 6.5 inches, while aftermarket options can begin at 6 inches. Each of these displays have to be at least 24-bit colour displays, have 30Hz refresh rate (Apple recommends 60Hz), and have hardware support for H.264 video decoding.
Beyond the display requirements come speakers and microphone requirements. The main audio channel in a car that wants to be compatible with Apple CarPlay must have up to 48kHz, 16-bit stereo output, and 24kHz, 16-bit mono input from the microphone. Alternate audio output is always mixed with the main audio output and is used for notification prompts. This channel can be 44.1kHz or 48kHz, stereo or mono, and deliver 16-bit audio.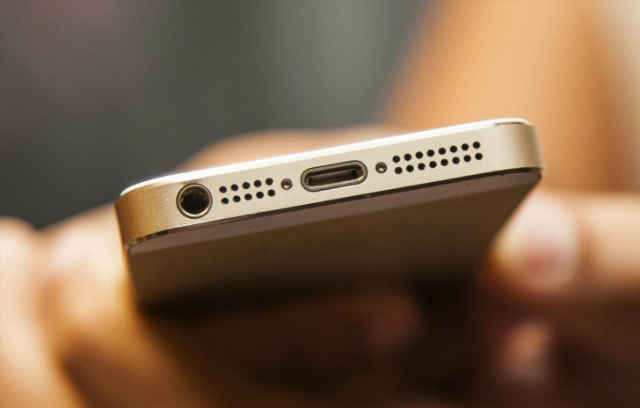 Any iPhone with a Lightning port right now supports Apple CarPlay
For user input to interact with the CarPlay interface, a car must have a touchscreen display, have physical controls that add redundancy to the system and give a secondary way of communication, and must also have a microphone that can be activated by a button to receive voice input. The touchscreen display has to allow swipes for scrolling through options, with less than 140ms of touch latency. There is alternate compatibility for low resolution, resistive touchscreen displays as well, although Apple does not recommend it. This CarPlay interface is optimised for single touch operations.
As for physical input, the buttons in the car's system must include a rotating knob for scrolling, a selection button and a back button. Optional additions may also include a multi-way rotating selector (like the one used by Mercedes-Benz), gesture recognition for character input (like the BMW iDrive controller), and dedicated music control and telephony keys. Other recommendations by Apple include a speed sensor to relay motion data, and integrated GPS module for wireless Apple CarPlay connections to gather location data from.
For all systems to connect physically, a car needs to have a USB Type-A port. For wireless connections, the car must have both Bluetooth and WLAN support. The Wi-Fi connection must be established via a 5GHz, 802.11ac Wi-Fi modem. For the entire list of instructions set forth by Apple, click here.
Integration with the ecosystem
Apple CarPlay brings support for Apple applications including Podcasts and iBooks. In India, only Apple Maps is not offered in CarPlay systems as against the ones in the international markets. Apple Maps is not very proficient in India, and Apple has altogether refrained from bringing it to CarPlay. This was possibly done to avoid criticism against inefficient navigation guidance.
However, the India trim of Apple CarPlay does not get any third party app-based navigation support either, and the host of third party applications available for CarPlay in India is only at about 15, and that too not the apps that you would mostly use. One big third party app that could have made a whole lot of difference here is Google Maps. The likes of Spotify and Pandora do show up if you have them downloaded on phone, but they do not work in India.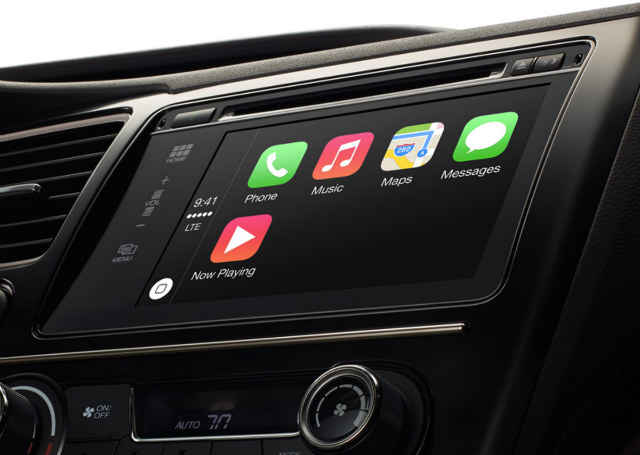 Maps updates the parked car location, despite not being offered in India
The only case where Apple CarPlay synchronises well with iOS is to update your parked car location as soon as you reach a destination and switch off the system. The phone uses the Apple Maps present in your iPhone and updates its last recorded GPS position on it, in case you forget where you parked.
Apple faces Android again
Built by the Open Automotive Alliance, Android Auto is CarPlay's exact counterpart, giving Android phones a personalised interface on their car displays that closely resemble an Android smartphone. While the Android v. iOS battle may often see Apple emerge victorious owing to the smoothness of the interface, the number of apps available and more such grounds, Android Auto is simply much superior to Apple CarPlay, in almost every ground.
As against Apple's measly third party app support for CarPlay in India, Android Auto brings support for over 50 third party apps, including the essential communication apps like WhatsApp, Facebook and even Google Hangouts. There are other music applications that are supported (like Play Music, JetAudio, etc.), and all of this makes Android Auto much more practical and useful on Indian roads. If that still does not convince you, Android Auto get Google Maps, which outperforms any in-car navigation system, no matter how sophisticated that may be, with familiarity, ease of usage, live traffic updates, essential nearby landmarks and more. Adding to that is the Google Assistant's voice-based interface, which is more adept at picking up the Indian accent.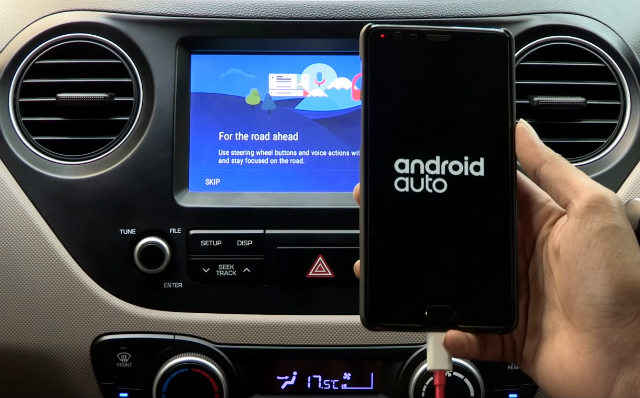 This is what CarPlay's nemesis looks like
Android Auto presents every new notification here in a card format. If you receive a WhatsApp message, the notification will show up on the car display (CarPlay does not even show third party notifications), and tapping on the card will result in Google Assistant reading out the message. Here again, visual presentation of data is avoided to minimise driver distractions.
Connecting Android Auto to a car system needs downloading of the Android Auto application on phone, but that is little price that you pay for getting greater features in your car system. In terms of the interface, the Android Auto interface is slightly sluggish in comparison to Apple CarPlay. However, it is more graphical, although the graphics are of low resolution. Touch response is a tad slower than Apple CarPlay, too.
While Apple CarPlay does feel comparatively smoother than Android Auto (the iOS-Android difference persists here, too), it is the latter that offers a complete in-car infotainment setup, with messaging, calling, voice interactions, navigation and music. Adding to that is the much larger third party app support and India's dominant Android smartphone user base, and Android Auto is certainly the overwhelming winner in this comparison.
To read more about how each fares, click here.
The future
With Apple putting increasing focus on India, CarPlay is bound to get more third party applications, and hopefully, a robust navigation interface as well. However, the future of the automobile industry presently stands at a juncture where in-car infotainment systems will soon be about much more than music and direction guidance.
With the advent of autonomous and assisted driving experiments, in-car infotainment systems are looking forward to becoming self-sustained ecosystems that do not require a smartphone to operate. Instead, the idea for future in-car infotainment systems is to have always-on connectivity, integrated GPS modules to get live traffic updates (natively, without Google Maps), and essentially work as well as a smartphone in itself.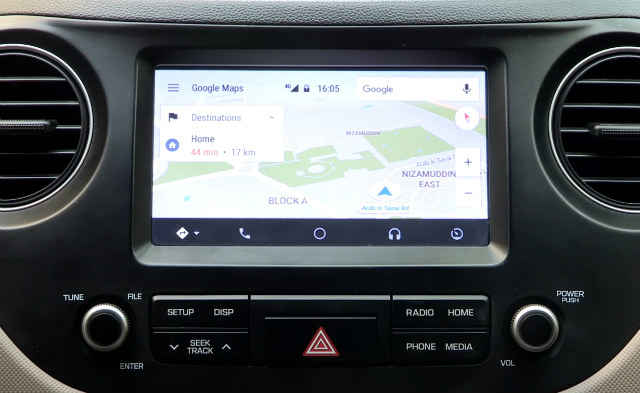 Google Maps makes all the difference right now, but the future will be different
At the present moment, it is unclear as to what strategy Apple will adopt with CarPlay, when the time comes. Google and the Open Automotive Alliance have already presented concepts of Android working directly as the in-car operating system and even control aspects of the drive, and The Linux Foundation aims to establish just the same. These platforms also seem much more attractive than what CarPlay has managed to achieve till now, but what they do not have, and may never get, is compatibility with iOS devices.
To take an educated guess, Apple would also look to make in-car systems run fully on iOS, integrated car and drive dynamics with infotainment in future autonomous and assisted vehicles. That, as of now, seems to be CarPlay's natural evolution course, although such times are still far into the future.