One of the many aspects that the drastic rise in smartphone usage has contributed to can also be found in cars - the infotainment consoles. Today, cars ranging from the most affordable price range include Bluetooth as a standard mode of connectivity, and as you rise up the order, you come across multiple features that relay much of a phone's content on to a car's central console. These features typically include voice- and graphic-based navigation assist, voice control to activate personal assistants, audio settings, calling and messaging abilities, and in certain situations, photo and video playback from phone.
With the rising number of smartphones and almost every carmaker opting for its own, customised infotainment console, the world called out for unified platforms that will combine all of these features, under one window. Enter, Apple CarPlay and Android Auto, each designed to replicate your phone's screen on the infotainment window and provide you access to calls, contacts, messages, music and navigation. Once reserved mostly for select cars in the higher price ranges, Apple CarPlay and Android Auto are now being included in less expensive cars as well.
However, after having driven around for a week in the top-of-the-line Hyundai Elantra featuring both Android Auto and Apple CarPlay, I'm finding it hard to really appreciate either as the absolute, one-stop in-car infotainment software that I would ever need. The Elantra's own infotainment software actually seemed more up for the task, and although each have their own strengths, the weaknesses are quite glaring too.
Apple CarPlay
On this note, we begin with Apple CarPlay. Straight off, connecting your car with Apple CarPlay is much simpler. You do not need additional apps or tinker with settings of either your phone or of the car - simply plug in your Lightning cable to the USB deck here, and tap on Apple CarPlay on your central touchscreen unit to activate it.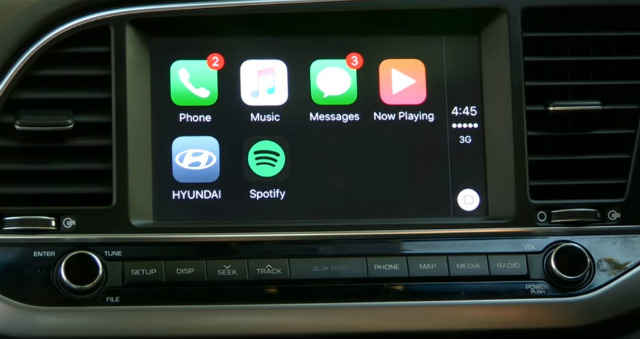 CarPlay also seems to be smoother and more responsive than Android Auto, just like the persistent difference between iOS and Android. After a week's usage of both the systems, Apple CarPlay was consistent in connecting more swiftly, and even the overall infotainment system was also more responsive and faster in switching between options than Android Auto. The interface is typically iOS, with a single, ever-present Home button, and five main icons - Phone, Messages, Music, Now Playing and Back to Main that shows up as an icon with the car's logo - in our case, Hyundai. You may also see more apps on your CarPlay interface, depending on the compatible apps that you have installed on your iPhone.
All of this leaves a gaping absence in India, at least as of now - navigation. The Apple CarPlay ecosystem does not support Google Maps, and Apple Maps is not supported in India's versions of CarPlay, at least for now. As a result, if you would need navigation while using Apple CarPlay, you would need to separately use Google Maps (or any other navigation app) from your iPhone, or exit CarPlay altogether and use the infotainment system's default satellite navigation. This makes Apple CarPlay largely handicapped in India, seeing that a large section of drivers and chauffeurs nowadays rely on navigation assistance.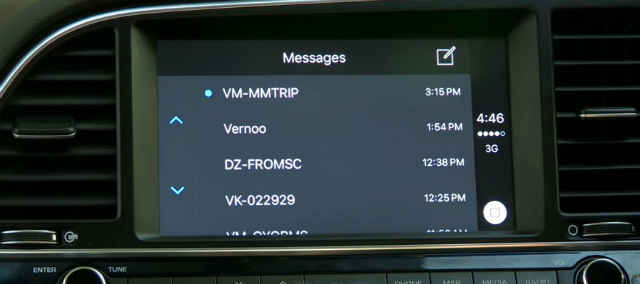 You can access your contacts and recent numbers either through graphic, touch input, or via Siri. This makes it fairly easy to make calls on the go. However, when it comes to Messages, you can only see the list of the last 10 messages that you have received, but cannot see them being displayed on the infotainment screen. Instead, if you tap on a received message, Siri reads it out for you. This is possibly done to ensure your on-road safety and not let you keep your eyes off the road for too long. However, it would have been more proficient if there were speed-sensing restrictions, so that the driver could have accessed messages on the screen when the car was stationery.
Apple Music, though, mostly works as intended, giving you views of Now Playing, downloaded songs on Library, a separate tab for Playlists, and a Browse section that includes new album suggestions and Apple's own curated lists. Here, too, there is no keyboard input mechanism to search for new songs, and you rely on Siri for the same. Other compatible apps in India for Apple CarPlay include Audiobooks, and third party services such as Spotify, Stitcher internet radio, Pandora, CBS Radio News and other similar apps are not compatible in India.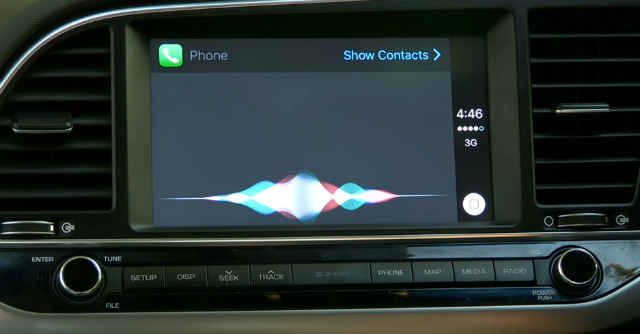 To sum up, despite being responsive and swift, Apple CarPlay is extremely restricted in India. You can essentially only make calls, hear up to the last 10 received messages and play your music. Most cars right now already support calling and music from phones via Bluetooth (even without graphic displays), and seeing how much of your personal conversations are held via WhatsApp and Messenger nowadays, it is practically only a cosmetic presence in your car, and not really functional.
Android Auto
On to Android Auto, then. To connect your Android phone to a car, at first you connect your phone via Bluetooth with the system, and then plug it in via USB. Prior to this, download Android Auto from the Play Store. Once you are paired with Bluetooth on the carousel, connecting your phone and switching on Android Auto from both the phone and the infotainment unit initialises a first-time setup, followed by a short tutorial and finally, the Home screen. In comparison, all you do for Apple CarPlay with iPhones is connect via USB and tap on Apple CarPlay from the head unit. See the difference?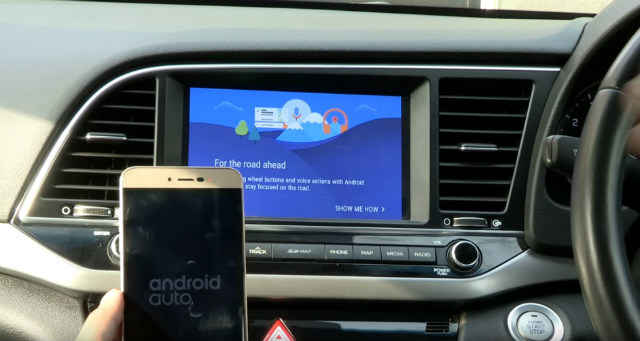 It is important to note that while Apple CarPlay's interface is exactly as of iOS set against a dark background (you may or may not like it, depending on personal taste), Android Auto looks more lively, with buttons marked at the bottom of the touch interface and an abstract Android wallpaper governing the screen. It looks quite dated and low resolution, though, and noticeably less shiny as against CarPlay. It is also slower than both CarPlay and in our case, Hyundai's own infotainment system, and tapping on any of the options leads to significant loading time. It is here that Apple CarPlay outdoes Android Auto, fair and square.
However, Android Auto does seem to be the more useful of the two. For instance, you get access to your contacts and recent numbers, which you can tap on or use OK Google to access. You get messaging support as well, and here too, like CarPlay, Android Auto does not let you really read your messages. Incoming messages are shown as cards, and tapping on them will see Google's assistant reading it out to you. You can use voice assistance to dictate a short response, or even start a new conversation. Android Auto also proves more versatile here, and as against CarPlay's SMS/iMessage support, reads out incoming message cards from third party services like WhatsApp, WeChat, Google Hangouts and Telegram (FB Messenger misses out here as well). This already makes it more useful than CarPlay, covering more essentials than Apple's counterpart.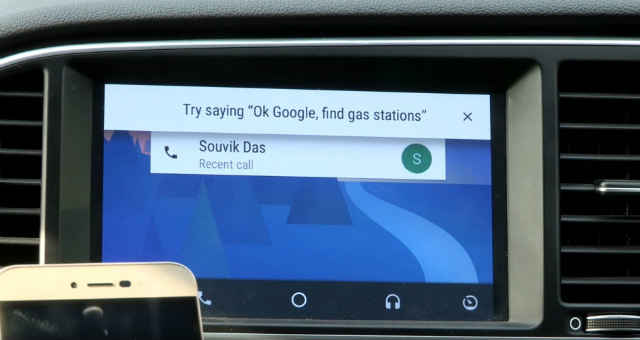 The biggest boon, however, is Google Maps. Seeing that I still haven't mastered the Delhi roads and resort to navigation help, having Google Maps around at the touch of a button on the head unit or the steering wheel was really helpful. You get a familiar layout, and Google Maps works as well on Android Auto as it works on any Android phone (it somehow tends to work better on iPhones). You also get comprehensive route details including traffic, and this hands Android Auto a major advantage over Apple CarPlay, although you will have to deal with the overall sluggishness of the entire system.
When it comes to music playback, none of the services compatible with Android Auto work in India. These include Google Play Music, Deezer, Spotify and more, and seeing that you cannot stream audio with any app on Android Auto, you are left to synchronising your local music on your phone as playlists on Play Music, and then playing it via the Android Auto interface. However, we faced inconsistencies all through our music playback attempts, as the head unit often refused to play local tracks and played them via the phone (we used a OnePlus 3 to pair with the unit), and even updating all apps to the latest version did not seem to help.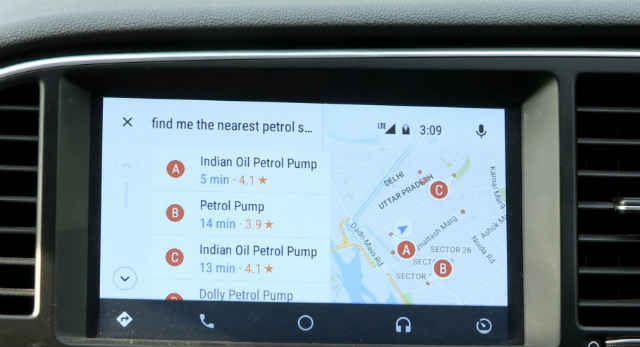 You get all your views here as cards, which you can swipe through vertically. Android Auto, in short, retains every essence of an Android smartphone, even including the lags and increased response times.
Verdict
While Apple CarPlay does have the cleaner, more responsive interface and better music playback, it is Android Auto that is more relevant and useful in India, at least for now. It is considerably slower than CarPlay, but makes up by being compatible with calling and contact access, messaging including WhatsApp, WeChat and more, and crucially for India, Google Maps.
Voice commands work well on both setups, with both Siri and OK Google performing similarly in terms of taking dictation, commands and contact names. Google's voice assistant seemed a tad better at recognising the Indian accent, although it may vary with how you speak.
We found Apple CarPlay the better system when we did not need navigation and most of our conversations were done via iMessages. However, seeing that such section of users in India would be much lesser than those using WhatsApp and Google Maps, it is Android Auto that takes the cake here. Neither are perfect, or close to being so, but it is Android Auto that has the larger dose of practicality here.